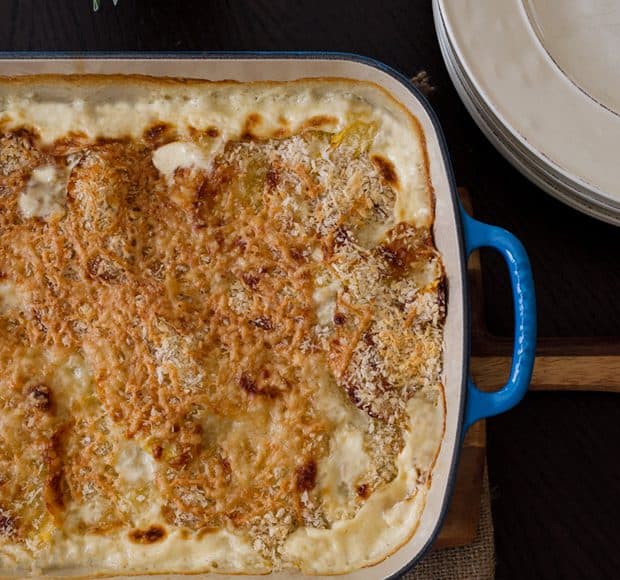 Autumn Squash Gratin and More Le Creuset Signature Roaster Recipes + A Giveaway
I stood by the kitchen sink, stirring my black coffee with the swirl of sugar and half and half, and it changed color, just the way I like it. As I brought my mug up for a sip, I felt a warm rush of air…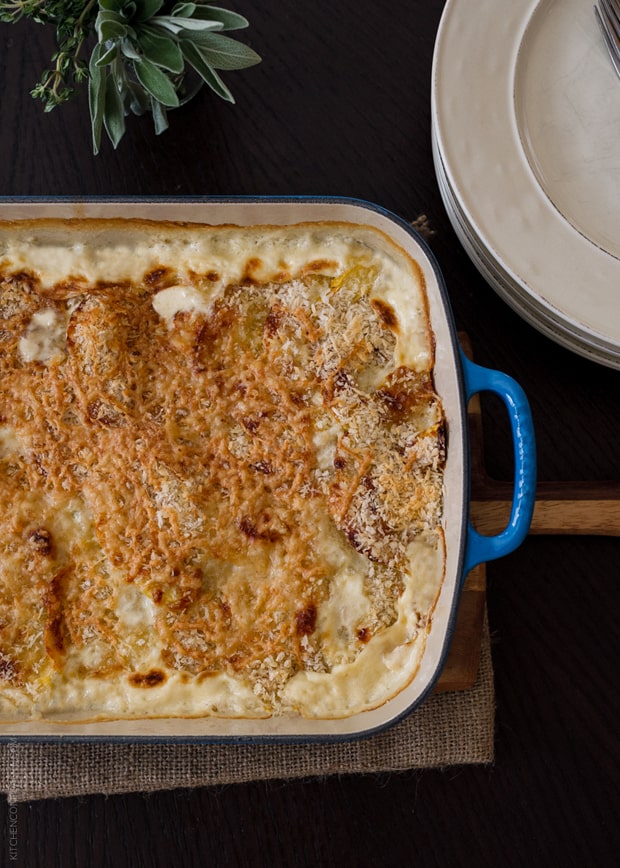 Autumn Squash Gratin and More Le Creuset Signature Roaster Recipes + A Giveaway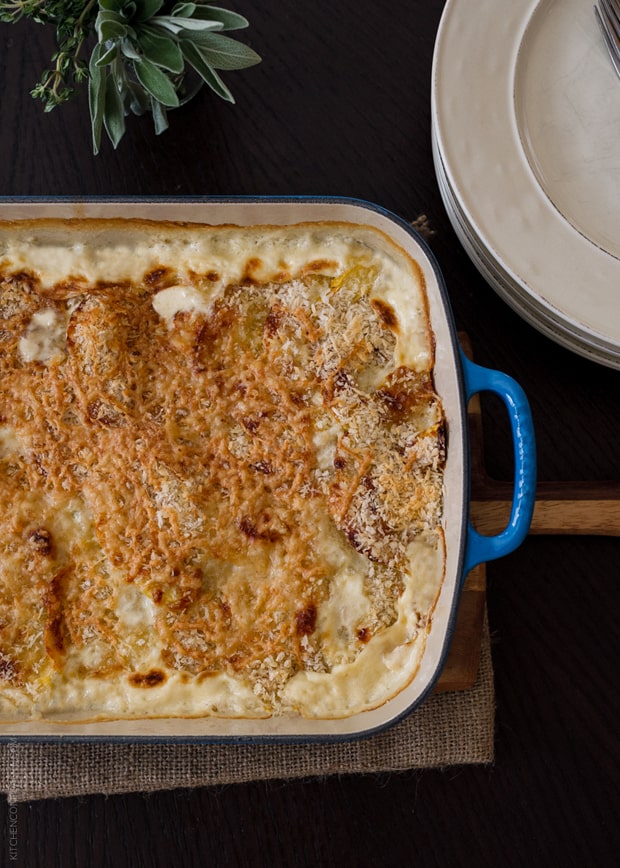 I stood by the kitchen sink, stirring my black coffee with the swirl of sugar and half and half, and it changed color, just the way I like it. As I brought my mug up for a sip, I felt a warm rush of air from above, and hear the faint hum of something familiar. I was puzzled by the scent – I knew I recognized it from somewhere.
Ah, the heat! With the press of a button, my husband turned on the heater, which lay dormant for months. I had nearly forgotten.
And just like that, autumn is here.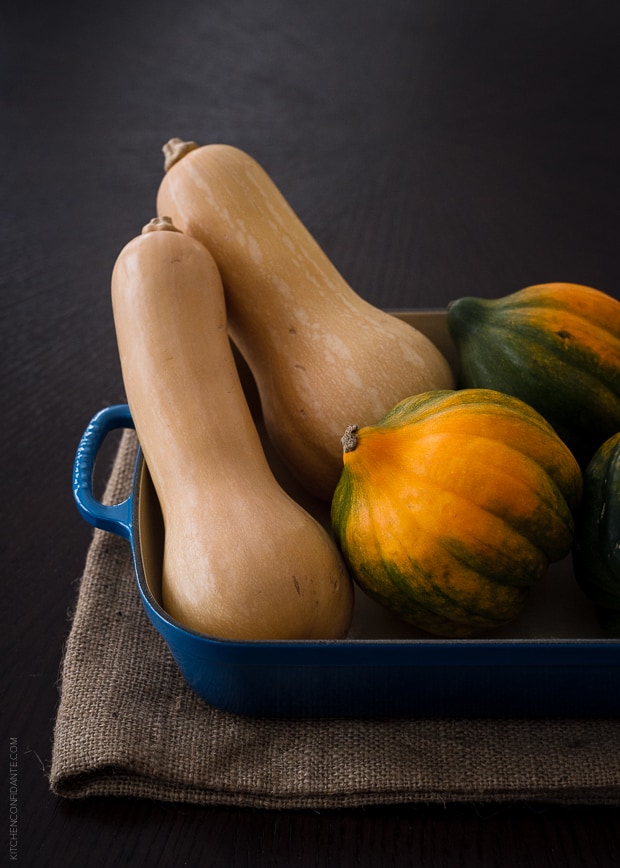 This weekend we had the delicious taste of rain – a downpour that we watched from inside, the drops bouncing along the street, a happy staccato. I was content to not have a reason to be anywhere, safe inside, putting the oven to good use once again.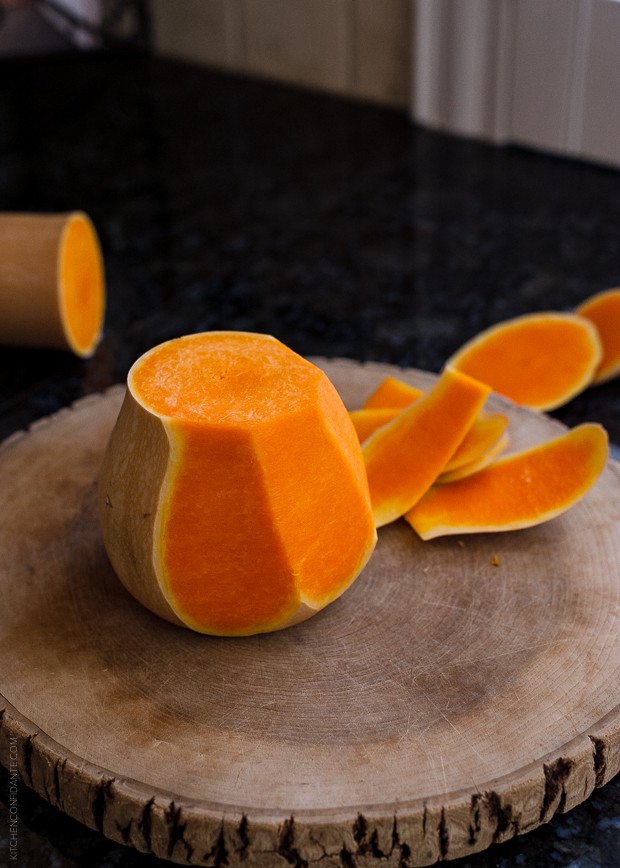 Now that it is officially fall, I am so glad to tell you about a project with Le Creuset. I have been dreaming about autumn for months, developing a series of recipes for Le Creuset's Signature Roaster. Le Creuset cookware is a favorite of mine in the kitchen, most especially this time of the year, when all I want to do is roast, bake and braise the cold weather away. I developed four recipes that are now being featured on LeCreuset.com, including the Autumn Squash Gratin, pictured above.
Now that the beautiful squash are aplenty, I urge you to try this creamy, dreamy side dish. It is comfort by the spoonful.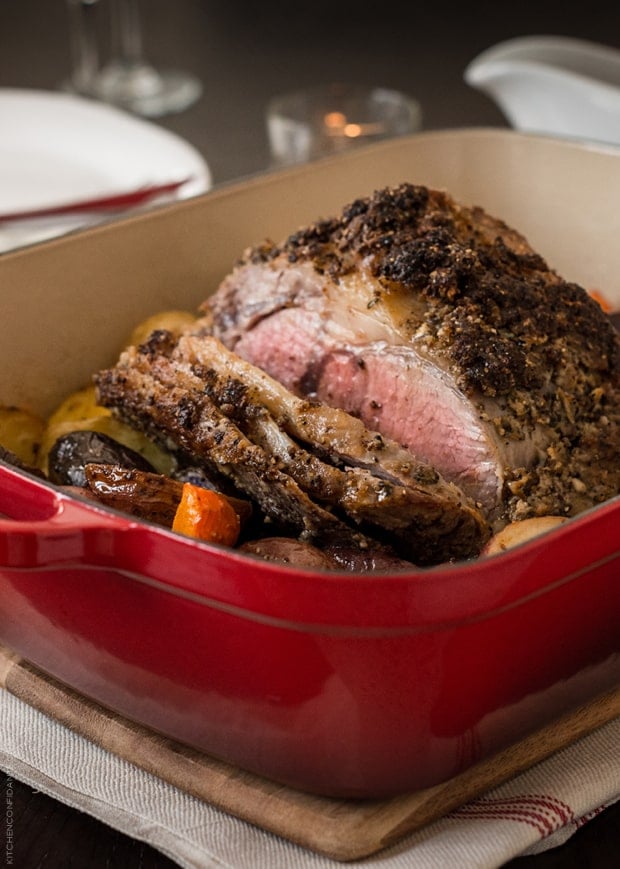 It goes beautifully with this Beef Roast with Roasted Root Vegetables and Thyme Au Jus, which I made in the larger 7 Qt Roaster. I loved how the roasters feature larger handles, making it so simple to transfer the roast from oven to table. And the cast iron worked beautifully on the stove top for the thyme au jus; making gravies in the roasters are just fantastic.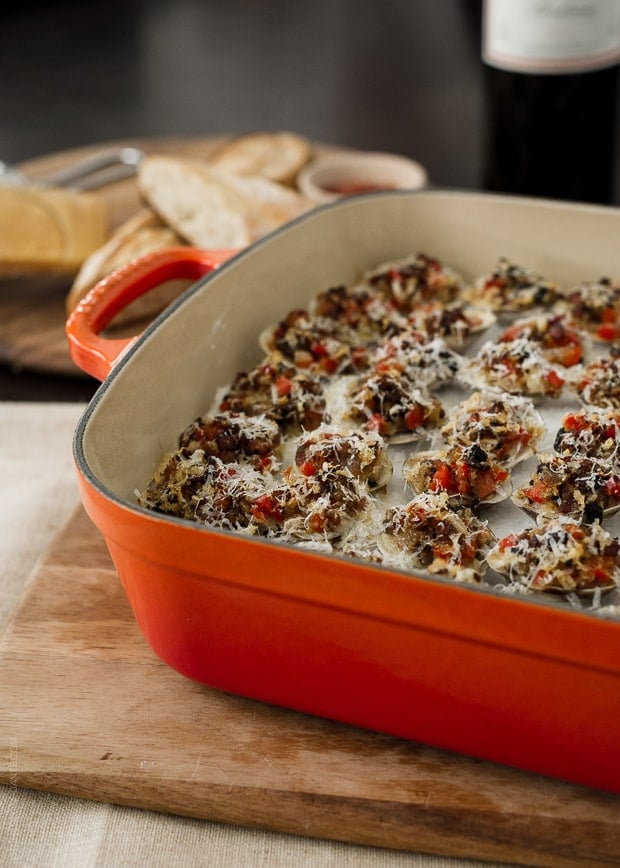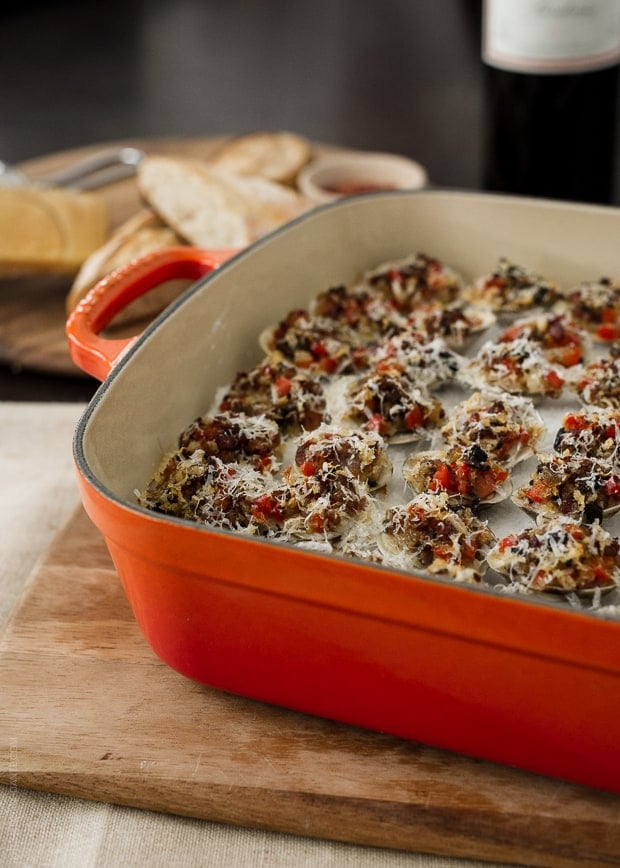 I wanted to do something a little different, and nursed a long time craving for Bake Stuffed Clams Casino. Both my husband and I miss the small Italian eateries on the East Coast that serve up these delicious stuffed clams. It was so fun to recreate this childhood favorite, cooking them in a bed of rock salt in the smaller, but so versatile 5 1/4 Qt Roaster.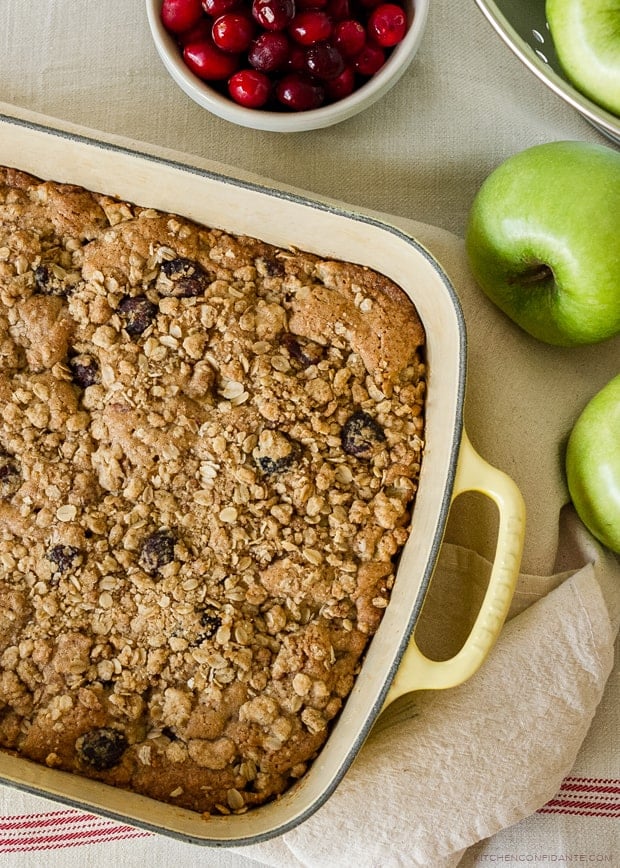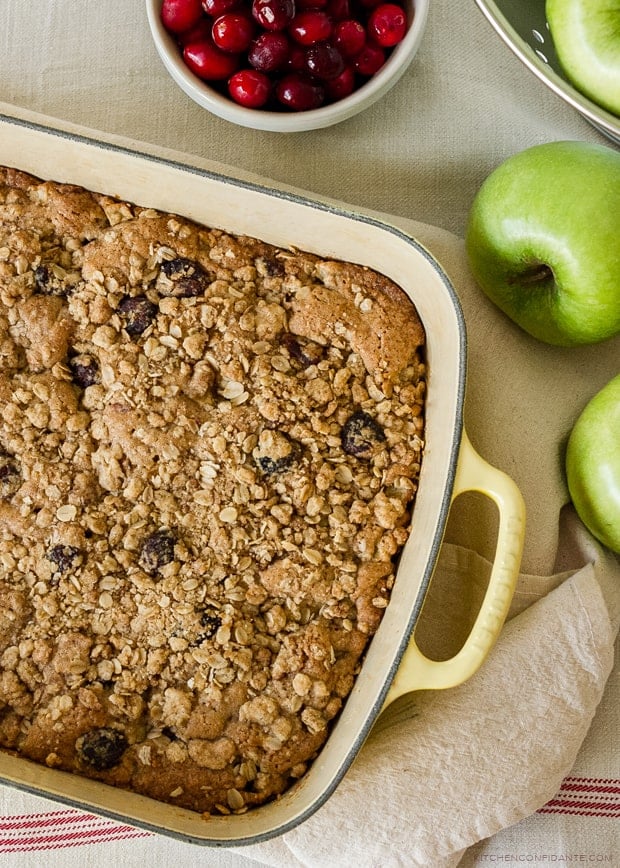 And of course, you know my love for crumbly desserts. These Apple Cranberry Crumb Blondies are perfect for a crowd (but please don't judge me for eating nearly the entire pan myself).
What I'm most excited about, though, is sharing the roasting fun with one of you. Le Creuset is offering one beautiful 5 1/4 Qt Signature Roaster (valued at $200) in the color of your choice: Cherry, Marseille, Flame, Soleil, Dune, Caribbean, Cassis or Truffle.
So go ahead! Enter below! I know you're going to love cooking with this incredibly versatile roaster!
Recipes can found on Le Creuset:
Autumn Squash Gratin
Beef Roast with Roasted Root Vegetables and Thyme Au Jus
Bake Stuffed Clams Casino
Apple Cranberry Crumb Blondies
Giveaway
I would love for you to win a Le Creuset Signature 5 1/4 Qt Roaster to use this autumn! Ready to enter? Here's how:
Please leave a comment in the comment section below: What would you make in this beautiful roaster? and click on the widget below.
For additional entries, use the widget below.
Entries/Comments accepted until 12 am Pacific, Tuesday, 1 October, 2013.
One winner will be randomly selected and notified by email. The winner will have 48 hours to respond to email notification, otherwise an alternate winner will be selected.
This giveaway is now closed. Congatulations to Pat on a winning comment:



Disclosure: This giveaway was sponsored by Le Creuset. One winner will receive a Le Creuset Signature 5 1/4 Qt. Roaster in the color of their choice, provided by Le Creuset. As always, all opinions are my own.
Sponsored posts such as these help support the work behind the scenes on Kitchen Confidante. Thank you so much for your visits and making my blog part of your day.