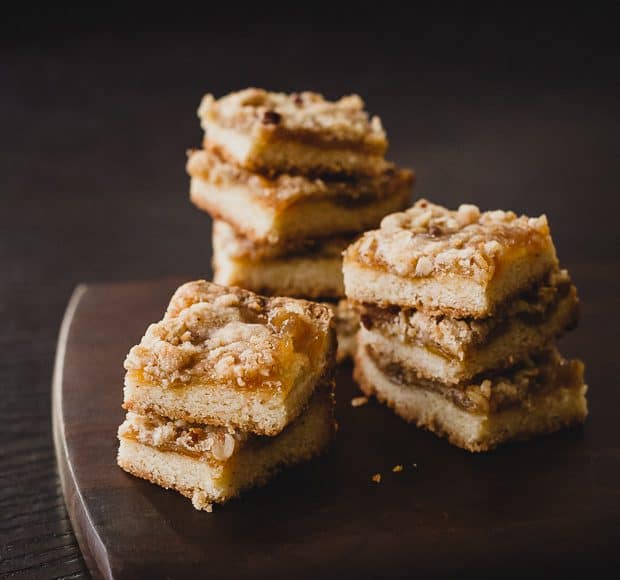 Meyer Lemon Jam Crumb Bars
These Meyer Lemon Jam Crumb Bars are full of bright lemon flavor, but they are easily adaptable—so use your favorite jam!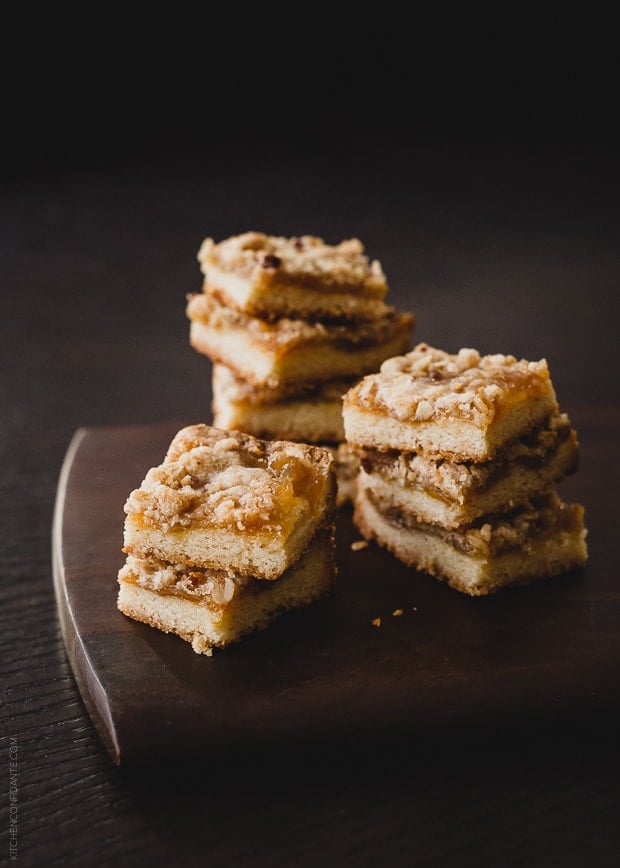 Meyer Lemon Jam Crumb Bars
These easy Meyer Lemon Jam Crumb Bars consist of three layers—a cookie dough layer, a luscious spread of jam, and a crumble topping filled with oats, pecans, and cinnamon.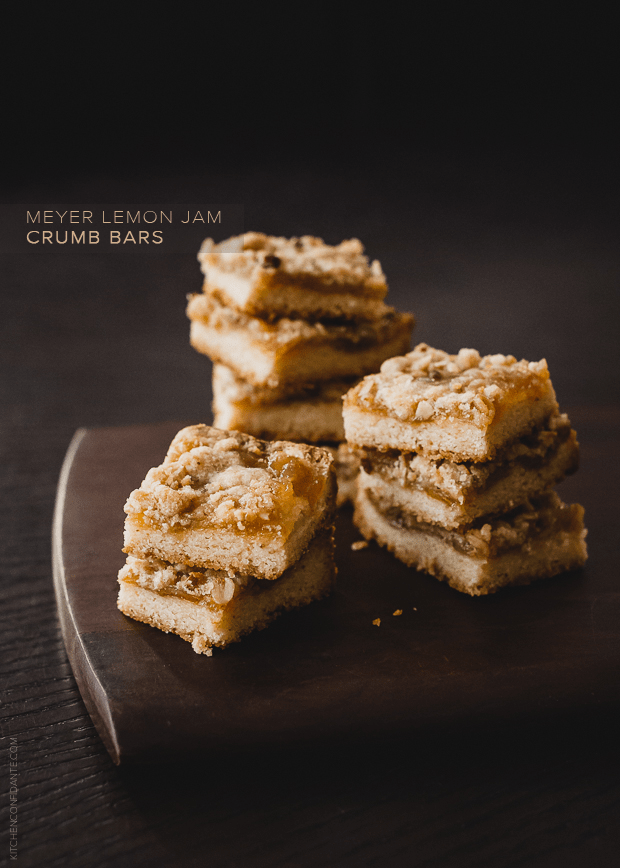 This post first appeared September 21, 2013 as part of the Simple Sundays series. I hope you enjoy this favorite from my kitchen!
The room was still dark and I hesitated. Hovering over his bed, I watched my son sleep, his long lashes resting on his cheeks – cheeks once so plump, thinning out now as each year passes, yet still adorably kissable. Mornings are not his thing, and I hated to disturb his slumber. As I nudged him gently to wake, I held my breath. On which side of the bed will he wake today?
"Is it a weekend?" he whispered. He groaned when I told him it was Monday, a weekday. "Aaggh, why can't every day be a weekend?"
Oh buddy. How I wish! I'm sorry kiddo, I wish we could have weeklong weekends, where you can sleep in and not have to rise in the dark, and leave the house when the earth has yet to have a chance to warm up a bit. I wish you could linger in your pajamas till noon and play all day and I could bake something delicious, and fuss over a roast for dinner.
Then again, if we didn't have weekends to look forward to, would they still be special?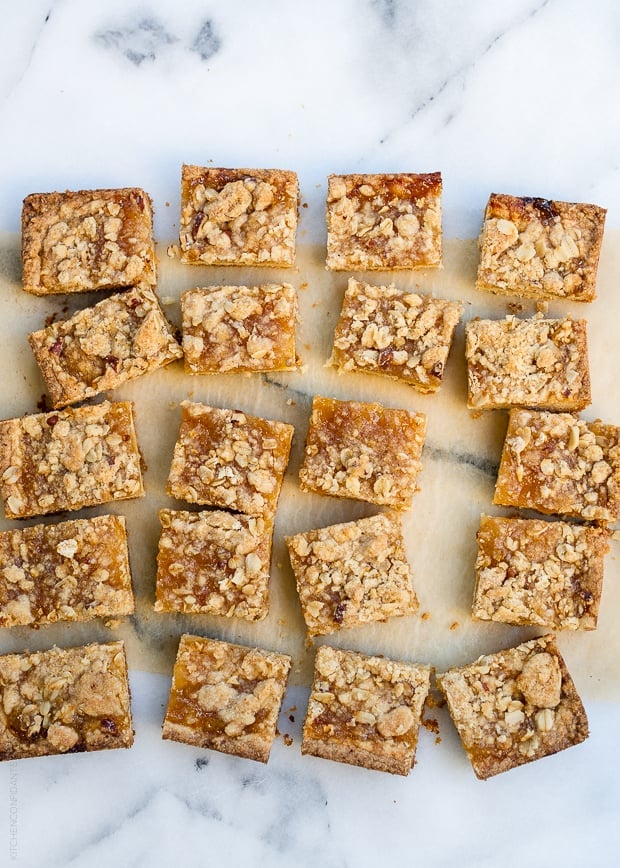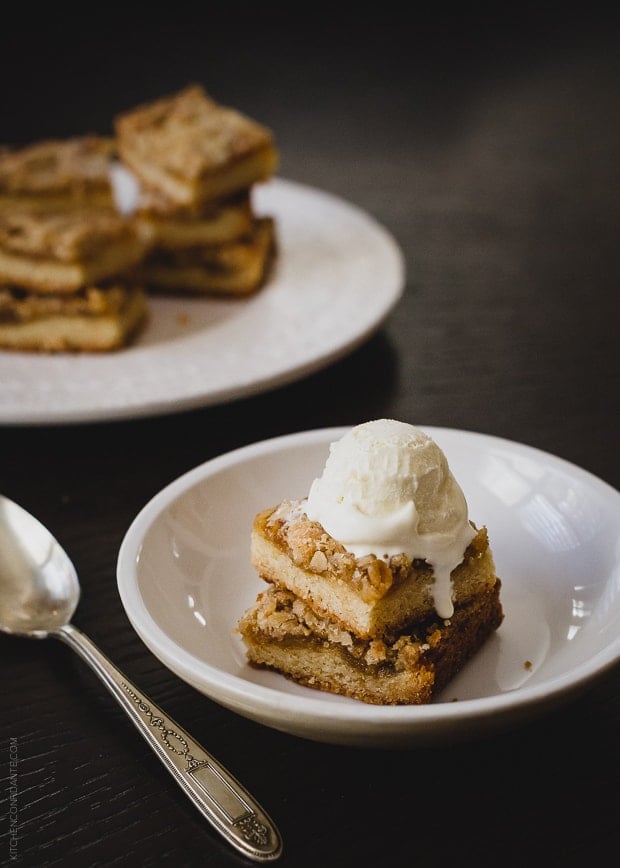 I'm looking forward to the weekend. I hear there may even be rain! That sounds perfect to me. I want to crawl into fleece pants and wear slippers all day and feel the warmth of the oven heat on my cheeks as I open the oven door. If you're feeling the same way, you must try these Meyer Lemon Jam Crumb Bars this weekend.
I'm sure you've got a good bottle of jam somewhere, tucked away? It doesn't have to be Meyer Lemon, but if it is, then it will be the right kind of sunshine to welcome into the kitchen.
As for the ice cream on top, well, I leave that up to you. I prefer them plain, but my husband insists on a small scoop with each bar. You decide. Let me know which way you like best!
Where to Find Meyer Lemon Jam
For this recipe, I used INNA Meyer Lemon Jam, which is available online or you can check if there is a retailer near you. I also suggest perusing the selection of jam at your local grocery stores–you might be surprised at what you discover!
This recipe works well with any of your favorite jams, so don't hesitate to substitute a different flavor.
How to Make the Meyer Lemon Bars
With the use of a food processor, these bars are so quick to make.
First, prepare an 8×8 pan with a light coat of baking spray and a lining of parchment paper. Then, the dough is prepared in the food processor and pressed into the pan.
Top with 1 cup of your jam of choice and spread it evenly on top of the dough.
Now, use the food processor one more time to mix together the crumble topping–a mixture of flour, brown sugar, butter, oats, pecans, and cinnamon. Sprinkle crumbs over the jam layer and bake for about 35 minutes.
Wait at least 20 minutes before cutting the bars, and enjoy!
More Bar Recipes To Make
Cranberry Curd and Hazelnut Shortbread Bars
Margarita Bars
7 Layer Bars
Chocolate Chip Cherry Oatmeal Cookie Bars
No-Bake Lemon Curd Cheesecake Bars
Meyer Lemon Jam Crumb Bars
I made these Meyer Lemon Jam Crumb Bars with a Meyer Lemon Jam that tasted more of a sunny marmalade than anything. It was divine. If you don't have any on hand, any flavor jam will work beautifully!
Ingredients
For the bars:
1

cup

all-purpose flour

1/2

cup

brown sugar

1/2

teaspoon

baking powder

1/8

teaspoon

kosher salt

1

stick

unsalted butter

cold and diced

1

egg yolk

1/2

teaspoon

vanilla extract

1

cup

Meyer Lemon Jam

I used INNA Jam
For the crumb topping:
1/4

cup

flour

1/4

cup

brown sugar

plus extra for sprinkling

2

tablespoons

cold butter

cut in cubes

2

tablespoons

oats

2

tablespoons

chopped pecans

1/4

teaspoon

cinnamon
Instructions
Preheat the oven to 375° F. Prepare an 8×8 square baking pan by lightly coating with butter or baking spray and lining with parchment paper.

In the bowl of a food processor, mix together the flour, sugar, baking powder, and salt. Add the butter and pulse until you have course crumbs. Add the egg yolk and vanilla and continue pulsing until the mixture just comes together in a ball.

Press the dough into the baking pan in an even layer. Top with the jam and spread evenly.

Back in the food processor, mix together flour and brown sugar for the crumb topping. Pulse the butter into the mixture until you have coarse crumbs. Add the oats, pecans and cinnamon, and pulse again until just combined. Using your fingers, pinch together the crumbs and sprinkle over the layer of jam.

Bake the bars for about 35 minutes, or until golden brown. Remove from oven and cool for at least 20 minutes before cutting.
Nutrition
Calories:
139
kcal
|
Carbohydrates:
28
g
|
Protein:
2
g
|
Fat:
3
g
|
Saturated Fat:
1
g
|
Polyunsaturated Fat:
1
g
|
Monounsaturated Fat:
1
g
|
Trans Fat:
1
g
|
Cholesterol:
16
mg
|
Sodium:
40
mg
|
Potassium:
58
mg
|
Fiber:
1
g
|
Sugar:
17
g
|
Vitamin A:
93
IU
|
Vitamin C:
1
mg
|
Calcium:
22
mg
|
Iron:
1
mg