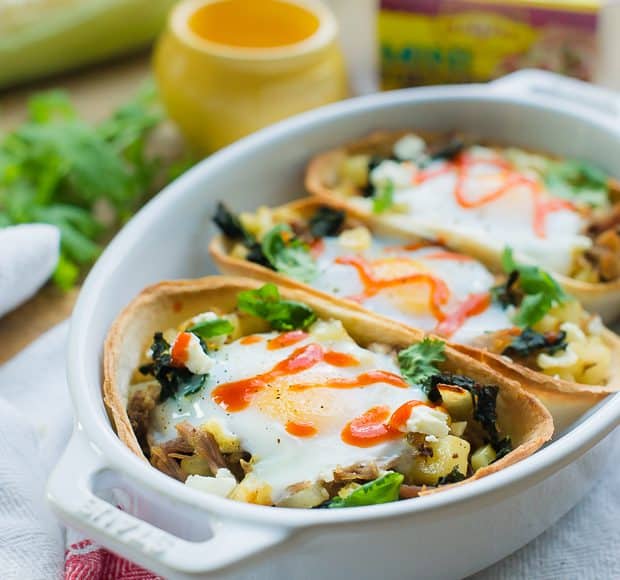 Baked Egg Taco Boats with Pulled Pork, Potatoes and Kale
These Baked Egg Taco Boats with Pulled Pork, Potatoes and Kale are a wholesome meal in a tortilla shell – and the boats make it fun AND easy to eat. Make any busy weeknight taco night! This post is brought to you by Old El…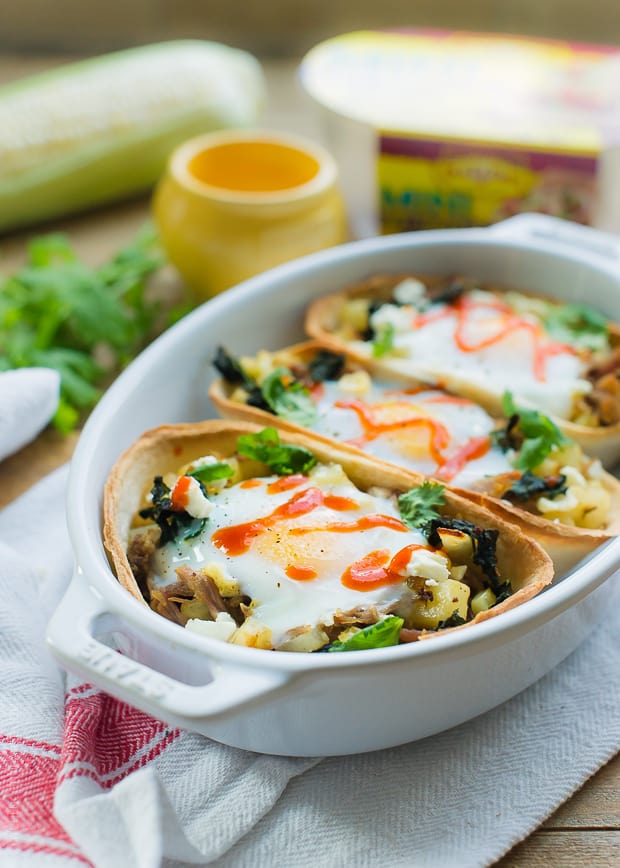 Baked Egg Taco Boats with Pulled Pork, Potatoes and Kale
These Baked Egg Taco Boats with Pulled Pork, Potatoes and Kale are a wholesome meal in a tortilla shell – and the boats make it fun AND easy to eat. Make any busy weeknight taco night! This post is brought to you by Old El Paso.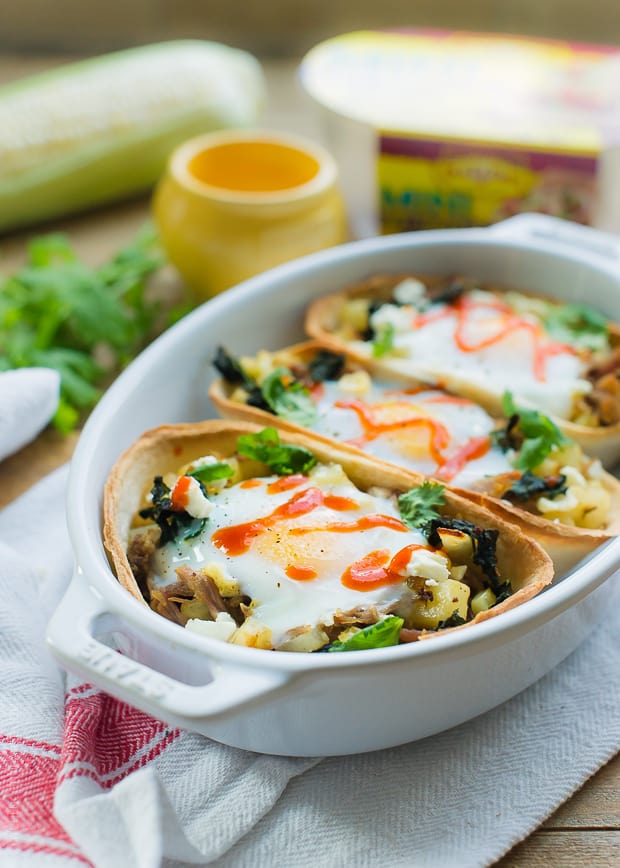 If you had to pick one ingredient to have on hand at all times, yes, just one, what would you pick? It's an unfair question, really, as there are so many things I would want. Chocolate. Wine. I mean, really, right? Or yogurt. And let's not forget butter. Or bacon.
But if I really had to pick just one, I would be practical and pick eggs. As long as I have an egg or two in the refrigerator, then I know that I'll never have to, ahem…scramble. Puns aside, with eggs, breakfast, lunch, dinner, dessert – you name it – I've got it covered.
Taco Tuesday rolled around the other day and my son came into the kitchen after doing his homework to investigate. He saw me shredding pulled pork, and some freshly rinsed kale on my cutting board. "Um, mom? Since it's Tuesday, can we have tacos for dinner?"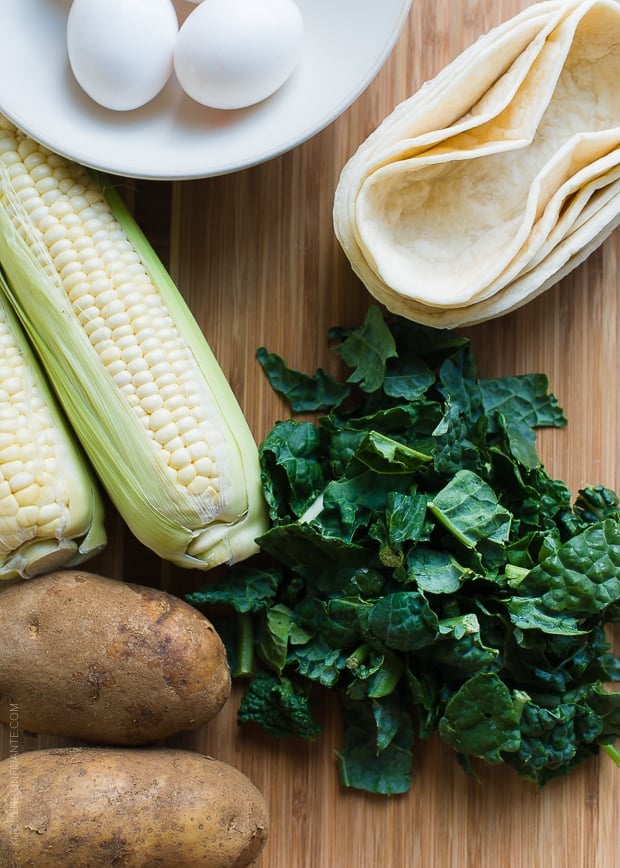 "We can have something better than tacos – how about taco boats?"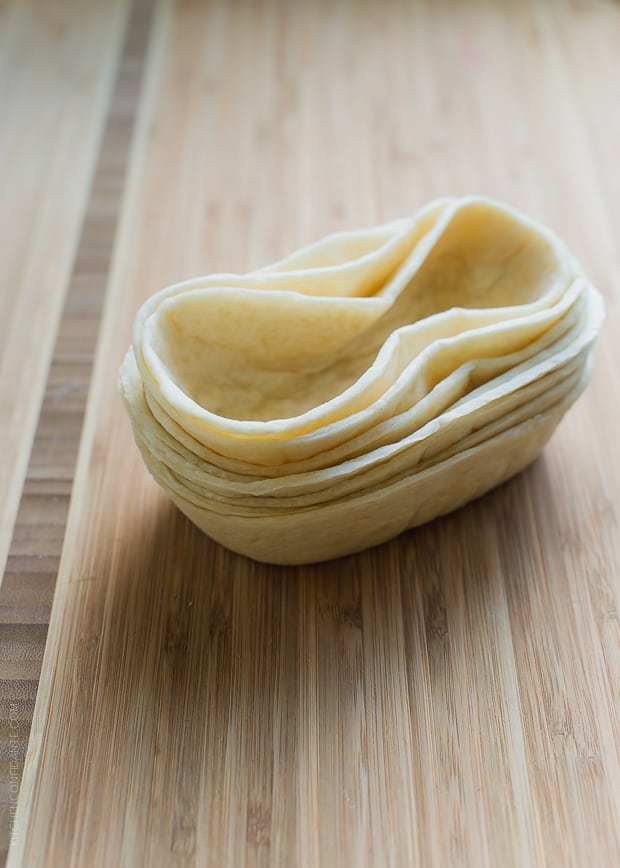 Taco boats! I showed him the nifty Old El Paso soft tortilla shells that I picked up at Albertsons Safeway, shaped to hold a multitude of possible fillings.
"Cool!"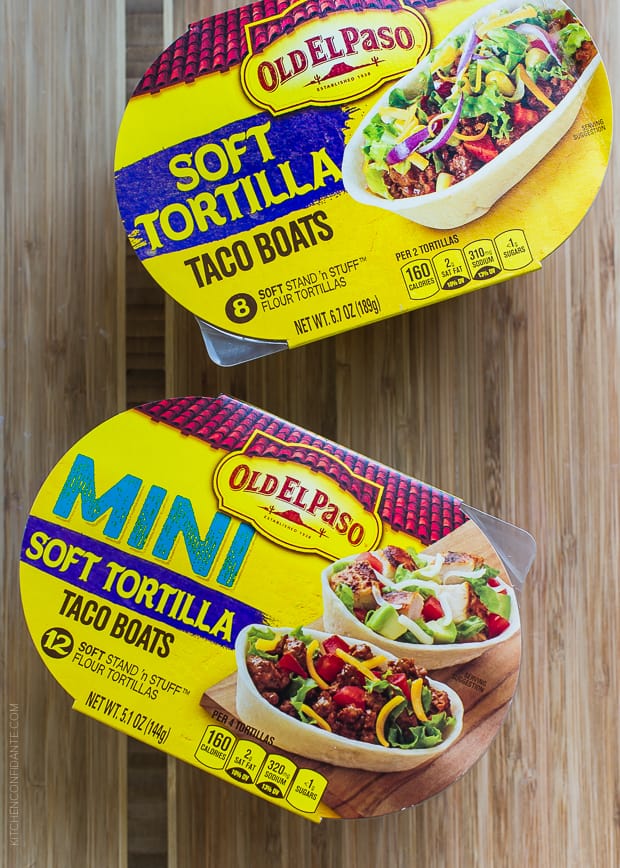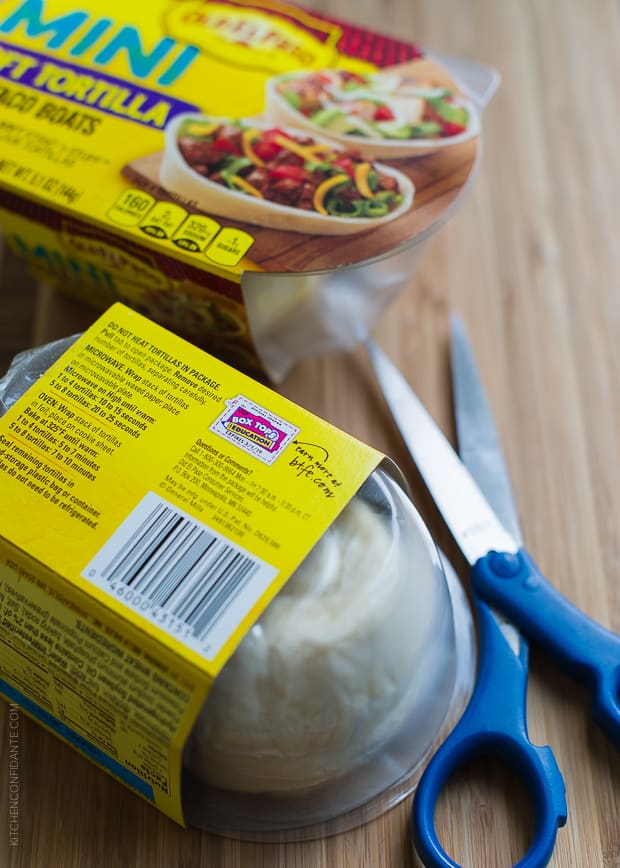 He spotted the Box Tops and cut them out — they were due at school the next day.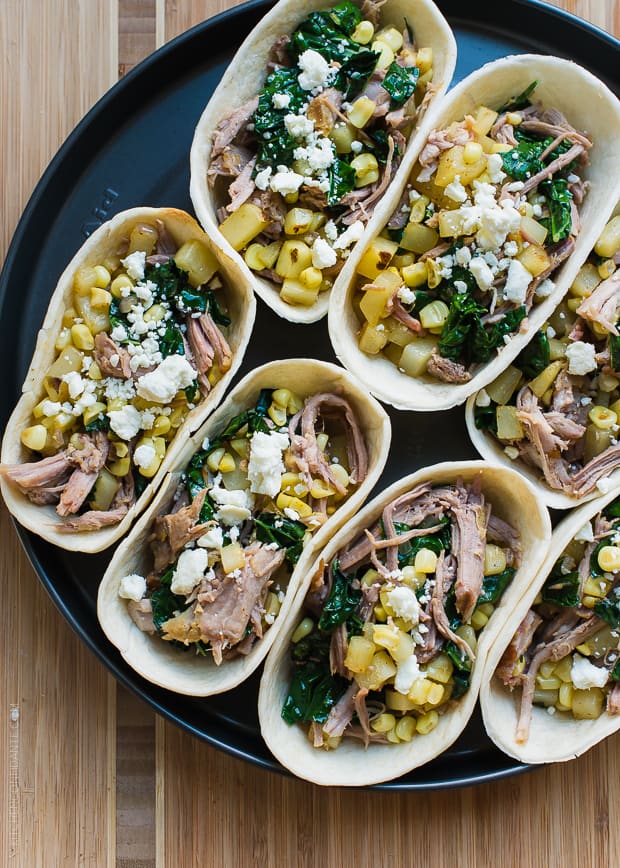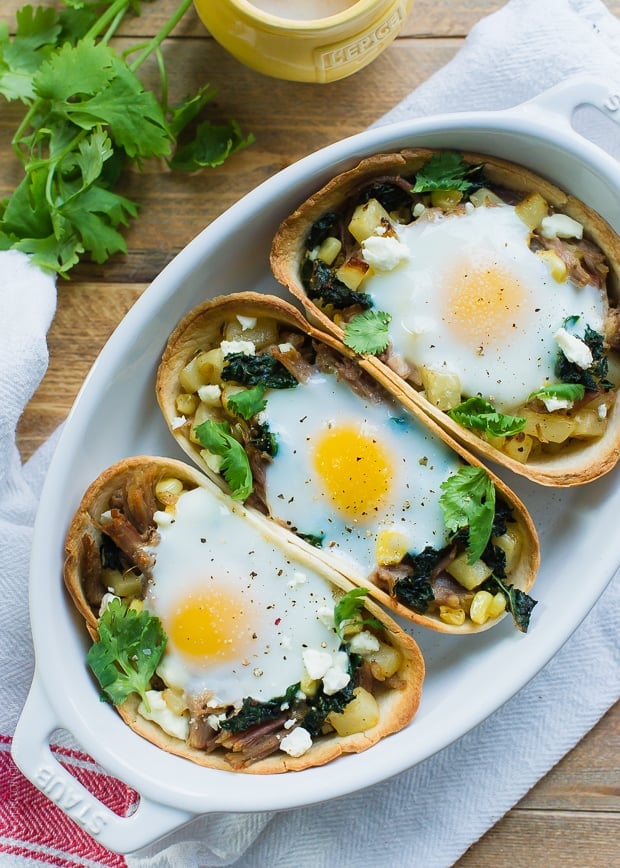 I finished dicing up some potatoes and slicing kernels of corn off the cob. And after I finished sautéing veggies, I folded in the pulled pork and placed it into the little boats. But before I set the taco boats off to sea, I broke my precious eggs into each one. As they baked in the oven, the eggs settled into the taco boats, and I served it up to my eager family.
I saw nods of approval. My daughter wiggled her shoulders, the Baker family sign of yummy, and my son gave me the thumbs up. "So good!" My husband agreed, dousing his with hot sauce. Hot sauce and eggs – what's not to love?
"Can we have taco boats every Taco Tuesday?" the kids begged after dinner.
Sounds good to me.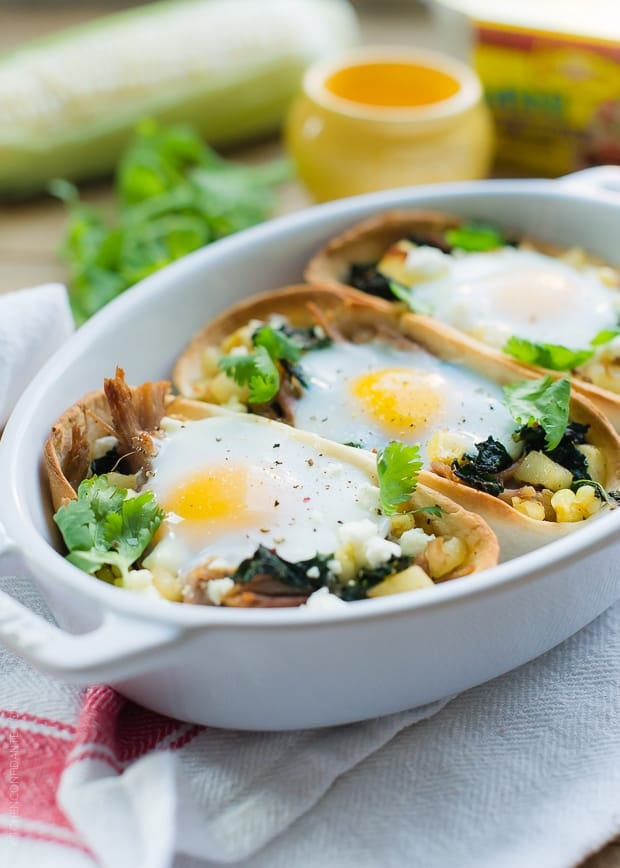 Old El Paso products, found at your local Albertsons Safeway store, are an easy weeknight meal solution.
Shoppers can clip the Box Tops found on the Old El Paso packaging, and on other General Mills products, to earn 10 cents each for their schools through the Box Tops for Education program. 
This is a sponsored conversation written by me on behalf of Albertsons Safeway and Old El Paso . The opinions and text are all mine.
Baked Egg Taco Boats with Pulled Pork, Potatoes and Kale
Taco Tuesday just got more fun! These Baked Egg Taco Boats with Pulled Pork, Potatoes and Kale are a wholesome meal in a tortilla shell – and the boats make it fun AND easy to eat.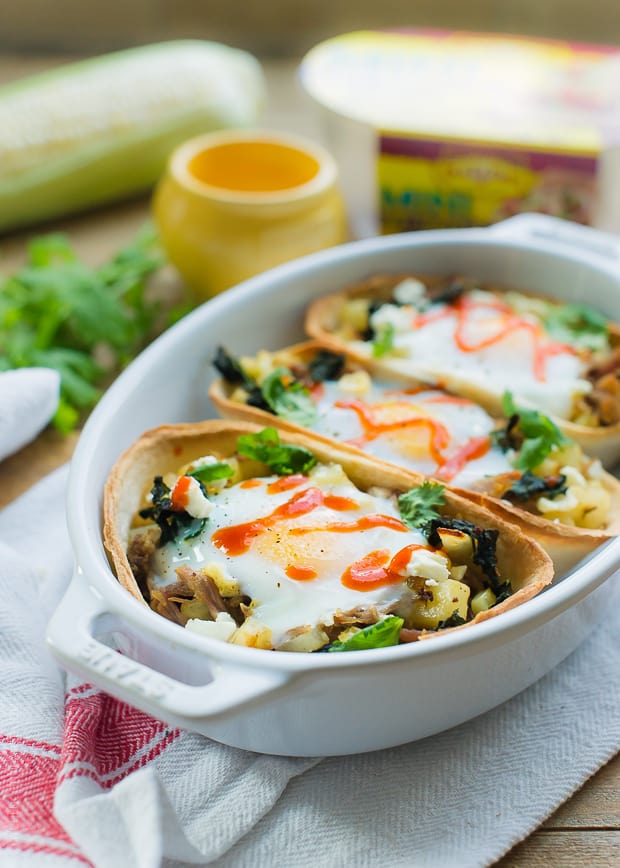 Print Recipe
Ingredients
2 tablespoons canola oil
2 large shallots, finely chopped
2 cloves garlic, minced
1 russet potato, peeled and diced into 1/4 inch cubes
3 cups chopped kale (stems removed), rinsed and drained
1 teaspoon kosher salt, plus more to taste
1 teaspoon chili powder
1/2 teaspoon cumin
12 oz pulled pork
freshly ground black pepper
8 Old El Paso Soft Tortilla Taco Boats
8 large eggs
fresh cilantro, for serving
hot sauce, for serving
Instructions
Preheat the oven to 350° F.
In a deep sided sauté pan, heat the canola oil over low heat. When the oil is shimmering, add the shallots and garlic, and cook while stirring, until the shallots are translucent. Add the potatoes to the pan, and cook for about 7-10 minutes, or until the potatoes are just fork tender. Stir in the kale, and season with salt, chili powder and cumin, and cook until the kale is wilted. Adjust the seasoning with salt and pepper. Stir in the pulled pork, and adjust the seasoning with salt and pepper. Set the filling aside.
Wrap the taco boats, still stacked, in aluminum foil. Warm it in the oven for about 5 minutes, then remove. Fill each taco boat with filling and arrange in a baking dish or baking sheet. Using a spoon or your hand, form a little well in the filling of each taco boat. Crack an egg into a ramekin and gently place the egg into the taco boat, making sure not to break the yolk. Repeat with the remaining eggs and taco boats.
Place the baking dish in the oven and bake for about 12-15 minutes, or until the egg whites are cooked but the yolks are runny, or to your desired doneness. . Be careful not to overcook, as it can quickly do so.
Remove the taco boats from the oven, garnish with cilantro and hot sauce if desired, and serve while hot.