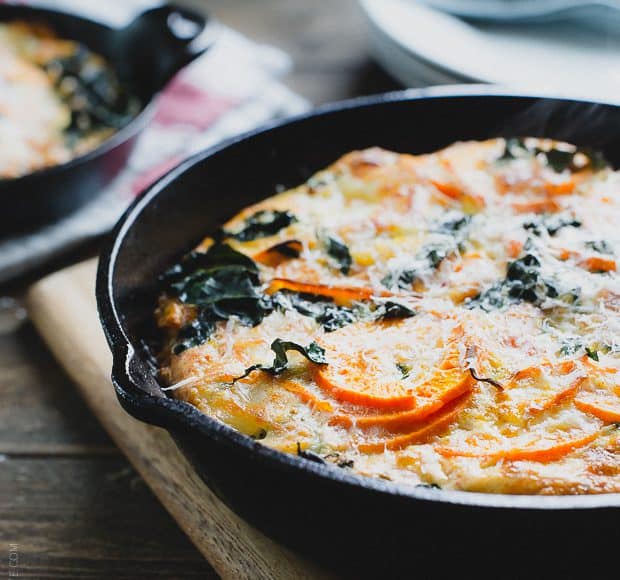 Spiralized Sweet Potato Kale Egg White Frittata
This Spiralized Sweet Potato Kale Egg White Frittata has everything you need in one skillet—perfect for a quick breakfast, lunch or even dinner.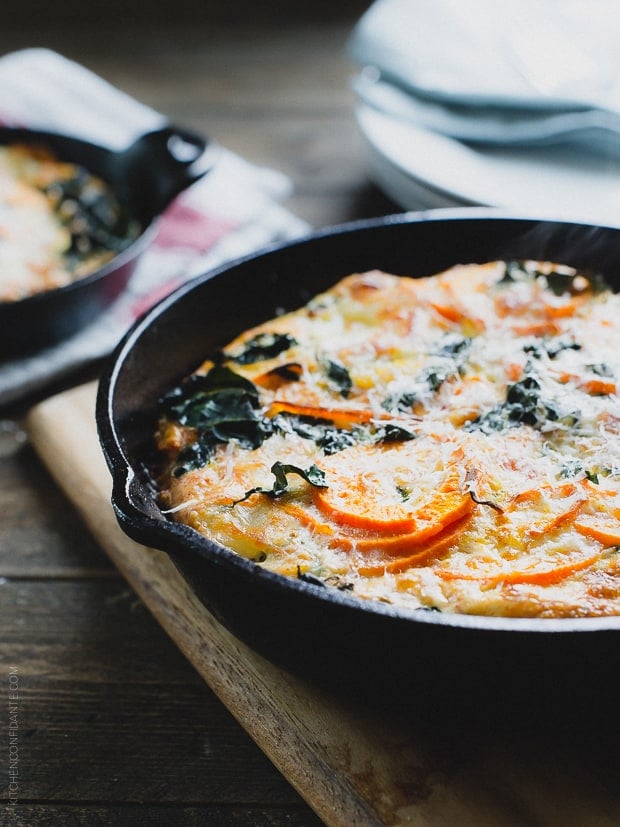 Spiralized Sweet Potato Kale Egg White Frittata
Whether you're cooking for breakfast, lunch or a simple dinner, frittatas are the way to go. This Spiralized Sweet Potato Kale Egg White Frittata has everything you need in one skillet.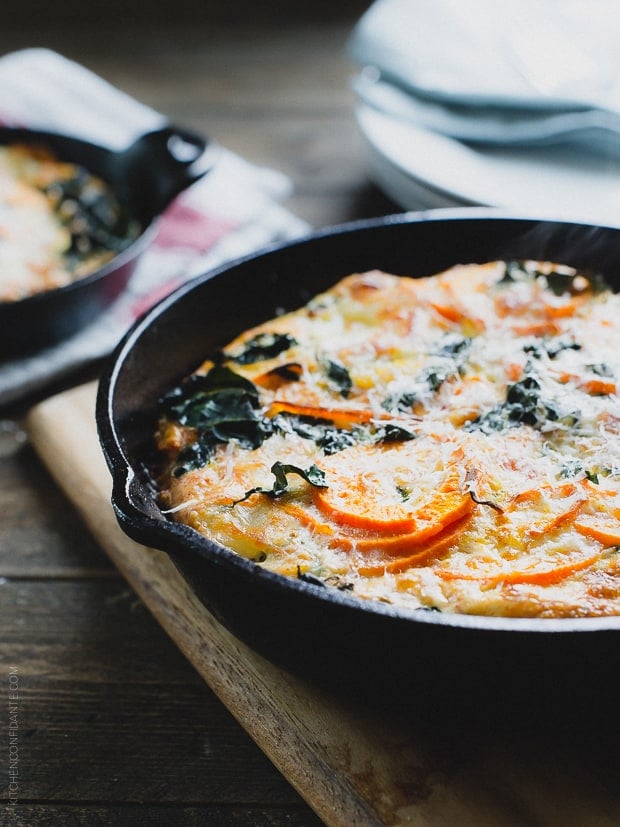 There were some nights that would catch my mother off guard, when she would look up at the clock and gasp. She would hurry into the kitchen, and I would hear her crack a few eggs, the sizzle of the pan, and as my father would walk in the door, a golden frittata would be puffy and ready to slice.
This was her secret to a last minute supper, one that no one would know was unplanned. Except now that I have a family of my own, I want to wink at her up in the heavens.
Another secret: frittatas are perfect for cleaning out the fridge. You can throw just about anything into a frittata and have a well rounded meal.
I had nearly a dozen egg whites in my fridge after making my daughter a birthday croquembouche, and I was secretly glad. If there's one thing better than a frittata, it's an egg white frittata — especially this time of year when I feel the urge to eat lighter and leaner.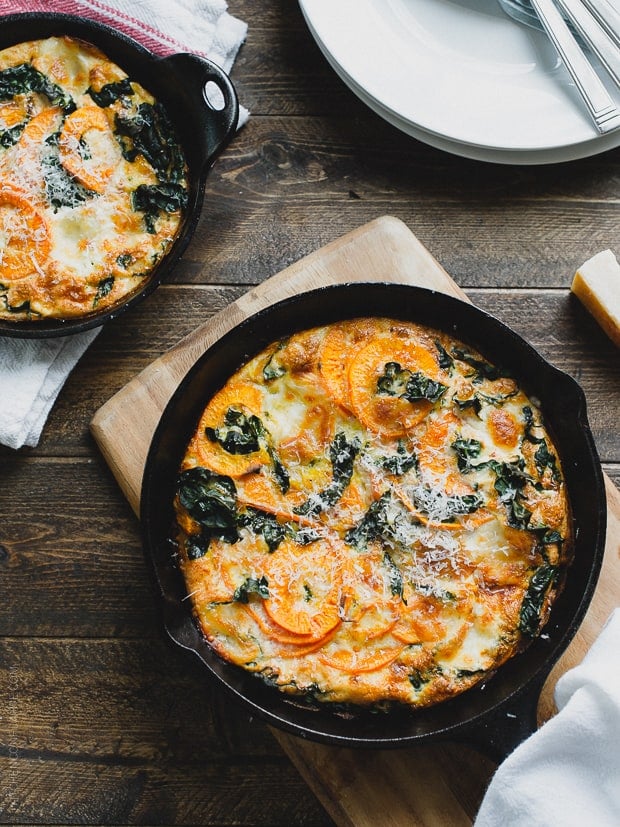 Sweet potatoes were one thing I remember often landing into my mother's frittatas, and rather than dicing them, I pulled out my spiralizer. I love my spiralizer. Vegetables become more enticing, and when January's good intentions beckon, it's a good way to keep up the healthy eating.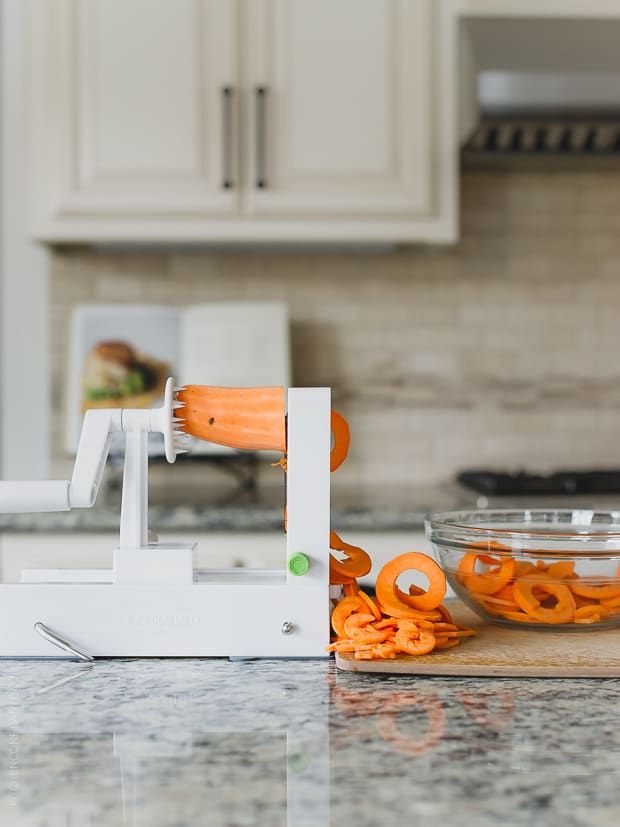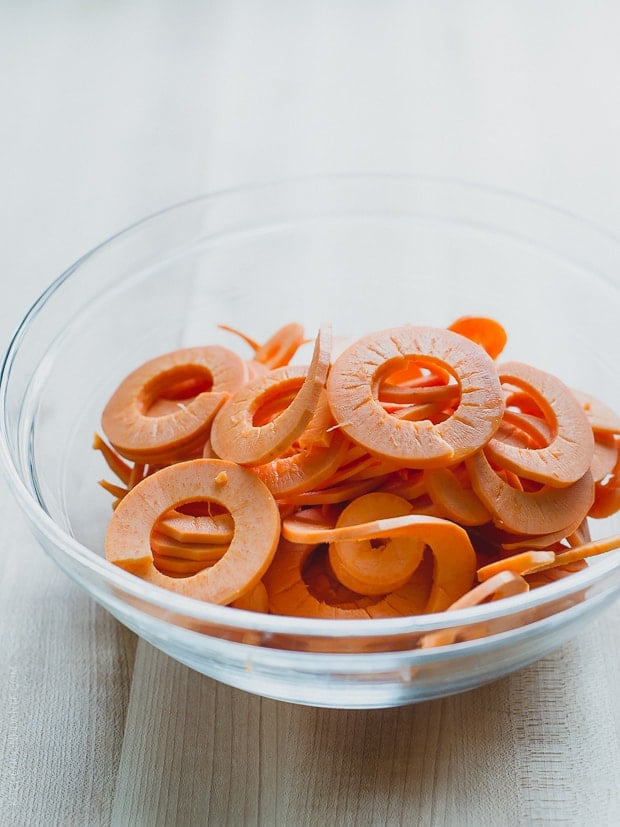 This particular spiralizer I especially love because it is designed with so many thoughtful touches by Ali at Inspiralized. We had the chance to meet in person last autumn, and I can tell you that all her hard work has made The Inspiralizer a tool that you will love to use again and again. She's thought of everything to make it easy to use, you'll want to use it everyday. You will want to spiralize EVERYTHING.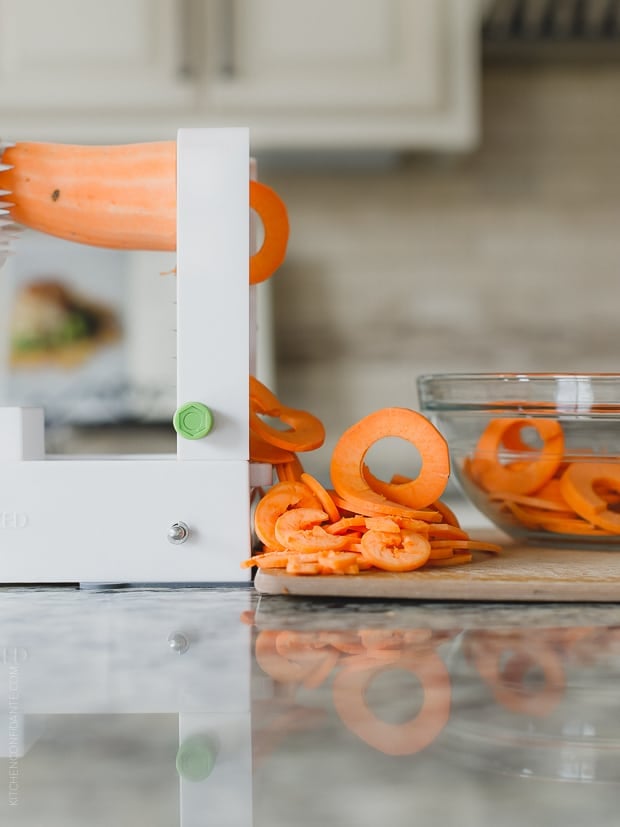 Spiralized sweet potatoes swirl in this frittata, with kale and some sweet onions, and a hit of Parmesan cheese and dollops of mozzarella make this a one dish wonder. If you're like our family, and are trying to eat more vegetables, this is one to add to your arsenal. It's a simple dinner, an easy brunch, and if you have leftovers, you'll love it for lunch. And then you'll want to do it all over again, with all the other veggies in your fridge.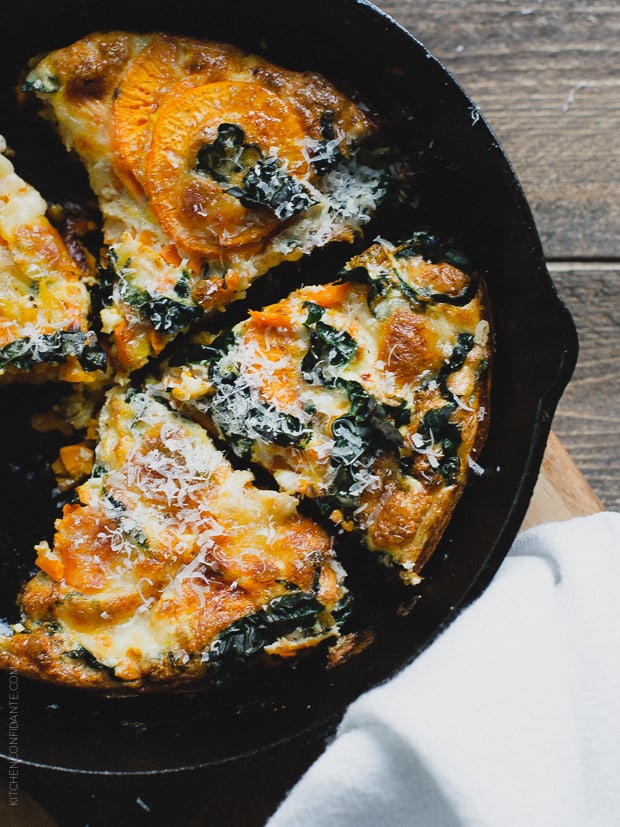 Find out more about The Inspiralizer and check out Inspiralized for more delicious spiralized dishes!
Disclosure: This post is part of a collaboration with Ali Maffucci at Inspiralized. While I was provided the Inspiralizer, I was not compensated to publish this post; I am happy to share products I know you will love, and knowing Ali personally, I am especially proud of this amazing kitchen tool she has created. There are affiliate links in this post. All opinions are, as always, my own.
MORE FRITTATA RECIPES
Chicken Sausage and Four Cheese Frittata
Taco Frittata
Asparagus, Ham and Kale Frittata
MORE EASY (AND HEALTHY!) BREAKFAST OR BRUNCH RECIPES
Apple Oatmeal Blender Waffles
Peaches and Cream Green Breakfast Smoothie
Overnight Oats with Figs, Honey and Toasted Coconut
Carrot Oat Muffins
Mushroom Polenta Breakfast Bowl
Spiralized Sweet Potato Kale Egg White Frittata
A simple and healthy Spiralized Sweet Potato Kale Egg White Frittata is an easy and wholesome way to eat your veggies! Using a spiralizer makes it a fun dish to serve for brunch, lunch and even a simple dinner. If you don't have a spiralizer, you can slice the sweet potatoes with a knife or use a peeler or julienne peeler.
Ingredients
1

sweet potato

ends trimmed, peeled and halved

2

tablespoons

olive oil

1/2

medium yellow onion

peeled and thinly sliced

1 1/2

cups

chopped kale leaves

about 3 stalks, trimmed and stalks removed

10-12

egg whites

1/3

cup

low fat milk

2

teaspoons

kosher salt

plus more to taste

freshly ground black pepper

to taste

1/2

teaspoon

paprika

1/3

cup

grated parmesan cheese

1/3

cup

shredded mozzarella cheese
Instructions
Preheat the oven to 425° F and place an oven rack in the center of the oven.

Using a spiralizer, make ribbons of your sweet potato. On the Inspiralizer, I used the B blade.

Heat a 10-inch skillet (cast iron or non stick works best) over medium heat. Add the oil and twirl the pan to evenly coat, making sure the coat the sides of the skillet. Add the onion, and cook for about 3 minutes, or until they begin to wilt. Stir in the sweet potatoes, season with a light touch of salt, and let it cook for about 5 minutes, or until the sweet potatoes just start to soften and the onions caramelize, stirring occasionally. Stir in the kale leaves.

Quickly whisk together the egg whites, milk, 2 teaspoons salt, pepper, and paprika. Whisk in the parmesan cheese, then pour the eggs into the skillet. Sprinkle with mozzarella cheese, then place in the oven to bake for about 18-20 minutes, or until the frittata is lofty and the center is no longer runny when you insert a knife. Remove from the oven, let it stand for a few minutes before slicing and serving.
Notes
If you don't have a spiralizer, you can slice the sweet potatoes with a knife or use a peeler or julienne peeler.
Nutrition
Calories:
220
kcal
|
Carbohydrates:
12
g
|
Protein:
16
g
|
Fat:
12
g
|
Saturated Fat:
4
g
|
Cholesterol:
16
mg
|
Sodium:
1510
mg
|
Potassium:
415
mg
|
Fiber:
1
g
|
Sugar:
4
g
|
Vitamin A:
7418
IU
|
Vitamin C:
32
mg
|
Calcium:
220
mg
|
Iron:
1
mg