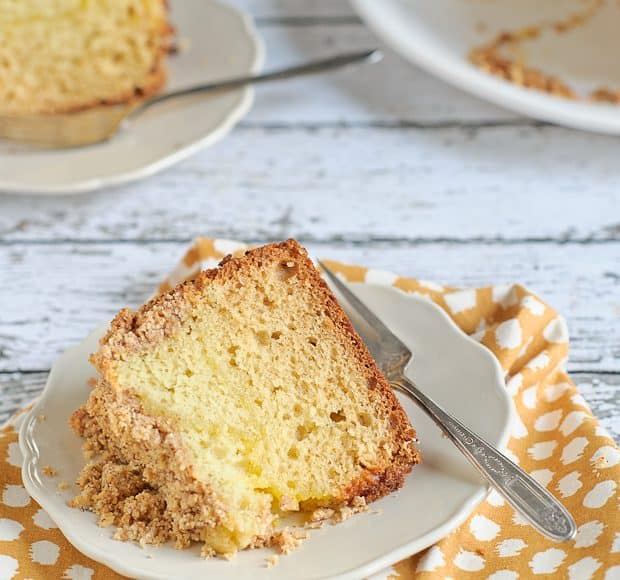 Meyer Lemon Coffee Cake with Almond Streusel
I awoke to the sound of a motor this morning. Turning my head, I opened one eye to see Zella, one of our cats, purring insistently, her little pink nose sniffing me expectantly, Are you awake? As I rolled out of bed, our other cat,…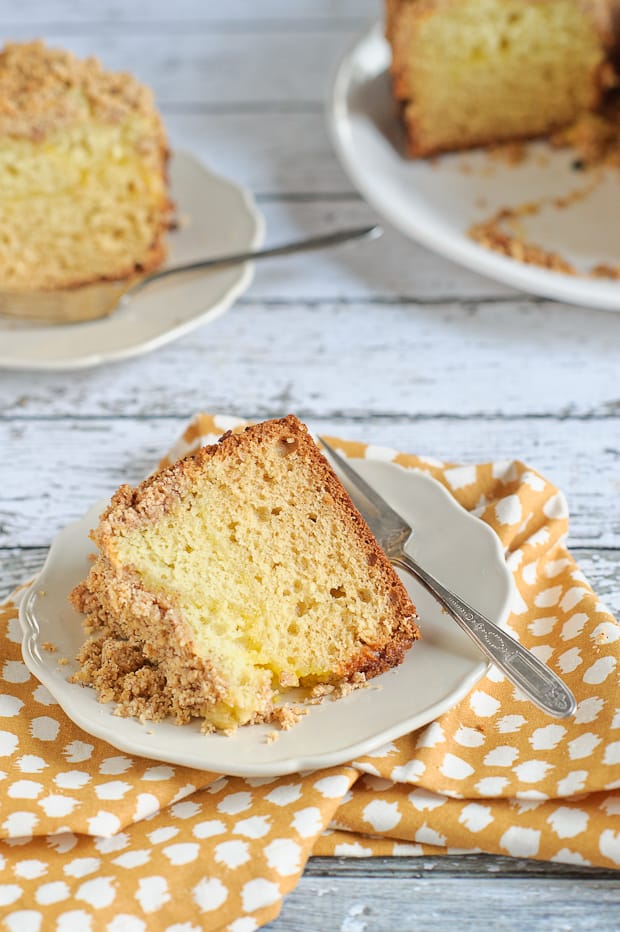 Meyer Lemon Coffee Cake with Almond Streusel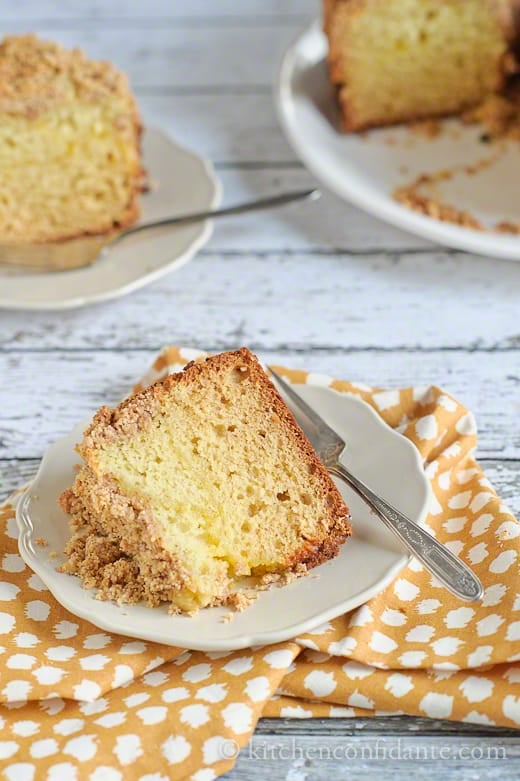 I awoke to the sound of a motor this morning. Turning my head, I opened one eye to see Zella, one of our cats, purring insistently, her little pink nose sniffing me expectantly, Are you awake? As I rolled out of bed, our other cat, Zoe, joined the chorus of meows begging for food.
Half asleep, I grabbed a can of cat food, plopped it into a bowl and walked away.
Meow?
They were following me. I had accidentally purchased the wrong flavor and now they were pissed.
Be happy with what you have! I scolded.
Meow!?! The cacophony continued.
I sighed and relented. I found the right flavor in the stack of cat food and opened another can.
Spoiled. Finicky. Demanding. They probably wouldn't appreciate a slice of Meyer Lemon Coffee Cake with Almond Streusel for breakfast.
But I would. Especially since it involves lemon curd.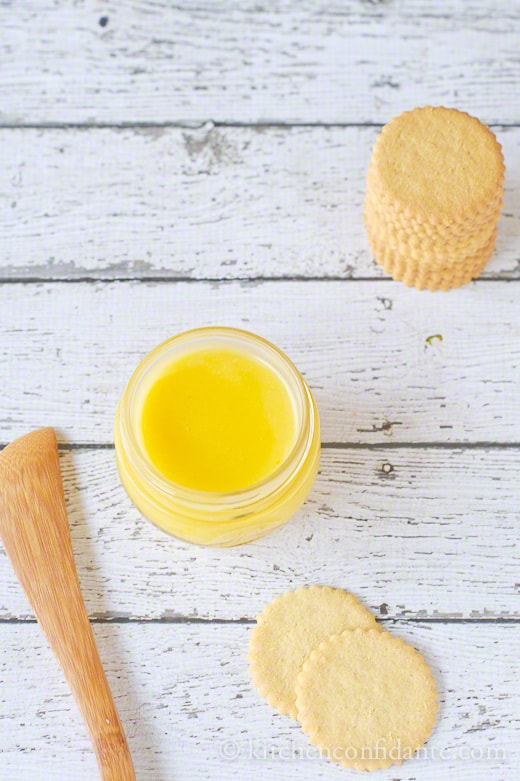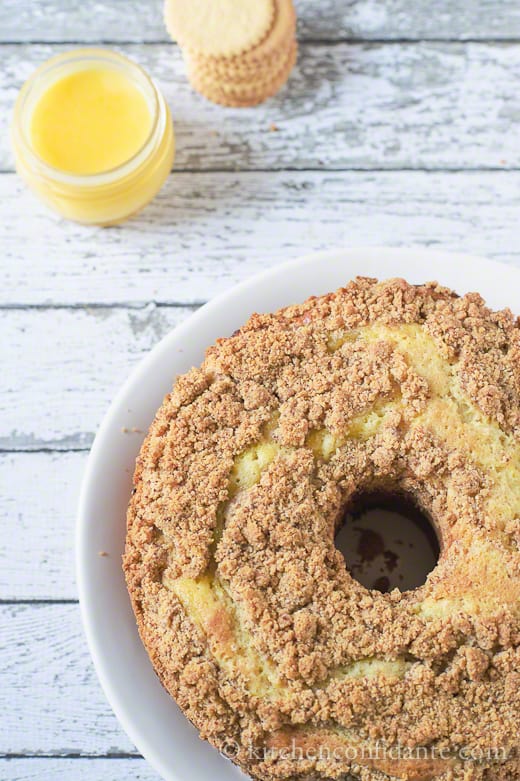 This is the sunshine I would love to wake up to, a coffee cake laced with ribbons of Meyer lemon curd, and topped with a streusel of almond and crumbled lemon wafers. But knowing my cats, they'd thumb their noses at it.
Oh well, more for me.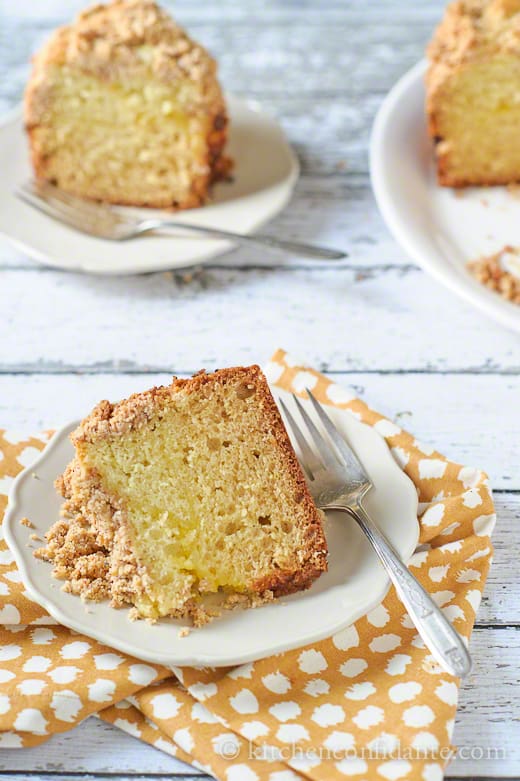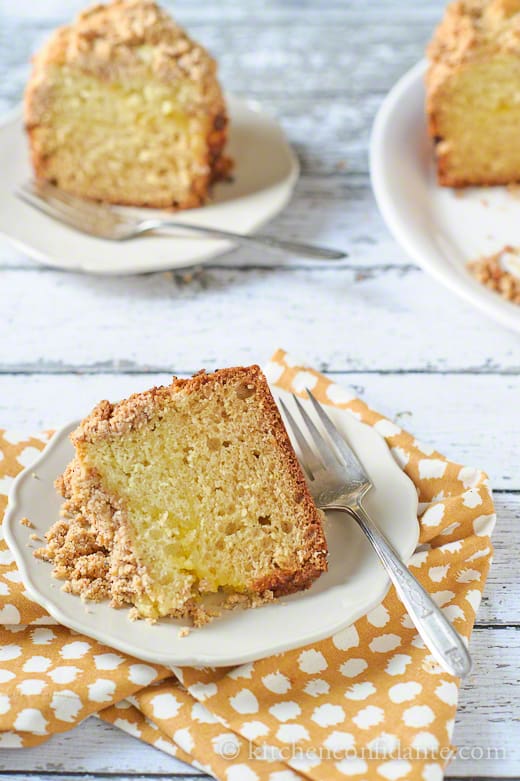 Meyer Lemon Coffee Cake with Almond Streusel
There's nothing like homemade lemon curd, but if you are short on time, of course, use your favorite store bought variety. But if you have the extra 15 minutes, I highly recommend making your own - you can find my Lemon Curd recipe here. You will need a double batch for this cake.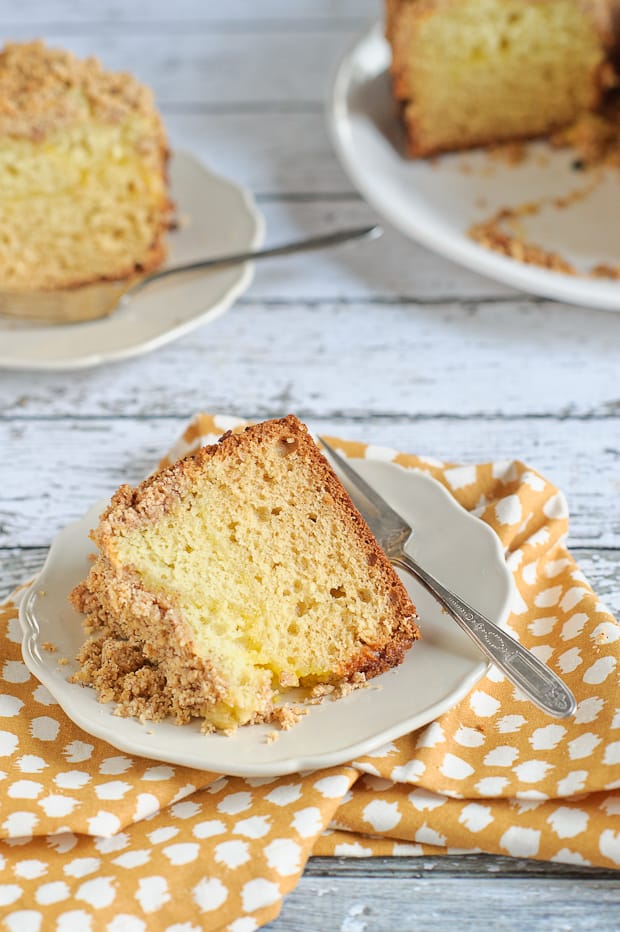 Print Recipe
Ingredients
For the streusel
3/4 cup almond meal
3/4 cup crushed lemon wafers (30 wafers, crumbled in a food processor)*
1/2 cup light brown sugar
1 teaspoon salt
1/3 cup (6 tablespoons) cold unsalted butter, cut in cubes
For the cake
2 cups all-purpose flour
1 teaspoon baking powder
1 teaspoon baking soda
1 1/2 teaspoons salt
1/2 cup (8 tablespoons) unsalted butter, room temperature
1 cup granulated sugar
3 tablespoons Meyer lemon zest
2 large eggs
1 teaspoon vanilla extract
1 cup sour cream
2 cups lemon curd
Instructions
Preheat the oven to 350 degrees. Butter a 9-inch angel food cake pan.
Make the streusel by combining the almond meal, crushed lemon wafers, brown sugar, and salt in a bowl. Using your fingers or a pastry cutter, cut in the butter until the streusel comes together into a course crumble. Chill in the refrigerator until later.
In another bowl, whisk together the flour, baking powder, baking soda and salt. Cream the butter, sugar and lemon zest in the bowl of a mixer until light and fluffy, for about 2 minutes. Add the eggs, incorporating them one at a time, followed by the vanilla.
Add the flour mixture on low speed in batches, alternating with the sour cream.
Put half the batter in the cake pan and smooth evenly. Drizzle about 1 cup of the lemon curd on top, making sure to leave a 1 inch border from the inner and outer perimeter (any curd that hits the edges will risk browning the edges of the cake). Top with the remaining batter, using a spatula to smooth.
Pour remaining lemon curd on top, again leaving room around the perimeter. Spread the streusel on top.
Bake for 45-50 minutes, or until golden brown and toothpick inserted comes out clean. Let cool on a wire rack for 15 minutes. Run a knife around the edges and remove the outer ring. Cool for another 15 minutes then remove the center tube. Using 2 large spatulas, life the cake from the center ring and continue to cool until ready to serve