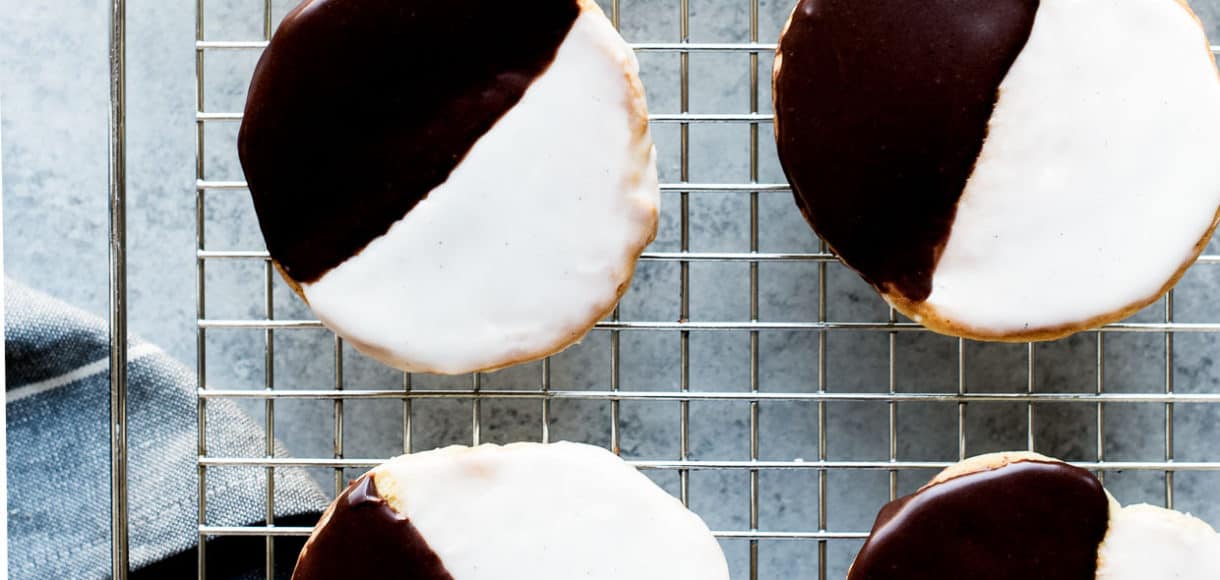 Black and White Cookies
Black and White Cookies – a New York deli classic. Frosted with vanilla and chocolate icing, these cake-like cookies deliver the best of both worlds. Simple Sundays | Remembering with a Black-and-White Cookie We weren't supposed to turn on the television. It was our own…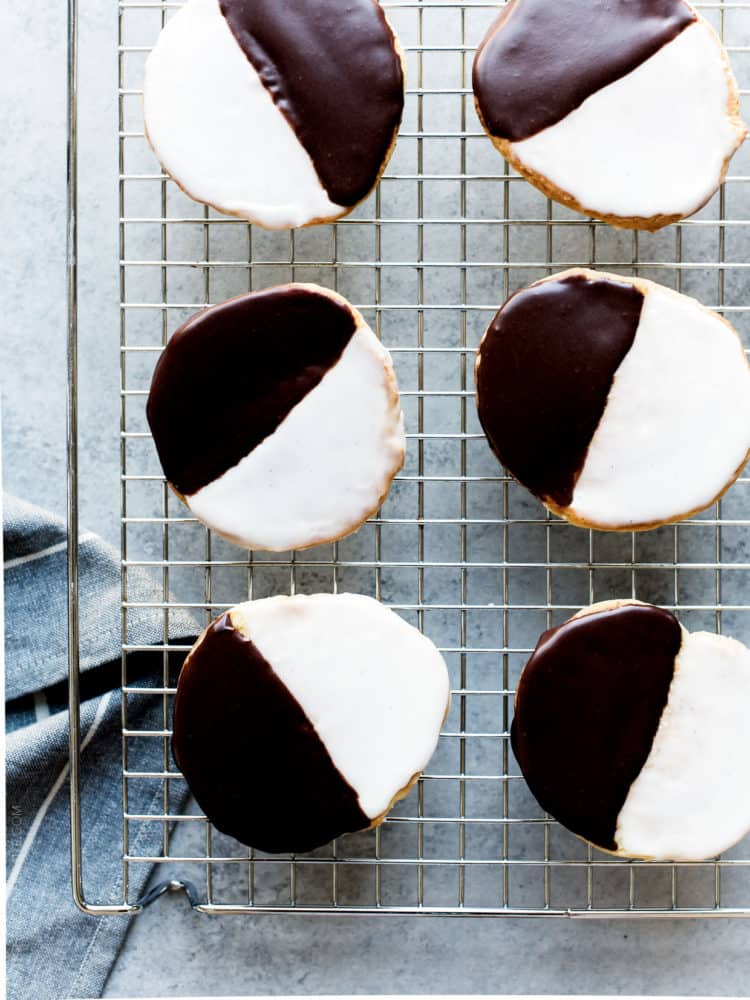 Black and White Cookies
Black and White Cookies – a New York deli classic. Frosted with vanilla and chocolate icing, these cake-like cookies deliver the best of both worlds.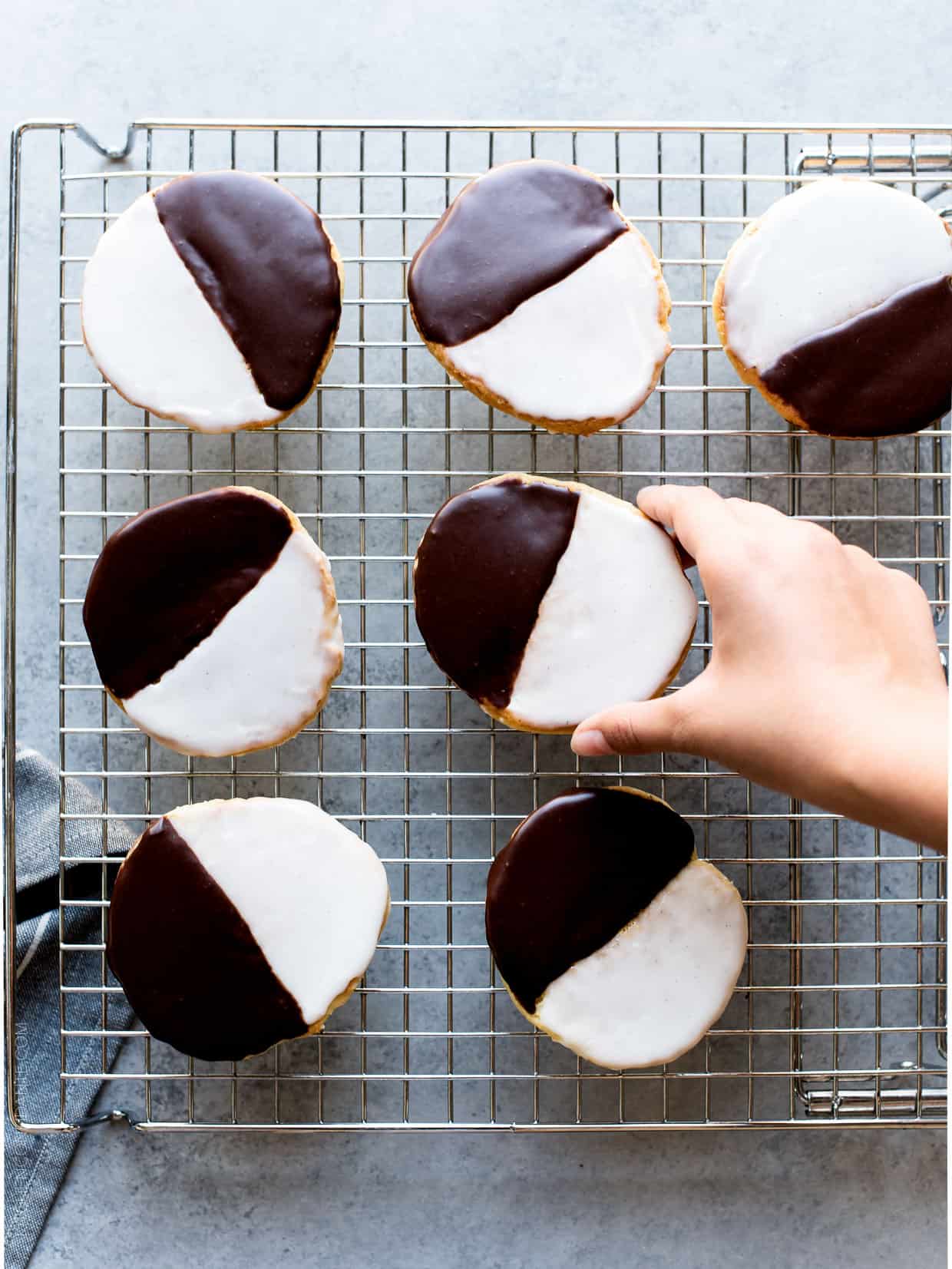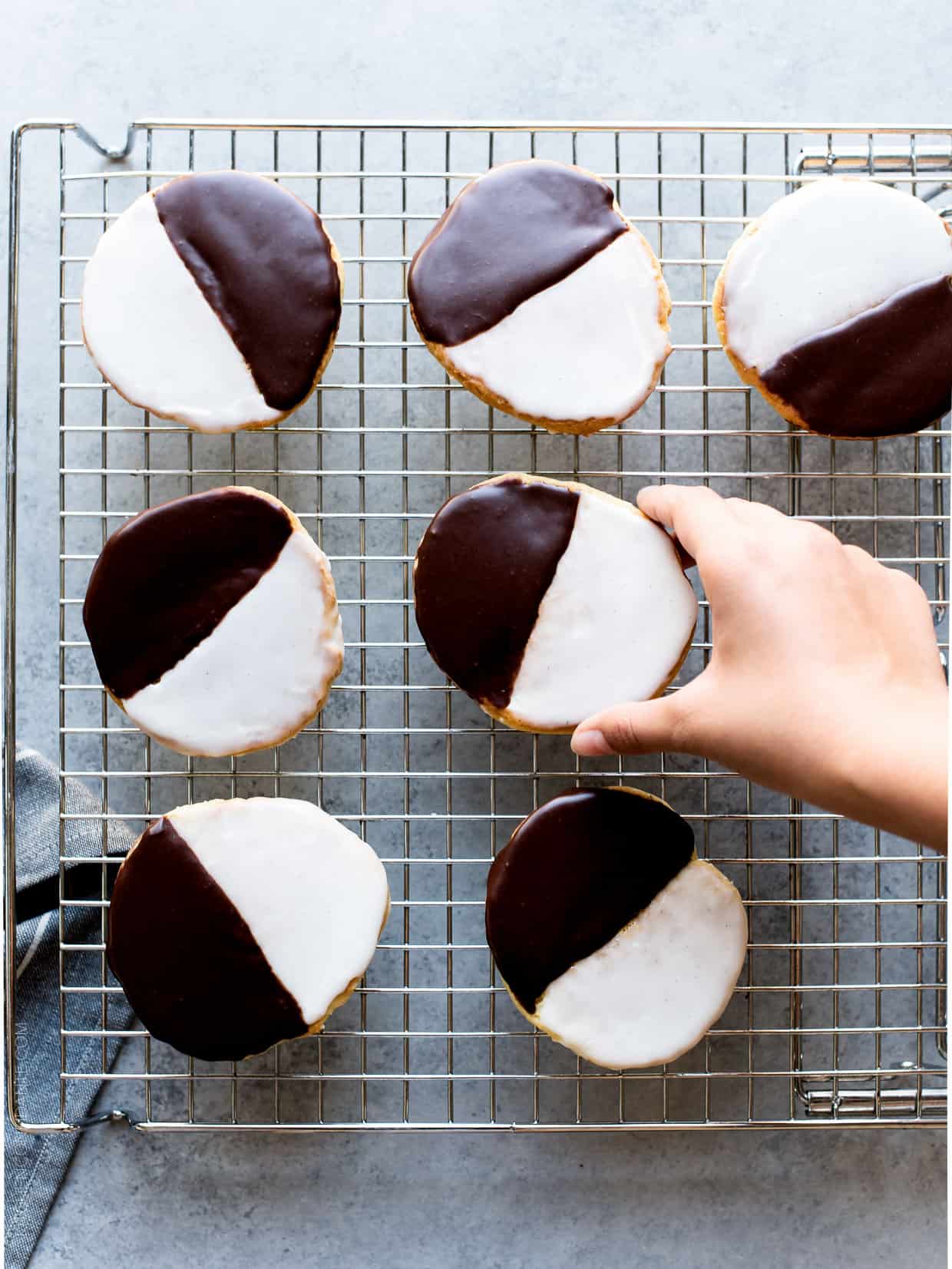 Simple Sundays | Remembering with a Black-and-White Cookie
We weren't supposed to turn on the television.
It was our own rule. We were on our honeymoon.
But for some reason, the television was on. It was daybreak, six hours away.
We weren't supposed to see the horror on the screen. We weren't supposed to be wondering where our dearest friends and coworkers working in the towers were, not knowing if they were okay…the same friends who toasted us at our wedding just days earlier. Wondering about the hot dog stand vendor near the base of the World Trade Center who gamely took photos with me in my wedding gown. Feeling frustration at being so far away…at the busy phone lines. Feeling confusion and sadness. Sadness for those lost and for those left behind. Grieving for the world.
It was such a somber time, and we will never forget.
Today, I remember 9/11 with a Black and White Cookie.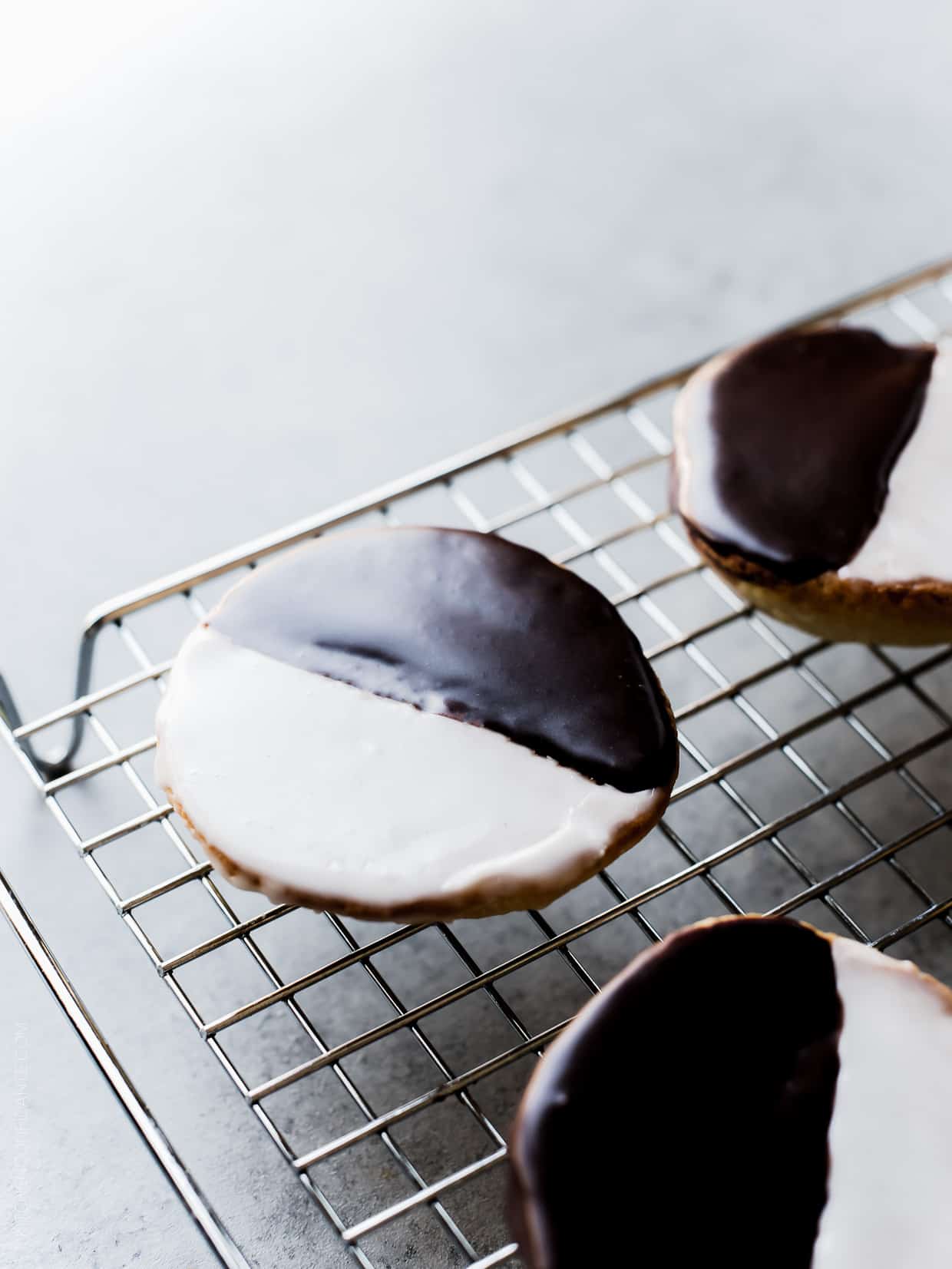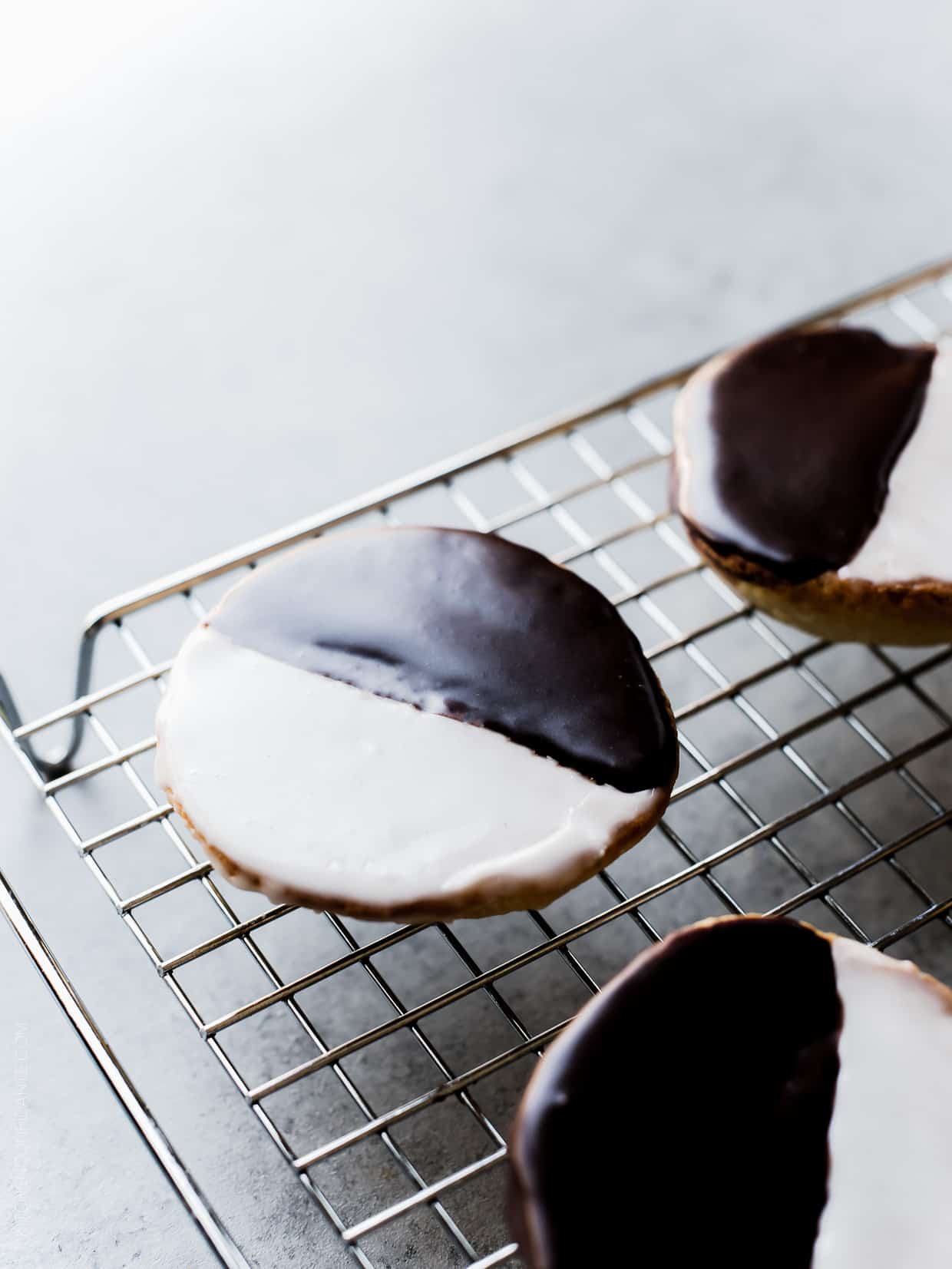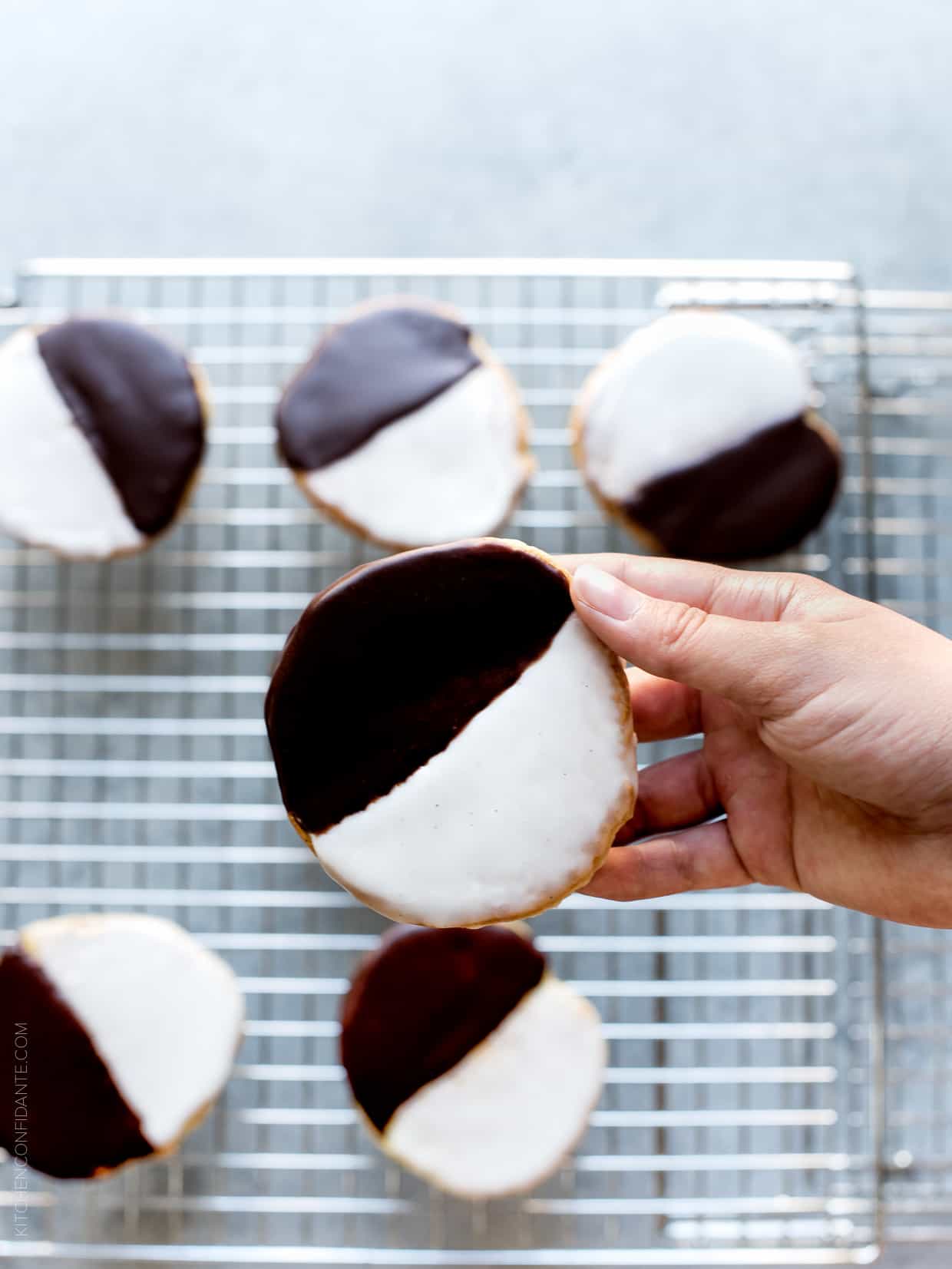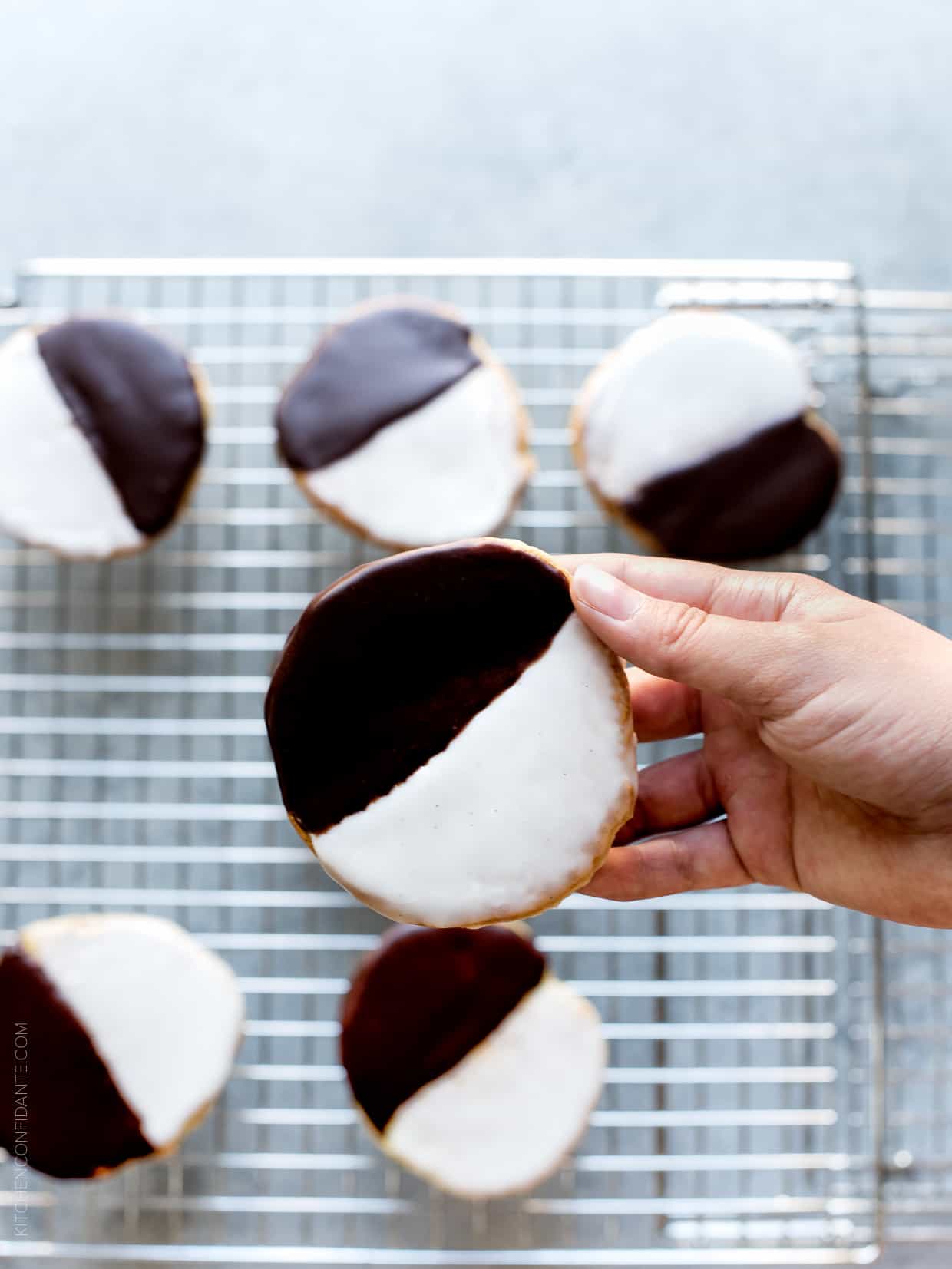 The Black-and-White Cookie is a New York classic. Ask anyone who has spent some time there, and they will likely smile when they recall the quintessential black-and-white cookie found on bakery counters and delis throughout the city. Old time bakers bolstered surplus cake dough with flour to create these soft cookies frosted with vanilla and chocolate frosting, reminding me of the resourcefulness of New Yorkers. I have craved this cookie for quite a while, and it seemed an appropriate one to share with you on a day like today. The black-and-white cookie is about making the most with what is left, it is about restraint and simplicity. It is humble. It juxtaposes darkness against light.
I baked a couple of batches this weekend, testing classic recipes that use cake flour to those that have clearly evolved over time. I think I found one that reminds me of my childhood and the city I will always love.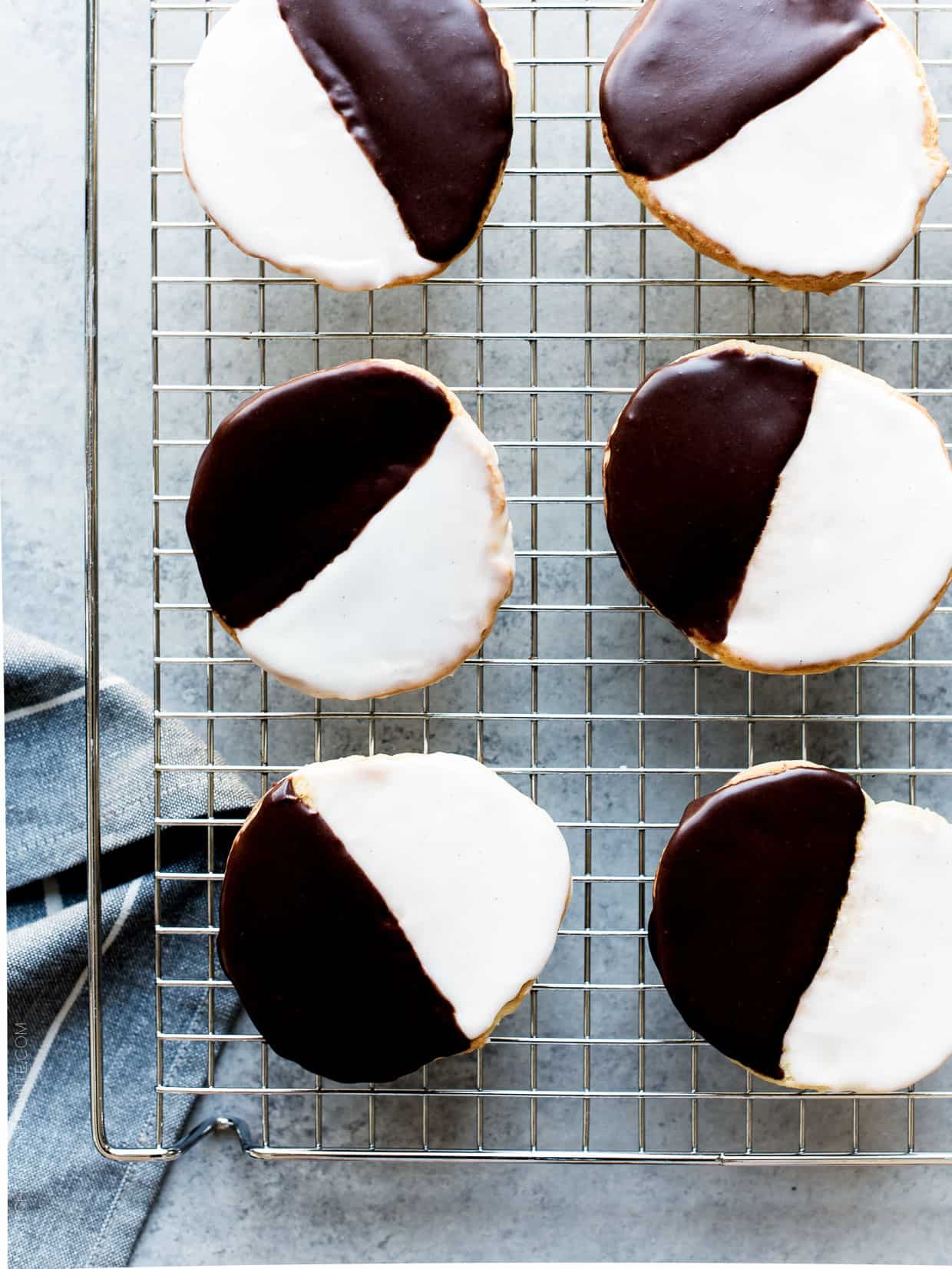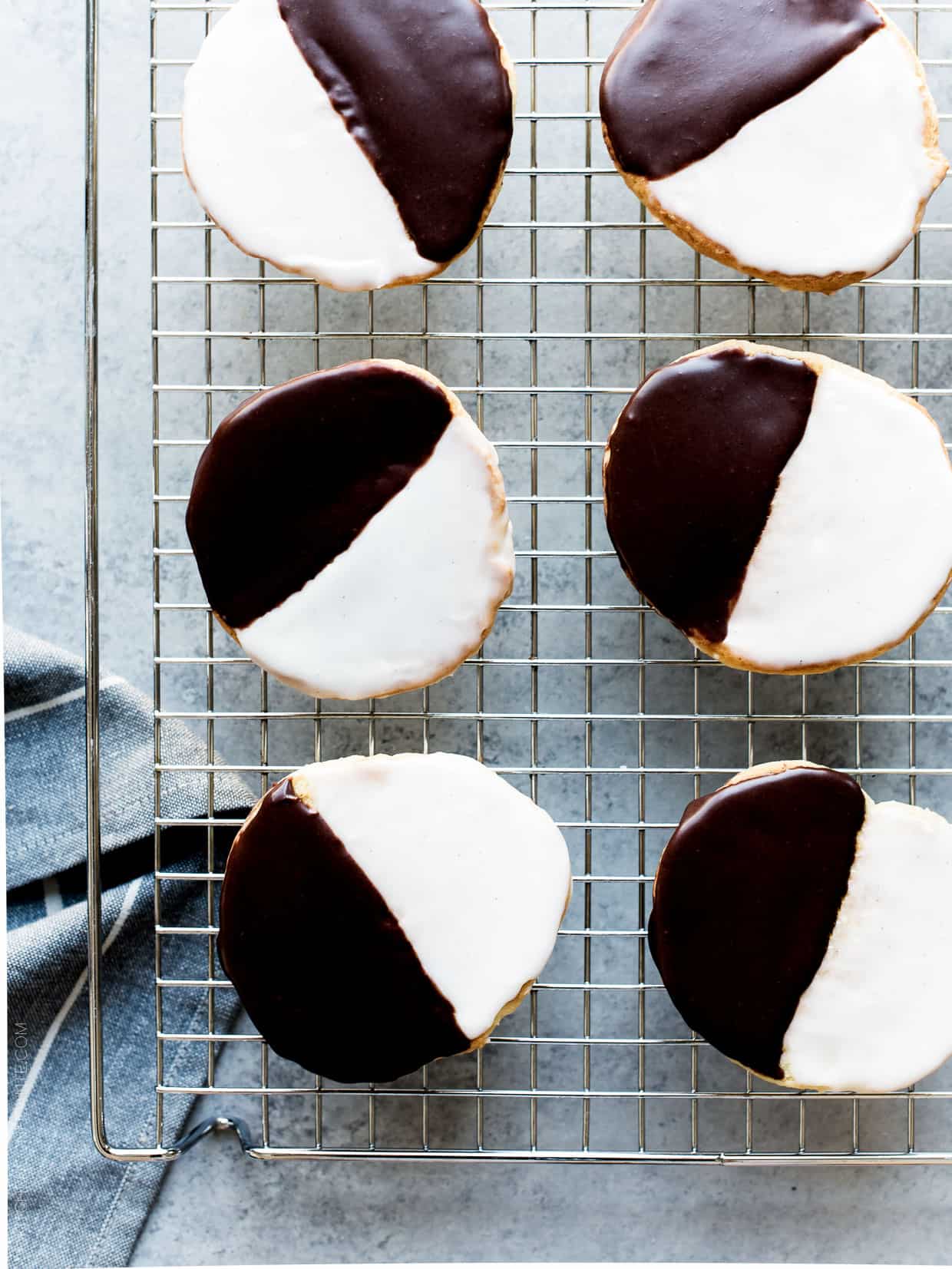 Black and White Cookies – a New York deli classic. Frosted with vanilla and chocolate icing, these cake-like cookies deliver the best of both worlds.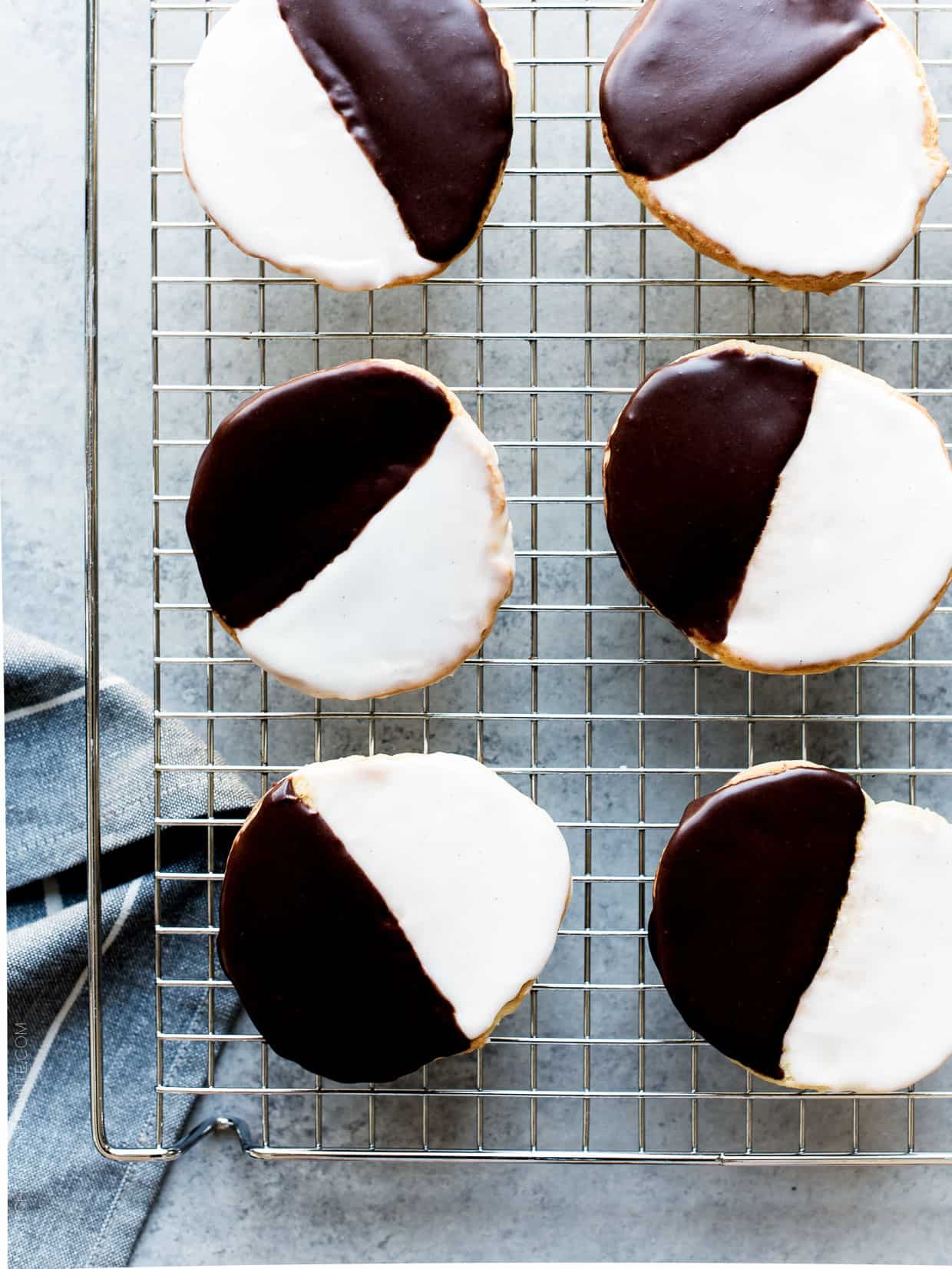 Print Recipe
Ingredients
For cookies
1 1/3 cups all-purpose flour
1/2 teaspoon baking soda
1/4 teaspoon salt
1/3 cup well-shaken buttermilk
1/2 teaspoon vanilla
1/2 teaspoon lemon extract
1/3 cup (5 1/3 tablespoons) unsalted butter, softened
1/2 cup granulated sugar
1 large egg
For icings
1 1/2 cups confectioners sugar
1 tablespoon agave nectar
2 teaspoons fresh lemon juice
1/4 teaspoon vanilla
1 to 2 tablespoons water
1/4 cup unsweetened Dutch-process cocoa powder
Instructions
Preheat the oven to 350°F.
In a small bowl, whisk together the flour, baking soda and salt. Measure out the buttermilk and stir in the vanilla. Set both aside.
In the bowl of an electric mixer, cream the butter and the sugar until fluffy, about 3 minutes. Add the egg and beat another minute more. Mix in the flour mixture in two batches, alternating with the buttermilk.
On a parchment paper lined baking tray, drop 1/4 cup of the batter (about a standard sized ice cream scoop), two inches apart. Bake for about 14-16 minutes. Transfer to a wire rack to cool completely.
Make the icing by combining sugar, agave nectar, lemon juice, vanilla and 1 tablespoon of water in a small bowl. Whisk until smooth. Pour half of the icing in another bowl and mix in the cocoa powder. Add the other tablespoon of water to thin the icing until its consistency matches the white icing. Frost the cookies by spreading the white icing on one half and the chocolate on the other, on the flat side of the cookies.