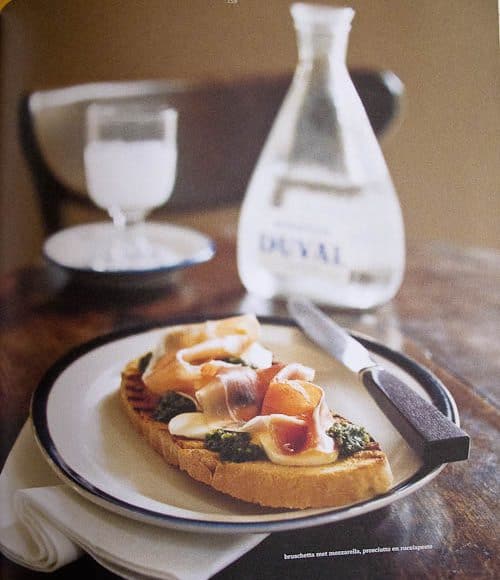 Bruschetta with Mozzarella, Prosciutto and Arugula Pesto | Donna Hay Styling & Photography Challenge 6
I was sleepily scrolling through my Facebook feed last week when a link from Happyolks caught my eye. One click, and I found myself nodding along as I read a very honest and thoughtful post on food photography. It was as though someone had taken…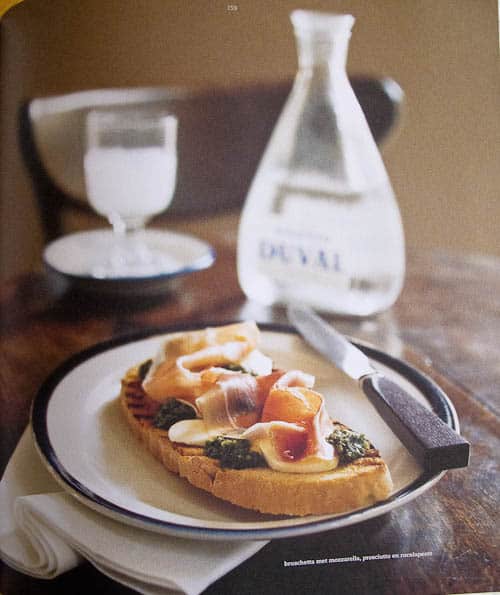 Bruschetta with Mozzarella, Prosciutto and Arugula Pesto | Donna Hay Styling & Photography Challenge 6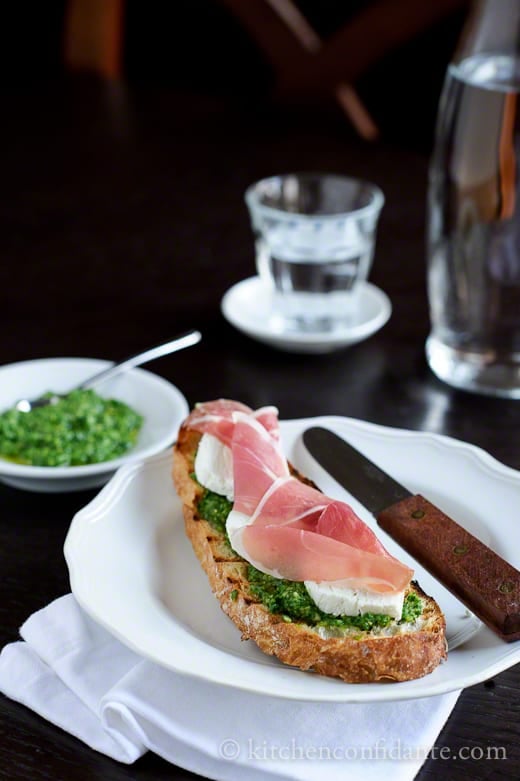 I was sleepily scrolling through my Facebook feed last week when a link from Happyolks caught my eye. One click, and I found myself nodding along as I read a very honest and thoughtful post on food photography. It was as though someone had taken a peek into my heart and felt the fatigue I was experiencing with my own photographs.
Do you ever feel like you're in a rut? As much as I have fun with the food I share with you, I have felt lately that I am on autopilot. While its good to have a system that works for me, and efficiency is certainly important, I needed to throw a wrench in it. To challenge myself to try something different.
Enter this photograph:
Photographed by Con Poulos for Donna Hay's cookbook, Seasons, this seemingly straightforward scene is the subject of this month's Donna Hay Styling & Photography Challenge. Hosted by the wonderful Simone of Jungle Frog Cooking, the idea behind the challenge is to study and analyze the inspiring photographs taken by the talented photographers behind the scenes of Donna Hay's cookbooks.
I typically stay away from this aspect of food blogging – there are so many fun challenges one can participate in: between cooking your way through Dorie Greenspan, being a Daring Baker, and wondering Does My Blog Look Good In This? – there's enough to keep one busy for years. But this one caught my eye. I respect Simone and her work. And while I certainly did not approach this challenge as one that would foster copying (or as I have called it, inbreeding) in food photography, I think the point is that it can be interesting to understand just what it took to capture these images that make us want to cook.
Besides, I had the fresh bread. And the arugula. And the prosciutto.
And I was hungry.
The Bruschetta with Mozzarella, Prosciutto and Arugula Pesto was melt in your mouth delicious. It took minutes to prepare, and just a few minutes more to eat until my plate was empty. But photographing it? Much harder than it looks.
The seemingly unfussy photo was a challenge to replicate. My excuses? My table is too dark. The light was dim from a passing rain storm. My props were different.
But enough of my excuses.
I love this shot, but it was way too close, in comparison to the original. There was something else wrong.
When I first set up my shot, I was on autopilot, with my light source coming from 9 o'clock. The curve of the table and the chair in the background matched the original, but the lighting definitely was not. So, I had to flip things around.
With the light coming from 3 o'clock, and the styling more stark, I stay as true as I can to Con Poulos' original. I can appreciate the clarity of the knife and the more subtle shadow on the left side of the plate, though I wish I could have a lighter mood to the photograph. But this does speak to the passing rain clouds that afternoon, and the darkness of at my kitchen table.
In the end, my favorite shot was the one that matched the photograph's lighting, but incorporated a little more interest in the background with the plate of pesto as well as more of the chair. But the biggest lesson for me was scaling back. Learning to work with minimal items in the shot. Working on balance.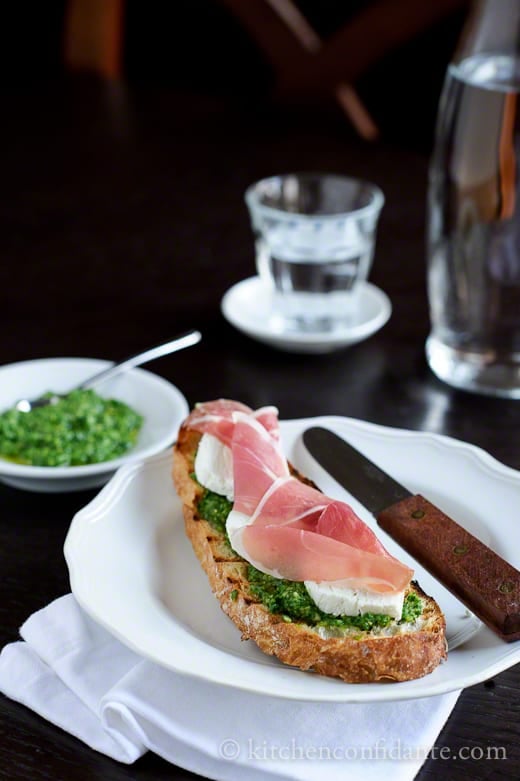 And when you think about it, that easily translates into good, simple cooking — it's an important reminder to keep things clean, without the fuss, and to focus on the few ingredients at hand. This bruschetta certainly represents that, and more.
Bruschetta with Mozzarella, Prosciutto and Arugula Pesto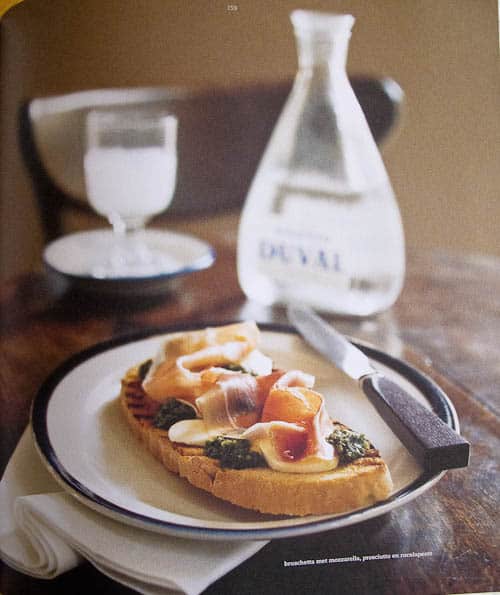 Print Recipe
Ingredients
8 slices of bread
1 clove garlic, halved
extra virgin olive oil (to brush on bread)
4 pieces mozzarella (it is equally tasty with goat cheese)
8 slices prosciutto
freshly ground black pepper
FOR THE ARUGULA PESTO
1 handful basil (or you can use all arugula)
2 handfuls rocket arugula
1/3 cup toasted pine nuts
1/4 cup grated Parmesan
1/2 garlic clove
1/4 cup extra virgin olive oil
Instructions
Make the pesto by placing the basil, arugula, pine nuts, Parmesan and garlic in the bowl of a food processor and pulse so that it still chunky. With the motor running, add the olive oil. Try to make sure the pesto still has some body and is not thin.
Brush both sides of bread lightly with olive oil. Toast the bread on a grill pan or in a toaster. Rub both sides with garlic clove. Spread pesto on top, and layer with cheese and prosciutto.