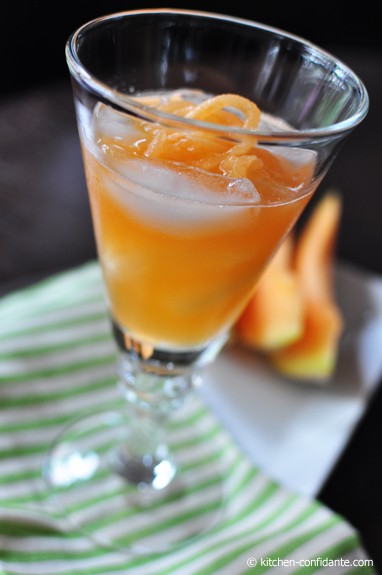 Bubbling with Sweetness
Thank goodness the melons are in season. Come summer, they become a major food group for my daughter — she and her best friend can devour a whole cantaloupe in one sitting. For once, I can't argue. It is a fruit, after all. Not only…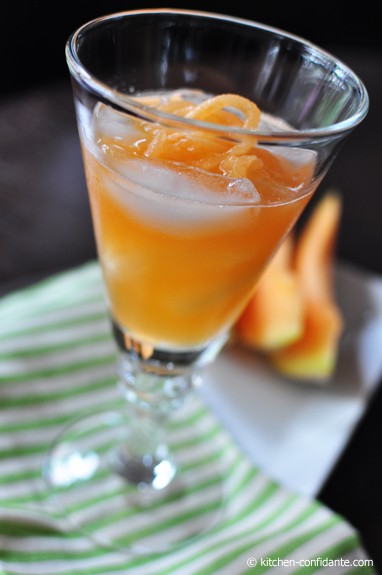 Bubbling with Sweetness
Thank goodness the melons are in season. Come summer, they become a major food group for my daughter — she and her best friend can devour a whole cantaloupe in one sitting. For once, I can't argue. It is a fruit, after all. Not only is it low calorie, but it's packed with Vitamins A and C, as well as potassium.
I have two distinct childhood memories of cantaloupes. One is learning from my mother how to pick the perfect melon. It wasn't by weight or size or by tapping on the rind. She taught me that the way to make sure a cantaloupe is ripe is by examining the indentation left by the stem. It should look like an innie belly button – the deeper the indentation, the better.
My other memory of cantaloupes is of the sweet Cantaloupe Juice my family would make for our summer barbeque parties. I would use my mom's nifty melon scraper — shaped like a fan, this unique tool leaves you with perfect shreds of melon. I used to think that every household had a melon scraper until I realized that my local Sur la Table had never even heard of one.
We go through cantaloupes so quickly, I never get a chance to make this sweet drink, but with the temperatures slowly rising and the cantaloupes abundant, I was determined to make it. The warm 80 degree weather yesterday was a perfect day to enjoy this refreshing drink.
As I was shredding the cantaloupe, I remembered that the kids have been asking for Bubble Tea. In case you've never heard of it, Bubble Tea, or Boba (or Sago in the Philippines), is said to have originated in Taiwan, and are very popular beverages throughout Asia. You can easily find bubble tea shops in your local Chinatown, and these days, you can find them most anywhere in the country. Bubble Teas may be tea-based mixed with juices or even served as blender drinks. There are many variations, but I prefer the fruit-flavored teas. The key ingredient is sweetened tapioca balls (pearls), that are delightfully chewy and take on the flavor of the tea or juice. If you have yet to try Bubble Tea, I recommend finding a place that makes their juices fresh – some shops use a powdered base that is just not the same!
I decided to make two versions of the melon juice: Classic Cantaloupe Juice and Cantaloupe Bubble Tea.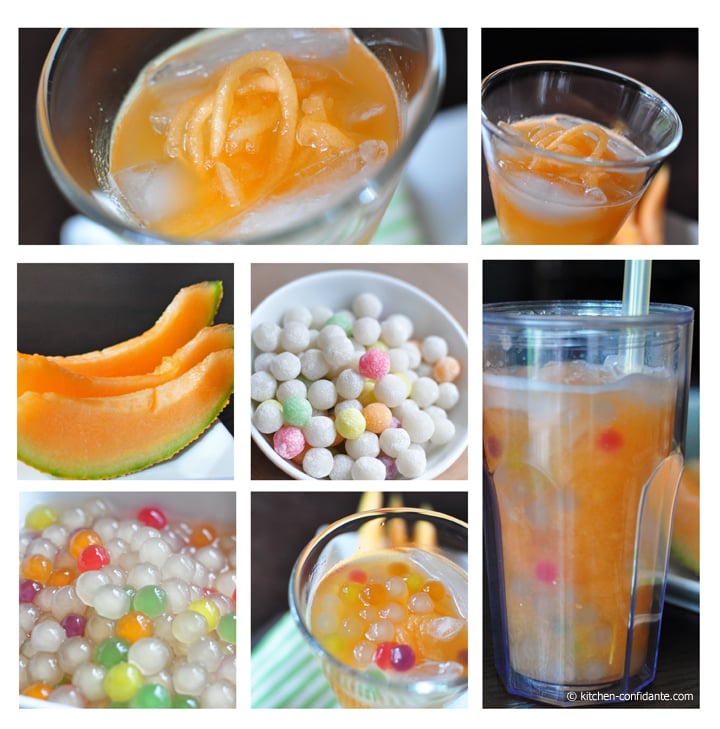 Classic Cantaloupe Juice
1 ripe cantaloupe, halved with seeds removed
simple syrup (recipe follows), to taste
ice
Using a melon scraper, shred the cantaloupe into long strips, taking care to reserve any juice. Put melon strips and juice into a pitcher with lots of ice, and flavor to taste with your simple syrup. As you adjust the flavor, you can always add water if it is too sweet. Serve cold.
Cantaloupe Bubble Tea
tapioca pearls, your favorite variety (I used the quick 5 minute kind by WuFuYuan)
tea, your favorite (optional)
1 ripe cantaloupe, halved with seeds removed
simple syrup (recipe follows), to taste (or agave nectar)
ice
Prepare the tapioca pearls by placing them in a large pot of boiling water (roughly 10 cups of water per cup of tapioca pearls). When ready, retrieve pearls with a slotted spoon, place in bowl, and cover with simple syrup or agave nectar. Let it sit for a moment while you prepare the juice.
Version 1: Juice*
Follow directions for Classic Cantaloupe Juice and add tapioca pearls. If you like, add two tablespoons of your favorite green tea.
Version 2: Blended
Place cubes of cantaloupe, reserved juice, simple syrup, tea, and ice in a blender. When smooth, add tapioca pearls.
*In case you were wondering, this is how I prefer my bubble tea!
Simple Syrup
3 cups water
3 cups sugar
Combine water and sugar in a saucepan and bring to a boil over medium-high heat. Reduce heat to low and simmer until sugar dissolves, about 3-4 minutes. Cool completely.