Baking 101
Even though I am home full time raising my family, we are still so busy that I don't often get an opportunity for quality kitchen time with my children. Particularly for my daughter, we hardly get a chance to play together when cooking or baking.…
Baking 101
Even though I am home full time raising my family, we are still so busy that I don't often get an opportunity for quality kitchen time with my children. Particularly for my daughter, we hardly get a chance to play together when cooking or baking. Sometimes it's just more efficient for me to cook with them out of the way, sometimes I cook when they're at school or during activities, sometimes they're too busy playing. Whatever the case, one of the nice things about summer vacation is that I can include the kids more in my kitchen escapades.
This afternoon, I let my daughter have free reign (almost) over tonight's dessert. She decided she wanted to try cookies, ideally with chocolate chips. We took the recipe step by step – I showed her the basics of mise en place, how to measure dry ingredients, how to crack an egg, how to use an ice cream scoop to place the dough on the cookie sheets. She did it all.
Then we talked about flavors and how we could have fun with our basic cookie dough. We agreed that Chocolate Chip-Banana Cookies sounded enticing, and as the temperatures rose, the whole family agreed that ice cream was in order. My sous chef's cookies easily transformed into Chocolate Chip-Banana Ice Cream Sandwiches! Moist and chewy, creamy and refreshing, the ice cream sandwiches were a perfect summer vacation dessert (and a wonderful way to spend an afternoon with my 7-year old).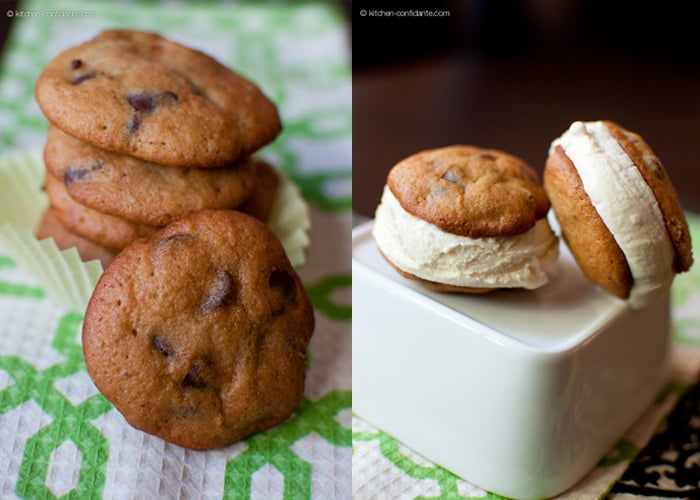 Chocolate Chip-Banana Ice Cream Sandwiches
For the cookies:
1/2 cup butter
1/2 cup brown sugar
1/2 cup white sugar
1 egg
1/4 teaspoon vanilla extract
1/4 teaspoon banana extract
1 very ripe banana
1 1/3 cups all purpose flour
1/2 teaspoon salt
1/2 teaspoon baking soda
1/2 cup semisweet chocolate chips
For the sandwiches:
Preheat oven to 350 degrees Fahrenheit.
Sift or whisk together flour, salt and baking soda, set aside.
Cream butter in a large mixing bowl. Gradually add brown and white sugars, and beat until incorporated. Add egg, vanilla extract, banana extract and banana. When fully incorporated, slowly add the dry ingredients (flour, salt and baking soda), be careful not to over-mix. Add the chocolate chips.
Cover the cookie dough and set in the refrigerator for at least 20 minutes or until ready to bake.
Drop a tablespoon of cookie dough on a parchment paper covered cookie sheet. Bake in oven for about 10 minutes. Allow to cool on a wire rack, then place in a tightly sealed container in the freezer.
Assemble the ice cream sandwiches when the cookies are firm. Place a small scoop of vanilla ice cream between two cookies, press together. Return to freezer until ready to serve.