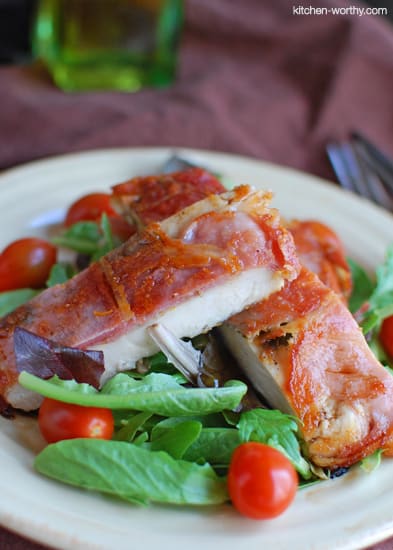 Chicken Angst
pail·lard (pī yär′; Fr pȧ yȧr′) noun a slice of meat, esp. veal or chicken, pounded until it is very thin and grilled quickly at high heat. Chicken can get a bad rap sometimes.  I know that once in a while, chicken can get boring,…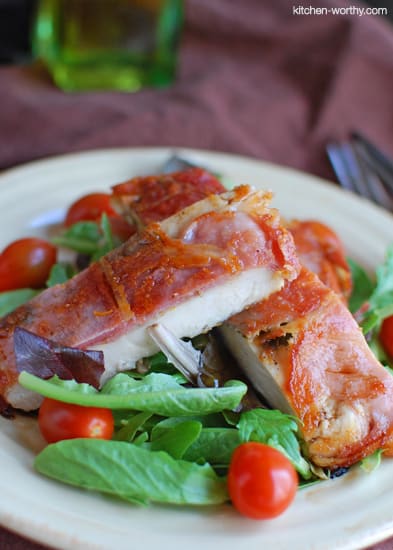 Chicken Angst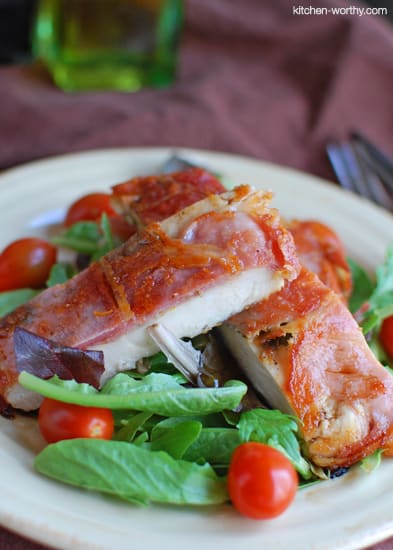 pail·lard (pī yär′; Fr pȧ yȧr′)
noun
a slice of meat, esp. veal or chicken, pounded until it is very thin and grilled quickly at high heat.
Chicken can get a bad rap sometimes.  I know that once in a while, chicken can get boring, and it can even get tricky to cook.  We're so careful to make sure chicken is thoroughly cooked that sometimes we err on the side of overcooking. When I find myself getting into a rut, I pull this recipe out from my mental file cabinet.  It usually does the trick.
Chicken Paillard with Prosciutto addresses all my chicken issues.  First off, prosciutto tends to make everything a little more exciting — it's that bling for poultry.  When meat is pounded thin in the paillard style, that means it's a uniform thickness, so all parts of the chicken will cook evenly and very quickly.  It also breaks down the chicken so that it is nice and tender.
While your butcher will probably be more than happy to transform your chicken breasts into paillards, I prefer to do it myself.  You don't even need a proper meat pounder/tenderizer.  I just use my handy (but very heavy) cast iron skillet.  I let out all my chicken angst and channel my aggression into making nice, thin paillards.
I first made this recipe last year, after reading Mark Bitman's Bitten Blog and watching his Minimalist podcast with guest Jamie Oliver.  Jamie calls it Parmesan Chicken, but I think he left out the serious star, the prosciutto.
This is a simple supper that is quick to make, perfect for weeknights.
Chicken Paillard with Prosciutto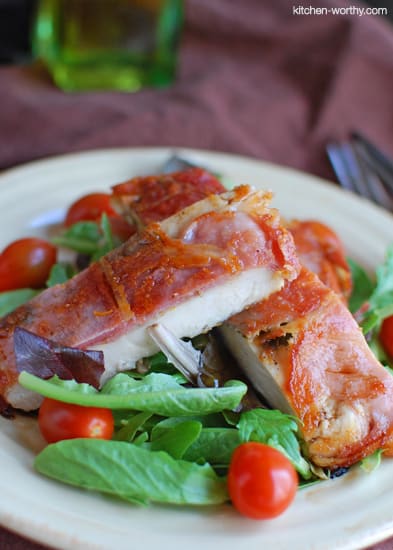 Print Recipe
Ingredients
4 boneless chicken breasts
Salt (not too much, the prosciutto is already salty)
Freshly ground black pepper
Lemon zest
Parmesan cheese
Herbs of your choice (Thyme works nicely. Today I happened to use cilantro because it's all I had that was fresh.)
Prosciutto
Salad greens
Olive oil
Balsamic Vinegar
Instructions
When the paillards are cooked, slice and plate over fresh salad greens. Drizzle with a little olive oil and balsamic vinegar and serve.
As seen on The Minimalist Podcast, January 7, 2009