Tuna Noodle Casserole | The Way Casseroles Were Meant to Be
I've mentioned before that my mom was more of a baker than a cook.  To her credit, when she did cook, she was adventurous in the kitchen. That meant her tastes would lead us to more exotic foods. Norms for us were dishes like Hungarian…
Tuna Noodle Casserole | The Way Casseroles Were Meant to Be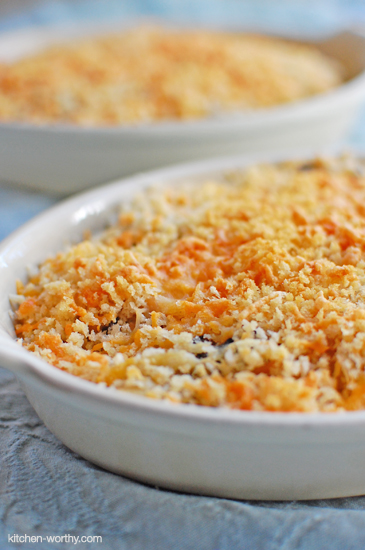 I've mentioned before that my mom was more of a baker than a cook.  To her credit, when she did cook, she was adventurous in the kitchen. That meant her tastes would lead us to more exotic foods. Norms for us were dishes like Hungarian Goulash or Grilled Fish with Lemongrass, and of course, Filipino classics such as Vegetable Lumpia (springrolls – one of her specialties). But that also meant that neighborhood standards such as Macaroni & Cheese and Tuna Noodle Casserole never made it to our table. They were probably considered too boring.
I never ate a single casserole growing up, and I always had images of canned soup concentrate and boxed goods when I considered them. And for my generation, I think that's just how they were made. It did not help that my first taste of Mac & Cheese when I was a camp counselor one summer was so lackluster (if not gross), I just shied away from these so-called comfort foods for much longer.
So, when I came across a from-scratch version of Tuna Noodle Casserole in Gourmet Magazine, my interest was sparked. It was the personal family recipe of Senior food editor Kemp Miles Minifie. As I read through the recipe, I thought, THIS is how Tuna Noodle Casserole was meant to be!
Other than canned tuna, everything about the recipe calls to mind an earlier era, when casseroles were lovingly assembled with fresh ingredients and as vehicles to stretch the family food budget. The only thing that would make this recipe even more homemade is by making your own egg noodes, but I'm not quite a masochist in the kitchen, at least not yet. I will admit that this is not a quick and easy casserole, but it is well worth the effort and the extra dishwashing afterwards. I've adapted the recipe here and there — I prefer using panko bread crumbs to day old bread (I just love the crispy crust, but if you have the hankering to make your own breadcrumbs, by all means, it's very tasty like that, too); I have significantly increased the tuna content; and I used baby portobello mushrooms for a deeper mushroom flavor (who needs cream of mushroom soup?).
If my mom had a taste of it, I know she would approve.
Tuna Noodle Casserole
Adapted from Gourmet, May 2004, via Epicurious. See original recipe here.
1 medium onion, finely chopped
4 1/2 tablespoons unsalted butter
6 baby portobello mushrooms, trimmed and diced
2 teaspoons soy sauce
1/4 cup wine (either white or red is fine)
1/4 cup all-purpose flour
2 cups low-sodium chicken broth
1 cup 2% milk
2 teaspoons fresh lemon juice
1/4 teaspoon salt
1 12-oz and 1 5-oz can tuna in water, drained (17 oz, total)
6 oz dried curly egg noodles (about 3 1/4 cups)
1 1/2 cups Panko breadcrumbs
1 cup grated Cheddar-Monterey Jack cheese
1 tablespoon vegetable oil
Preheat oven to 375°F. Butter 4 6-oz petite au gratin dishes (for individual presentation) or 1 shallow 2 to 3-quart baking dish.
Cook egg noodles according to instructions to al dente, drain, and set aside.
In a heavy skillet, melt 1 1/2 tablespoons of butter and saute the onion with a pinch of salt over medium-low heat until translucent.  Increase the heat, add the mushrooms and saute for about two minutes.  Add soy sauce and continue to saute until the mushroom liquid is evaporated.  Add wine and bring to a boil until evaporated.  Set aside.
Melt 3 tablespoons of butter in a saucepan over low heat and whisk in the flour to create a roux.  Whisk continously for about 3 minutes.  Add the chicken broth whilst whisking and bring to a boil.  Continue to whisk.  Add milk, whisk and allow to simmer for about 5 minutes.  Add the reserved mushroom mixture, lemon juice, and salt.  Add drained tuna and noodles into sauce and gently incorporate. Season to taste with salt and pepper.
Toss Panko bread crumbs and cheese in a bowl. Drizzle with oil and toss again until the topping is evenly coated.  Sprinkle the topping evenly over the individual casseroles. Place au gratin dishes on a baking sheet and put into the oven.  Bake until topping is crisp and sauce is bubbling, about 25 minutes.