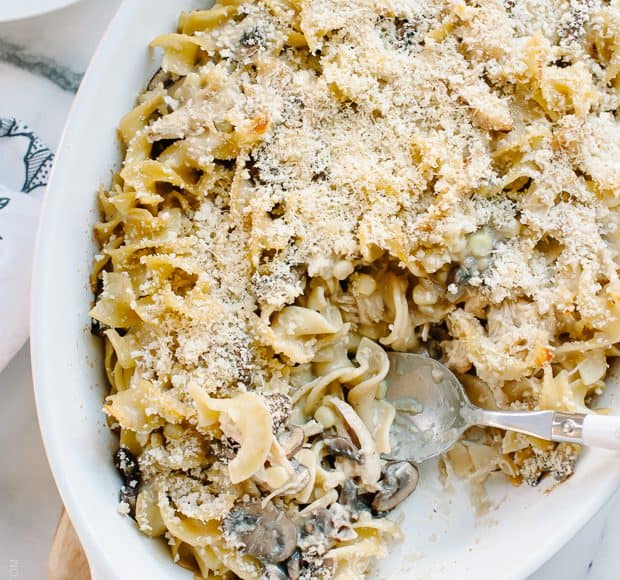 Chicken Mushroom & Corn Tetrazzini
I am always trying to find uses for leftover chicken. This creamy homespun casserole is a great way to do so (and feed a crowd!). This sleepy little town that I love to call home just outside the bustle of San Francisco has been jolted…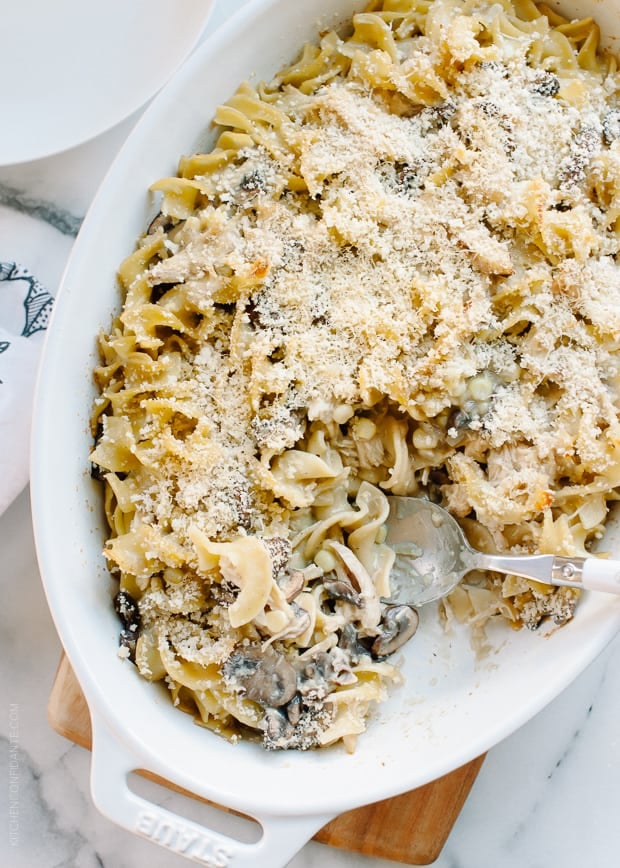 Chicken Mushroom & Corn Tetrazzini
I am always trying to find uses for leftover chicken. This creamy homespun casserole is a great way to do so (and feed a crowd!).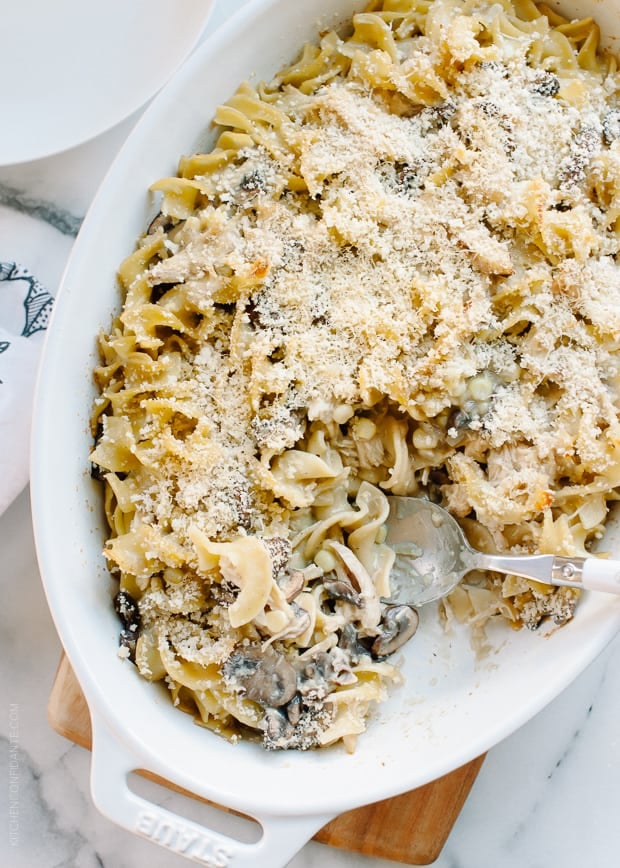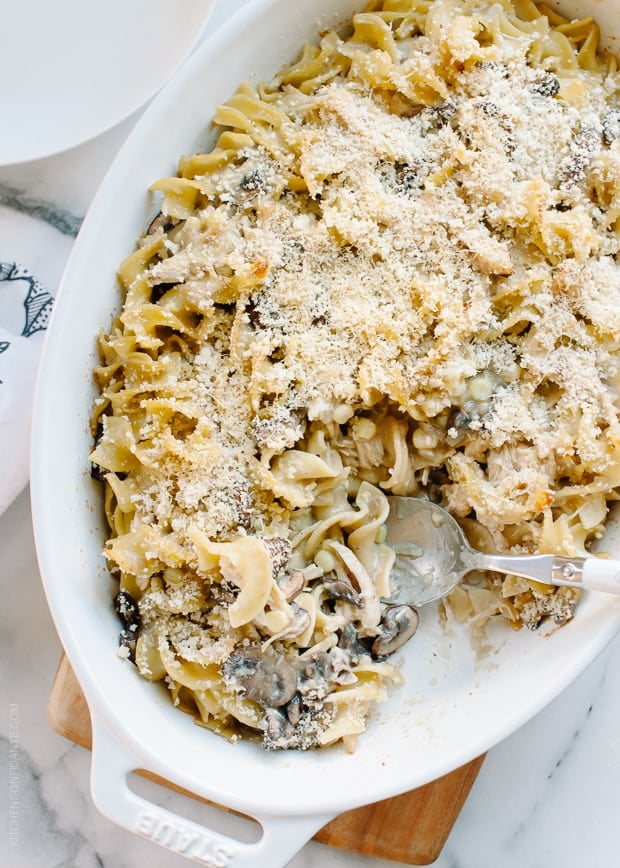 This sleepy little town that I love to call home just outside the bustle of San Francisco has been jolted awake several times in the last week. Several is an understatement, actually. Some news reports say that there have been over 200 quakes in this valley, all small, but enough to rattle even the calmest nerves. And the funny thing is – I have this weird, reoccurring nightmare where I wake up convinced that we experienced an earthquake. So when I feel these little tremors, they don't feel so bad.
Either way, it has all the neighbors talking, and my Facebook feed is flooded with "Did you feel that?" updates. It's nice to know I'm not alone.
Between the foggy mornings, chillier weather, and unsettling tremors, I think it's time to talk about some comfort food. That seems to be my favorite kind of food, lately.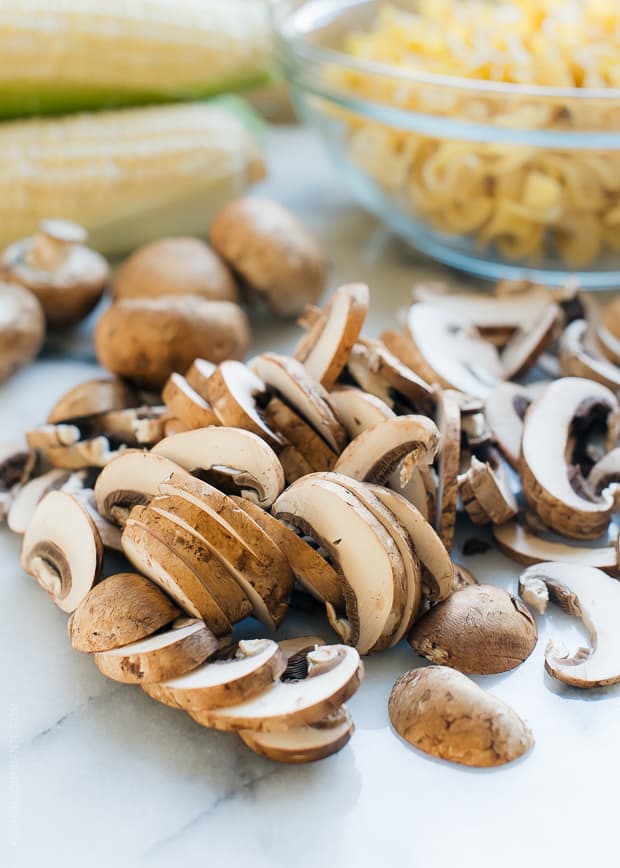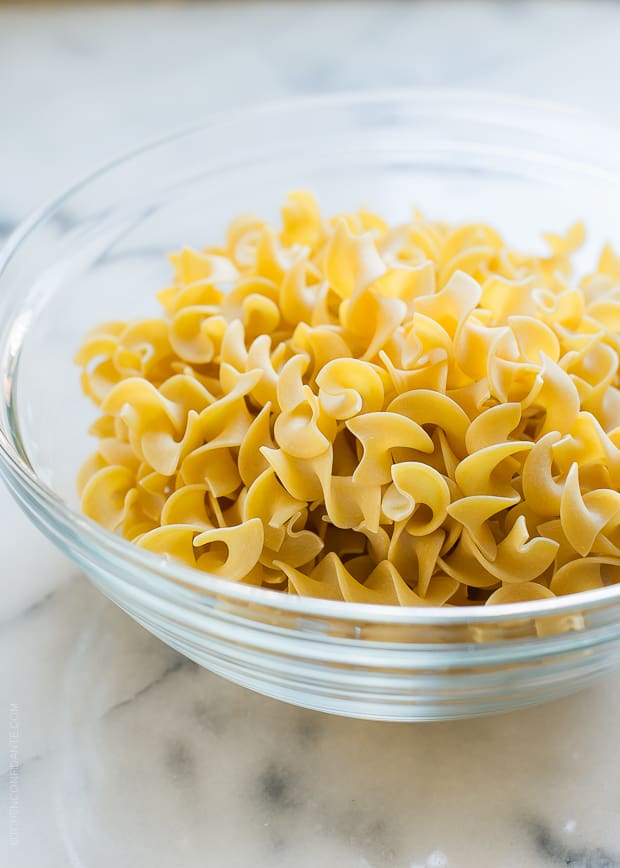 My son's games on Sunday make it the perfect day for roasting a chicken, so buttering up a bird and popping it into a slow cooker has been my modus operandi the last few weeks. Coming home to the scent of chicken falling off the bones is so inviting, but the truly wonderful thing is knowing that Monday's dinner is halfway complete because there will be leftovers.
Chicken Mushroom & Corn Tetrazzini is the kind of stick-to-your-ribs kind of meal I crave when the leaves are falling, and such a delcious way to use up leftover roast chicken, whether it's from the oven, slow cooked, or store bought rotisserie. I feel like I am working some kind of miracle with this dish – the whole fish and loaves parable comes to mind – so not only is Monday night's dinner set, but Tuesday packed lunches, as well. One bird, three meals. There's true comfort in that.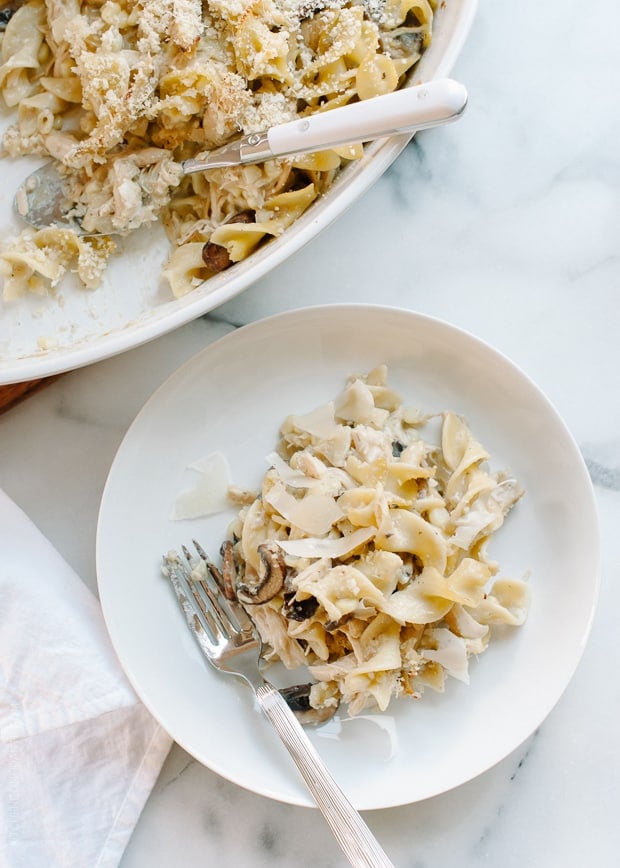 Chicken Mushroom & Corn Tetrazzini
I am always trying to find uses for leftover chicken. This creamy homespun casserole is a great way to do so (and feed a crowd!).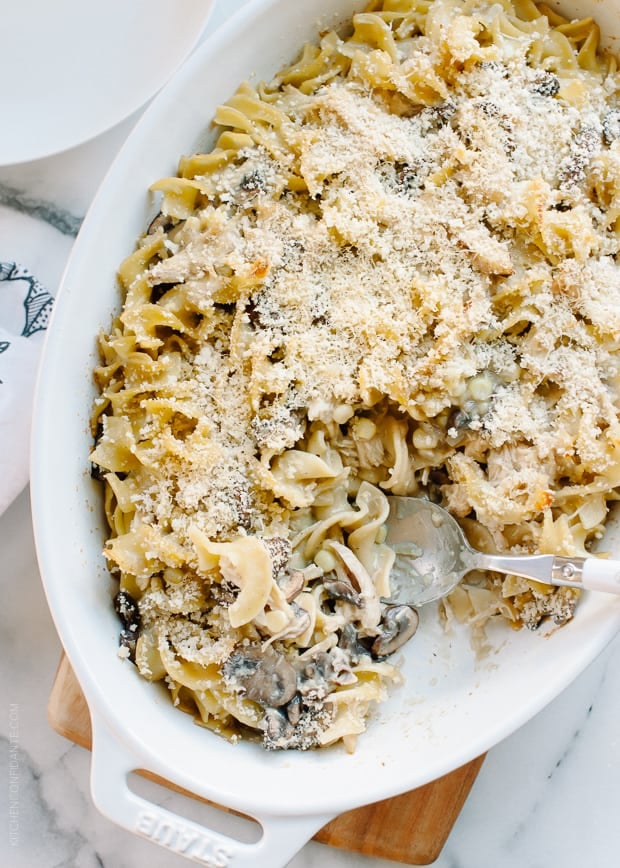 Print Recipe
Ingredients
2 tablespoons canola oil
1/2 cup yellow onion
3 cloves garlic, minced
1 lb mushrooms, cleaned and sliced
1 ear corn, kernels removed
1 teaspoon dry thyme
2 bay leaves
kosher salt, to taste
freshly ground black pepper, to taste
4 tablespoons unsalted butter
1/4 cup all purpose flour
2 cup chicken stock, warmed
1 cup whole milk
3-4 cup shredded roast chicken (leftovers are perfect)
1 lb egg noodles, cooked according to package directions
1/2 cup panko breadcrumbs
1/2 cup grated Parmesan cheese
Instructions
Preheat the oven to 350° F. Lightly butter a 9×13 baking dish and set aside.
Heat the canola oil in a deep sided saute pan or skillet over medium-low heat. Add the onions and garlic and cook while stirring for about 3-4 minutes, or until the onions are translucent. Add the mushrooms, corn, thyme, bay leaves, and season with salt and pepper. Cook for another 5 minutes, or until the mushrooms are cooked down and wilted. Transfer the mushrooms and corn into a bowl and set aside.
Return the saute pan to the stove and lower the heat. Melt the butter in the pan, then slowly add the flour, whisking constantly. When the mixture is smooth, whisk in the warm chicken stock, and let it simmer, stirring constantly, until the sauce is thick and smooth. Whisk in the milk, and season with salt and pepper to taste. Stir in the mushrooms, shredded chicken, and gently add the cooked noodles. Transfer to the buttered baking dish, and spread it evenly in the pan. Sprinkle with the breadcrumbs and Parmesan cheese.
Bake for about 25 minutes, or until the casserole is bubbling and the top is golden brown.