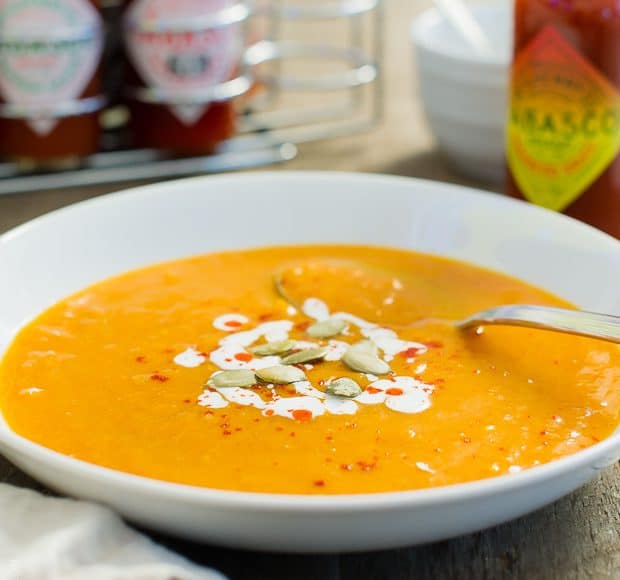 Habanero Spiced Pumpkin Soup
Choose either freshly roasted or canned pumpkin and warm up with a bowl of creamy (and healthy!) Habanero Spiced Pumpkin Soup!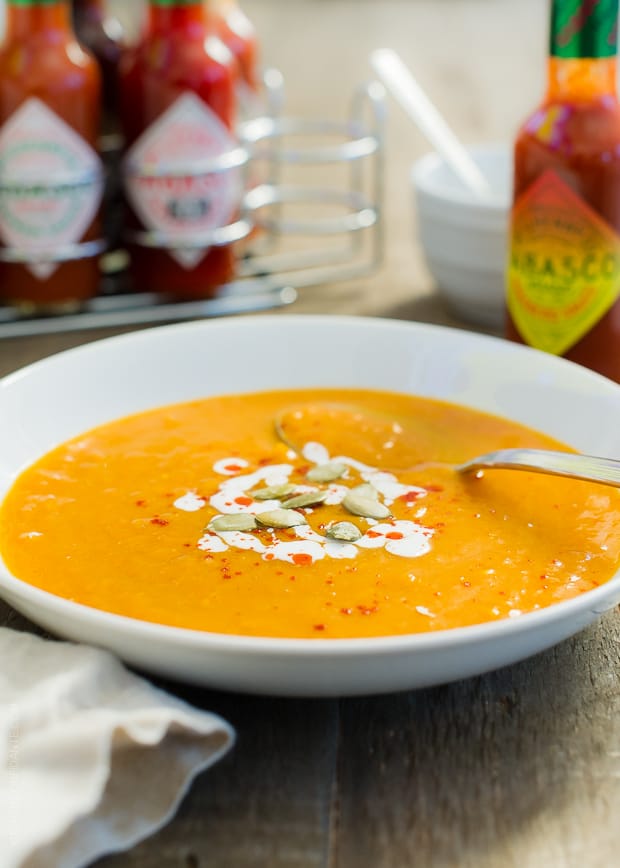 Habanero Spiced Pumpkin Soup
Warm up with a bowl of creamy Habanero Spiced Pumpkin Soup! This post is brought to you by Tabasco.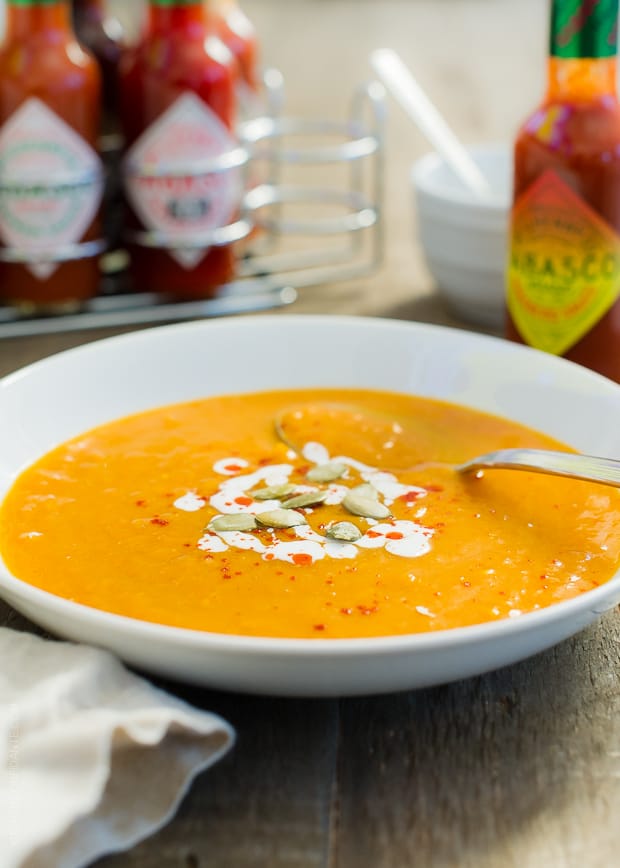 It was one of those days. The kind where nothing seemed to go the right way, or at least the way I had planned. Perhaps I should have gotten the hint the night before, when I realized that I had run out of granola — seemingly insignificant, and easily fixed by a homemade batch that took less than half an hour — but it seemed to be the start of a small but growing snowball. The next morning, yes, there was some delicious granola to look forward to, but it seemed overshadowed by children who were running late for school, a dog who wouldn't cooperate, packing for an on location shoot and realizing I was missing items that required a stop at the market, hurting my back lifting my case of photography materials into my car (I weighed it later: 80 lbs), and the icing on the cake: arriving on location to find that my memory cards were missing.
That was the morning.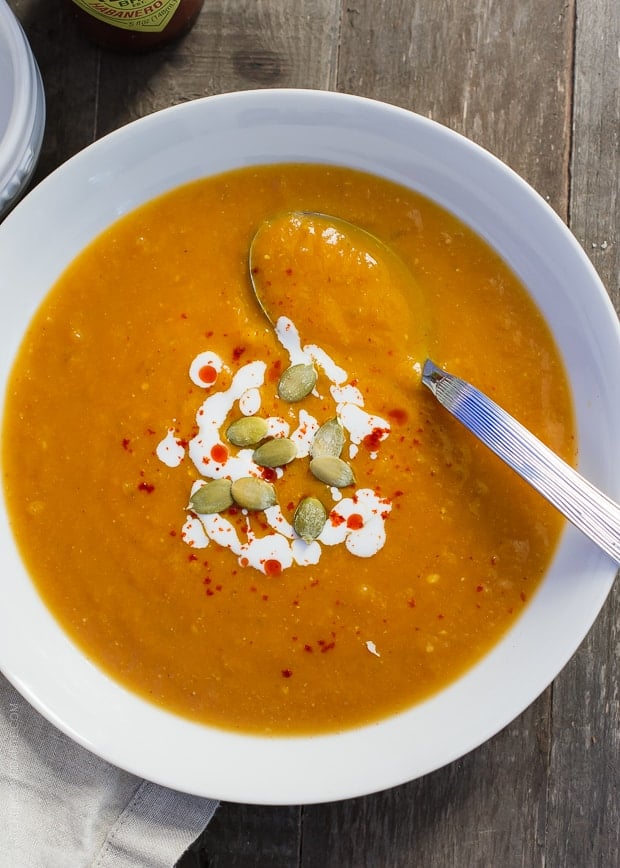 I've decided to scrap it and start fresh tomorrow. I am hoping that the bad karma is gone, and while I hope it finds someone else to pick on, I certainly don't wish this kind of stressful morning on anyone.
To drown my sorrows, I turn to soup. It's that hug I need, the little restorative pep talk I can't give myself. And since it's fall, and I am obsessed with all things pumpkin, how can I stay upset when I have a piping hot bowl of Habanero Spiced Pumpkin Soup?
It all starts with some roasted pumpkin – which smells delightful in the oven – but if you're having a bad day, open a can of pumpkin puree, instead. Cooked with some wilted onions and garlic, and stirred with some chicken stock, the soup comes alive. To match its vibrant orange, it needs a little kick, and that's where a touch of curry powder and Tabasco Habanero Sauce comes in. The spice is enveloping but not overwhelming, and a quick whir in the blender gives me a creamy, spicy soup that warms the belly and clears the mind.
Tomorrow is another day. And it will be better. For now, I will take the rest of the day easy, one sip at a time.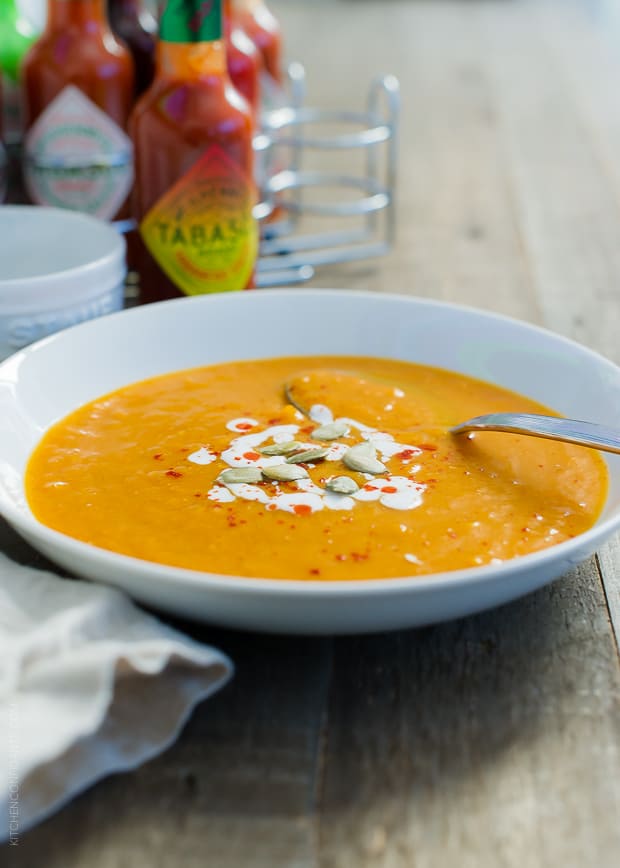 Disclosure: This post was made possible by Tabasco. This recipe is the fourth in a recipe series I am publishing as part of the TABASCO® Tastemakers program featuring the Tabasco Family of Flavors. Thank you for supporting brands that matter to me and help behind the scenes at Kitchen Confidante. All opinions in this post are, as always, my own.
MORE FROM MY TABASCO TASTEMAKER SERIES:
Scotch and Salt Cocktail + Scenes from Avery Island, Home of Tabasco
Fried Heirloom Tomatoes with Buttermilk Fried Oysters and Green Pepper Aioli
Dungeness Crab Salad with Buttermilk Garlic Pepper Dressing
Churro Doughnut Holes with Ice Cream and Cherry Chipotle Sauce
MORE PUMPKIN RECIPES
Pumpkin Spice Cake
Pumpkin Sage Polenta
Turkey Pumpkin Pot Pie
Chicken, Black Bean and Charred Poblano Salad with Pumpkin-Red Curry Vinaigrette
Chocolate Marble Pumpkin Bread
Habanero Spiced Pumpkin Soup
When the temperatures dip, this creamy bowl of Habanero Spiced Pumpkin Soup is sure to warm you up.
Ingredients
1

tablespoon

olive oil

1/2

cup

finely diced onion

2

cloves

garlic

14

oz

pumpkin puree

freshly roasted or canned

3

cup

chicken stock

2

teaspoons

Tabasco Habanero Sauce

1/2

teaspoon

curry powder

1/4

teaspoon

paprika

Freshly ground black pepper

1/4

cup

coconut cream

Pumpkin seeds for serving
Instructions
In a medium sauce pan, heat 1 tablespoon of olive oil over medium-low heat. Add the onions and garlic and cook until onions are wilted, stirring occasionally. Stir in the pumpkin puree. Stir in the chicken stock, and whisk until blended, and raise the heat to medium-high, bringing the soup to a boil. Stir in the Tabasco Habanero Sauce, curry powder and paprika, and season to taste with salt and pepper. Lower heat and simmer for about 3 more minutes.

Use an immersion blender or working in batches with a standard blender to puree the soup. Adjust seasoning with a little salt if necessary.

To serve, ladle the soup in bowls, garnish with drizzles of the coconut cream, and top with the pumpkin seeds. Enjoy immediately.
Nutrition
Calories:
191
kcal
|
Carbohydrates:
18
g
|
Protein:
7
g
|
Fat:
11
g
|
Saturated Fat:
6
g
|
Cholesterol:
5
mg
|
Sodium:
317
mg
|
Potassium:
471
mg
|
Fiber:
4
g
|
Sugar:
7
g
|
Vitamin A:
15504
IU
|
Vitamin C:
8
mg
|
Calcium:
39
mg
|
Iron:
2
mg