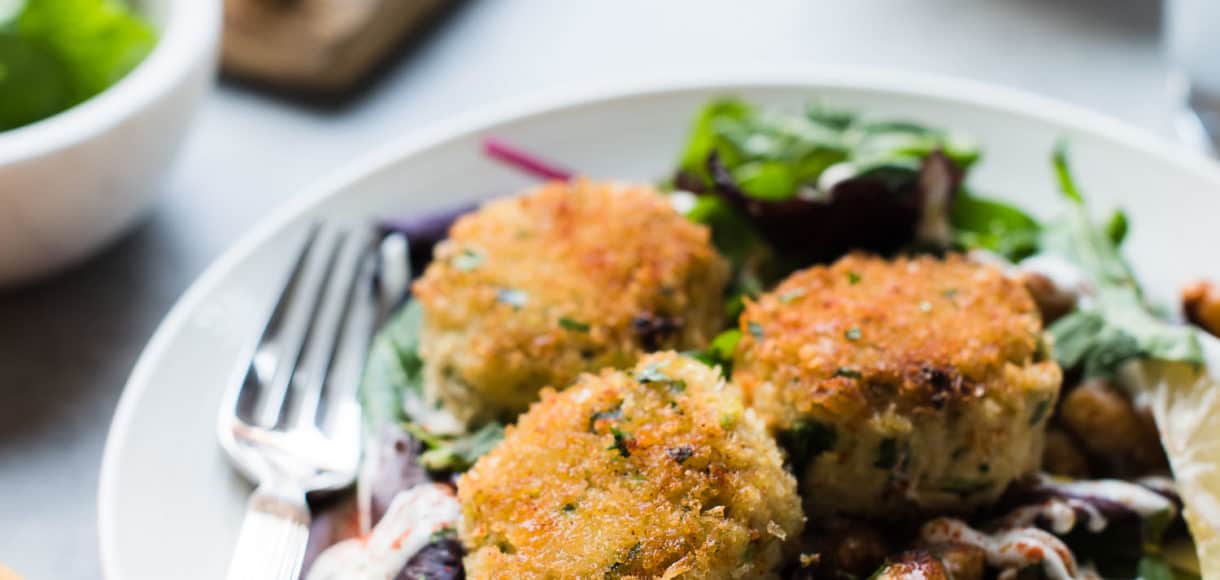 Chickpea Crab Cakes
Chickpea Crab Cakes are perfect for getting out of a dinner rut, or as an elegant appetizer when entertaining. This easy recipe can be prepped in advance! It's been a week that many of us will never forget. For our neighbors, for our friends scattered…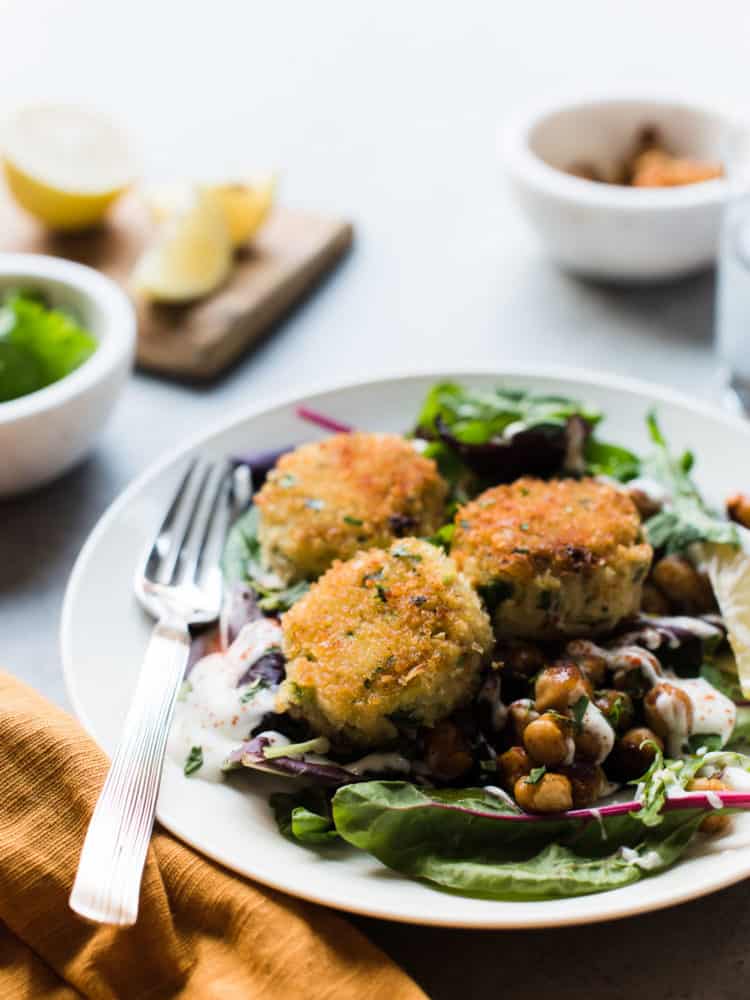 Chickpea Crab Cakes
Chickpea Crab Cakes are perfect for getting out of a dinner rut, or as an elegant appetizer when entertaining. This easy recipe can be prepped in advance!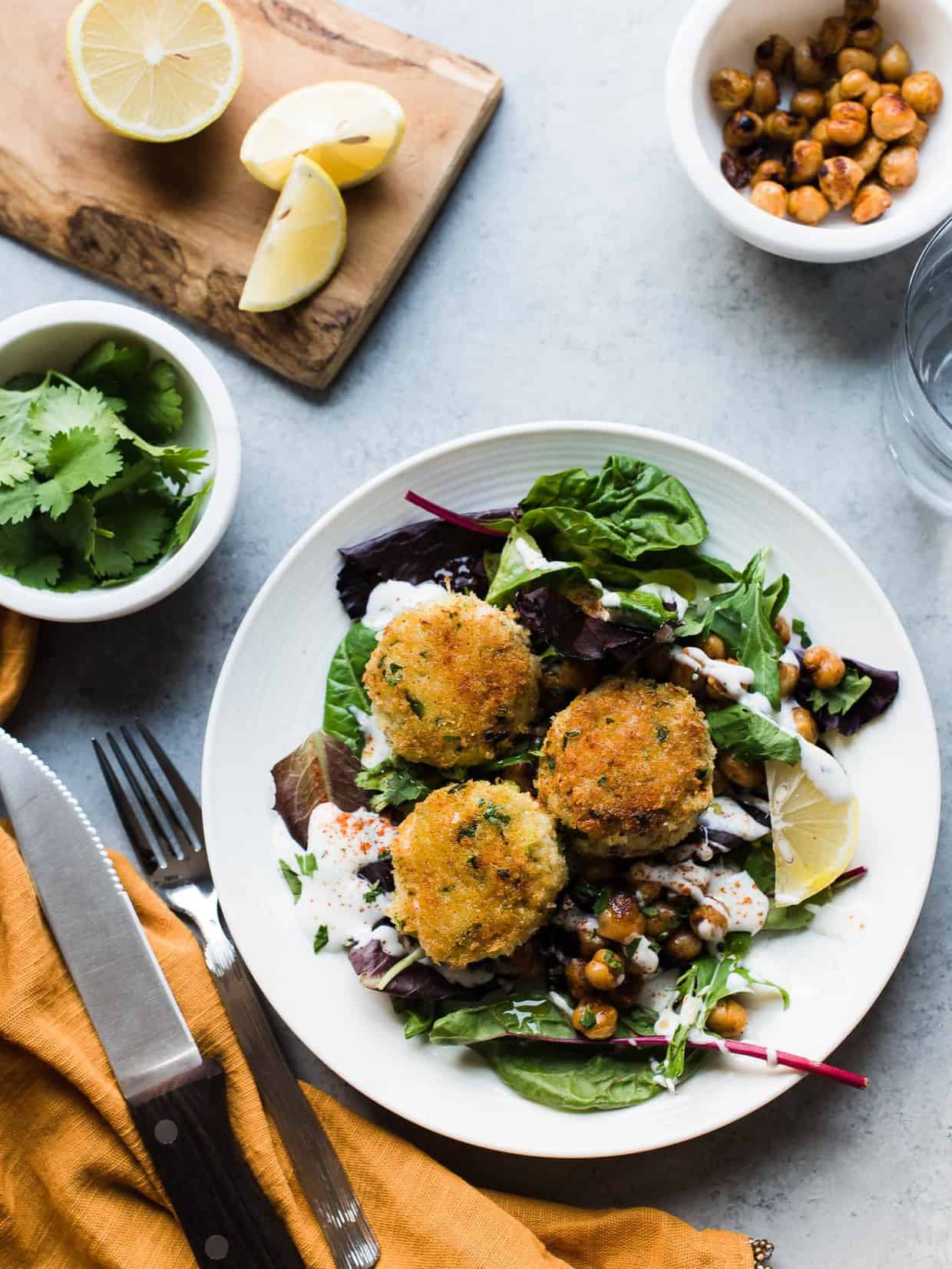 It's been a week that many of us will never forget. For our neighbors, for our friends scattered across the Bay Area, we all knew from the moment we woke up last Monday that something was wrong. The air was thick with smoke, and without turning on the news, we understood that our parched corner of the world was smoldering. But where, it was hard to tell. It could have been a few blocks away.
When we learned that the smoke was traveling from the north in Napa and Sonoma, in what many of us consider a happy place, and I'm sure many of you agree, it was very sobering. The magnitude was devastating.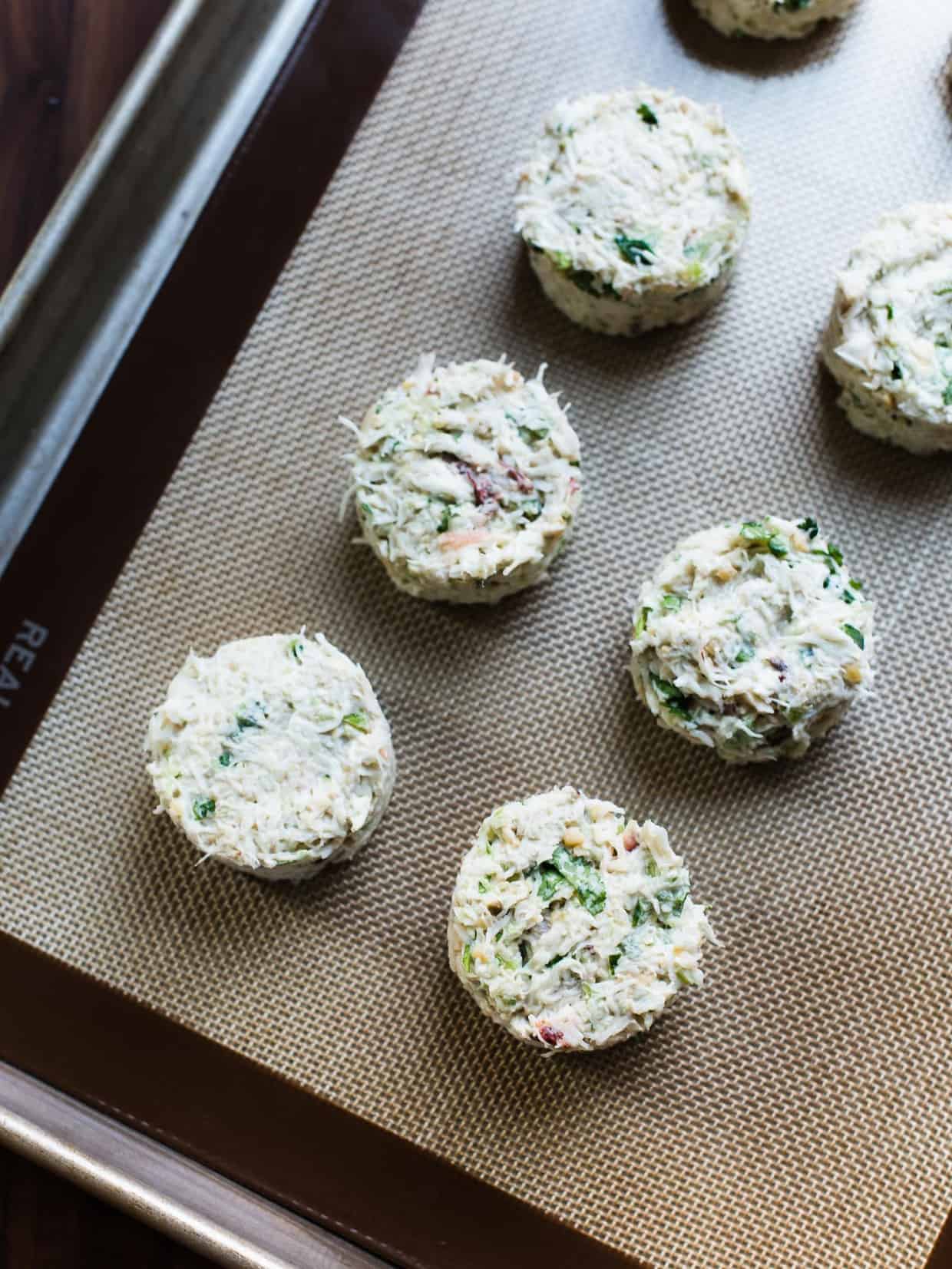 Being close enough to keenly feel the destruction, yet far enough to not be in the thick of it all, it can be hard to figure out how to help. At the same time, we have to push through the week, the ups and downs of the news fluctuating with the smoke. It may not have been a normal week, but there were a lot of the normal things that don't go away.
The midweek slump came, like it always does. The "what do you want for dinner?" question was asked, like it always does. And this time, my son and husband suggested, "crab cakes?"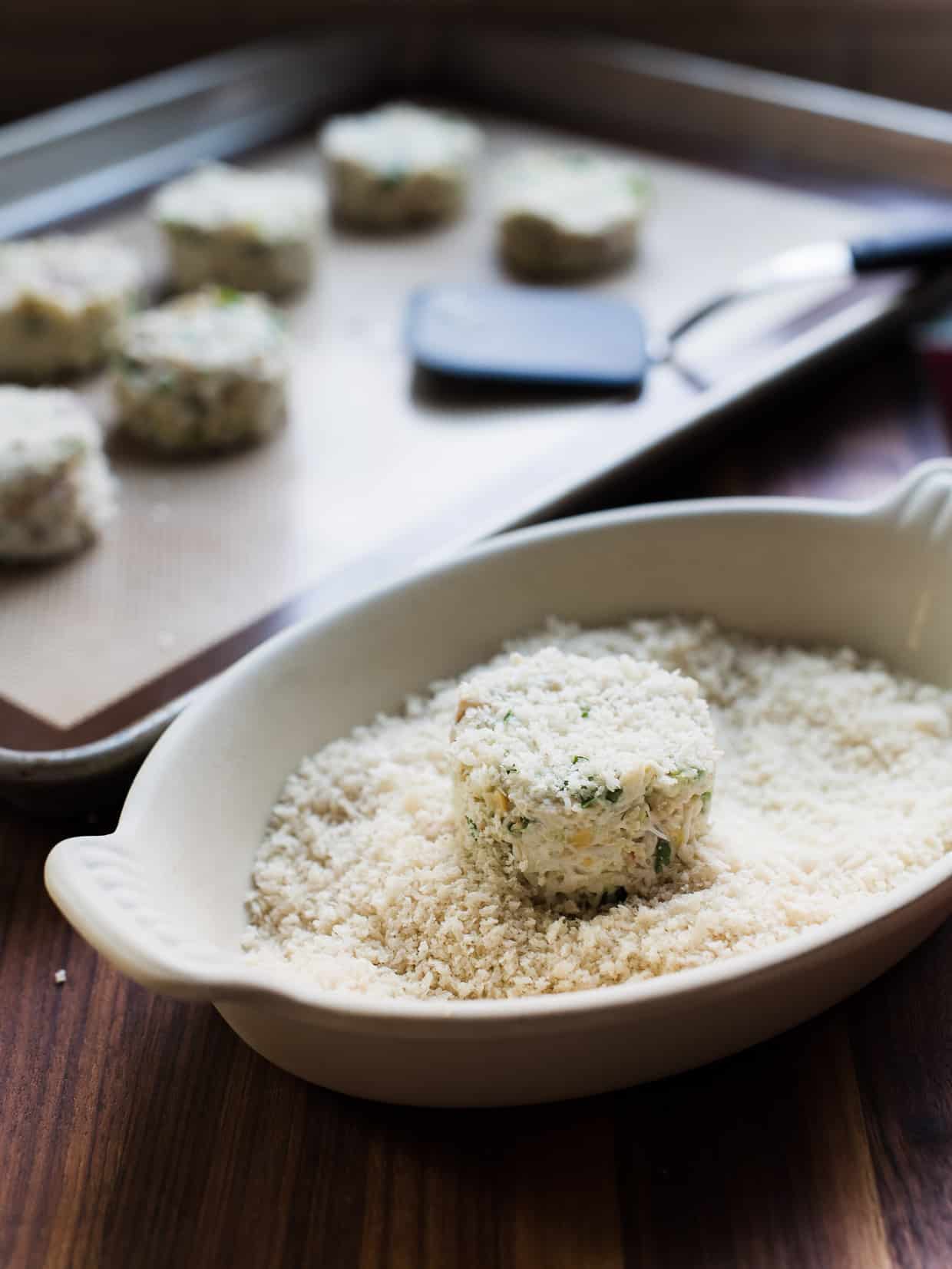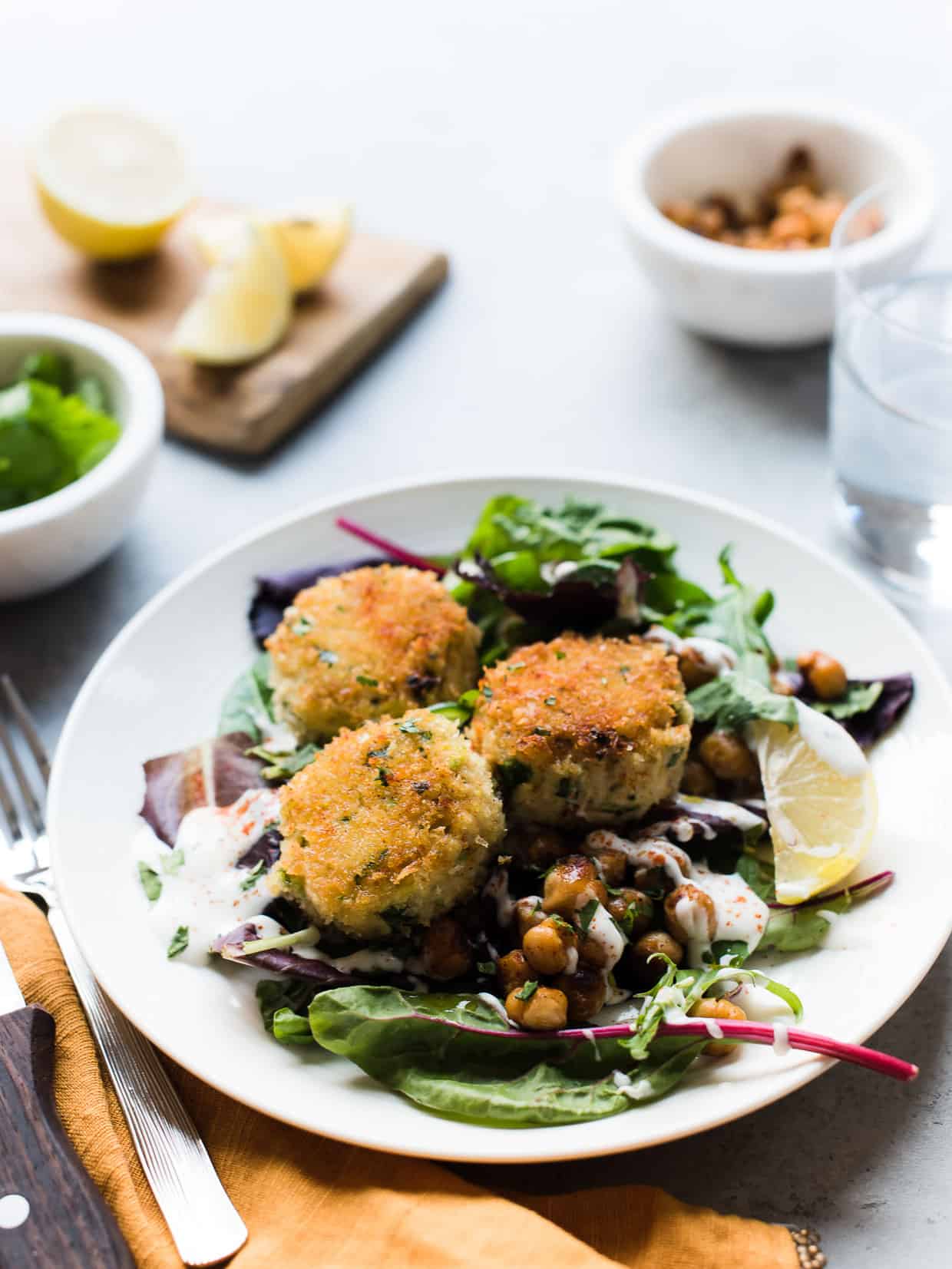 Crab cakes. It's been so long. And it seemed like a really good idea. Sometimes you just need something different to get out of a dinner rut.
This week has been a shake up, but I held on to traditions, to normalcy, as well as novelty. And as I formed the crab cakes, I considered how cooking can both ground us and excite us. From comfort foods we turn to when things don't feel right, to dishes that make us eager to cook again — we all go through these ups and downs.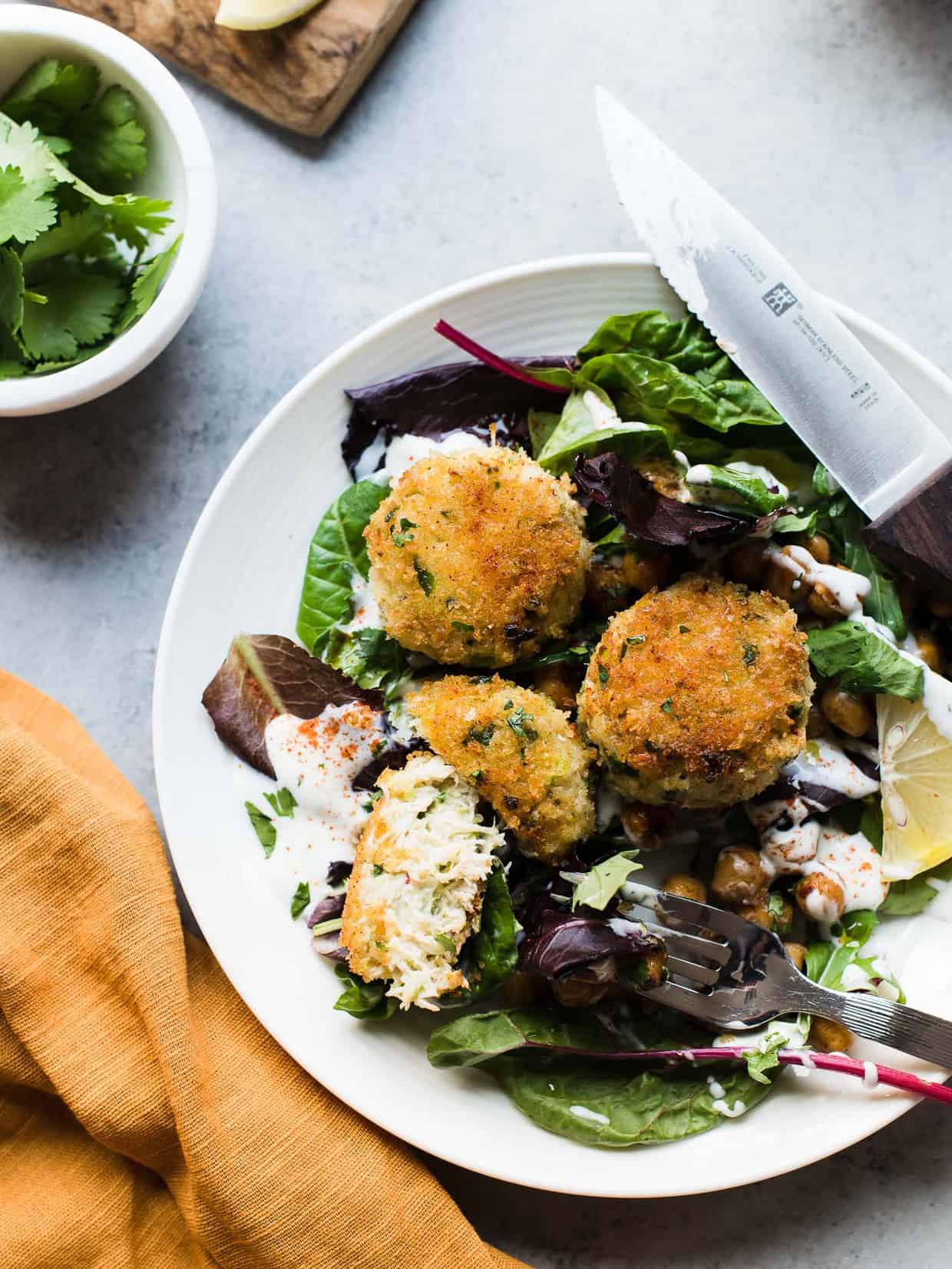 I wanted these crab cakes to have enough sustenance to serve as dinner, but not feel like heavy hockey pucks, if that makes any sense. So to give them a little boost, I turned to my beloved chickpeas. The extra protein from the beans were just what they needed, but the crab cakes were still light and fluffy. Served on a bed of fresh greens with some toasted spiced chickpeas, it was the perfect dinner to get us through hump day, and the lightness we craved on a tough week for many.
Chickpea Crab Cakes are perfect for getting out of a dinner rut, or as an elegant appetizer when entertaining. This easy recipe can be prepped in advance! The chickpeas give it a protein boost.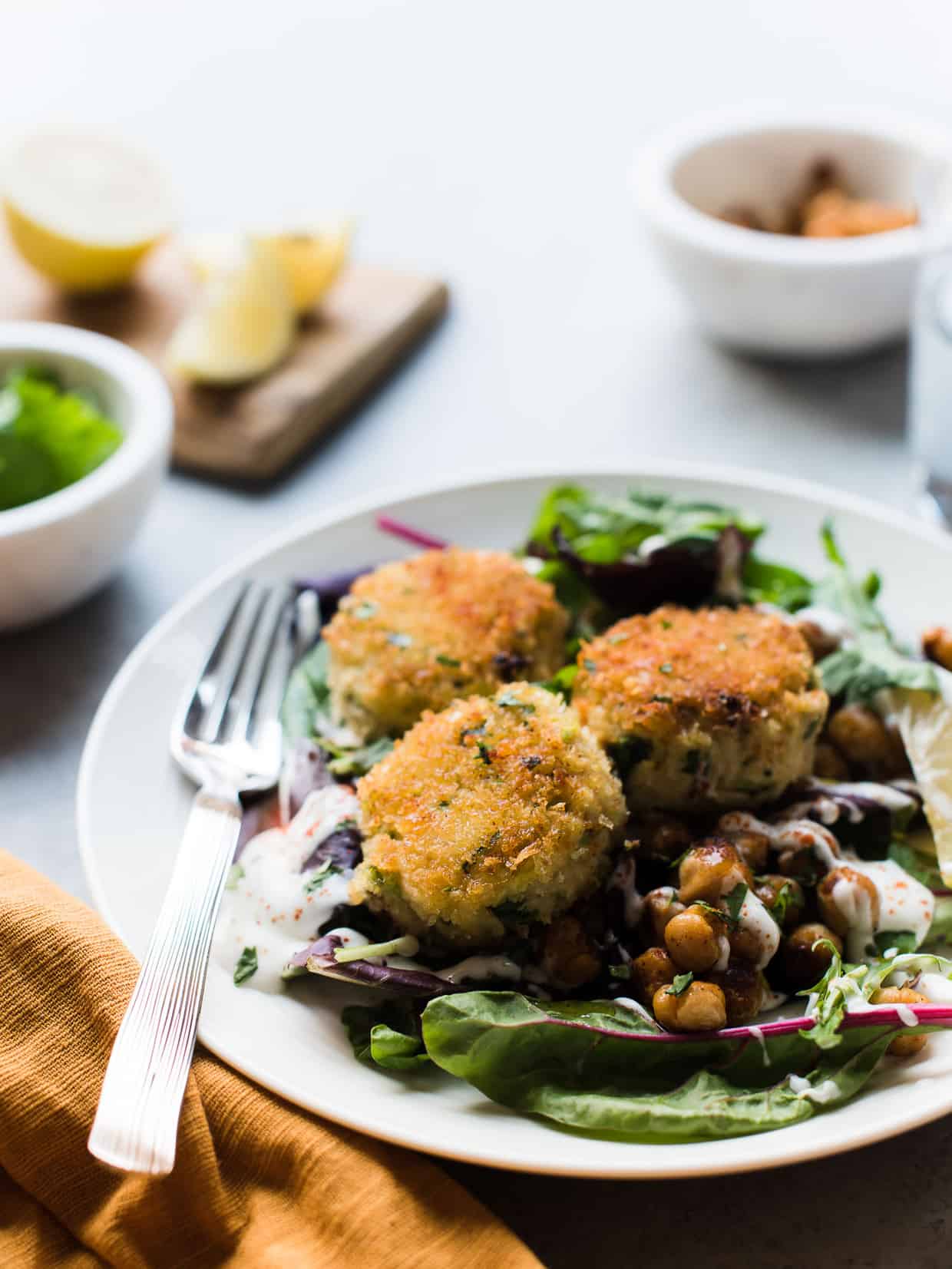 Print Recipe
Ingredients
8 oz fresh Dungeness crab meat (or your favorite crab), cooked
1/3 cup chickpeas, fine chopped or mashed
4 tablespoons celery, finely diced
2 tablespoons chopped fresh cilantro
1 tablespoon minced jalapeno
3 tablespoons mayonnaise
1 cup panko breadcrumbs
2 tablespoons olive oil
Instructions
Pick through the crab meat and remove any shells. Carefully remove any excess liquid by straining or dabbing the crab meat with a clean paper towel.
Combine the crab, chickpeas, celery, cilantro, and jalapeno in a bowl and stir.
Add the mayonnaise and stir until it is well incorporated.
Form into small patties about 2 inches wide and about 1 1/2 inches high.If you have a 2 inch ring mold, this will make it easier. You should have enough for 8 crab cakes.
Refrigerate at least 30 minutes or until ready to cook and serve.
When you are ready to cook, pat the tops and bottoms of the crab cakes with the panko crumbs.
Heat olive oil in a skillet over over medium-high heat.
Add the crab cakes and cook for about 2-3 minutes per side, flipping the crab cakes gently to help them retain their shape, until the cakes are golden brown on both sides.
Serve immediately.
Notes
If you have a food processor, it can be very handy for prepping the chickpeas, celery, cilantro and jalapeno. Just be sure to hand mix the crab and remaining ingredients.
Adapted heavily from Dungeness Crab Cakes, Boulevard: The Cookbook by Nancy Oakes and Pamela Mazzola (Ten Speed Press, 2005).