Fish Tacos with Avocado-Cilantro Sauce
When your butcher comments that he's seen more of your husband than you recently, you know it must be true. You've been in a rut. A food rut. I hit a wall recently, where my appetite was well intentioned but never satisfied. I found myself…
Fish Tacos with Avocado-Cilantro Sauce
When your butcher comments that he's seen more of your husband than you recently, you know it must be true. You've been in a rut.
A food rut.
I hit a wall recently, where my appetite was well intentioned but never satisfied. I found myself turning to old favorites only to find that I couldn't even cook those well. Dishes here and there were considered utter failures. There were little glimmers of hope scattered between meals: some amazing buttermilk fried oysters in a delicious aioli, and some cherry nutella scones. But overall, I wasn't feeling it.
I would go to the store and nothing looked appetizing. So my husband went instead.
It's okay. I go through these phases every so often, do you? When it does, I use it to recalibrate and to listen to my family's cravings. And I wait. Because something will inspire me, eventually.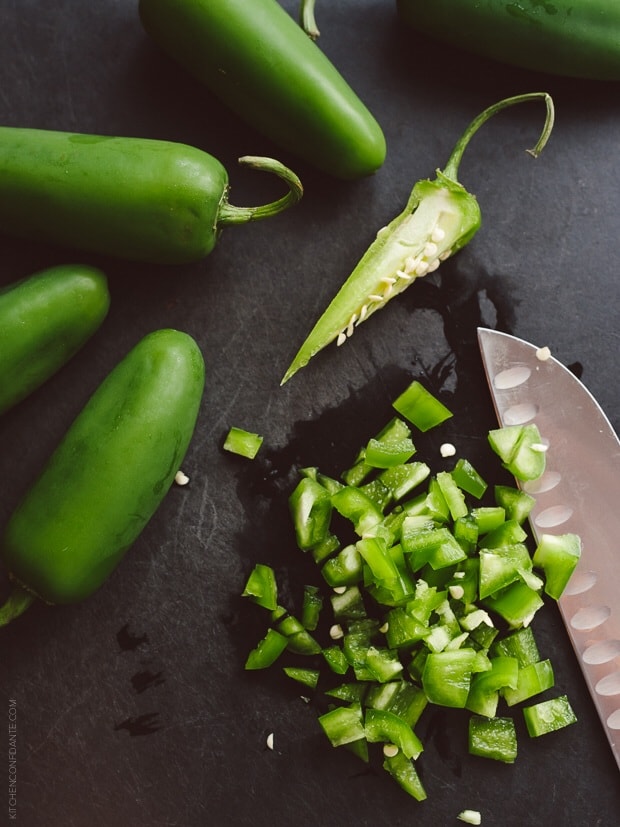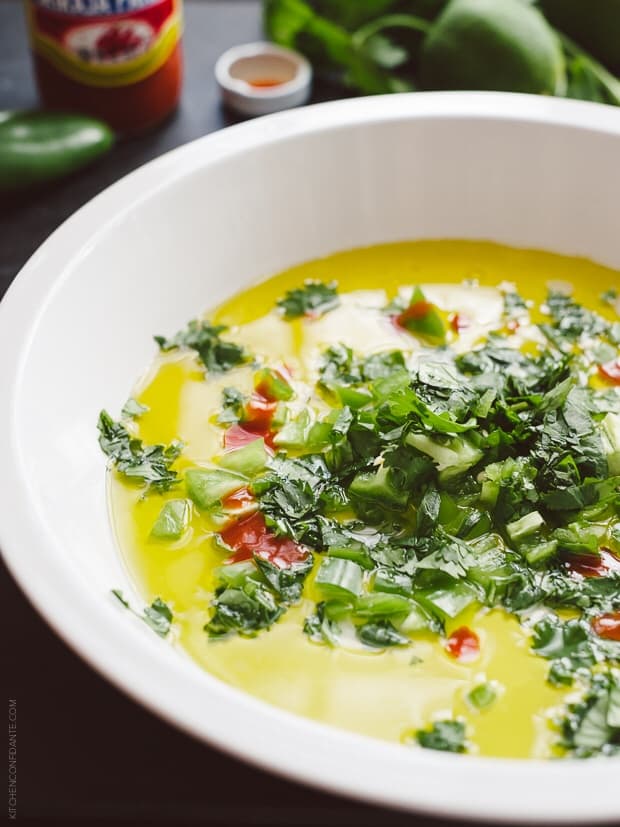 It turns out that all I needed to do was to turn to my favorite flavors. Jalapeños, cilantro, avocados, and garlic. My husband had a craving for fish tacos, and when he came home with some lovely slabs of mahi mahi, I found myself excited again. A subtle marinade, a deliciously creamy avocado and cilantro sauce, loads of brilliant, crunchy red cabbage – it all came together and excited me once again. It was delicious.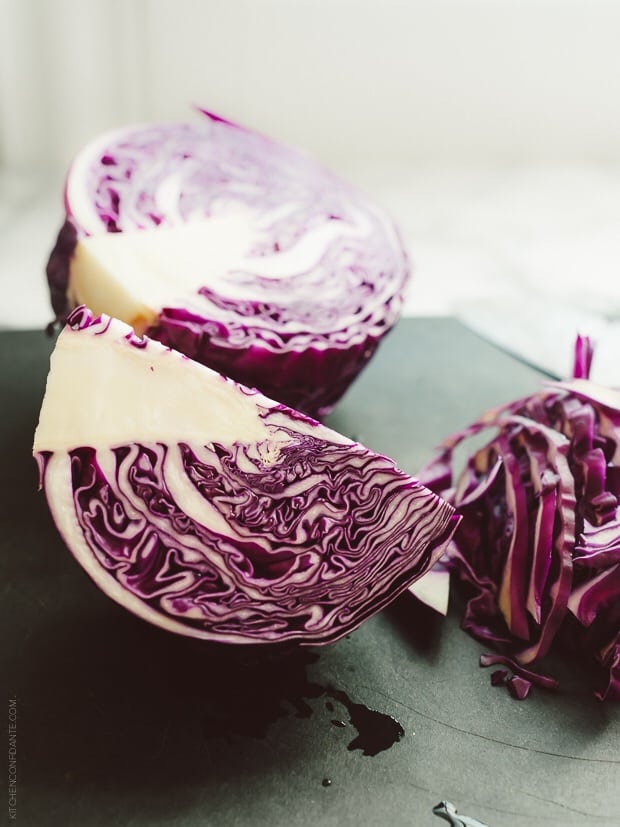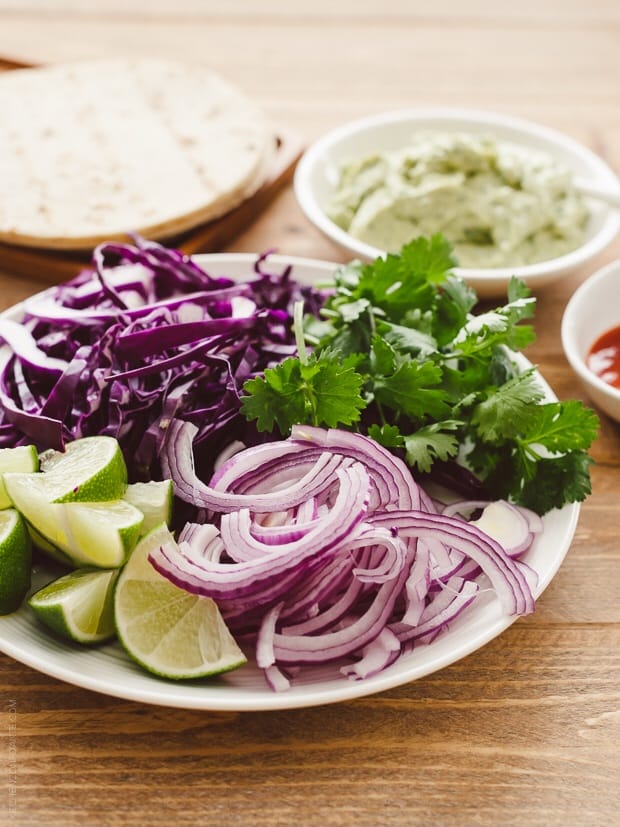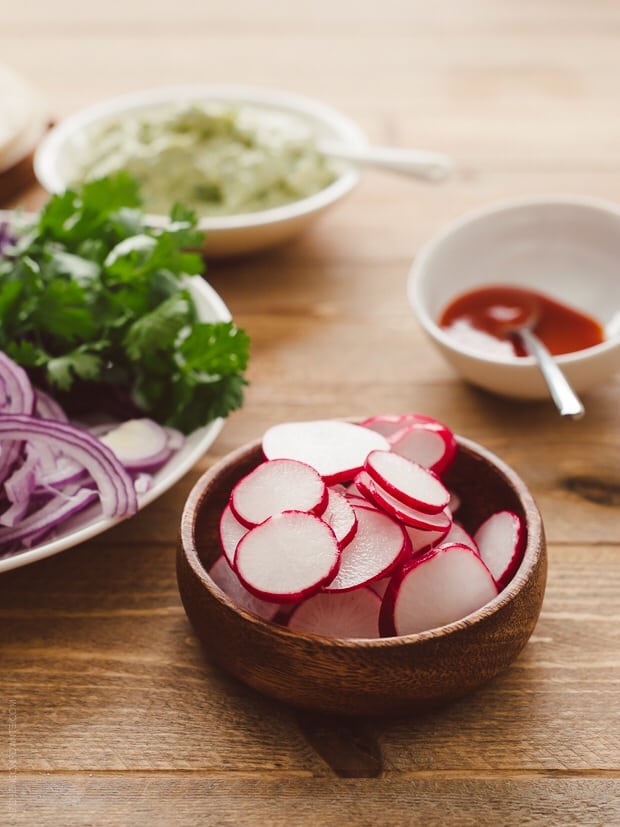 I felt the shift as my knife pushed through the red cabbage. The simple act of slicing to reveal ribbons of purple and white brought wonder – how clever is Mother Nature? Such a beautiful vegetable – why don't I cook with red cabbage more often?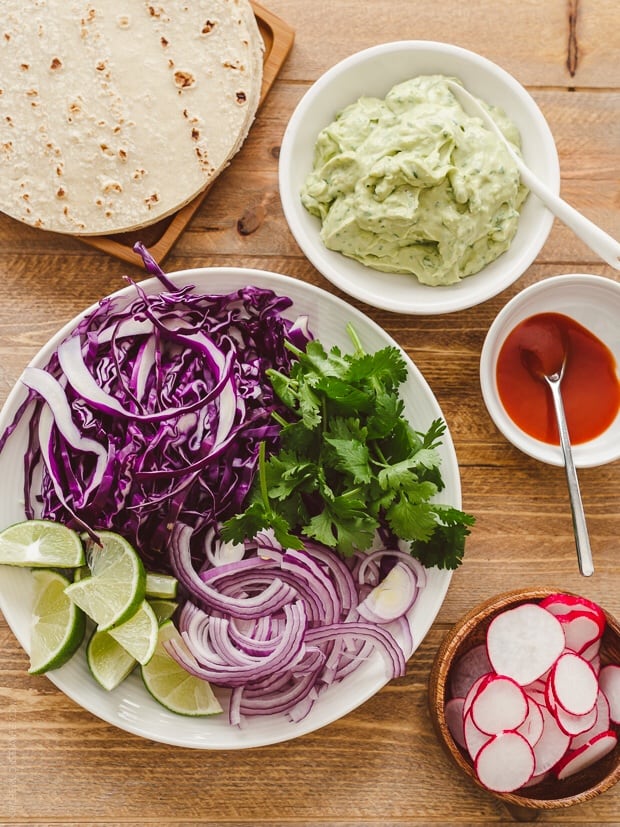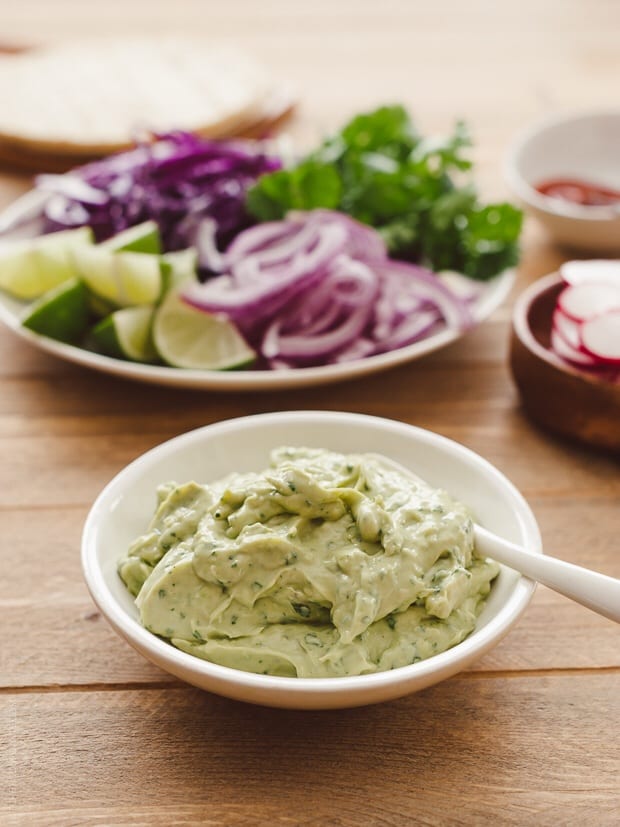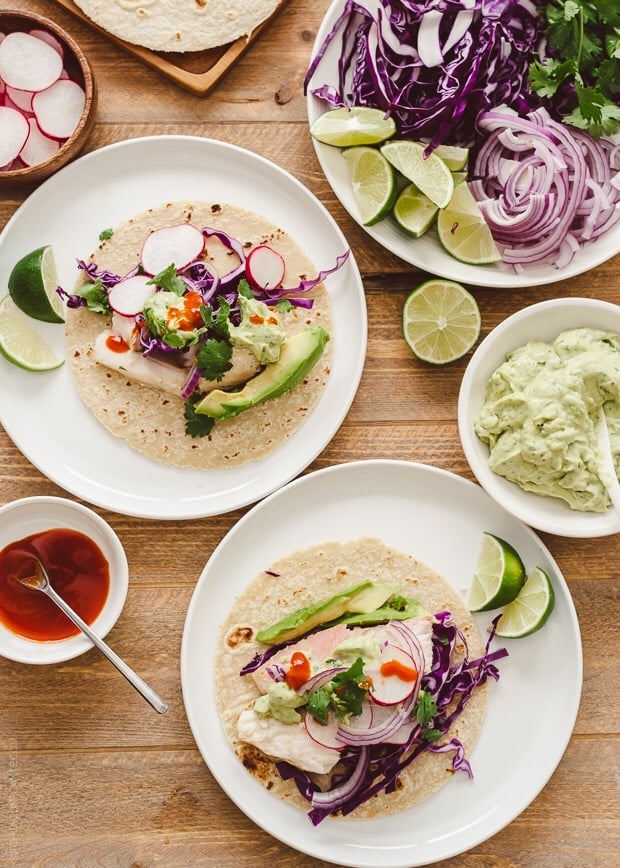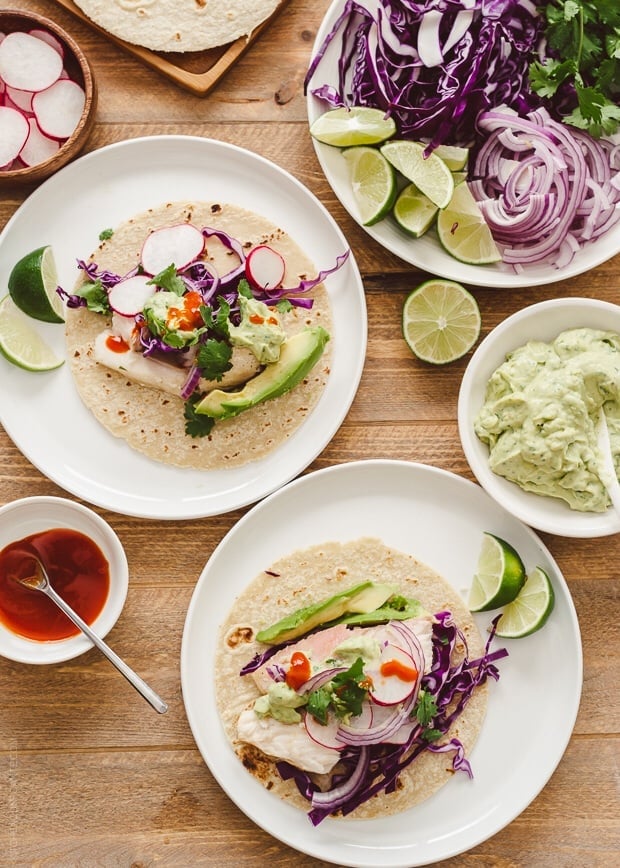 Tacos – everyone can agree on that, right? The mahi mahi was utterly fresh, as good as it can get when you're on the mainland. But you know what I loved best? That creamy avocado-cilantro sauce. A little bit garlicky, and simply velvety from the avocado, it was a refreshing twist to the dollop of plain crema or sour cream. Smothered on the taco shell, it just bound all the crunchy red cabbage, red onion and radishes together so beautifully.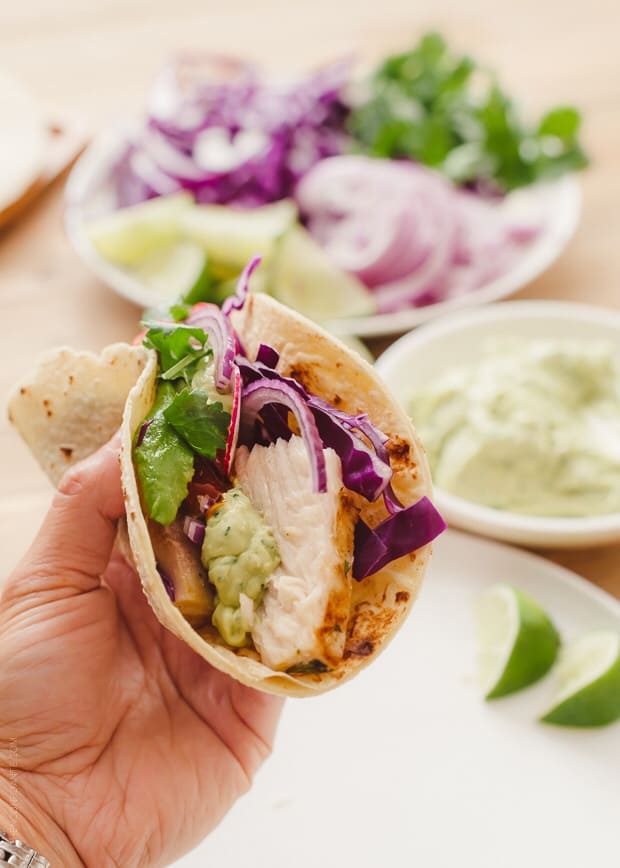 Ah, it's good to be back. If you happen to find yourself stuck, if everything else is tried and true, and perhaps even a little bit boring, I hope you try these Fish Tacos with Creamy Avocado-Cilantro Sauce. It just may do the trick.
Fish Tacos with Avocado-Cilantro Sauce
Taco night is one of our favorites at our house. With these fish tacos, it's even better! Definitely take the time to make the avocado-cilantro sauce - it makes the dish pop and is worth the extra step.
Print Recipe
Ingredients
For the Fish Tacos:
2 pounds meaty white fish fillets (I prefer mahi-mahi)
1/4 cup olive oil
1 lime, juiced
1 tablespoon sriracha
1 jalapeno, chopped
1/4 cup cilantro leaves, chopped
1 teaspoon kosher salt
8 corn-flour tortilla shells
For the Garnish:
Red cabbage, shredded
Radishes, thinly sliced
Red onion, thinly sliced
Avocados, pitted, peeled and sliced
Lime wedges
Sriracha or hot sauce
Cilantro leaves
Avocado-Cilantro Sauce (see below)
For the Avocado-Cilantro Sauce:
2 cloves garlic, peeled
1 teaspoon salt
1/2 cup light sour cream
1 ripe avocado, pitted and peeled
1/4 cup cilantro leaves
juice of 1/2 lime
Freshly ground pepper, to taste
Instructions
Preheat the grill on high heat.
In a large, shallow dish, whisk together the olive oil, lime juice, sriracha, jalapeno, cilantro and salt. About 15 minutes before you are ready to grill the fish, marinate the fish for 15 minutes in the refrigerator. When the grill is ready and the fish has been marinated, place the fish flesh side down onto the grill. Lower the heat to medium-high. Cook for about 5 minutes, then gently release the fish from the grill and flip. Cook for another 5 minutes. Remove from the grill and let it rest on a plate.
Meanwhile, make the Avocado-Cilantro Sauce. In the bowl of a food processor, blend the garlic and salt until finely chopped. Add the sour cream, avocado, cilantro, lime juice and pepper. Blend until smooth. Adjust the seasoning if necessary with salt and pepper. The sauce can be prepared ahead of time and stored in a tightly sealed container in the refrigerator.
Warm the tortillas on the grill or in a hot skillet over medium-high heat. To serve, slice or flake apart the fish and place several pieces on the tortilla shells. Garnish as you wish and enjoy!
Fish taco marinade lightly adapted from Fish Tacos by Bobby Flay, via Food Network.