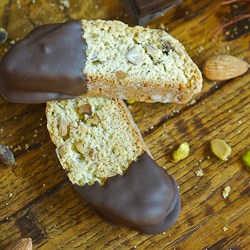 Chocolate-Dipped Pistachio Almond Biscotti | A Guest Post from Lemons & Anchovies
Friendsgiving I hope you all had a wonderful Thanksgiving with those dearest to your heart. As the weekend draws to a close, I am pleased to welcome my final guest to my virtual Friendsgiving table. One of the very first people who reached out to…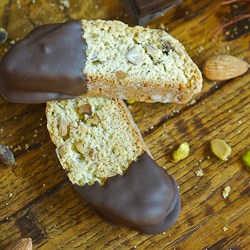 Chocolate-Dipped Pistachio Almond Biscotti | A Guest Post from Lemons & Anchovies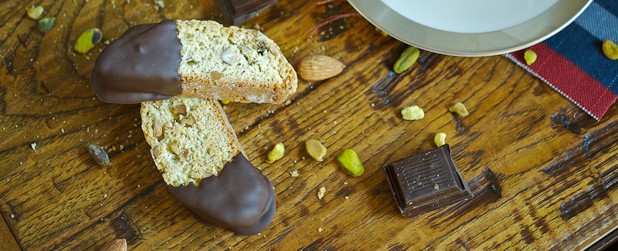 Friendsgiving
I hope you all had a wonderful Thanksgiving with those dearest to your heart. As the weekend draws to a close, I am pleased to welcome my final guest to my virtual Friendsgiving table. One of the very first people who reached out to me when I started Kitchen Confidante has turned out to be someone I am so happy to consider a friend. Jean from Lemons and Anchovies is a kindred spirit, sharing not only my Filipino heritage, but the diverse flavor palate that comes from having such a flavorful upbringing. She is such a joy to know, and I just know you will love the biscotti she brings to us today. I can see making a big batch of these and enjoying them with a big mug of rich coffee as the weather gets colder. And if I'm feeling up to it, I know they will make for a perfect holiday gift. Thank you, Jean!
◊◊
I am usually awake well before the alarm clock goes off at 5 am. I get up, put on a pot of tea to help banish the fog in my brain and prepare the turkey for the oven. I take printouts of new recipes–clean and unwrinkled–and acquaint them with old ones–tattered, stained, well-loved and most importantly, tried and true. I have welcomed the arrival of Thanksgiving Day this way for many years.
This brings to mind that not-so-calm first Thanksgiving that my husband and I hosted a decade ago. I had never before roasted a turkey. In fact, I may have had only a handful of roast chickens under my belt at the time so a 20-pound turkey prompted the worst kind of fear in the budding home cook that I considered myself to be then. What if my turkey turned out dry and flavorless or worse yet, brown outside and uncooked inside? Would I have enough side dishes to make up for turkey failure?
Thankfully, my mother was a seasoned pro with Thanksgiving meals. I had no choice but to seek her aid. However, she was 120 miles away and not due to arrive with the rest of my family until noon, so I did the next best thing: I made my mother give me step-by-step instructions over the phone. Once the bird was in the oven I must have called her every half-hour just to give her an account of how I was doing–of course I gave her updates on the turkey, too. She kept me from panicking, assured me that the turkey would be fine (indeed it was). I gave her no reprieve and pestered her on the phone as she and my father drove the two hours to reach my front door. She made the gravy, too, if I remember correctly. She saved the day in her usual calm, self-assured manner–a trait I did not inherit. This remains one of my most vivid Thanksgiving memories.


Each succeeding Thanksgiving has given me more confidence and has allowed me to settle into the routine I described earlier. Some years are more seamless than others–one overambitious year I fell behind schedule trying to make too many dishes and my family arrived to see me still cooking and in my pajamas–but these days peace and solitude are more frequent companions than stress and anxiety. At the noon hour my family arrives with more food and drink and the quiet of the morning is replaced by boisterous storytelling and laughter; it is loud but peace still permeates the air.
But my fondest memories of each Thanksgiving come later. When the cooking is behind me and I can focus on family instead of the food, when everyone has been well-fed and is satisfied, when my family has split into little groups to carry on different conversations around the house, I feel good because everyone is happy to be together. Inevitably, we find ourselves in the kitchen once more…for just one more bite of something. Stomachs are still too full to justify a second round of turkey and potatoes and another slice of rich cake would be just too sinful. To satisfy that craving to have just one more little nibble, these Chocolate-Dipped Pistachio Almond Biscotti would be just the ticket.
Liren, thank you for inviting me to be a part of your Friends-giving celebration. You are the very first friend I made as a food blogger so consider me very honored! I wish you and your family a happy, healthy Thanksgiving!
Chocolate-Dipped Pistachio Almond Biscotti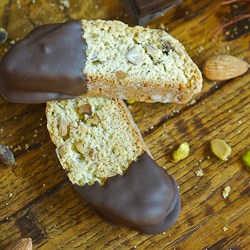 Print Recipe
Ingredients
3 tablespoons unsalted butter, softened
1/2 cup plus 2 tablespoons sugar
1 1/2 cups plus 2 tablespoons all-purpose flour
1 teaspoon baking powder
Pinch salt
Zest of one lemon
2 large eggs
2/3 cups chopped almonds
1/3 cup shelled pistachios
6-8 ounces dark chocolate
Instructions
Preheat the oven to 350 degrees. Line a baking sheet with parchment or waxed paper.
Beat the butter and sugar on medium speed in the bowl of an electric mixer fitted with a paddle attachment until combined, about 1 minute.
Add the flour, baking powder, salt and lemon zest and beat just until combined.
Add the eggs 1 at a time, beating well after each addition. Add the nuts and mix until combined.
Transfer the dough to a lightly floured work surface and shape it into a 12-inch-long log. Transfer the log to the prepared baking sheet and bake for 10 minutes.
Leave the oven on. Using a sharp serrated knife, cut the log on the diagonal into 1/2 -inch-thick slices. Place the biscotti cut side up on the lined baking sheet and bake for an additional 12 to 14 minutes, or until golden brown and crisp. Cool completely on a wire rack.
Melt the chocolate in the microwave, stirring between 20-30 second intervals until almost all of the chocolate has melted. Stir until smooth and allow to cool for a few minutes before dipping the biscotti.
Dip one end of each biscotti and lay on a sheet of waxed paper until the chocolate has hardened once again.
Store the biscotti in an airtight container in a cool dry place for up to 2 weeks. Makes about 2o biscotti.
Inspiration: Francois Payard in Simply Sensational Desserts