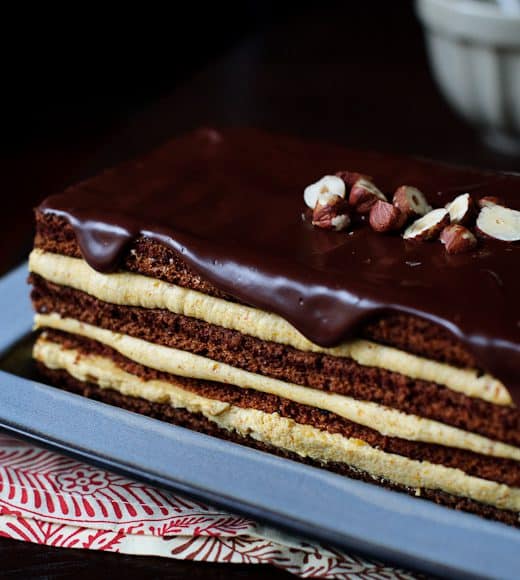 Chocolate Pumpkin Torte
What are little boys made of? What are little boys made of? Frogs and snails And puppy-dogs' tails, That's what little boys are made of. What are little girls made of? What are little girls made of? Sugar and spice And everything nice, That's what…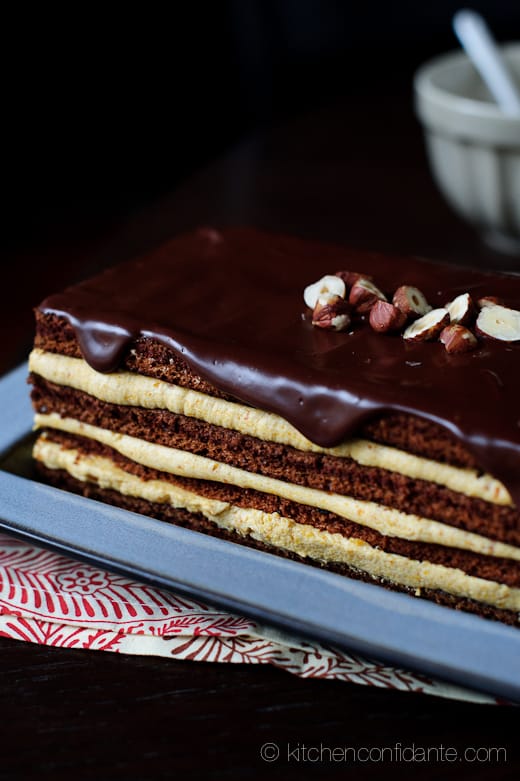 Chocolate Pumpkin Torte
What are little boys made of?

What are little boys made of?

Frogs and snails
And puppy-dogs' tails,
That's what little boys are made of.

What are little girls made of?

What are little girls made of?

Sugar and spice
And everything nice,
That's what little girls are made of.


I think boys are made of chocolate. Semisweet chocolate.

Until my little guy came into my life, I never truly understood that special bond between mother and son. I naively thought there would be no difference from the attachment I developed with my daughter. But there is a difference.

Little boys are sweet, they are cuddlers, they dote, they charm. Oh mommy, I forgot to tell you! You look beautiful today. Oh yes, these were the syrupy words that would roll off his tongue. I know! He was smooth, even at five…and I swear I never coaxed it out of him!

These last few weeks, something changed. The sweet has become the spunky. Place him in a group of friends, and my darling boy hoots and howls, wrestles on pavement, jumps off, well, anything he can climb on. He wants to roughhouse with my husband all the time. And I sigh. I wait until I have that moment alone, when he turns back into my boy.

When he turned six last month, I found myself saying, Oh dear, what will we do, now that you're six? His response: Don't worry mommy, I'll still hug you. Even when I'm eight, I'll hug you.

Oh I hope so.
When a pumpkin pie just won't cut it, try this beautifully dark and perfectly balanced cake. The cake itself is not overly sweet -- that comes, in just the right amount, from the chocolate Ganache that is glazed on top.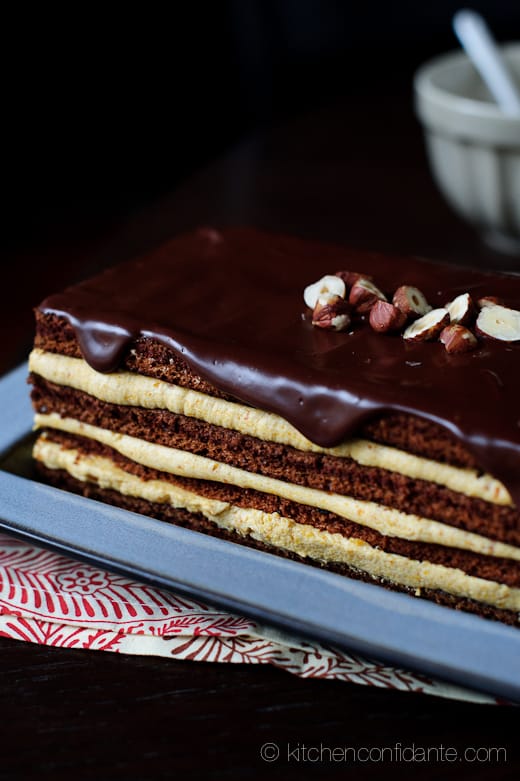 Print Recipe
Ingredients
Cake
4 eggs, separated
1/2 cup sugar
1/2 cup all purpose flour
1/3 cup unsweetened cocoa
1/4 cup sugar
1/2 teaspoon baking soda
1/4 teaspoon salt
1/3 cup water
1 teaspoon vanilla
1 tablespoon sugar
Pumpkin Filling
1 cup canned pumpkin
1/4 cup all purpose flour
1/3 cup plus 3 tablespoons butter
1 teaspoon cinnamon
1/4 teaspoon nutmeg
1 3/4 cups powdered (confectioners) sugar
Chocolate Ganache Glaze
8 oz semisweet chocolate, chopped
5 oz evaporated milk
1 tablespoon butter
1 teaspoon vanilla
Instructions
Make the Cake:
Preheat the oven to 375°F. Prepare a jell roll pan (15 1/2" x 10 1/2" x 1") by lining it with either parchment paper or aluminum foil. Lightly coat the covered surface and sides with baking spray and set aside.
In the bowl of an electric mixer, beat the egg yolks on medium speed for about two minutes. Add 1/2 cup sugar and continue to beat until the eggs are light in color, about two minutes more. In a separate small bowl, whisk together the flour, cocoa, 1/4 cup sugar, baking soda and salt. Stir the vanilla into the water. Add the cocoa mixture to the eggs, alternating with the liquid on low speed until the batter is smooth.
In a separate bowl, beat the egg whites until they are foamy. Add 1 tablespoon of sugar and continue to beat until stiff peaks form. Fold gently into the batter.
Spread the batter evenly into the jelly roll pan, and bake for about 14 minutes. The cake should be spring back at the touch. Invert the pan on a lightly dampened towel and remove the liner. Cool the cake completely.
Make the Pumpkin Filling:
Combine the pumpkin and flour into a small sauce pan and cook over medium heat. Stir it constantly until the mixture begins to bubble and boil. Remove from heat and cool completely,
Combine the butter, cinnamon and nutmeg, beating well. Add the sugar and continue beating until it is light and fluffy. Add the pumpkin mixture and combine it well. Chill for at least 15 minutes.
Assemble the Cake:
Cut the cake into four even pieces, crosswise. Place one piece on a serving dish and spread about 3/4 cup of the Pumpkin Filling on top. Continue with the next layer and the filling, ending with a cake layer. Chill the cake.
Make the Chocolate Ganache:
In a small sauce pan, combine the chopped chocolate, evaporated milk and butter over low heat, stirring constantly, when the chocolate is melted and smooth, remove from heat and stir in vanilla. Let it cool until it is lukewarm.
Spoon on top of the chilled cake, letting it drizzle slightly over the sides. Chill the cake until about 30 minutes before serving.