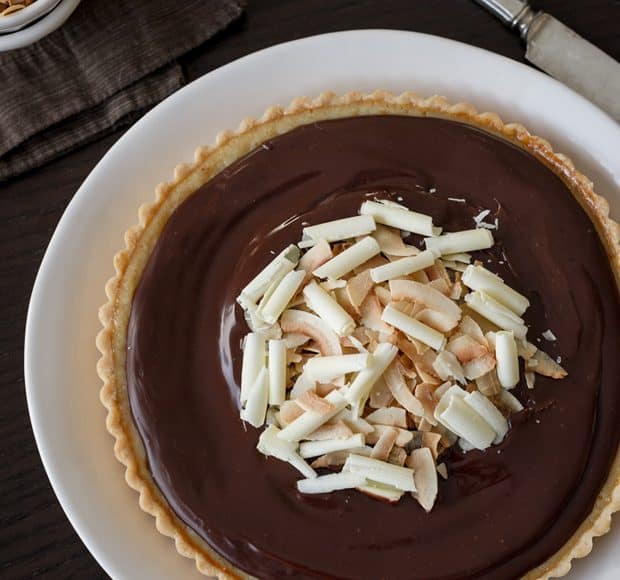 Simple Sundays | Coconut Custard Tart with Chocolate Ganache
It happened twice this week. You know that moment when you meet someone for the first time and you go through the basic exchange? At my point in life it typically leads to the question of "How many children do you have?" followed by "Oh,…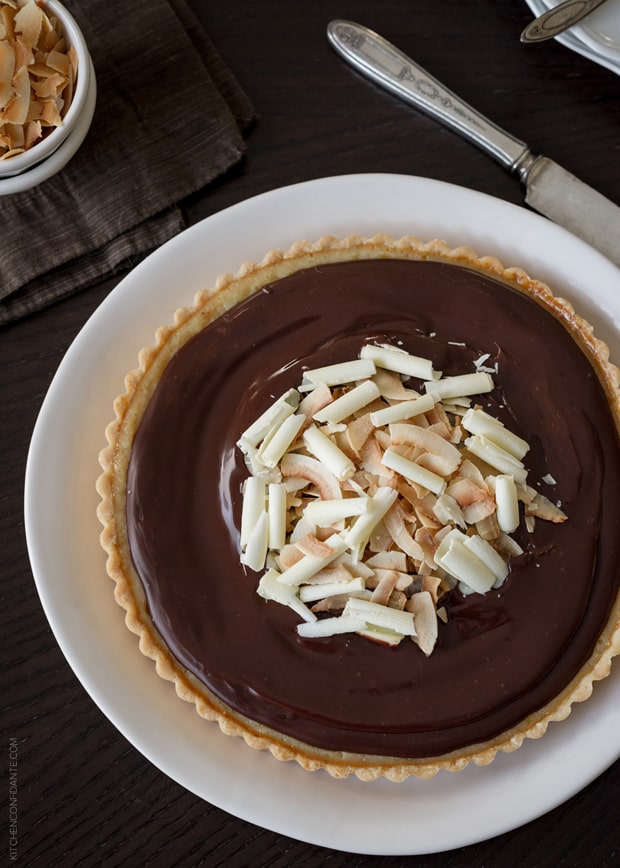 Simple Sundays | Coconut Custard Tart with Chocolate Ganache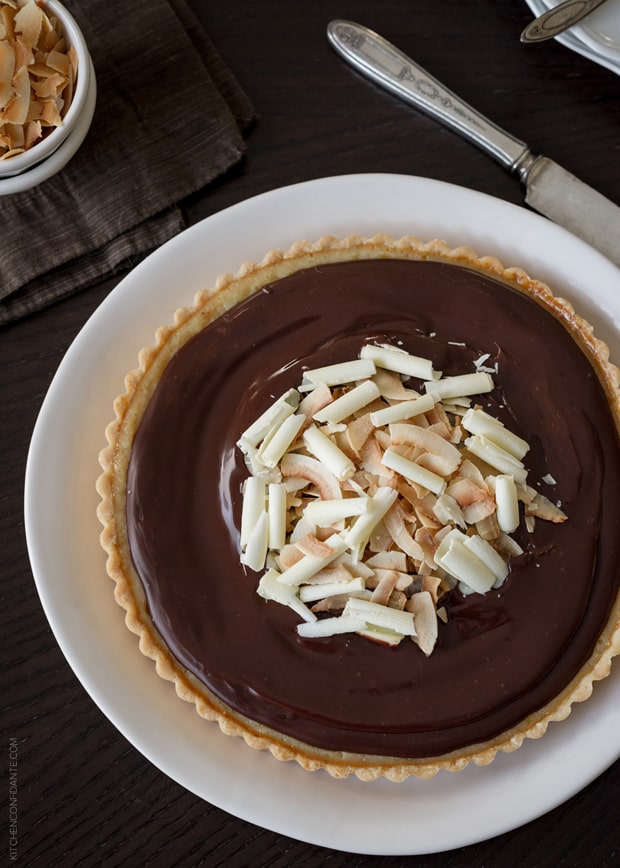 It happened twice this week. You know that moment when you meet someone for the first time and you go through the basic exchange? At my point in life it typically leads to the question of "How many children do you have?" followed by "Oh, how old are they?"
"Eight and ten. Almost 11." I answered. Both times I was told, "You don't look old enough to have a ten year old!"
Perhaps they were being kind. But I most certainly am old enough, despite the fact that I don't feel old enough. I'm surprised myself. How can it be, when I hold my daughter in a hug, her arms feel infinitely long, her head too close to matching my own in height? I fold her laundry and realize how pretty soon, we will be able to share clothes (if I'm cool enough, that is). When I see her with her friends, chattering in her I'm-more-grown-up-voice, I realize that pretty soon cell phones and driver's ed and, gulp, college, is not that far away.
For now, I take comfort in seeing her play with her dolls, and building Legos with my son. I take comfort in knowing she still wants to spend time with me. I look forward to those minutes before bed, when she plays on the carpet while I read a chapter of Harry Potter to my son before bedtime, and how she tells me secrets before I tuck the blanket under her chin at night.
I find consolation in knowing that of all the people in the family, she will appreciate a Coconut Custard Tart with Chocolate Ganache the most.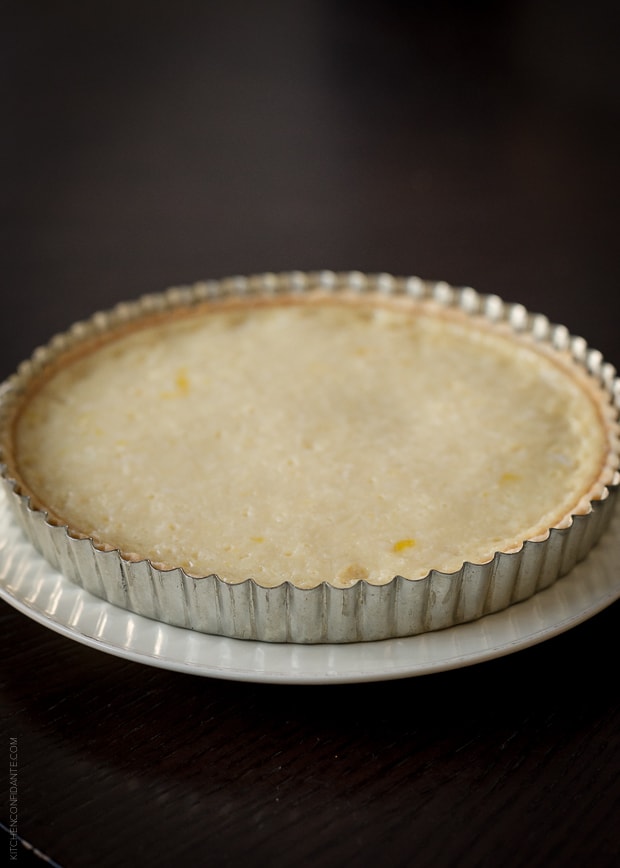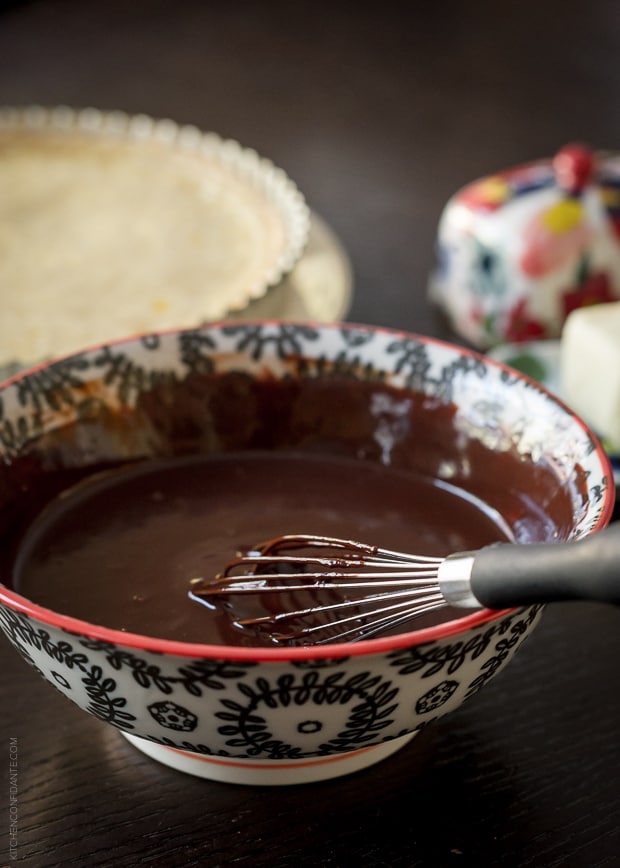 She has a taste for all things tropical, and coconut, most especially. When I made this tart, I had just her in mind.
If it meant just the two of us would eat this tart, that was alright with me.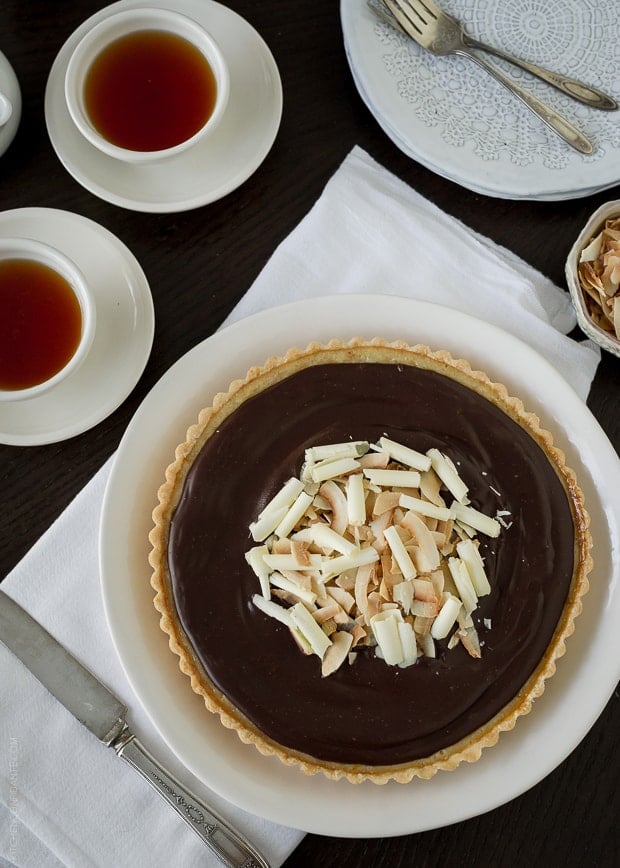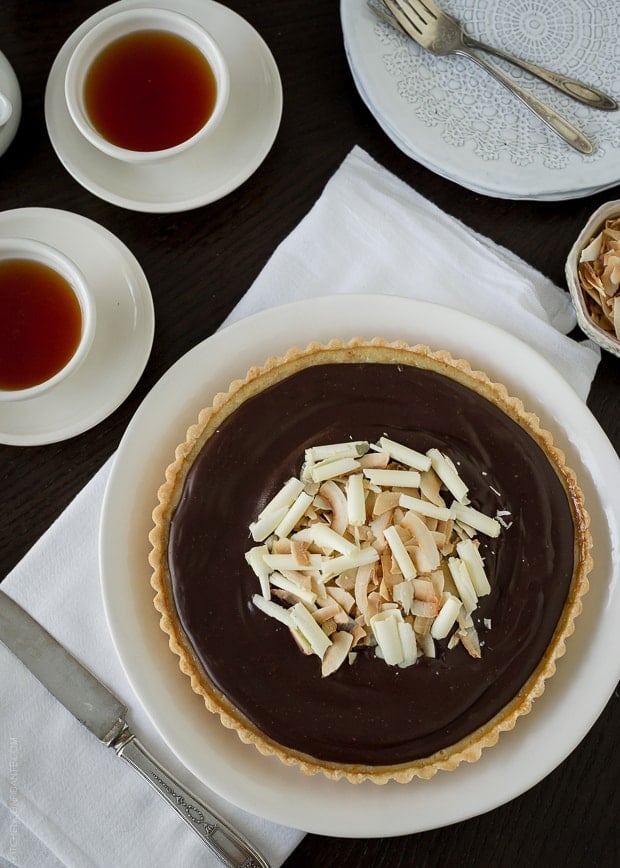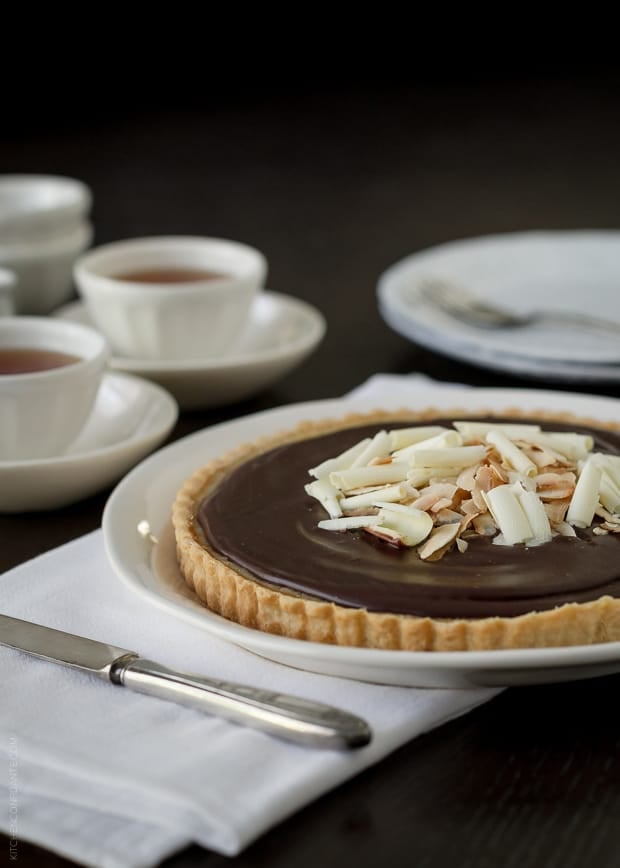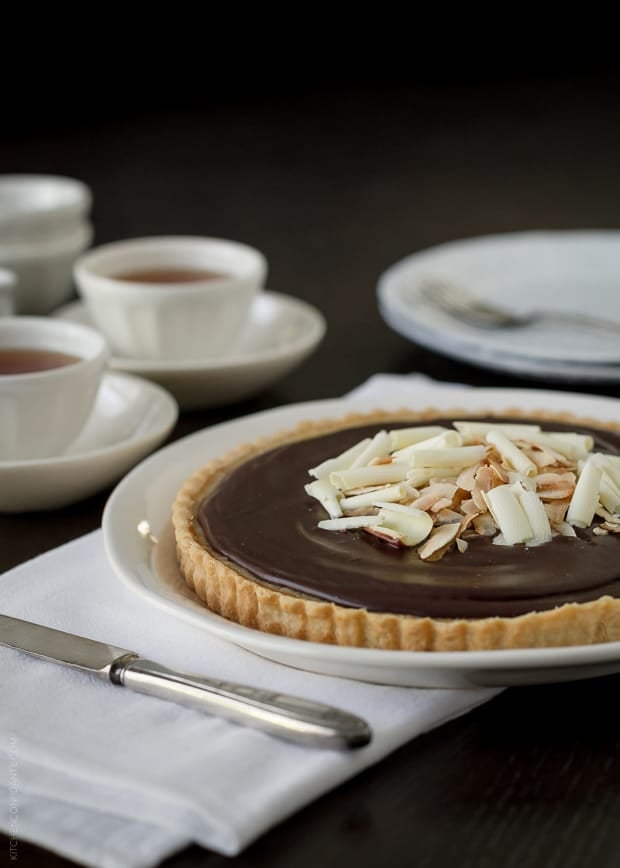 For now, my daughter is still mine. I don't know how much longer I have…11 turns into 18 far too quickly. While I have her still, I need to make things as sweet as possible.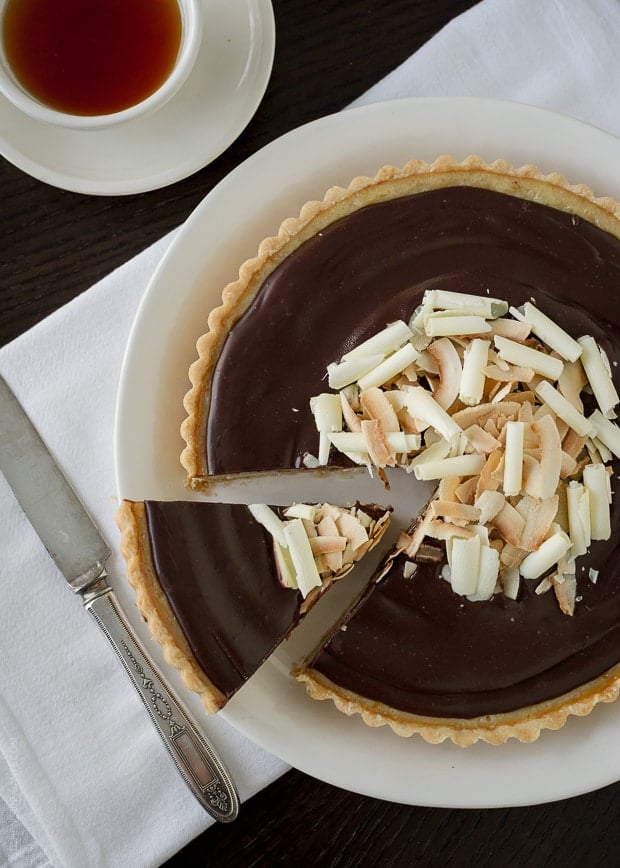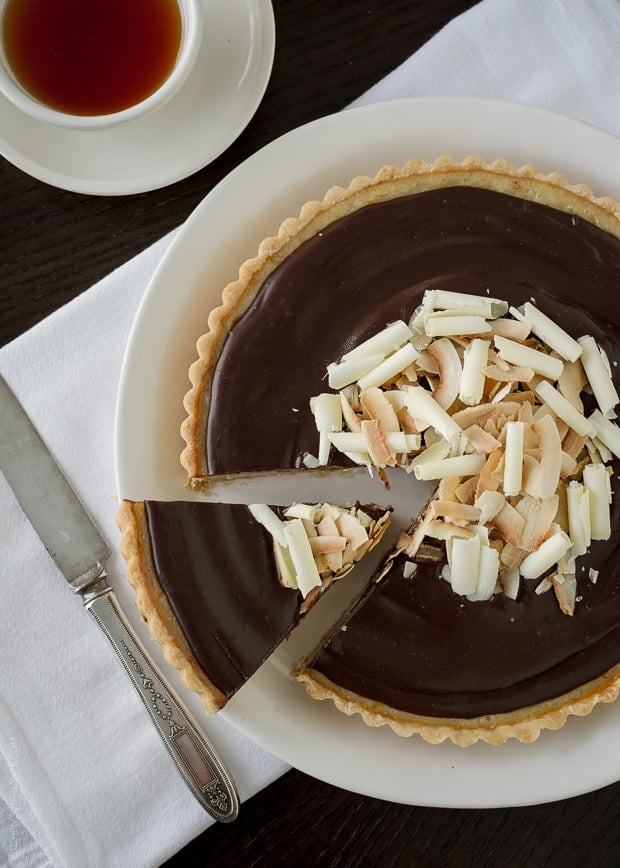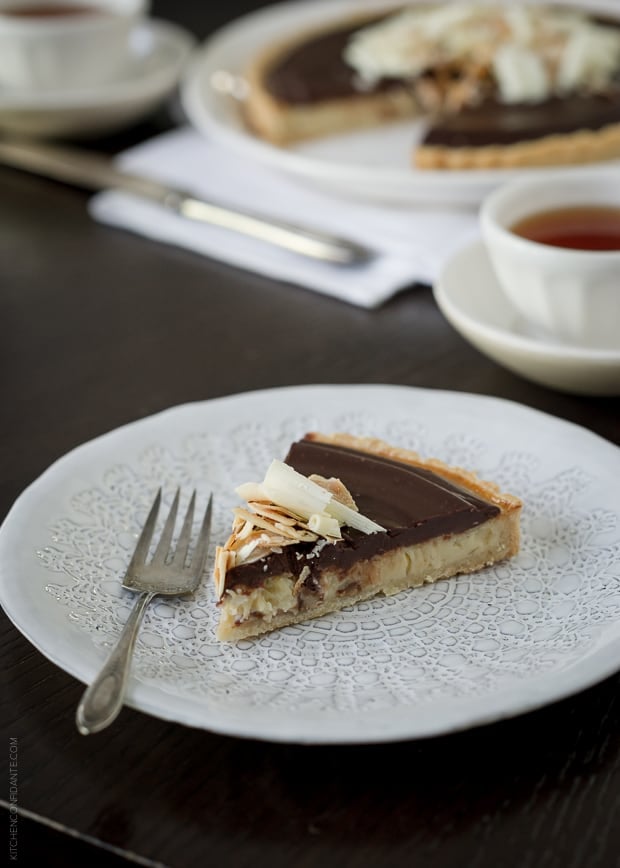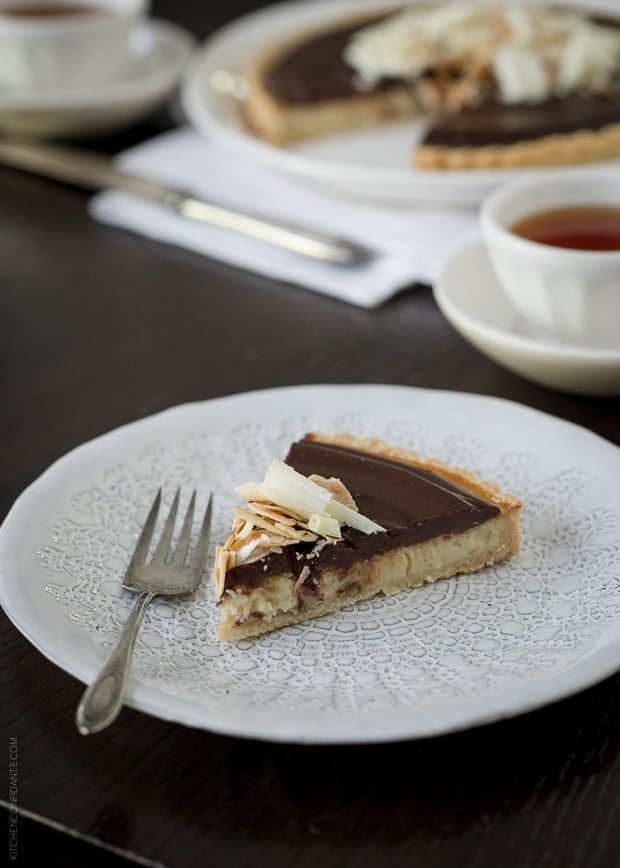 The happy twist in all of this is that my daughter and I had company to enjoy this Coconut Custard Tart with Chocolate Ganache. Turns out, it was a hit with my husband and son, as well. Slices of sweet coconut custard with a layer of dreamy chocolate topped with toasted coconut and curls of white chocolate were irresistible…just like her.
Coconut Custard Tart with Chocolate Ganache
Coconut lovers, this is the tart for you. If the thought of covering up the coconut with chocolate ganache makes you sweat, then let me assure you, you can leave it out and be perfectly happy. But if you're like me and have chocoholic tendencies, you won't be able to resist.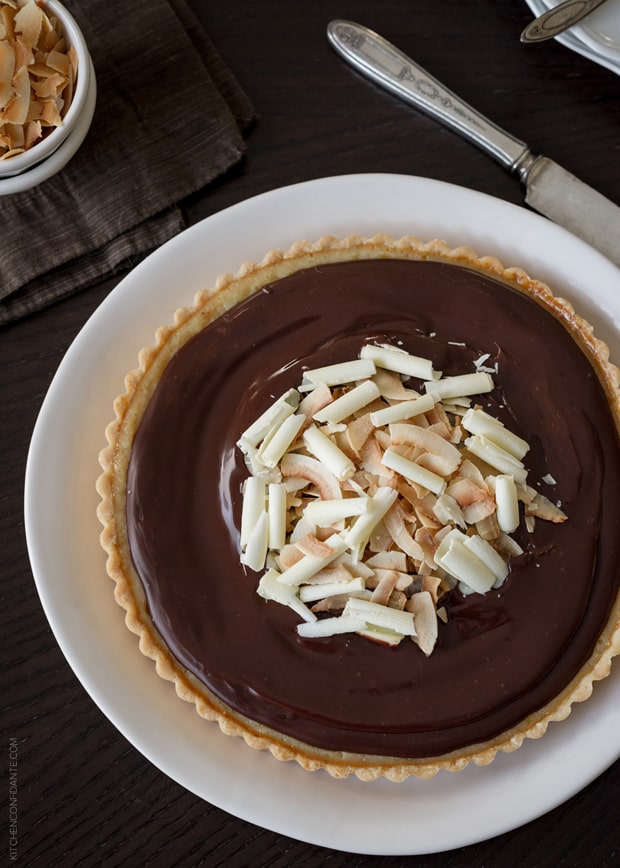 Print Recipe
Ingredients
Pie dough
1 cup light coconut milk
1 14 oz can condensed milk
2 large eggs (1 egg separated)
1/2 cup flaked coconut
4 oz good quality semi sweet chocolate chips
1/2 cup heavy cream
1 tablespoon unsalted butter
1 cup large coconut flakes, for garnish
white chocolate, for garnish
Instructions
Preheat the oven to 350 degrees F.
Gently roll out the pie dough to 1/4 inch thickness and press into a tart pan, making sure that it is evenly pressed into the pan and up the sides. Trim the excess that is hanging over the edges. Place a sheet of aluminum foil on top of the dough and fil with ceramic pie weights or beans. Let it rest in the refrigerator for about 15 minutes.
Place the tart pan in the center of a baking sheet and bake for about 8-10 minutes, then remove the foil and pie weights. Take the egg white from one of the separated eggs and whisk. Lightly brush the egg white onto the par baked tart shell. Return the shell to the oven and continue to bake for another 10 minutes more, or until it is a light golden color. Remove from the oven and let it cool. Keep the the tart shell on the baking sheet.
As the shell cools, make the filing. In a medium bowl, whisk together the coconut milk, condensed milk, egg and remaining egg yolk. Carefully pour into the tart shell, sprinkle with coconut and return to oven. Bake for about 30 minutes, or until a knife inserted 1 inch from the edge of the pan emerges clean. Carefully remove from oven and let it cool completely on the counter. At this point, the tart can be kept in the refrigerator if you wish to cover with ganache at another time, or if you wish to enjoy the tart without the chocolate at all.
Toast the coconut flakes by spreading them on a parchment covered baking sheet and placing in the oven. Bake for 5 minutes, tossing periodically. Remove to cool. To create white chocolate curls, microwave a block of chocolate in 15 second increments until it is slightly malleable. Use a vegetable peeler to create curls and let it cool completely on waxed paper.
To make the chocolate ganache, place the chocolate chips in a small bowl. Heat the heavy cream in a small sauce pan, bringing it to a gentle simmer of medium heat. Pour the heavy cream over the chocolate chips and let it sit for about 5 minutes. Whisk the chocolate and cream together until fully blended, the stir in the butter until glossy. Let it cool slightly, but keep in mind that ganache will spread more easily when warm.
Starting from the center, spoon the chocolate ganache over the tart, carefully guiding the chocolate to the edges of the tart using the back of the spoon in a circular motion. Garnish with the toasted coconut and white chocolate curls.
Keep in the rerfrigerator until the ganache has completely cooled, or until ready to serve. The tart can be made 1 to 2 days in advance.