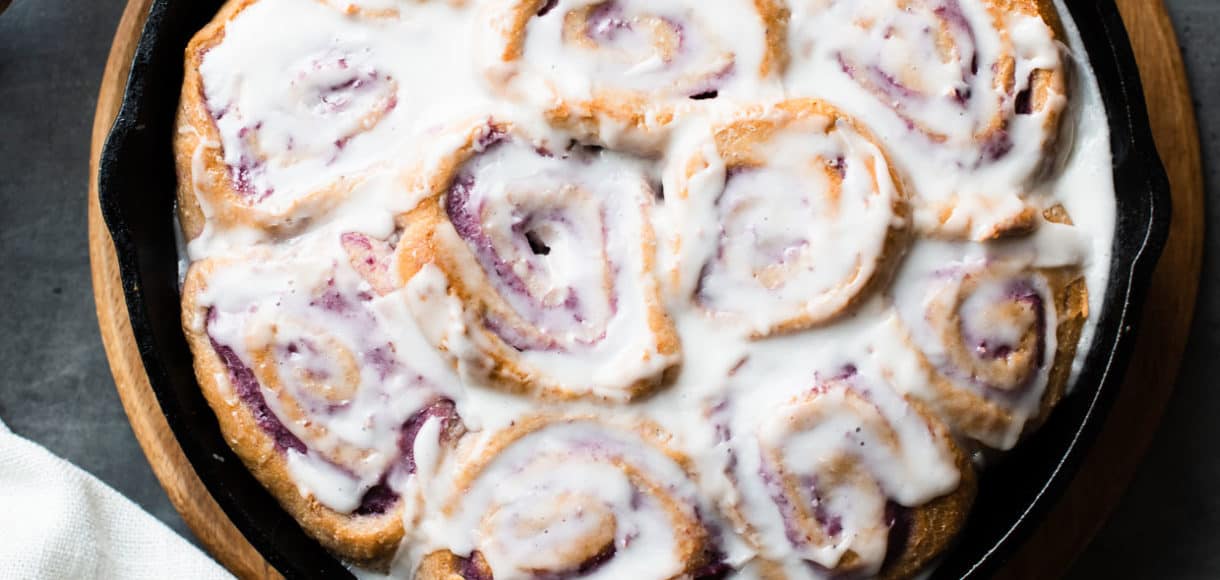 Coconut Ube Rolls
Coconut Ube Rolls – give your morning a sweet Filipino twist! Breakfast buns and ube bread collide in vegan ube rolls filled with ube jam (purple yam jam)!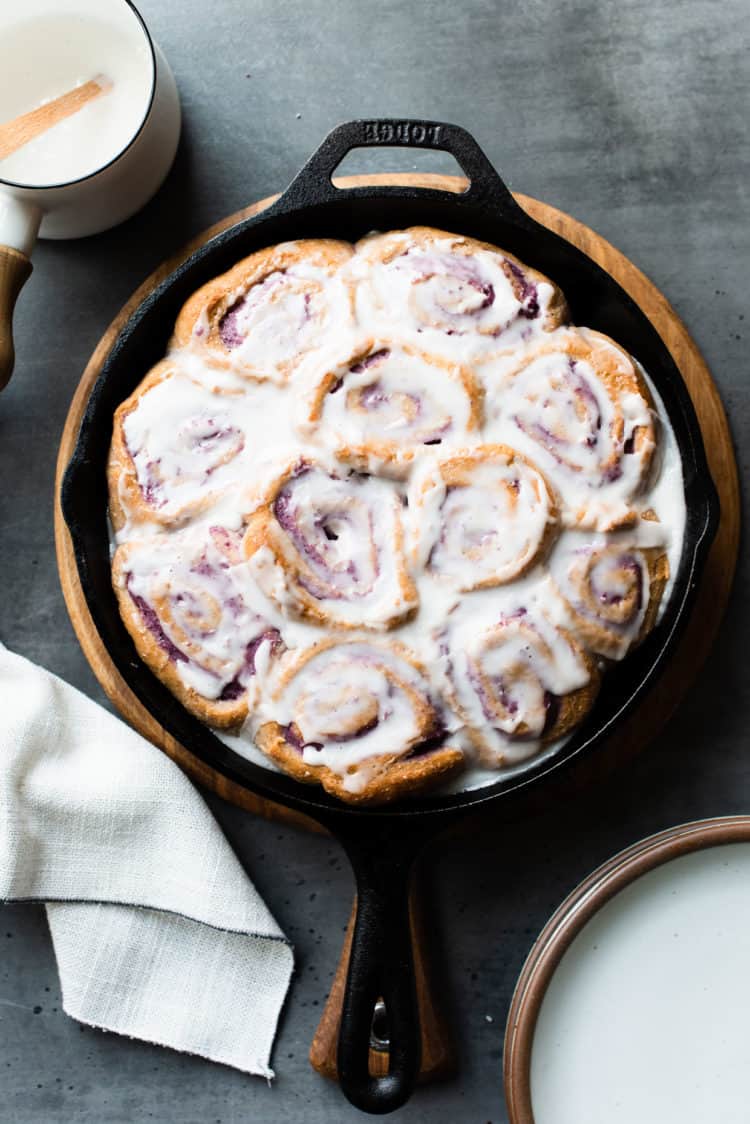 Coconut Ube Rolls
Coconut Ube Rolls – give your morning a sweet Filipino twist! Breakfast buns and ube bread collide in vegan ube rolls filled with ube jam (purple yam jam)!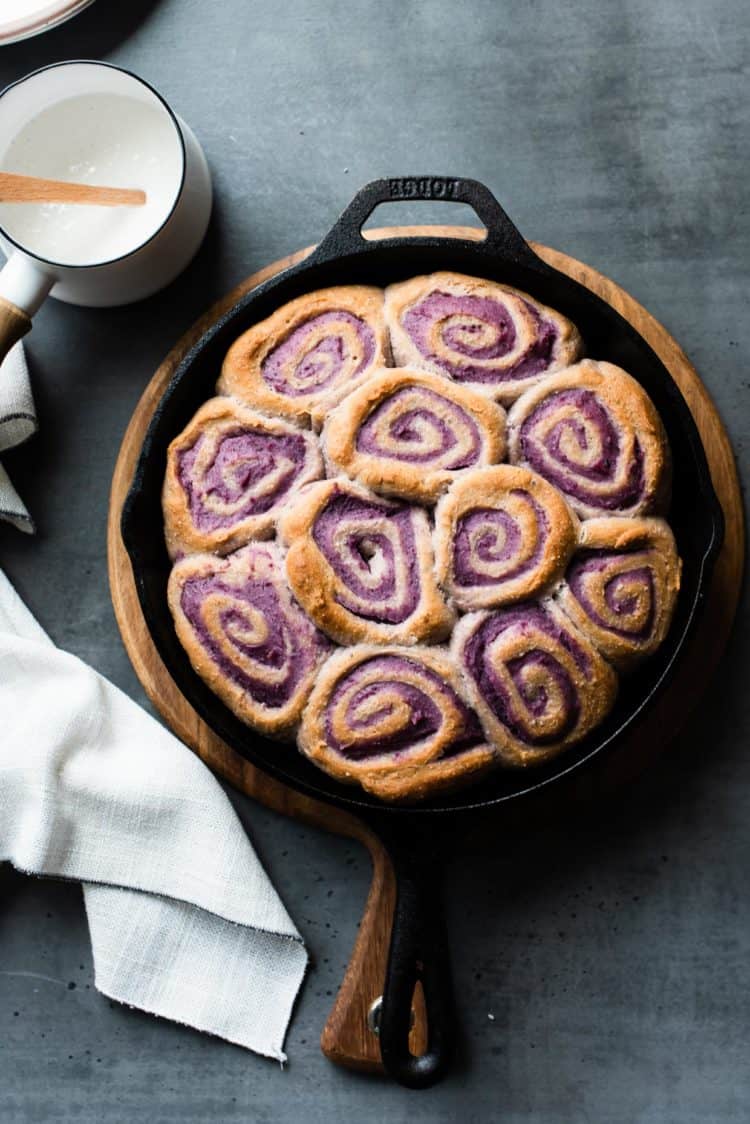 These rolls were four months in the making.
The idea started last November, just around the holidays. My coconut- and ube-obsessed children were chiming in their special requests for the holidays: sapin-sapin and puto, and spoonfuls of Ginataang Bilo-Bilo – all Filipino treats bursting with coconut and sticky rice.
My daughter, for whom the love for ube runs especially deep, asked if I could make ube bread, and I figured I could take it one step further and make ube rolls for Christmas morning. It sounded like the perfect idea!
But that never happened.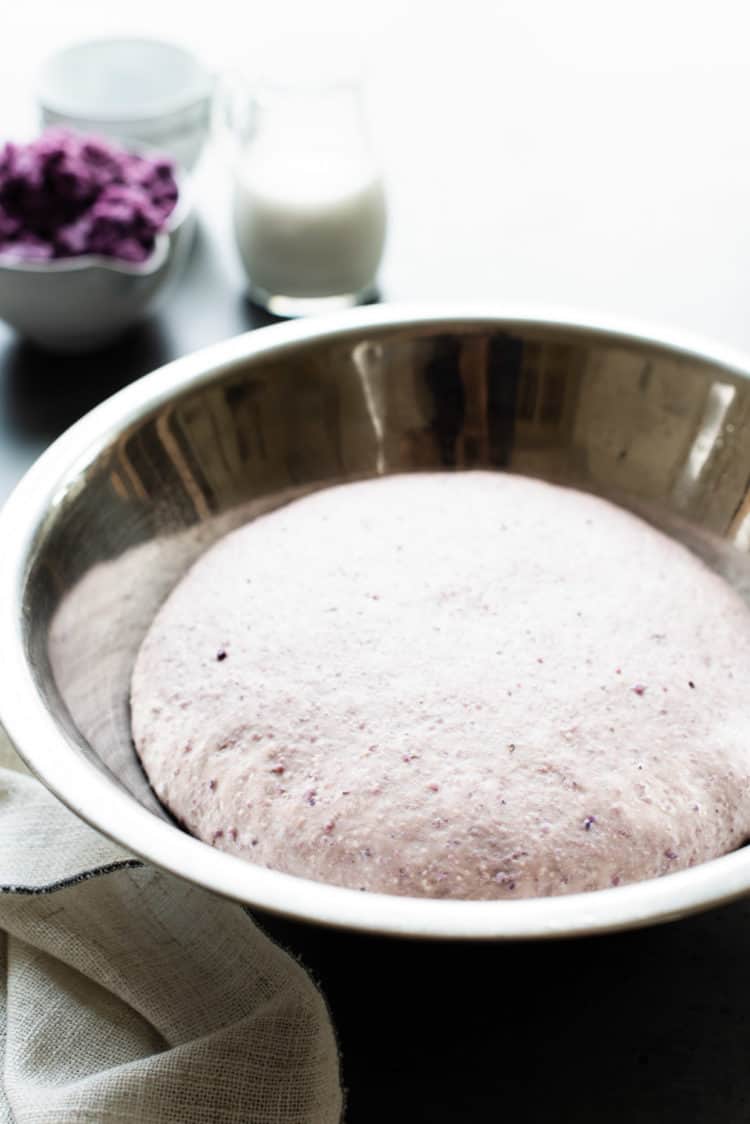 You know how it goes, time just gets in the way, and besides, the kids already have a teddy bear bread-baking tradition, so we kinda had Christmas morning covered. So I thought I would tackle it around the New Year.
And then that came and went.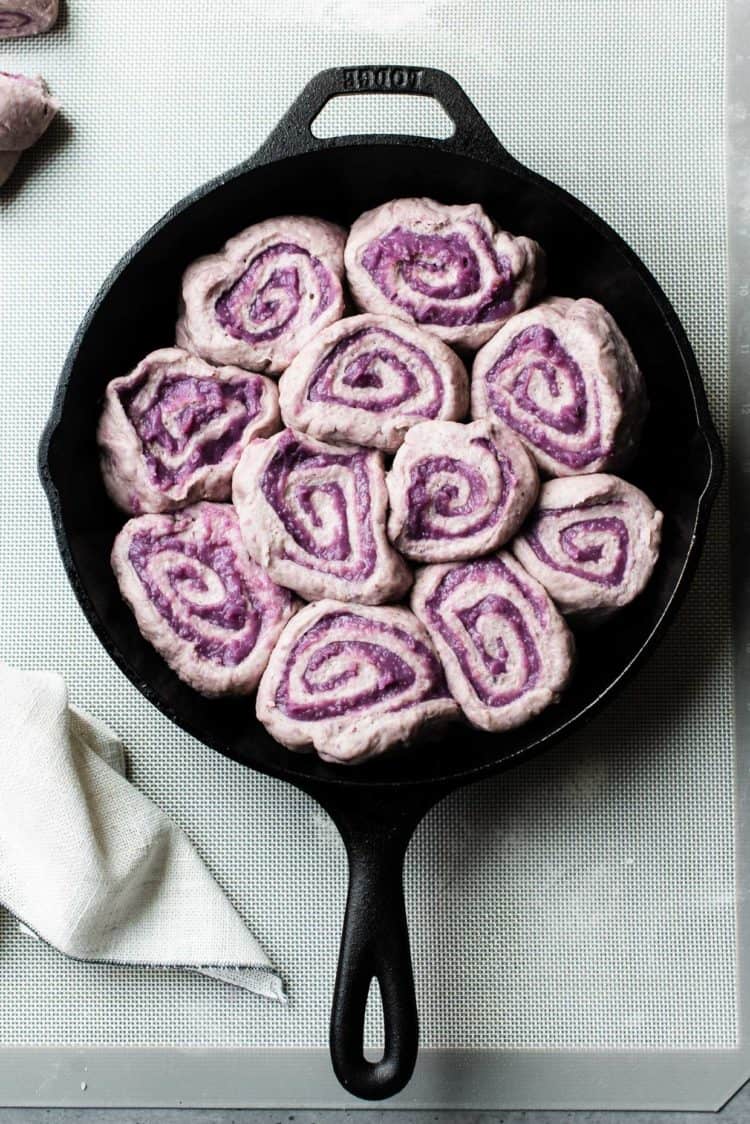 Until recently. I have had ube in the freezer and a jar of ube halaya in the pantry, ready for when I finally had a free weekend. I thought time would be the greatest challenge, but actually, the challenge came when my husband decided to retry a vegan diet several weeks ago. I knew the kids would love whatever version of the rolls I made, but I know my hubby, who is missing the occasional treat, would appreciate if he could taste these coconut ube rolls, too.
The decision to make the ube rolls vegan was solidified when I opened the store-bought jar of ube halaya (which is decidedly not vegan) to find it had not been sealed properly and there was a ring of mold growing near the rim. I had to toss it and make my own – may as well make my own filling from scratch while the dough proofed.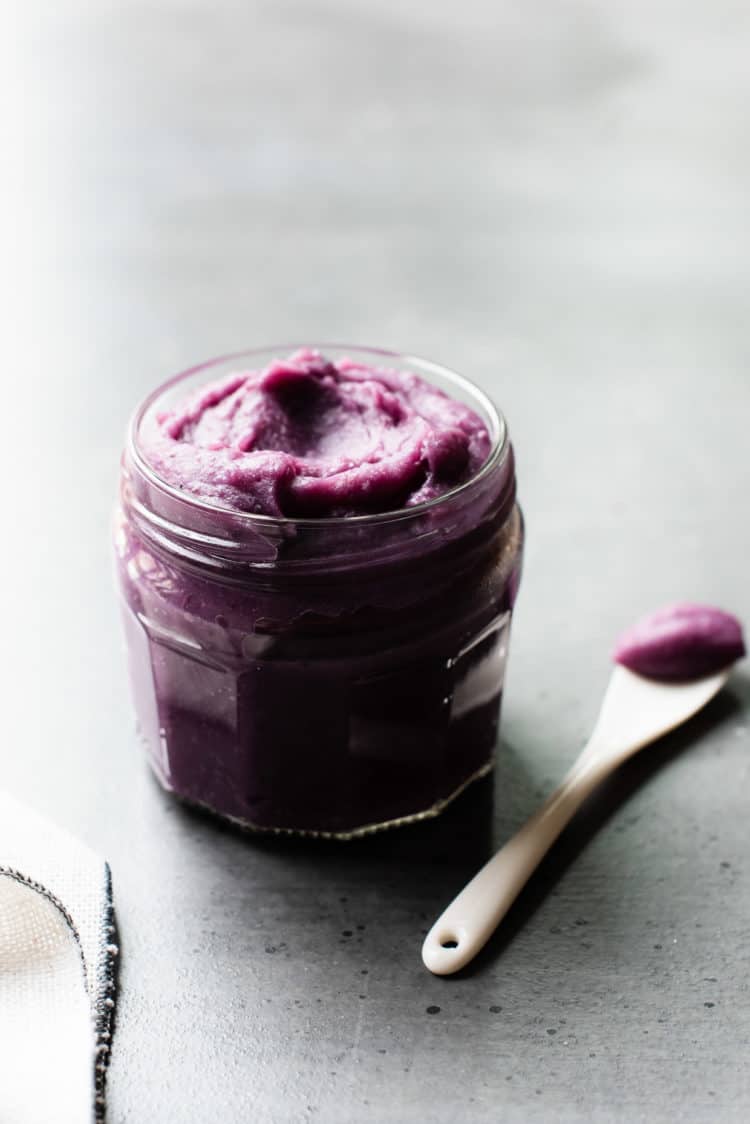 It was a blessing in disguise! I made my own coconut ube filling, and unlike a traditional ube halaya, which takes perhaps triple the time, this filling came together in a snap, and I was able to control the sweetness to my liking (read: not too much at all).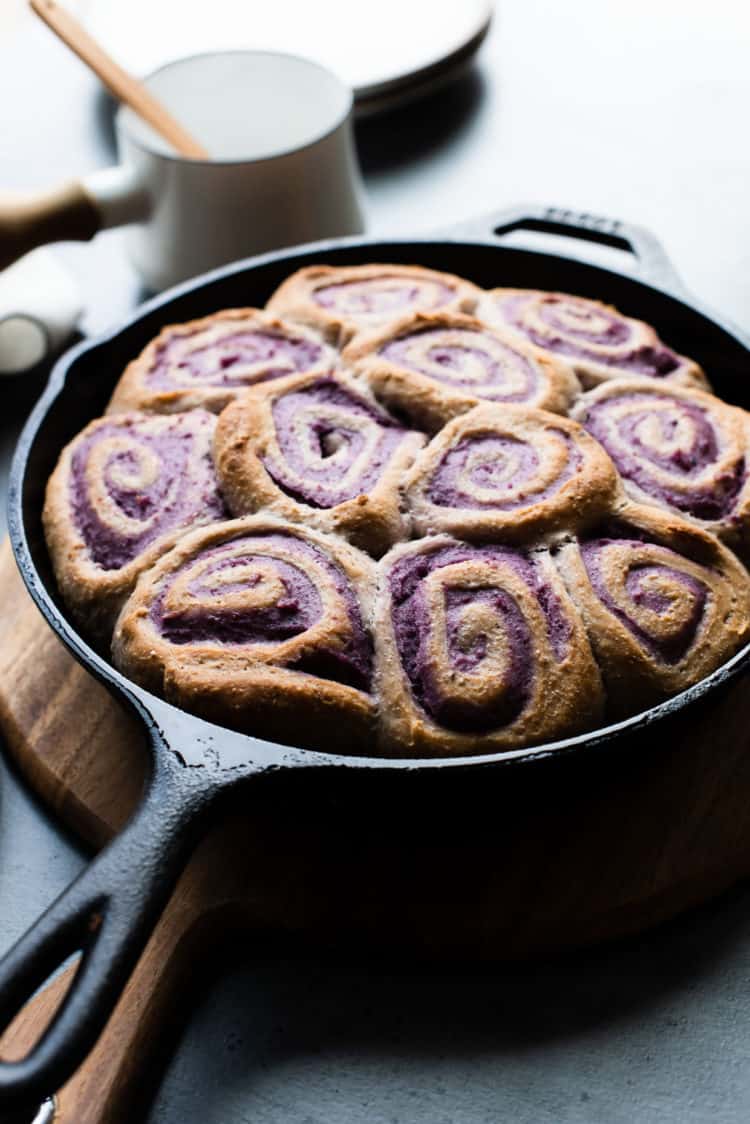 These rolls are what I would consider a lightly sweet, hearty breakfast roll – if you've ever had sweet potato challah or sweet potato pancakes, you will love these purple yam rolls! Drizzled with a coconut glaze, it's kind of hard to resist, and between you and me, making it vegan was a bonus, since it was a treat we could all enjoy!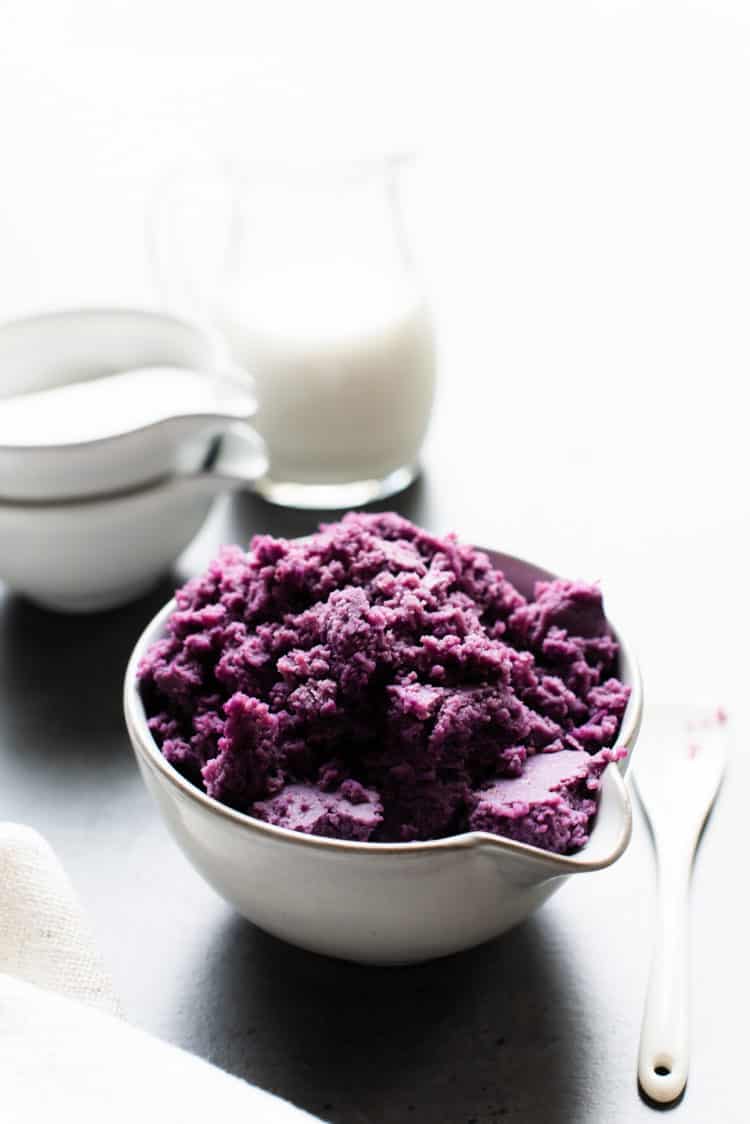 What is Ube?
Ube (pronounced "oo-beh") is a purple yam species in the Philippines, a tuberous root vegetable. Purple yam is used in Filipino sweets and desserts and can be found fresh, frozen and in powder form. You can even find ube extract! From ice cream to cakes, doughnuts and jam (ube halaya), ube is extremely versatile and gaining popularity in the United States.
Ube vs Taro vs Bene-Imo
Are ube, taro and bene-imo (Okinawan sweet potato) the same?
No.
Each one is different, although here in the US, they are often labeled interchangeably. Here are the key differences between ube, taro and bene-imo:
Ube is a purple yam most often used in the Philippines (and Hawaii) in desserts. Ube has purple to brownish skin and purple flesh. It's often found frozen stateside, but either fresh or frozen grated ube is used in everything from ube halaya (ube jam) to sweet ube bread and ube ice cream!
Taro is a root vegetable (known as gabi in the Philippines), that is found in recipes all across Asia. You can find it as a flavor in boba milk tea, as a filling in taro buns, and more. Fresh taro has a brown outer layer, but the inside of the root is white or very light lavender, sometimes with streaks of purple. Food coloring is often used to enhance the hue.
Bene-imo is a purple Okinawan sweet potato, the peel can be white or brown, but the inside is a deep purple color. It is used in a wide variety of sweet and savory dishes in Japan and Hawaii — and perhaps the most popular of the three to adapt to American dishes such as sweet potato pie.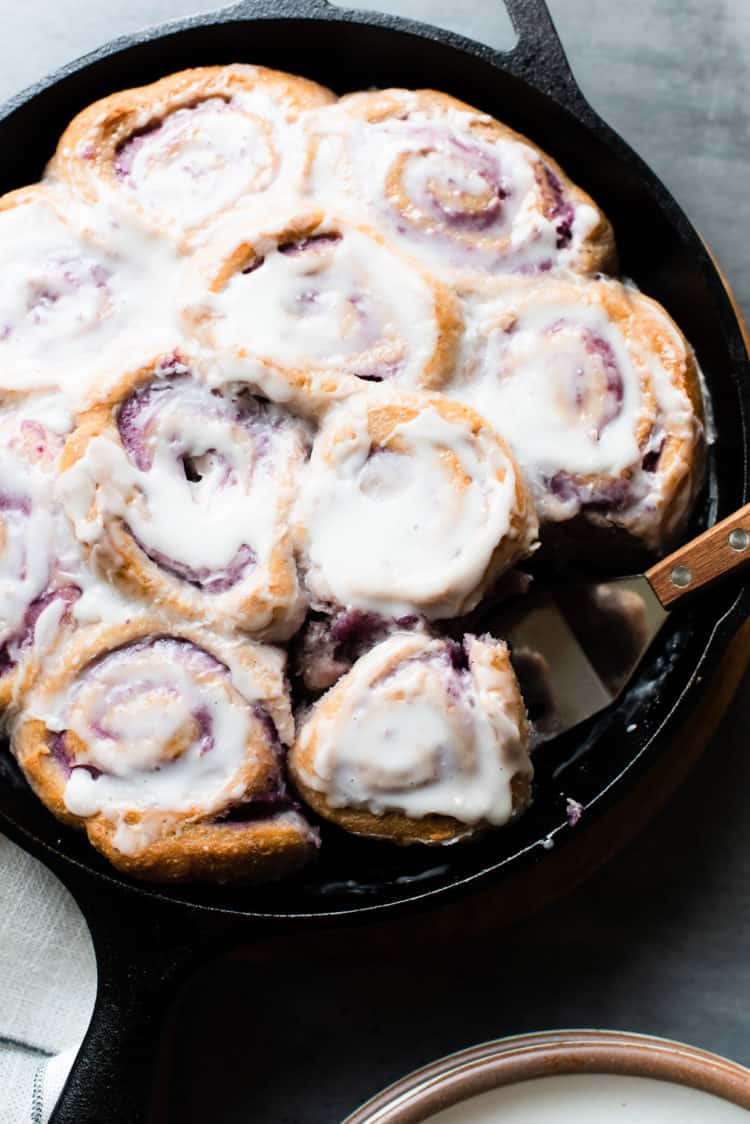 Coconut Ube Rolls
If you love cinnamon rolls, and have ever tried sweet potato cinnamon rolls, then these Coconut Ube Rolls are for you! Ube is a purple yam popular in desserts in the Philippines, and is the star of these sweet rolls, from the dough to filling. Not too sweet and perfect for breakfast, these simple rolls are also vegan!
Ingredients
For the dough:
1

cup

light coconut milk

1/4

cup

vegan butter

1

cup

grated ube

3

cups

all-purpose flour

(plus more for dusting/kneading)

1/4

cup

granulated sugar

2 1/4

teaspoons

active dry yeast (1 package, 1/4-ounce)

1/2

teaspoon

kosher salt

olive oil

(for brushing bowls/pans)
For the filling (see notes):
3/4

cup

granulated sugar

(to taste, add more if you prefer a sweeter filling)

3/4

cup

light coconut milk

2

cups

grated ube

(purple yam)
For the glaze:
1-2

tablespoons

coconut milk

1 1/2 - 2

cups

powdered sugar
Instructions
Prepare the dough:
In a small saucepan, heat the coconut milk and vegan butter over low heat until it begins to bubble and steam. Remove from heat and stir in the ube.

In a large mixing bowl or the bowl of an electric mixer fitted with the paddle attachment, whisk together the flour, sugar, yeast, and salt. Make a well in the center of the flour mixture and coconut milk mixture. Stir until well combined.

Place the dough on a lightly floured surface and knead by hand for about 5 minutes, or until the dough is smooth. If you are using an electric mixer, replace the attachment with a dough hook and allow the mixer to knead the dough until smooth, about 3 minutes. If you find that the dough is still sticky and wet, very gradually add a little more flour as you knead.

Place the dough in a lightly oiled bowl, cover with a damp cloth or plastic wrap, and place in a warm spot to rise for about 1 hour.
Prepare the filling:
In a small saucepan, stir the sugar, coconut milk, and ube and bring to a boil over medium heat. Lower heat. Whisk constantly, until it is thick - this should take about 10 - 15 minutes. Use an immersion blender to smooth the ube. Remove from the heat, transfer to a bowl and refrigerate for at least 30 minutes to cool completely. This can be prepared the night before.
Make the rolls:
When the dough has doubled in size, preheat the oven to 375°F.

Roll out the dough into a 12×16 inch rectangle. Spread the ube filling. Starting with the long side of the dough, roll it up and pinch the seams of the dough. Slice the dough into 12 pieces, about 1 inch wide. Place cut side up in an oiled dish.

Bake for about 25 minutes, or until the rolls are golden brown and fluffy.

While the rolls cool, make the glaze. Whisk in the powdered sugar in 1/2 cup increments into the coconut milk until smooth and you achieve your desired consistency, using a little more or less as necessary. Drizzle or spread over the warm (but not too warm!) rolls.

Enjoy while warm.
Notes
Frozen grated ube can be found in your local Asian market. This recipe, for both dough and filling, can be made with 1 16-ounce package. Be sure to thaw it in the refrigerator the night before you want to begin baking.
If you would rather not make the ube filling from scratch, substitute with ube jam (ube halaya) found in Asian markets. However, this product is not vegan.
The filling can be made several days in advance and stored in the refrigerator, making this even easier to make once you are ready to bake.
If you want to give your dough a more pronounced ube flavor, you can also add a few drops of ube extract, but it certainly is not necessary.
Nutrition
Calories:
284
kcal
|
Carbohydrates:
52
g
|
Protein:
4
g
|
Fat:
5
g
|
Saturated Fat:
3
g
|
Sodium:
157
mg
|
Potassium:
360
mg
|
Fiber:
2
g
|
Sugar:
16
g
|
Vitamin A:
230
IU
|
Vitamin C:
6.4
mg
|
Calcium:
11
mg
|
Iron:
1.7
mg