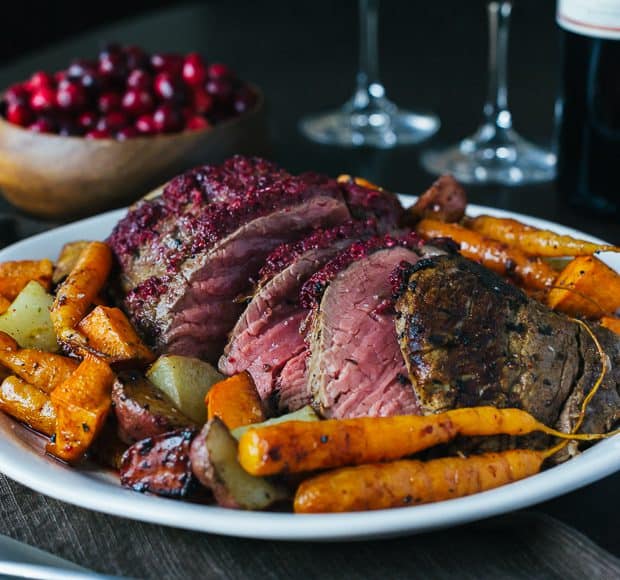 Cranberry Balsamic Crusted Chateaubriand + A Giveaway
There was a wedding venue called the Chateau Briand in Long Island. I understand it is there still, and perhaps a little different nowadays (updated, most likely). But when I was planning our wedding, "catering hall" was more like the term. Twelve-ish years ago, that…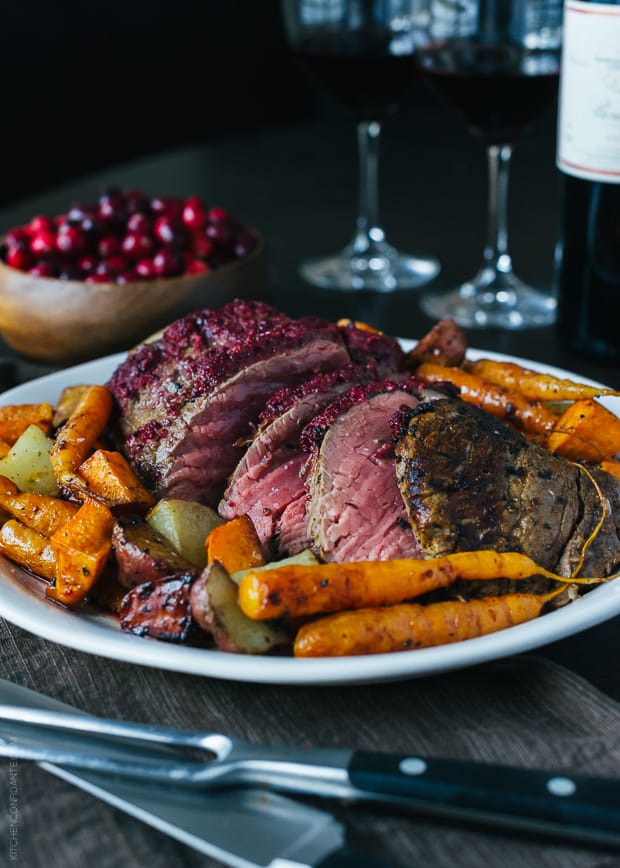 Cranberry Balsamic Crusted Chateaubriand + A Giveaway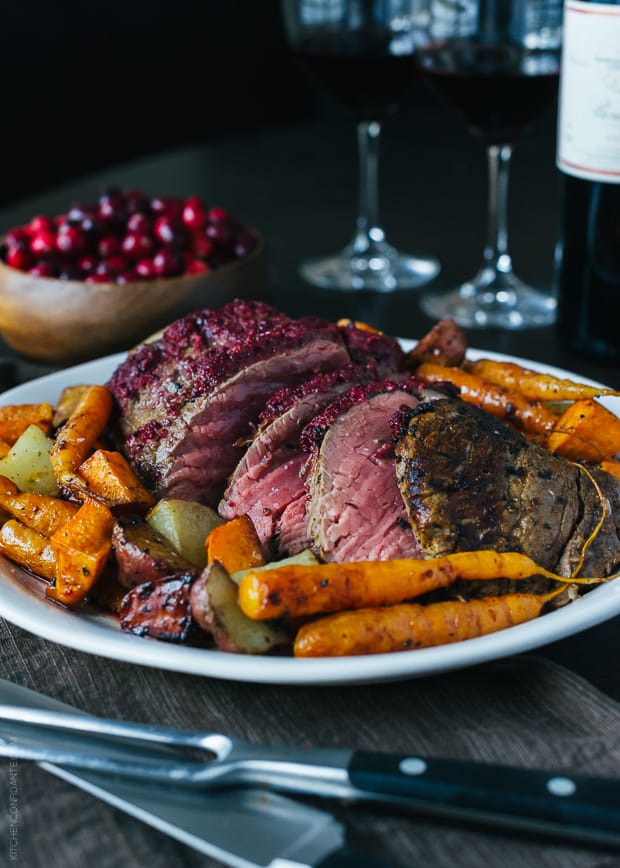 There was a wedding venue called the Chateau Briand in Long Island. I understand it is there still, and perhaps a little different nowadays (updated, most likely). But when I was planning our wedding, "catering hall" was more like the term. Twelve-ish years ago, that meant there was a formula: large room, parquet dance floor, and every wedding looked essentially the same on the inside. Whether you were at one catering hall or another, it really was hard to tell the difference in venues. The chandeliers may be a little different, and the reputation for food, but essentially they were one in the same.
This was pre-Pinterest, where weddings were not customized to the umpteenth degree. Where sameness was fine. Creativity meant different styles of bridesmaid dresses in the same color, and a clever favor at the end of the night.
In the end, my husband and I celebrated our wedding in a place that suited us more, that felt more intimate, a little more rustic, and more special…even if it did follow many of the early 2001 formulas. Ultimately, it was also the food. The caterers had a brilliant reputation for creative food and incredible cocktail hours. I was told that the latter was true (which reminds me, if we ever renew our vows, I want to be present at the cocktail hour mingling and noshing with my guests, rather than locked away in some "bridal suite").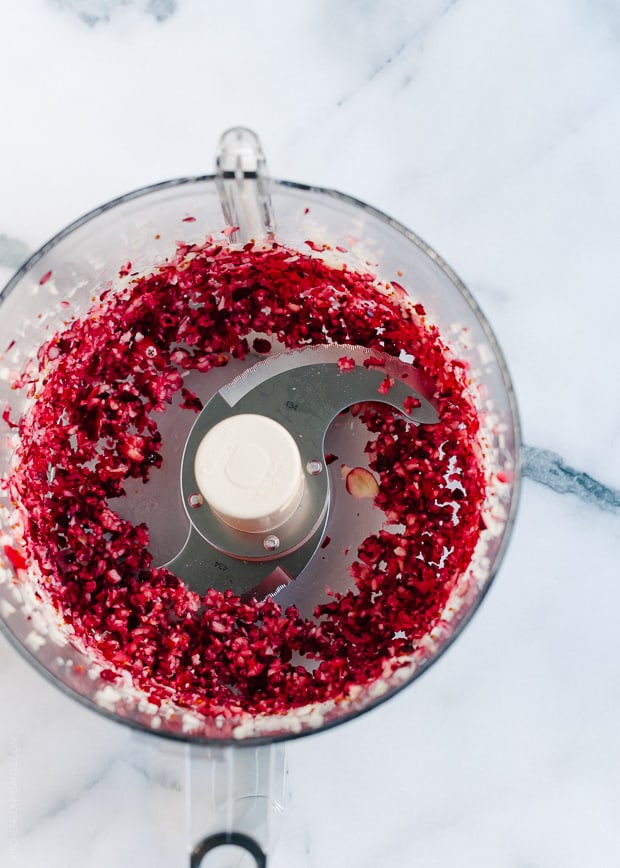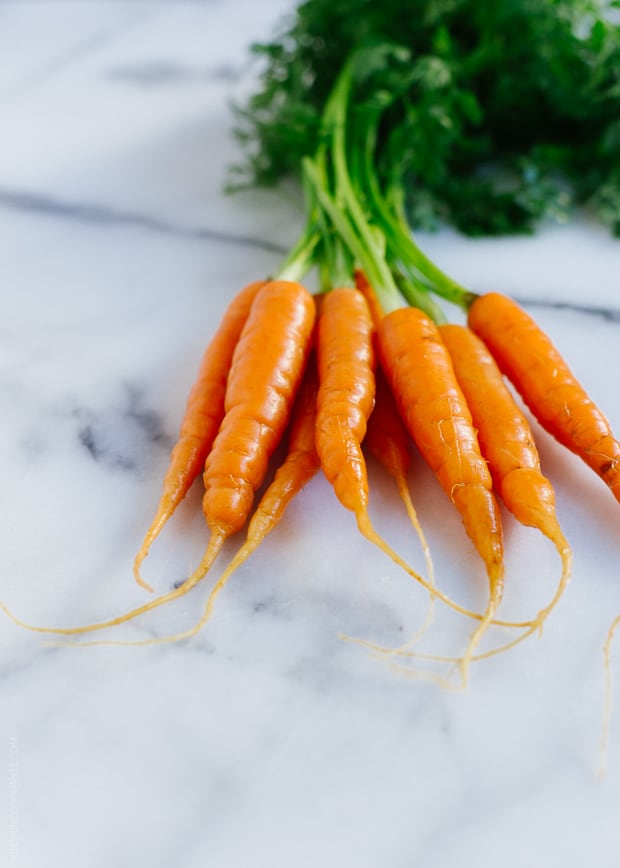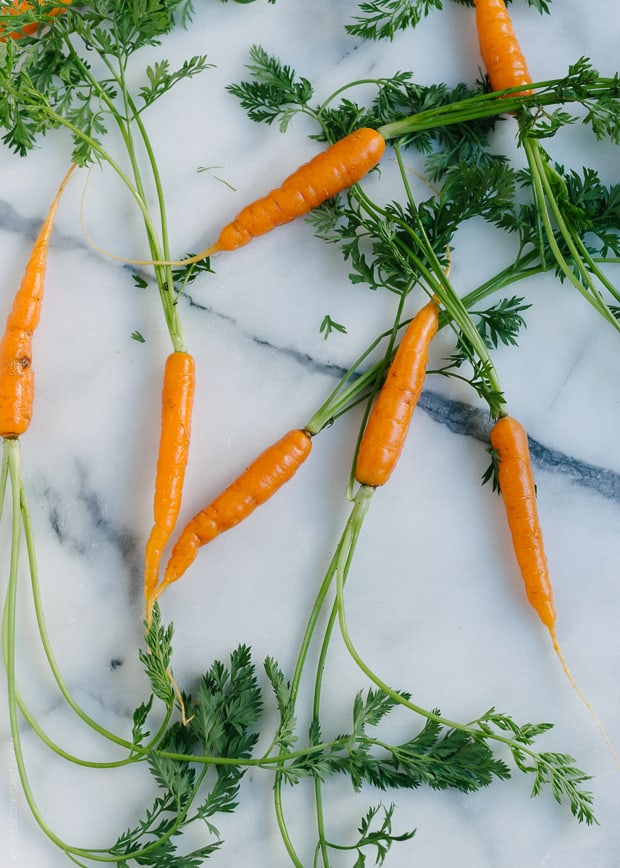 For years I forgot about catering halls and bland menus — today's weddings seem to just ooze with Pinterest quality charm and farm-to-table experiences. That is, until one day, my husband came back from the market. There was a large cut of beef that I lifted out of the green bag.
"Chateaubriand?" I looked up from reading the label on the brown paper. I instantly thought of catering halls and weddings from the 80's, and my heart sank. But my husband was excited; the butcher had convinced him that it was a wonderful cut of meat.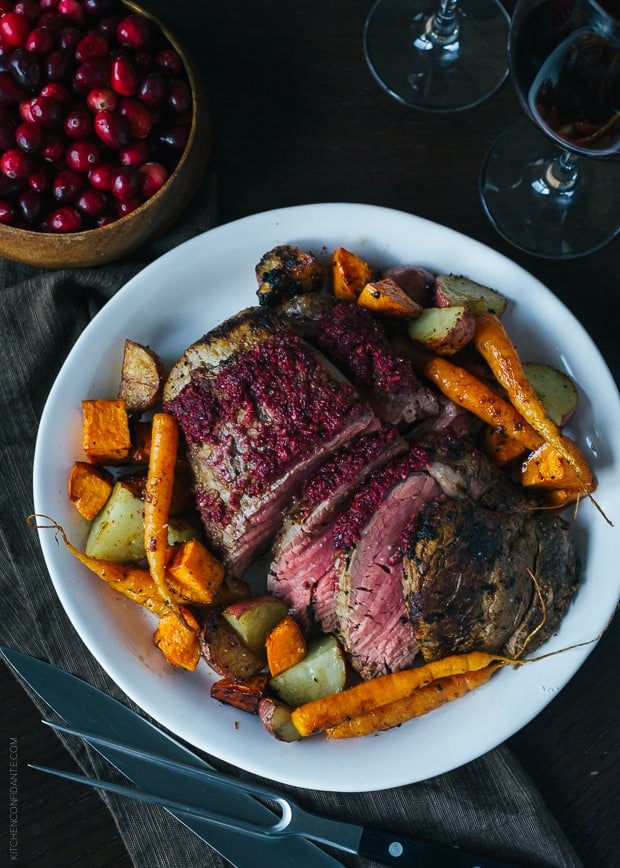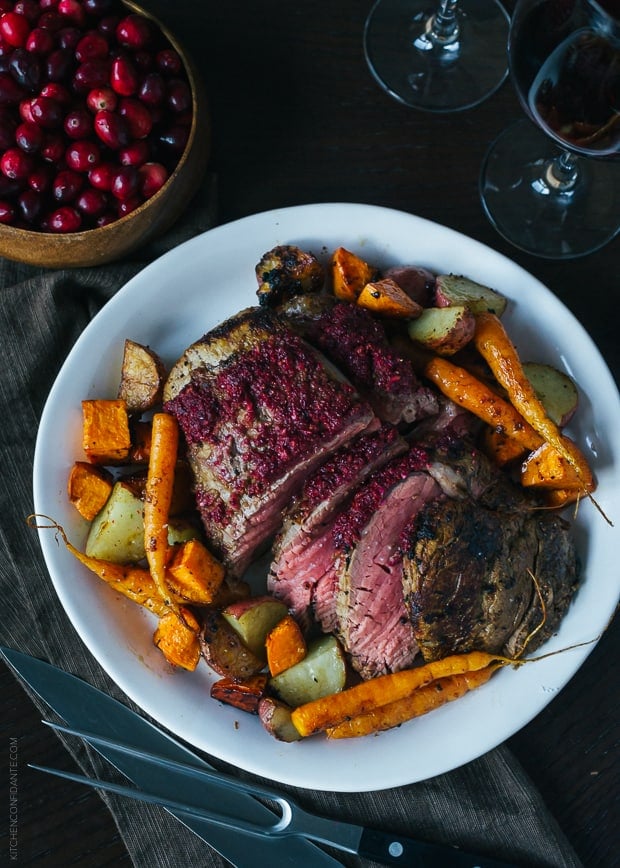 And it was. How had Chateaubriand fallen off the radar? A simple roast quickly erased my prejudice. It was tender, it was flavorful, and it was easy! Cut from the tenderloin, each slice was a perfect steak, thick and tender. I began to find a new place in my heart for this retro- (to me) cut of meat. And I couldn't wait to cook it again.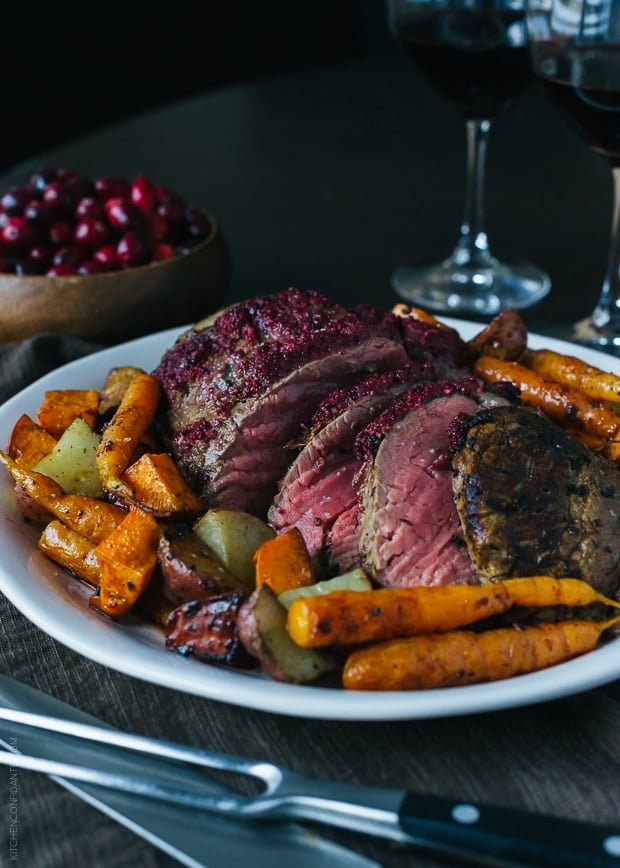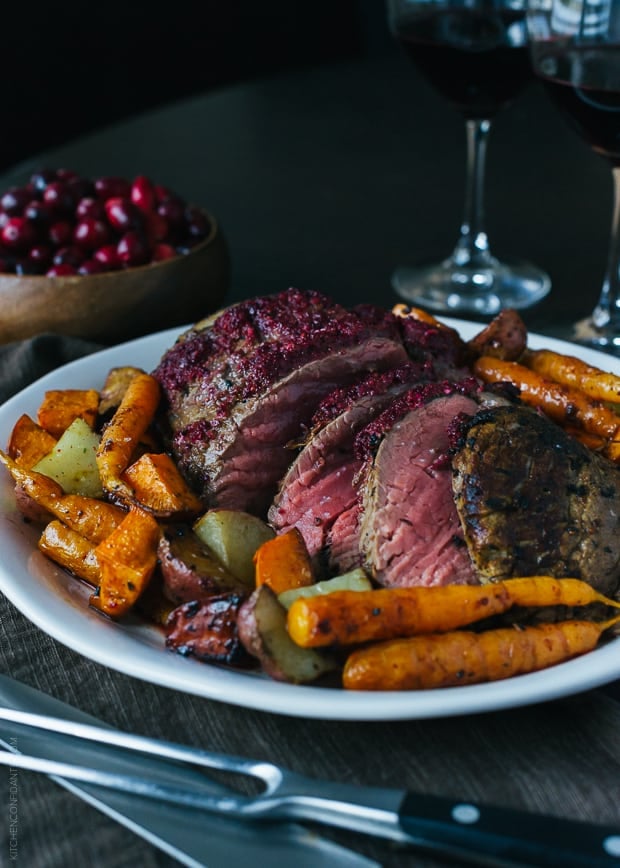 For the holidays, I thought it would be nice to give the Chateaubriand a festive twist: this Cranberry Balsamic Crusted Chateaubriand looks impressive but really, has rustic sensibility. I would say Chateaubriand is just as well suited for a weekday dinner as it is for a holiday gathering with friends. And, yes, maybe even a wedding.
Disclosure: This recipe was created with Chateaubriand provided by Omaha Steaks. Compensation and Omaha Steaks Reward Cards Giveaway were also provided by Omaha Steaks. The opinions expressed herein are those of the author and are not indicative of the opinions or positions of Omaha Steaks.
Sponsored posts such as these help support the work behind the scenes on Kitchen Confidante. Thank you so much for your visits and making my blog part of your day.


Giveaway
I would love for you to win Omaha Steaks Reward Cards (5 $20 Reward Cards, total value of $100) to use this holiday season! Ready to enter? Here's how:
Please check out Omaha Steaks and leave a comment in the comment section below: What is your favorite cut of meat? and click on the widget below.
For additional entries, use the widget below.
Entries/Comments accepted until 12 am Pacific, Sunday, 8 October, 2013.
One winner will be randomly selected and notified by email. The winner will have 48 hours to respond to email notification, otherwise an alternate winner will be selected.
Cranberry Balsamic Crusted Chateaubriand
I have a newfound respect for the Chateaubriand, a cut just about as tender as filet mignon. It's perfect for celebrations, but simple enough for dinner.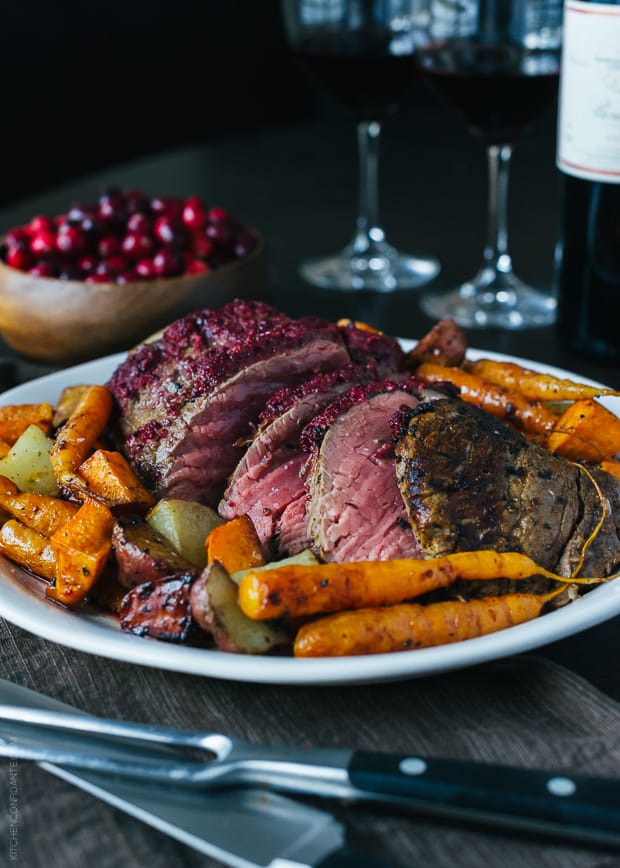 Print Recipe
Ingredients
6-8 cloves garlic
1 cup fresh cranberries
1 tablespoon kosher salt
1/4 cup balsamic vinegar
1 teaspoon maple syrup
freshly ground pepper
1/8 cup olive oil, plus additional for searing
1 2-lb chateaubriand
Instructions
In the bowl of a food processor, finely chop the garlic and fresh cranberries with the salt. Add the balsamic vinegar, sugar and freshly ground black pepper. With the food processor running, add the olive oil. Slather the mixure all over the chateaurbriand and let it marinate for at least 30 minutes in the refrigerator. This can also be done the night before.
Preheat the oven to 375 degrees. Give the roast some time to approach room temperature as the oven preheats.
Heat an oven proof baking pan or large saute pan over medium heat. Lightly coat with olive oil then brown the chateaubriand on all sides, about 3-4 minutes per side. Place the pan in the oven, then roast for about 20 minutes for medium rare, or the internal temperature is about 130 degrees. Let the chateaubriand rest before slicing and serving.