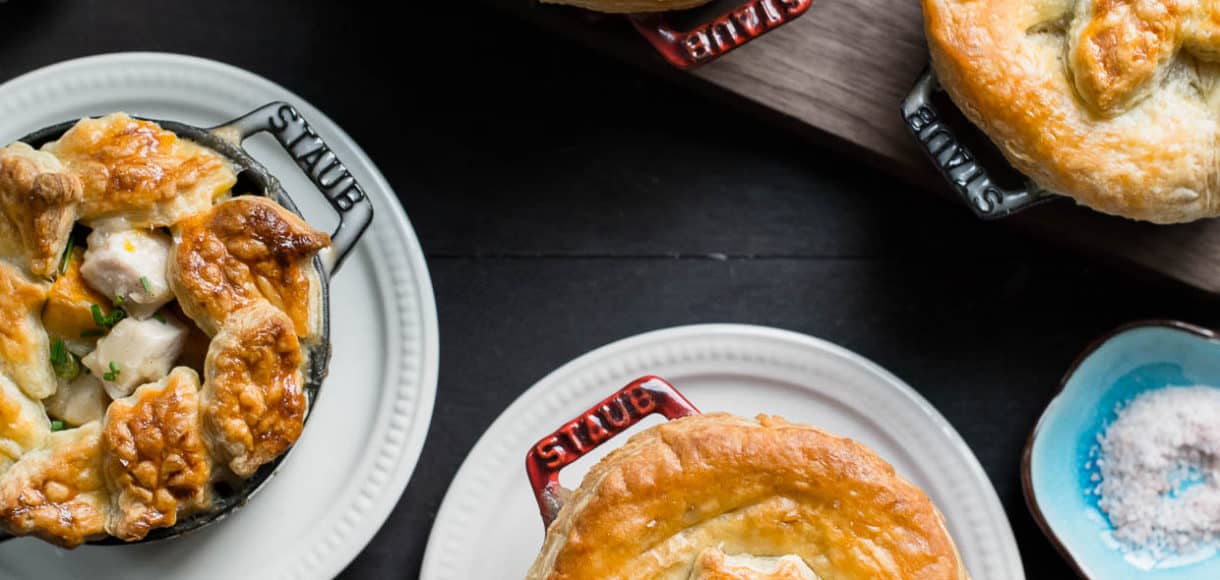 Turkey Pumpkin Pot Pie
Turkey Pumpkin Pot Pie adds a helping of pumpkin season to comfort food. Perfect for leftover turkey or instead of the big bird itself at Thanksgiving.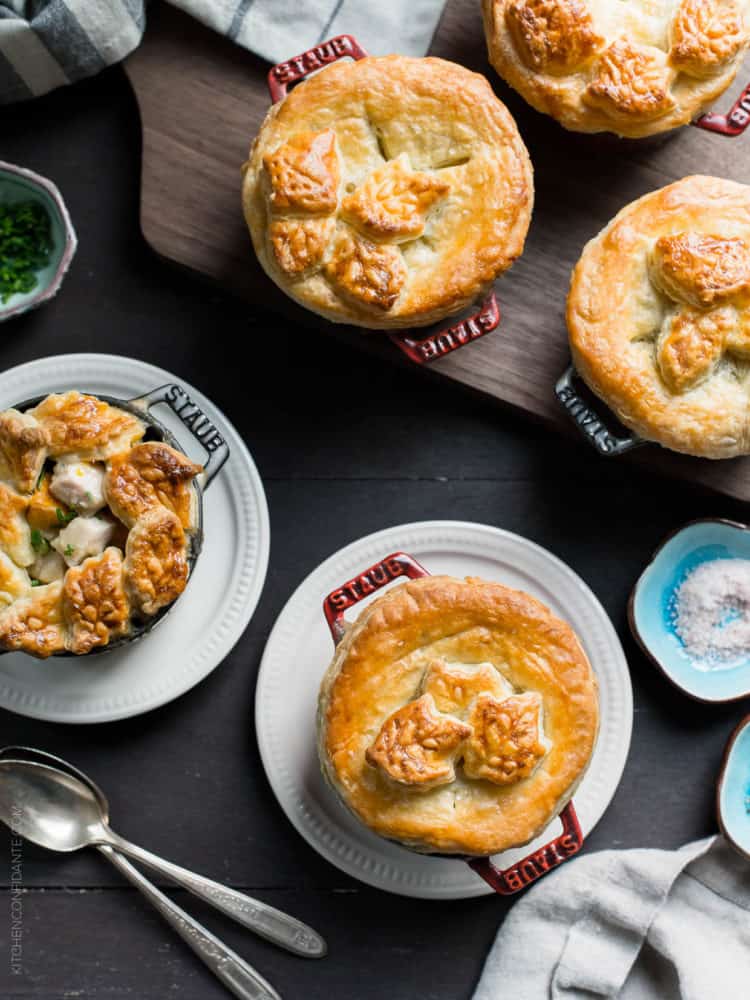 Turkey Pumpkin Pot Pie
Turkey Pumpkin Pot Pie adds an extra helping of pumpkin season to comfort food. It's the perfect solution to leftover turkey, or as a substitute for the big bird itself at Thanksgiving. Or if you wish, make it with chicken, too!
"It's your fault!"
Just the thing you want to hear from your children, right?
Let's back up a bit.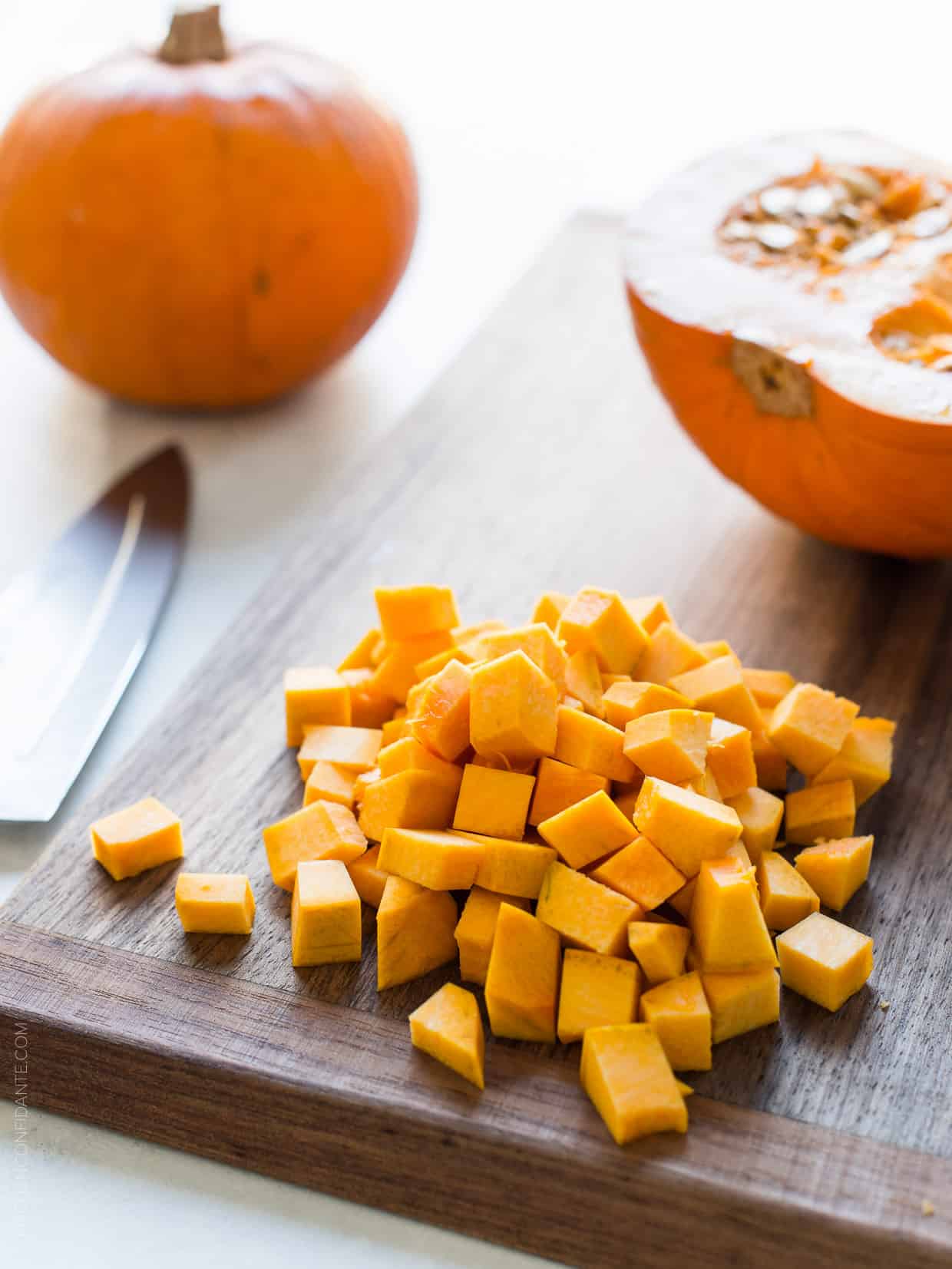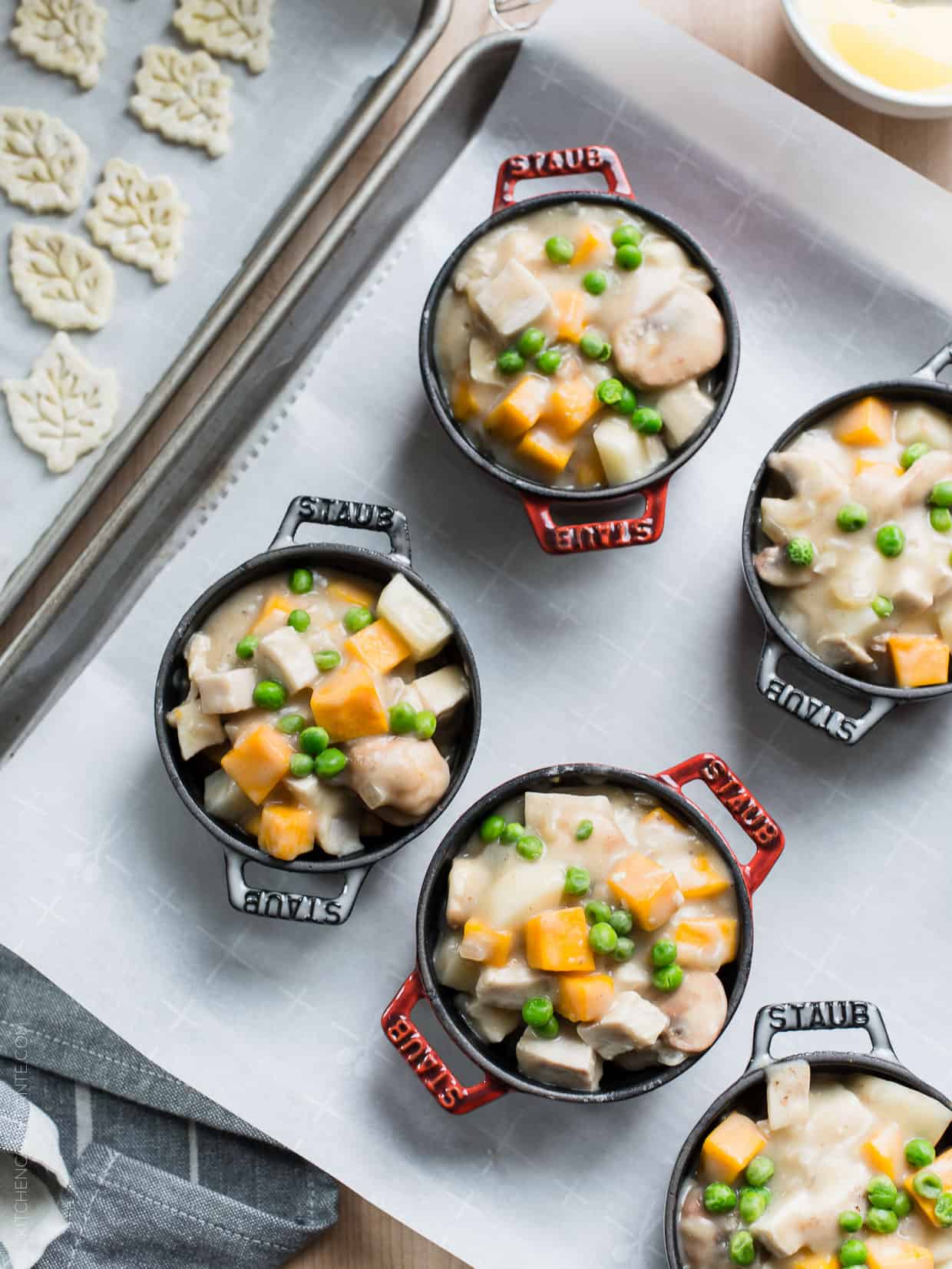 We were seated at the dinner table, when I set down a Turkey Pumpkin Pot Pie in front of each of them. "Be careful, its piping hot," we warned them.
They looked down, puzzled. My husband was already halfway through with his; meanwhile, the kids were looking at their food like it had landed from outer space.
"Haven't you ever had pot pie before?" I rolled my eyes at them. They hadn't. And that's when they said it: "It's your fault!"
Well, I guess they were right.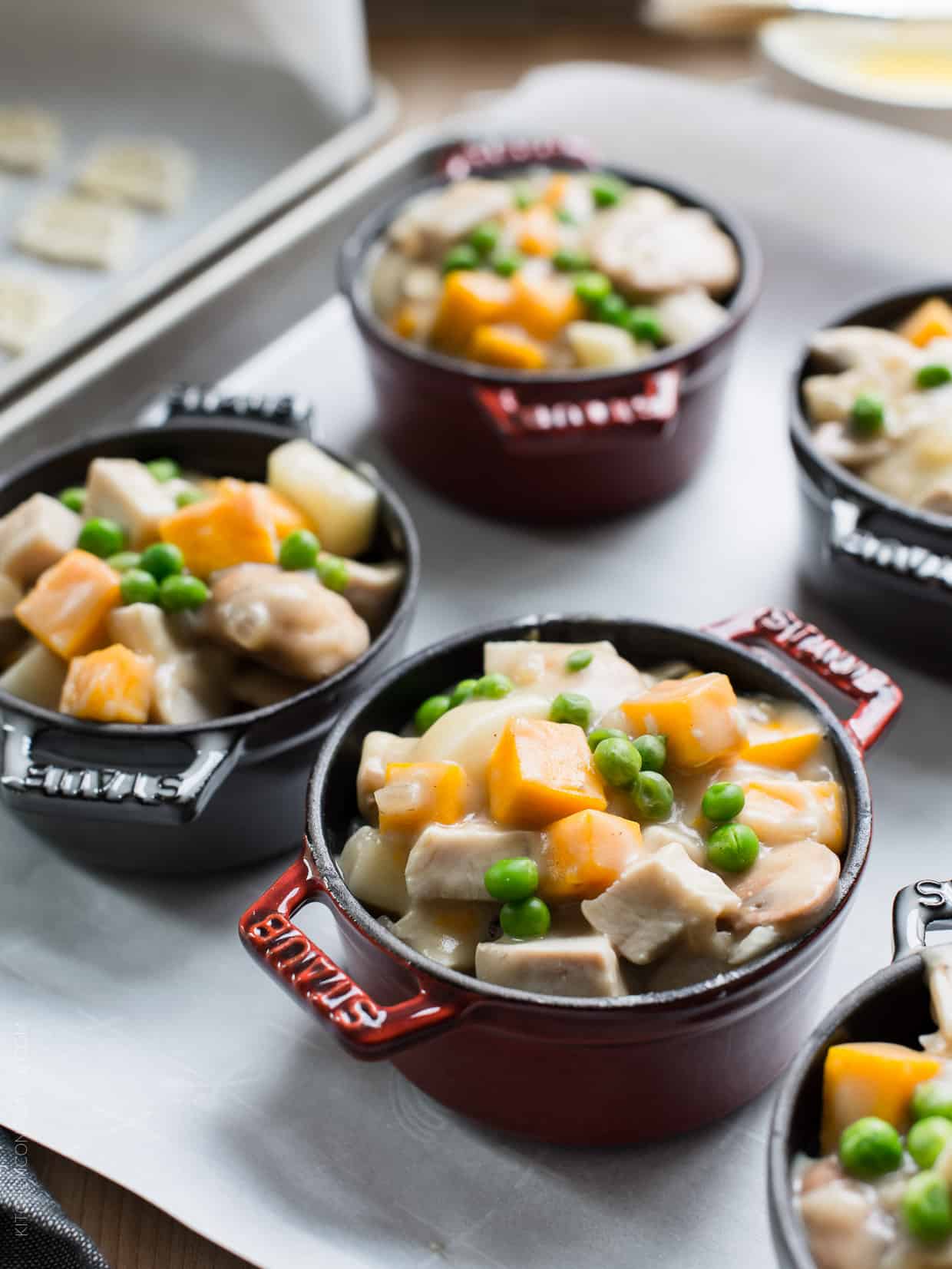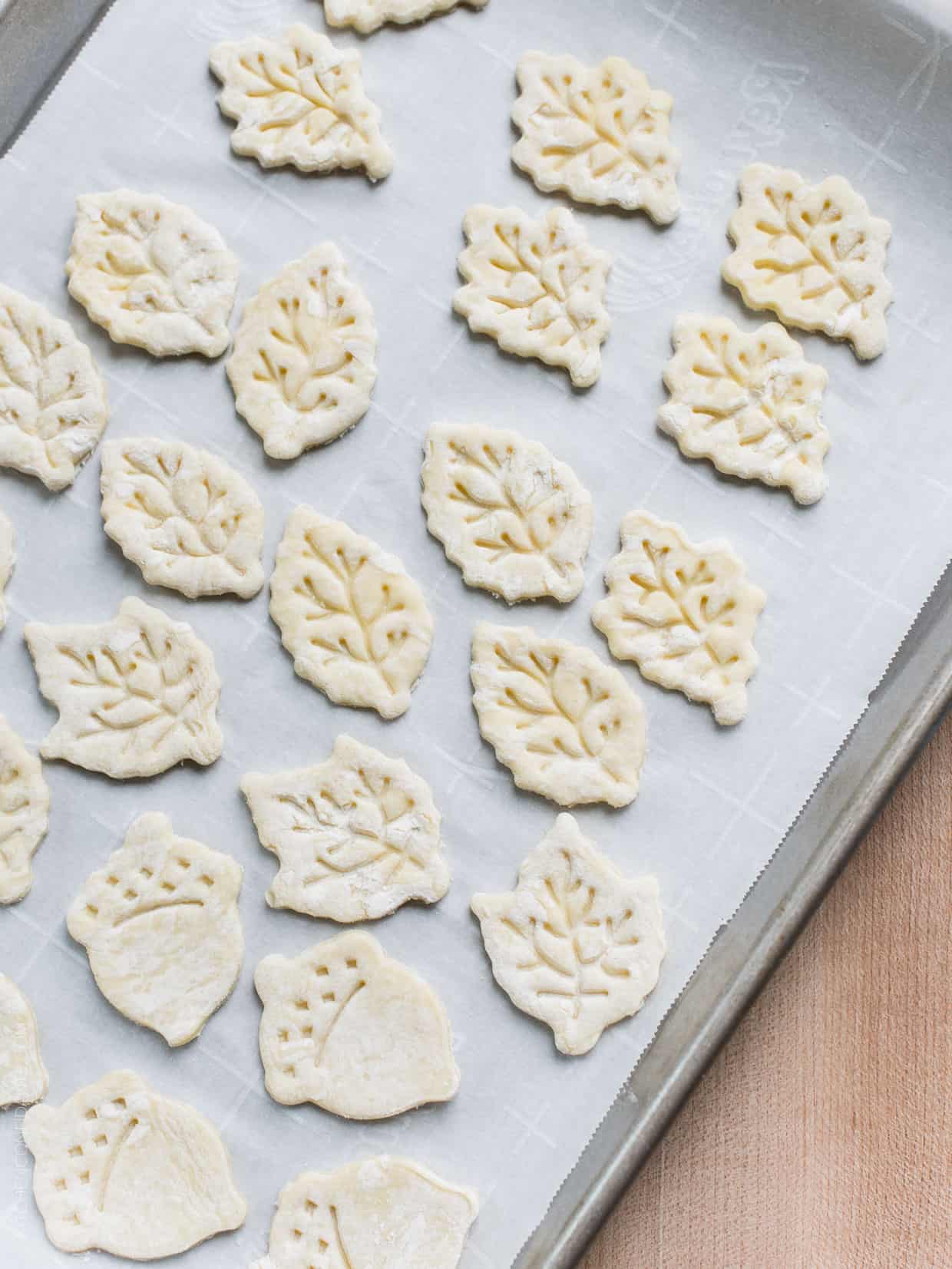 How else were they going to be introduced to the delight of poking their spoon through a buttery, flakey crust, steam escaping as they sink it into a thick gravy to dish out chunks of turkey, potatoes, mushrooms, and in this case, pumpkin? Clearly, I had failed my children. It was my fault.
I'm not sure how I let this slip by. Chicken pot pie is one of my favorites, so I can't believe I've never made it for them before! As luck would have it, my husband and I, in one of those funny twin-tummy moments, both had a craving for pot pie, the version in my mind full of chunks of savory pumpkin. You already know how much I love my pumpkin in all things sweet and savory, but I feel like it gets the short end of the stick when compared to its cousin squashes. I've been determined to cook with it more. Enter, Turkey Pumpkin Pot Pie.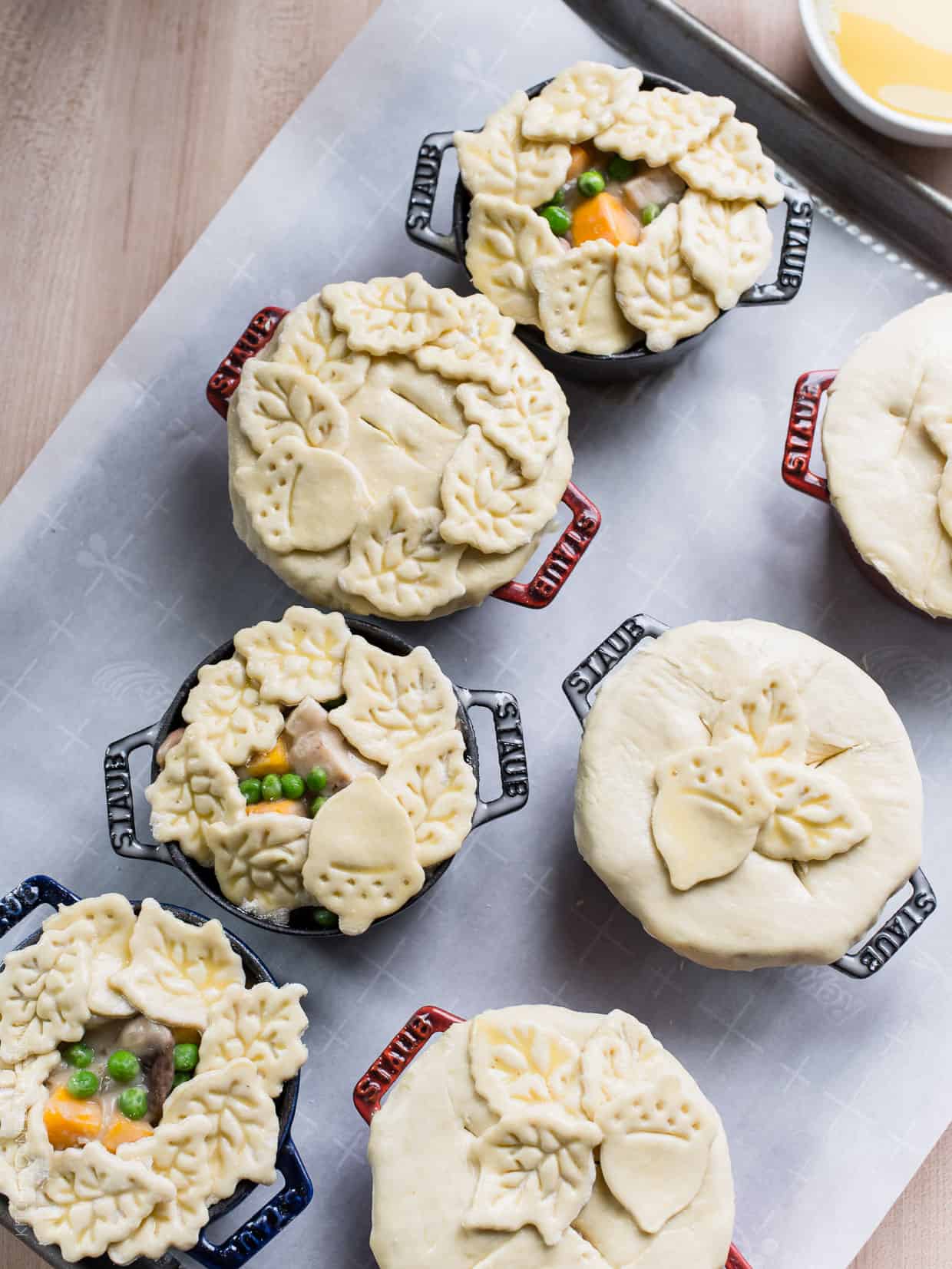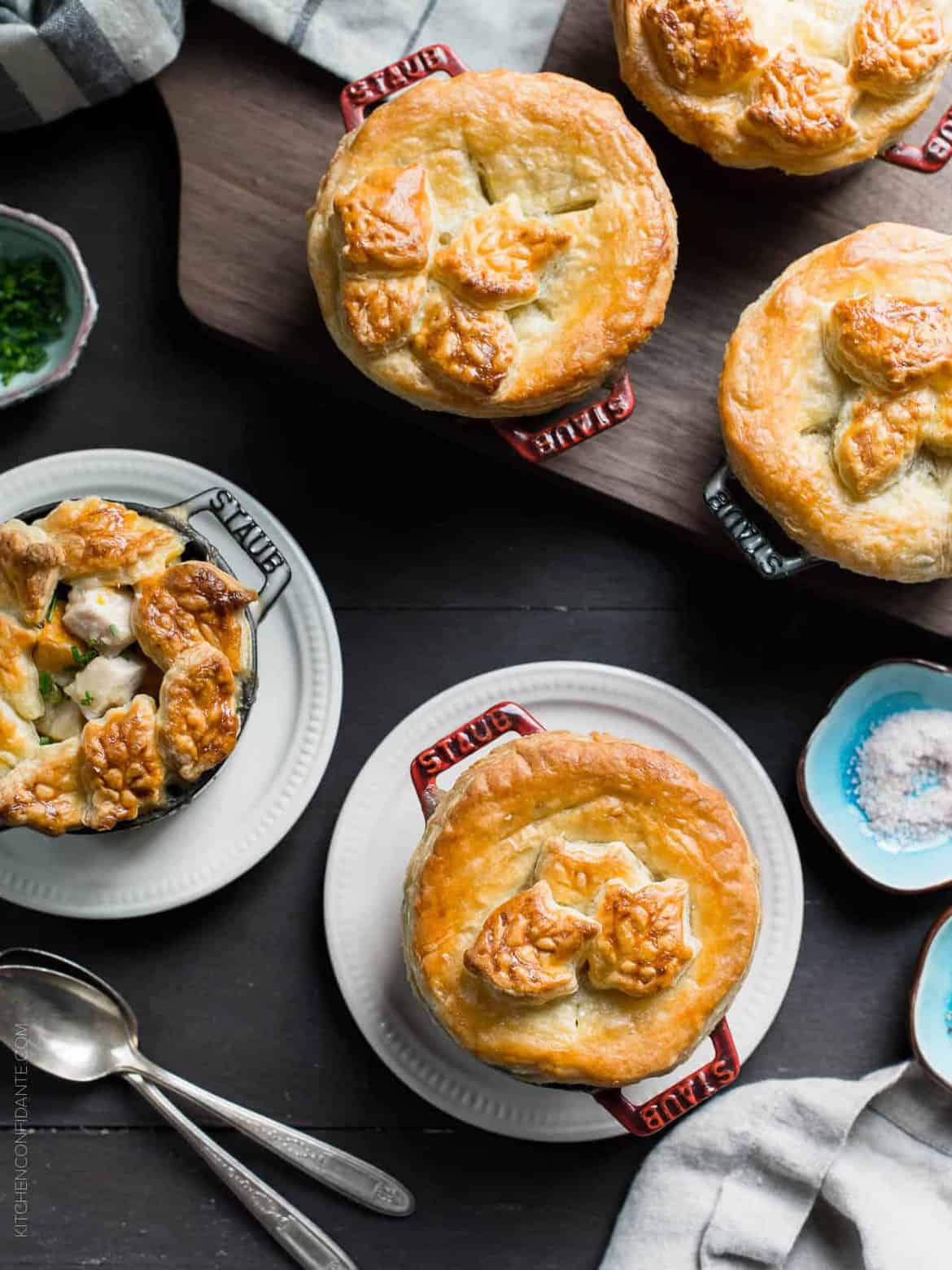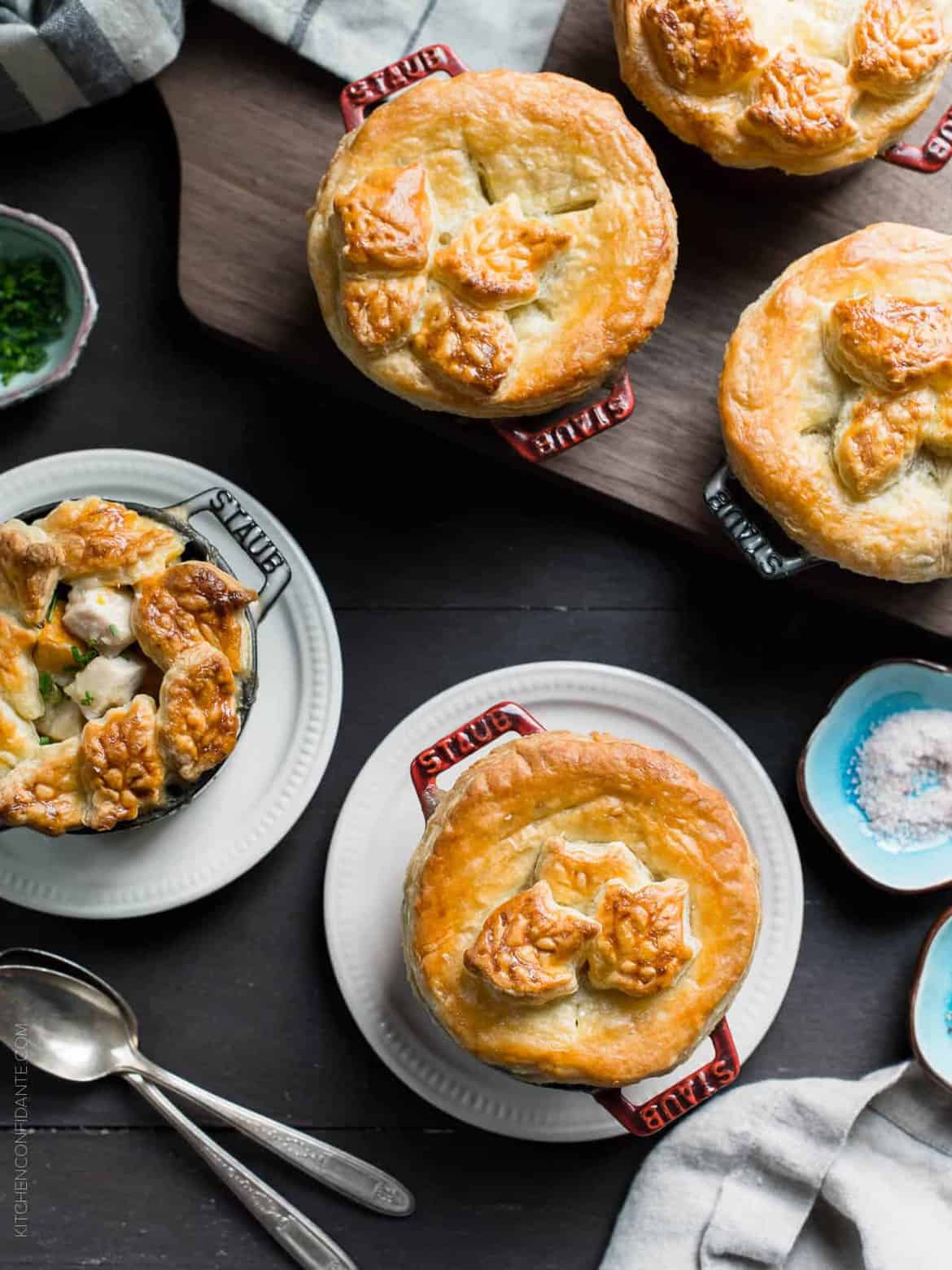 I watched my kids tap the puff pastry crust and find a bit of the turkey. There was a little glimmer in their eye as they scooped up the second spoonful, then the third. "It's good, mom!" they nodded and chewed.
Yup, I know. Sorry it took so long.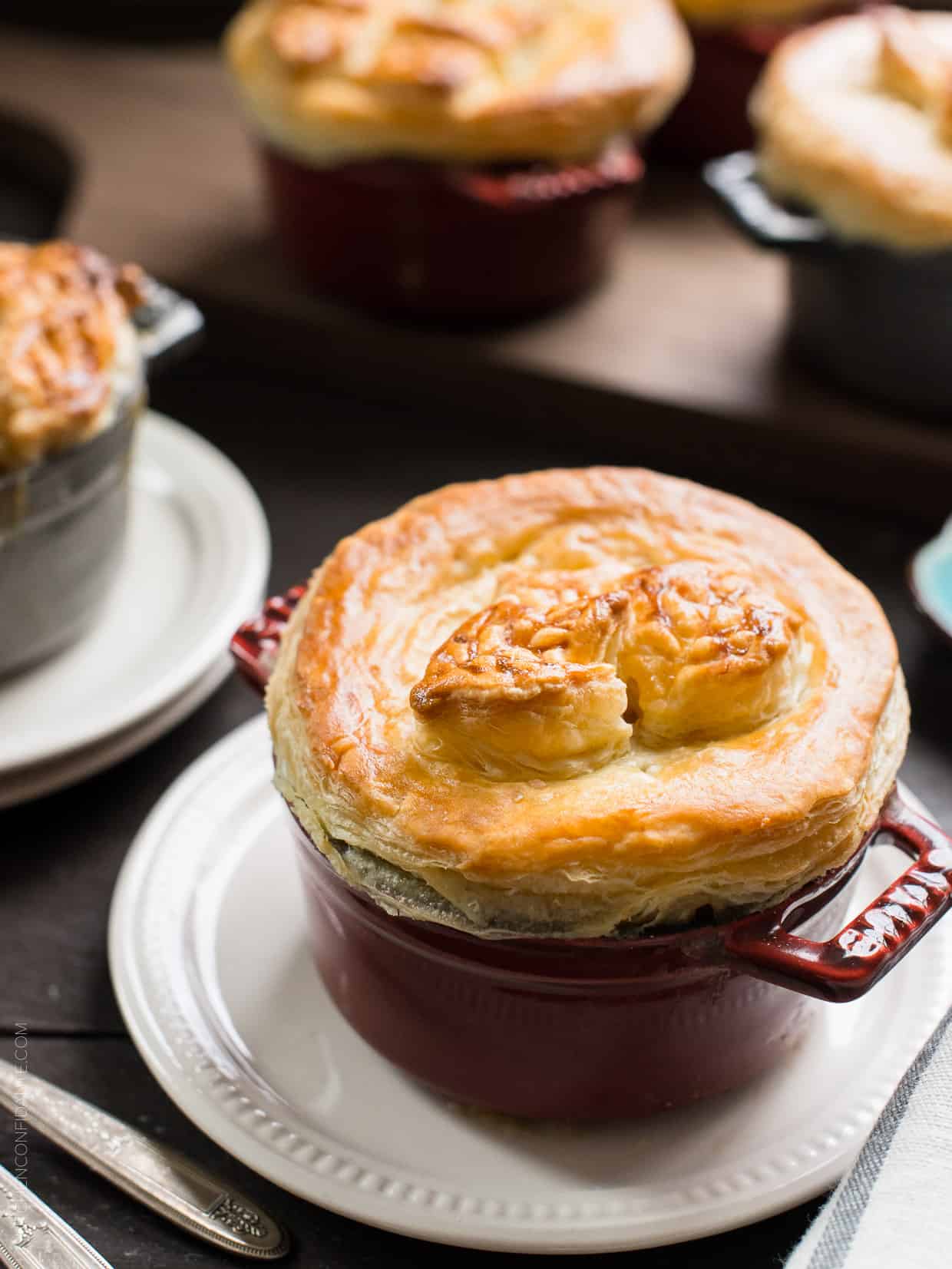 Eat Seasonal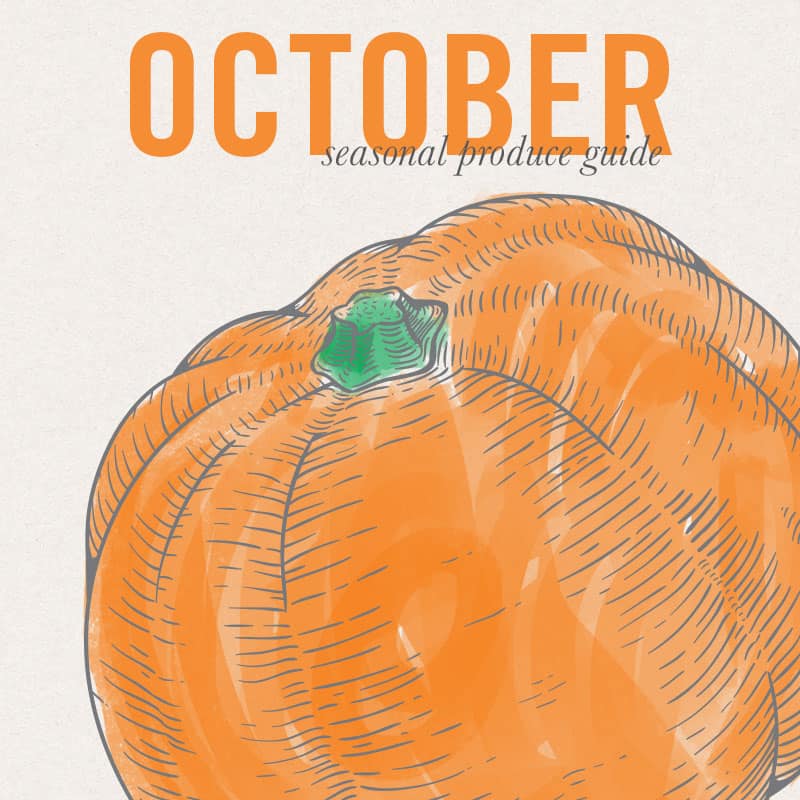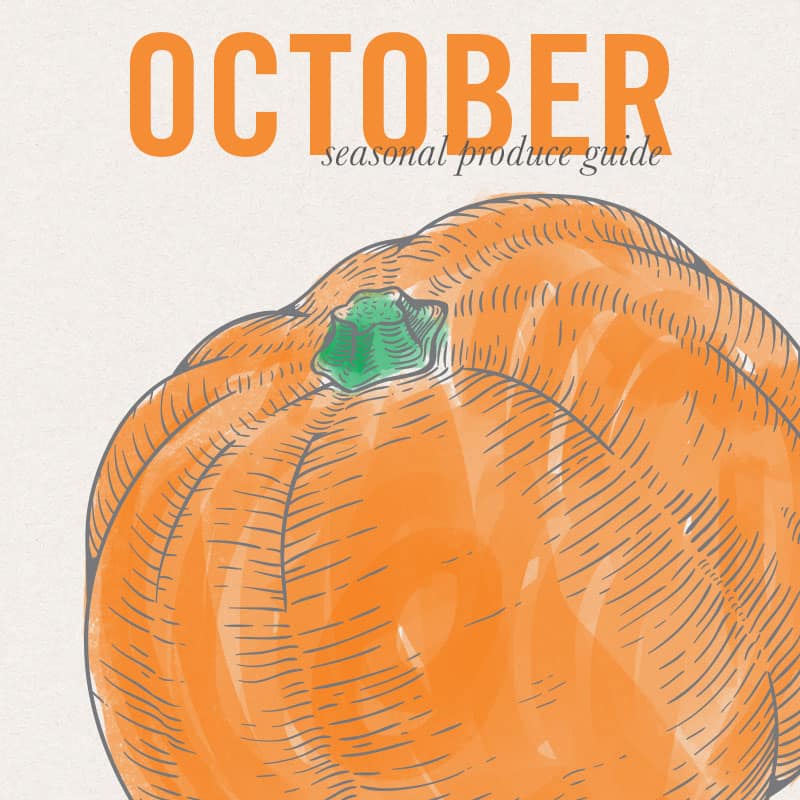 Everything is getting cozier for this month as I join Becky from Vintage Mixer and our friends to share dishes that embrace eating seasonal! October is all about pumpkins, squash, cozy soups, stews, and so much more. Check out these recipes for more #EatSeasonal inspiration.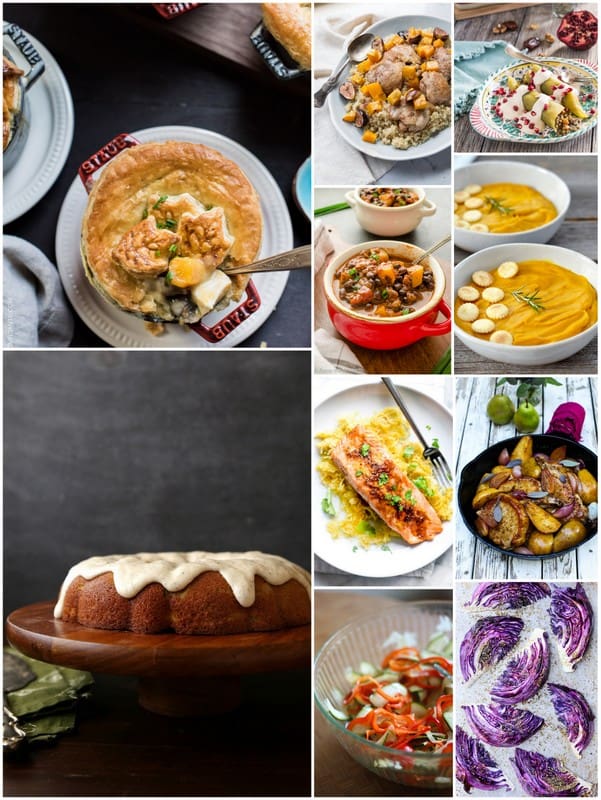 Roasted Chicken with Figs and Butternut Squash by Vintage Mixer
Lentil Chile Rellenos with Creamy Walnut Sauce Letty's Kitchen
Chorizo, Black Bean, and Kabocha Squash Chili by Flavor the Moments
Roasted Root Vegetable Soup by Joy Food Sunshine
Spiced Zucchini Pear Cake with Brown Butter Glaze by Completely Delicious
Orange Spiced Salmon with Spaghetti Squash by Foodie Crush
Pork Chops with Roasted Pears, Sage and Shallots By Simple Bites
Marinated Zucchini with Red Peppers and Garlic Project Domestication
Roasted Red Cabbage Wedges with Za'atar by Floating Kitchen
More pumpkin recipes from Kitchen Confidante:
Pumpkin Spice Cake
Pumpkin Sage Polenta
Pumpkin Cheddar Biscuits
Habanero Spiced Pumpkin Soup
Chicken, Black Bean and Charred Poblano Salad with Pumpkin-Red Curry Vinaigrette
Pumpkin Bread Parfaits
Turkey Pumpkin Pot Pie
Turkey Pumpkin Pot Pie adds a helping of pumpkin season to comfort food. Perfect for leftover turkey or instead of the big bird itself at Thanksgiving. And of course, you can make it with chicken!
Ingredients
1/2

cup

unsalted butter

1

cup

yellow onion

finely chopped

1/2

cup

all purpose flour

3

cups

chicken stock

hot

1/4

cup

half and half

1

lb

roasted turkey breast meat

sliced in 1/2 inch cubes

2

cups

pumpkin

diced

1

cup

peas

1

cup

mushrooms

sliced

1

cup

potatoes

diced

2

sheets puff pastry

1

large egg

1

tablespoon

water

freshly ground black pepper
Instructions
Preheat the oven to 400°F.

In a large pot, melt the butter over medium-low heat. Stir in the onions and cook until wilted and translucent. Sprinkle the flour over the onions, and let it sit for a moment, until the flour is soaked into the melted butter. Slowly whisk in the flour, then gradually add the chicken stock, continually whisking. As you stir, the sauce will thicken. Whisk in the half and half, then season to taste with salt and pepper.

Stir in the turkey, pumpkin, peas, mushrooms, and potatoes. Season again with a little more salt and pepper. Remove from heat, divide the filling between individual ramekins or oven-proof bowls, and let it sit on a lined baking tray while you prepare the pastry.

On a lightly floured surface, lay the puff pastry and cut circles of pastry about 2 cm larger in diameter than your ramekins. If you like, you can also cut leaf shapes out of the pastry and use that instead of, or in addition to, the pastry rounds.

Cover the ramekins with pastry rounds and decoration, and cut slits in the pastry to let it vent while baking.

Whisk together the egg and tablespoon of water. Lightly brush the egg wash onto the puff pastry and season with salt.

Place the baking tray with the ramekins in the oven and bake for 30-35 minutes, or until the puff pastry is golden brown and has risen, and the filling is bubbling within. If you find that the puff pastry is deflating upon removing from the oven, you may need to bake it for a little longer.

Let cool slightly before serving.
Notes
The number of servings will vary depending on the size of your ramekins.
Nutrition
Calories:
565
kcal
|
Carbohydrates:
47
g
|
Protein:
11
g
|
Fat:
37
g
|
Saturated Fat:
14
g
|
Cholesterol:
56
mg
|
Sodium:
299
mg
|
Potassium:
476
mg
|
Fiber:
3
g
|
Sugar:
4
g
|
Vitamin A:
3020
IU
|
Vitamin C:
14.8
mg
|
Calcium:
46
mg
|
Iron:
3.7
mg