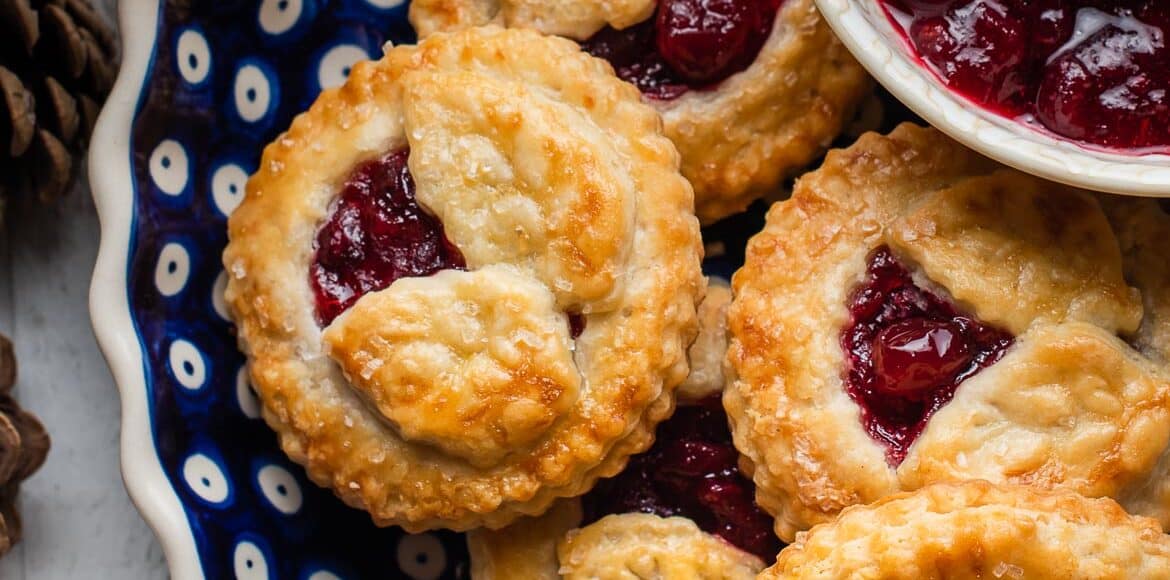 Cranberry Hand Pies
Cranberry pie is more fun when you can have it all to yourself! Transform leftover cranberry sauce in this recipe for Cranberry Hand Pies!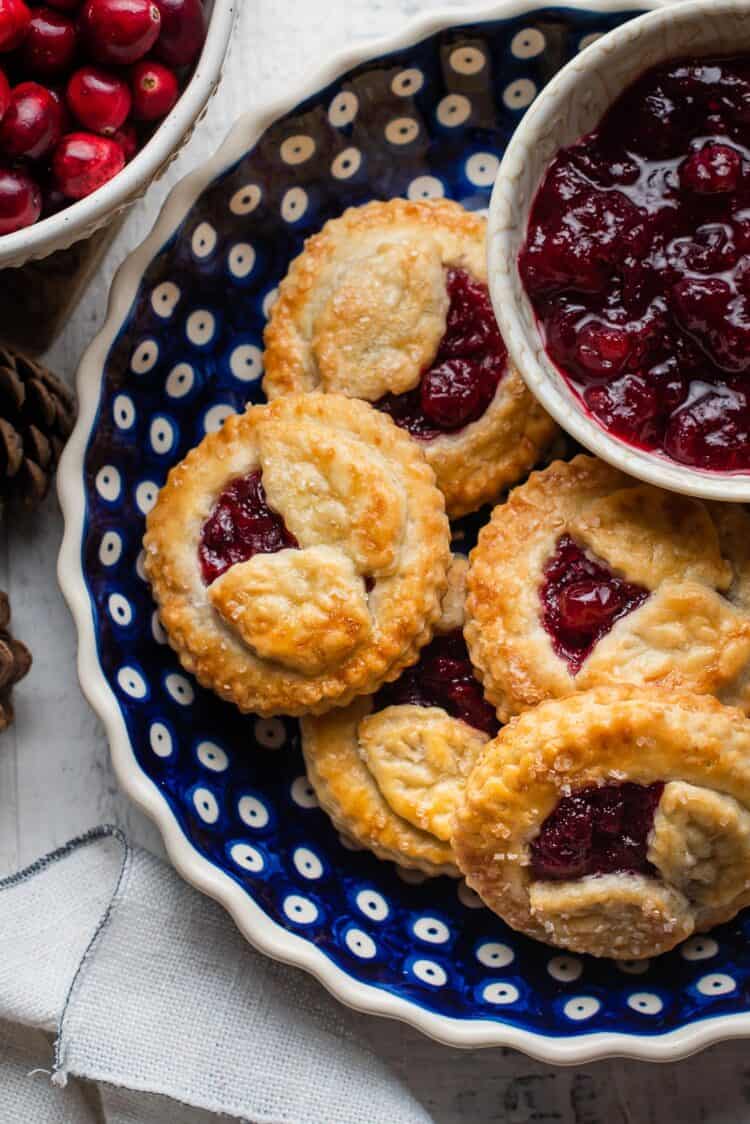 Cranberry Hand Pies
Cranberry pie is more fun when you can have it all to yourself! Transform leftover cranberry sauce in this recipe for Cranberry Hand Pies!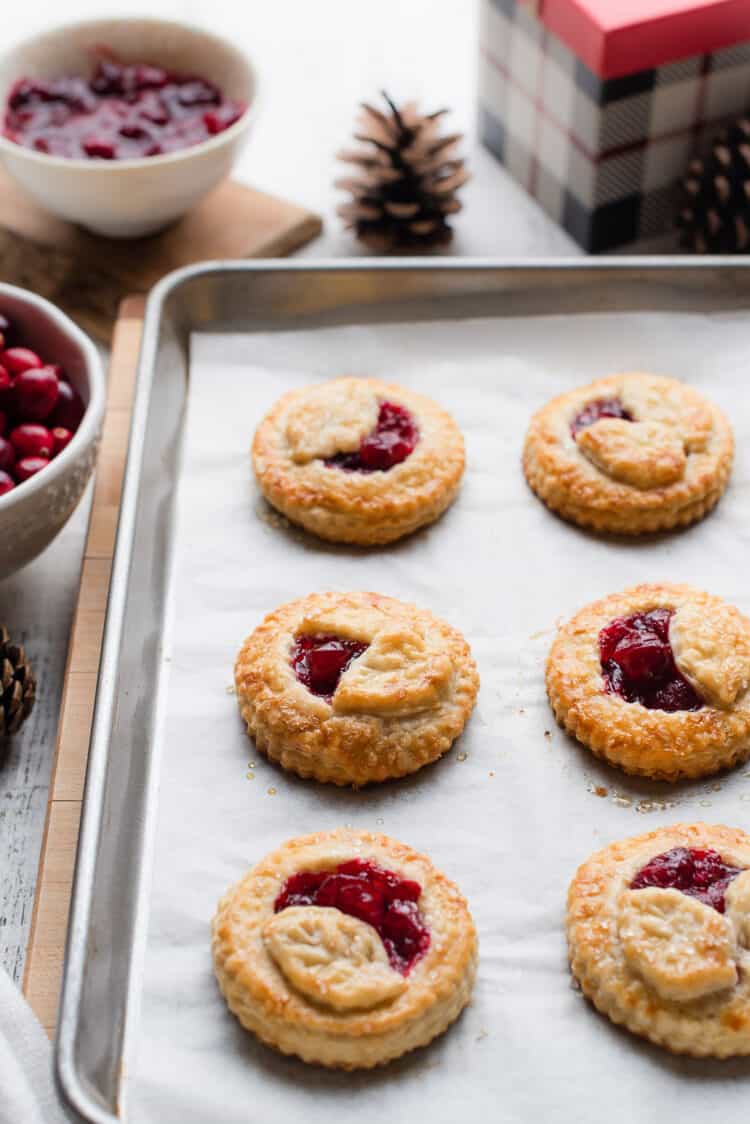 Just when I thought our refrigerator couldn't fit another storage container of leftovers, the remnants of our Thanksgiving dinner were suddenly gone. The bulk of the stuffing and mashed potatoes went into much anticipated Mashed Potato and Stuffing Waffles (my son was dreaming about these since last year's Thanksgiving's leftovers were demolished), and the turkey was transformed into Day-After Turkey Shepherd's Pie. As quickly as there was no more space left in the fridge, it was empty and bare.
Except for one thing. The cranberry sauce.
And to me, that's the beauty of leftover cranberry sauce — it has a longer shelf-life than the rest of the leftovers, which means I can get creative with them long after our last turkey tryptophan-induced nap. They usually go in some Cranberry Sauce Cornbread Muffins or Cranberry Sauce Granola, but this year, I had other plans in mind.
Cranberry pie.

But instead of one large pie, I opted for hand pies — I'm sure you agree it's more fun when each person can get their own mini pie, plus, the ratio of crust to filling is a little more balanced for those tart cranberries! They baked up like little golden ornaments, and are the perfect dessert to use up those leftovers and transition us from Thanksgiving into the Christmas season!
How to Make Individual Cranberry Pies
I make use of my favorite Cranberry Wine Sauce, but feel free to use your own leftover cranberry sauce in these little pies. If you've eaten all your leftovers, don't worry! Remember, cranberry sauce cooks up in 10 minutes, so you can easily whip some up while you prep and chill the dough.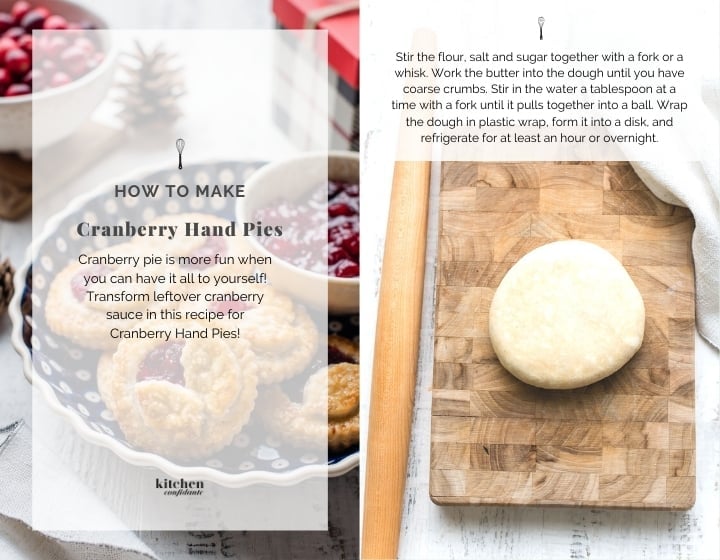 I use my favorite pastry dough in this recipe — since it requires a little bit of chill time, it's perfect to make up to a few days in advance so that you can roll it out when you're ready for baking. It's a very buttery, forgiving dough and the perfect base for the tart cranberries!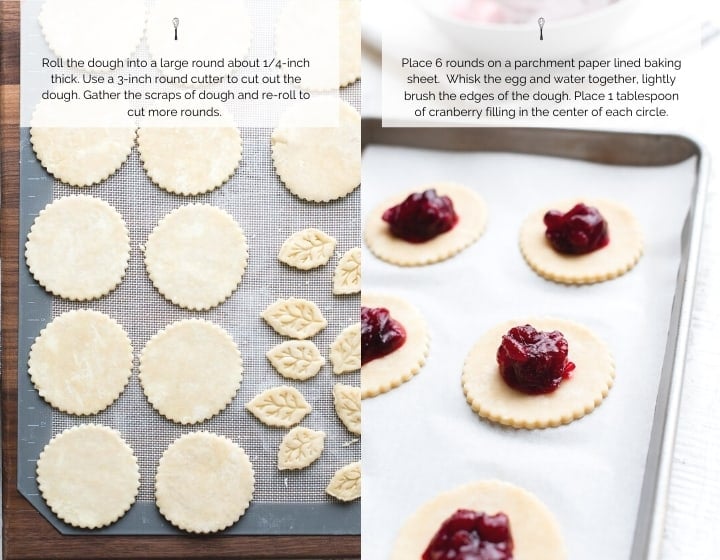 Speaking of tart cranberries – I make sure to taste my cranberry sauce and add a touch more sugar, if it's on the tart side. I leave how sweet you like it to you! The cranberry sauce is already thick, but I like to add a pinch or two of xantham gum just to ensure that the filling won't run.
As for making them fancy with pie cutters — of course it's not necessary! Simply cutting out two rounds and sandwiching the cranberry sauce will give you an utterly delicious hand pie! But since I had a little extra dough, I couldn't resist using pie cutters to stamp out some designs. Again, totally optional.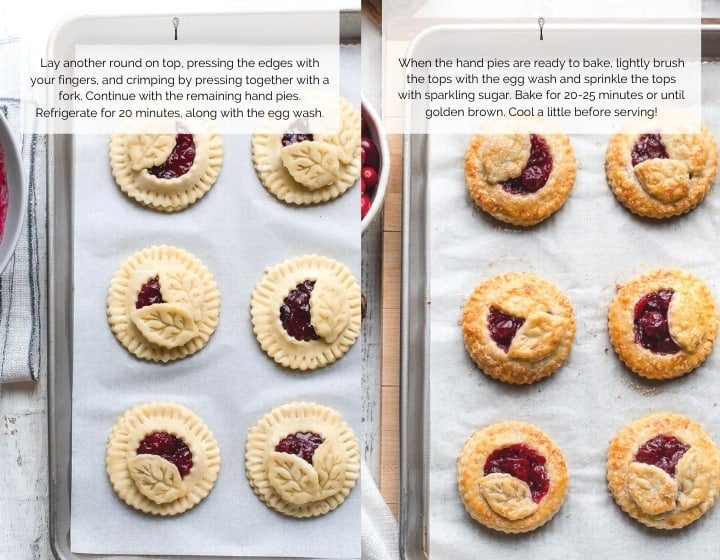 Don't forget to give the formed hand pies some time in the refrigerator to chill before baking. You want the dough to get nice and chilled again before baking. The great thing about this is you could form and chill (or even freeze!) the hand pies in advance to bake later, whenever the craving strikes!
More Leftover Cranberry Sauce Recipes
Cranberry Sauce Vinaigrette
Cranberry Sauce Cornbread Muffins
Cranberry Sauce Granola
Cranberry Sauce Slab Pie
Cranberry Pomegranate Baked Brie
Products Used in this Recipe
Pastry Cutter (affiliate link)
Biscuit Cutter Set (affiliate link)
Harvest Autumn Leaves Pie Cutters (affiliate link)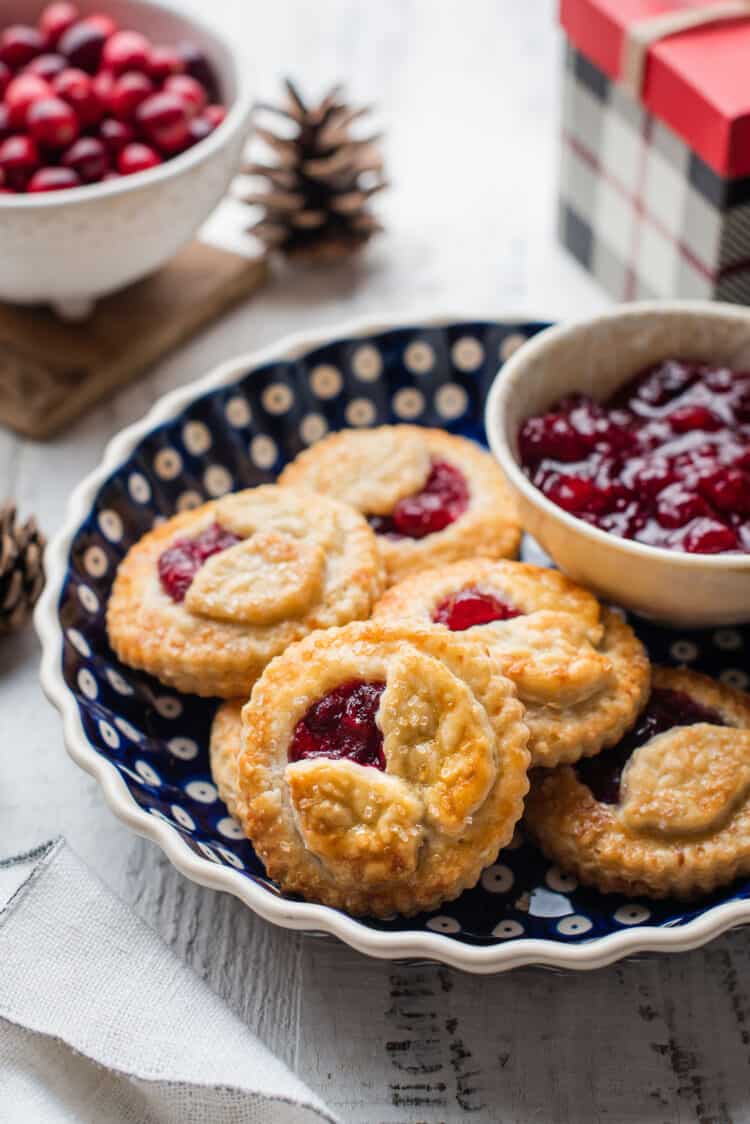 Disclosure: There may be affiliate links in this post. Please see my Privacy & Disclosure page for details.
Cranberry Hand Pies
Cranberry pie is more fun when you can have it all to yourself! Transform leftover cranberry sauce in this recipe for Cranberry Hand Pies!
Ingredients
Dough
1

cup

all-purpose flour

1

tablespoon

granulated sugar

1/2

teaspoon

kosher salt

1/2

cup

1 stick unsalted butter, frozen

1/4

cup

ice water
Filling
1

cup

cranberry sauce

1

tablespoon

granulated sugar

optional, to taste

1/8

teaspoon

xantham gum
Assembly
1

large egg

beaten

1

teaspoon

water

1

tablespoon

sparkling sugar
Instructions
Make the dough:
In a medium bowl, stir the flour, salt and sugar together with a fork or a whisk. Using your fingers, two forks or a pastry cutter, begin to work the butter into the dough until you have coarse crumbs. Stir in the water a tablespoon at a time, using a fork to incorporate it into the dough, checking it with your fingers by pinching the dough together. You can also do this with a food processor, if you wish. Do not over-work the dough – you want to be able to see bits of butter within the dough, and it will still be rather shaggy and loose. Turn the dough out onto a lightly floured surface and use your hands to bring it together into a ball, but be careful not to overwork the dough. When the mixture pulls together into a ball, wrap the dough in a piece of plastic wrap, form it into a disk, and refrigerate for at least an hour or overnight.
Prep the filling:
Taste your cranberry sauce -- if it is on the tart side, consider adding a tablespoon of sugar (less or more, to taste). I like to stir in xantham gum to ensure the sauce is thick enough to bake -- you can leave this out if you like.
Assemble:
On a lightly floured surface, prepare to roll out the dough. Lightly sprinkle the dough with flour, and use a rolling pin to roll the dough into a large round about 1/4-inch thick. Use a 3-inch round cutter to cut out the dough. Gather the scraps of dough and re-roll to cut more rounds. You should have about 12 rounds, with additional dough to cute out accent dough, if you wish. Place 6 rounds on a parchment paper lined baking sheet.

Note: Creating fancy patterns for the top of the hand pies is totally optional, but if you wish to recreate what I have done, use a 1-inch round biscuit cutter to cut out the centers of 6 of the rounds. Use leaf-shaped pie cutters and stamp out extra dough.

Whisk the egg and water together, then lightly brush the edges of the dough on the 6 rounds. Place 1 tablespoon of cranberry filling in the center of each circle. Lay another round on top, pressing the edges with your fingers, and crimping by pressing together with a fork. Continue with the remaining hand pies. Refrigerate for 20 minutes, along with the egg wash.

While the hand pies chill, preheat the oven to 400°F with a rack placed in the center of the oven.

When the hand pies are ready to bake, lightly brush the tops with the egg wash and sprinkle the tops with sparkling sugar. If you used a solid round of dough for the tops, be sure to use a fork or skewer to poke small holes on the top of the dough to allow steam to escape. Bake for 20-25 minutes or until golden brown. Remove from the oven and let cool a little before serving!
Notes
The separate components can be prepared in advance, from the dough to the filling, making these hand pies an even easier treat to make in advance.
You can also form the hand pies and instead of refrigerating for 20 minutes, freeze in a freezer safe container and bake at a later time.
While this recipe yields 6 hand pies, you can easily double it to make an even dozen. Save some for future baking, or bake them all at once!
Looking for an easy cranberry sauce recipe? I use my Cranberry Wine Sauce in this recipe .
Dough based on Mini Egg Pies, Kawaling Pinoy
Nutrition
Calories:
308
kcal
|
Carbohydrates:
38
g
|
Protein:
3
g
|
Fat:
16
g
|
Saturated Fat:
10
g
|
Cholesterol:
68
mg
|
Sodium:
221
mg
|
Potassium:
45
mg
|
Fiber:
1
g
|
Sugar:
22
g
|
Vitamin A:
532
IU
|
Vitamin C:
1
mg
|
Calcium:
14
mg
|
Iron:
1
mg