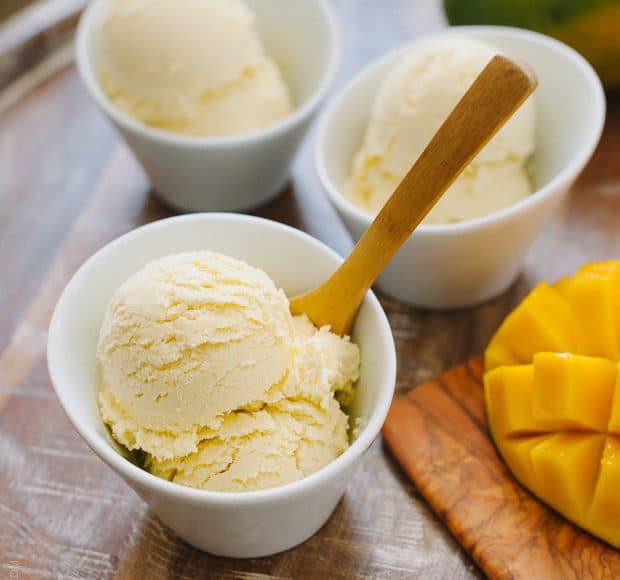 Simple Sundays | Dairy Free Mango Coconut Ice Cream
You don't need cream and eggs to make ice cream! This Dairy Free Mango Coconut Ice Cream gets its creaminess from coconut cream, so you can get churning in no time. We were running up and down the stairs, packing their bags for their performance.…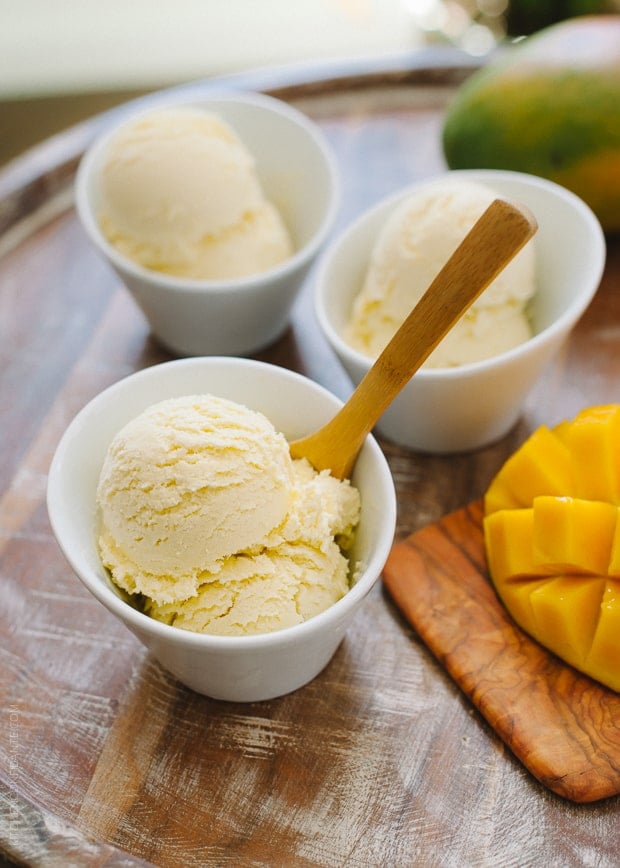 Simple Sundays | Dairy Free Mango Coconut Ice Cream
You don't need cream and eggs to make ice cream! This Dairy Free Mango Coconut Ice Cream gets its creaminess from coconut cream, so you can get churning in no time.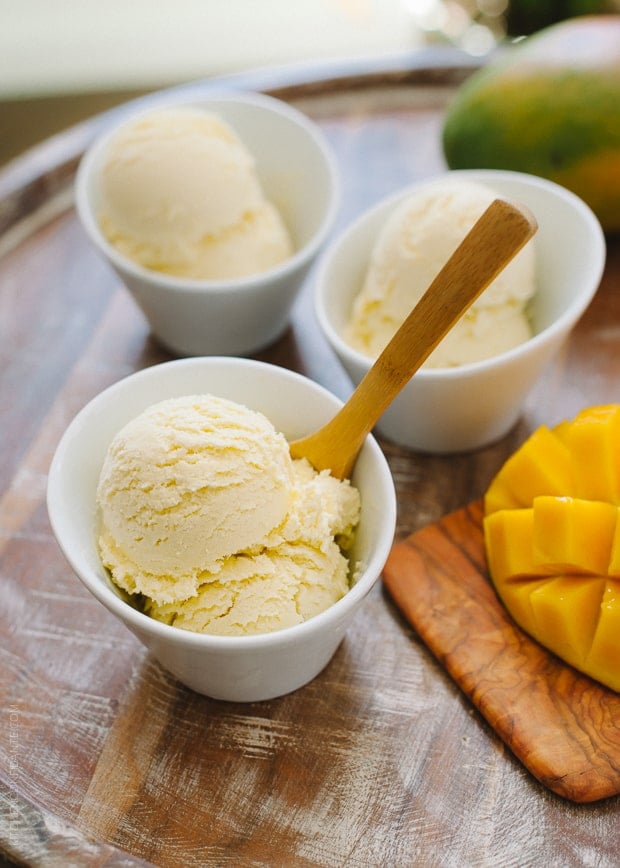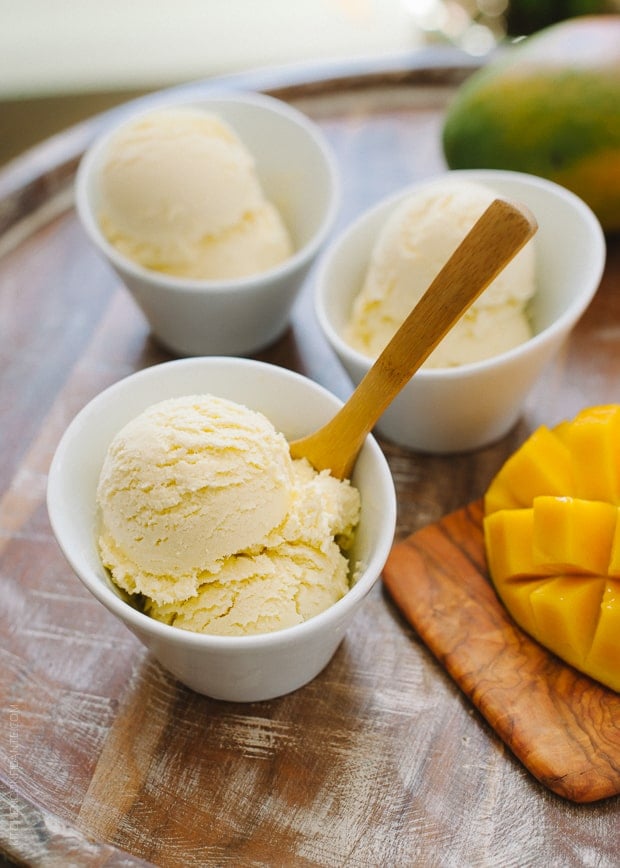 We were running up and down the stairs, packing their bags for their performance. "Here you go, buddy," I handed him the white linen square. "What's that?" my son paused and eyed it suspiciously. "Is that a tissue?"
"It's a handkerchief. You said you needed one for your costume for the play?" I looked at his furrowed brows and realized: my son has never seen a handkerchief before.
And I felt SO old.
The conversation on the stairs could not be more amusing:
"It's what people used to use before disposable tissues."
"Like blow their nose into it?"
"Exactly!"
"Then what? You throw it away?"
"No you bring it home and wash it and reuse it."
"Ew. That's gross!"
"Right. So when you lend someone a handkerchief, usually you let them keep it."
"Eeew!"
This conversation could have probably gone on forever, but it was time to go to drama camp.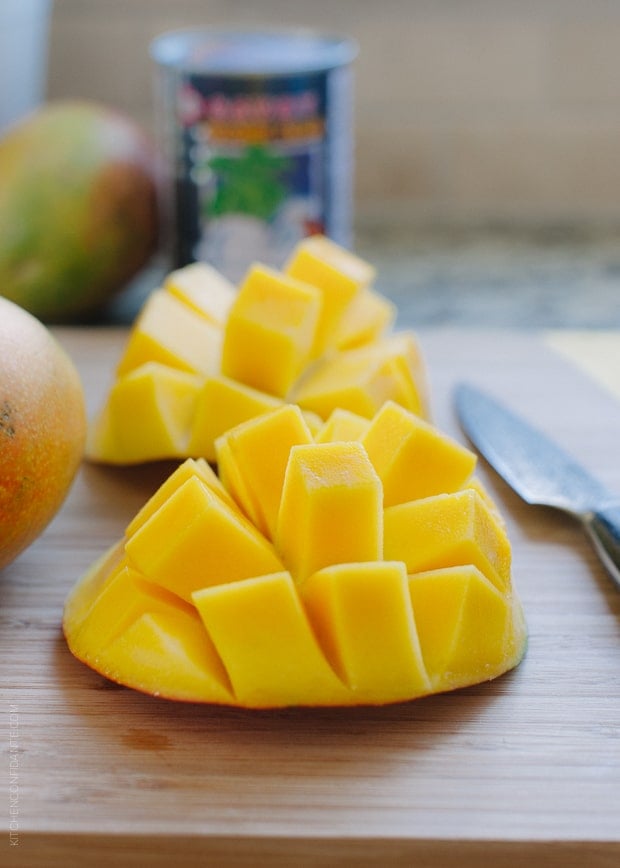 I think of my grandmother when I think of handkerchiefs. She always had one in her purse, and they always smelled faintly of Chanel No. 5. If you needed a hanky, she would be ready, and the light fragrance would be so soothing. When I would visit her in the Philippines, she would automatically hand me a hanky to cover my nose if we were driving across a dusty stretch of road, and my aunts always sent pretty packages of handkerchiefs so I would never run out when I packed my backpack for school.
Those were the visits when I would eat my fill of mango anything, whether it was freshly sliced, or between layers of light cakes, or scoops of ice cream. Mango ice cream was my favorite whenever I would visit the Philippines – there's nothing more refreshing!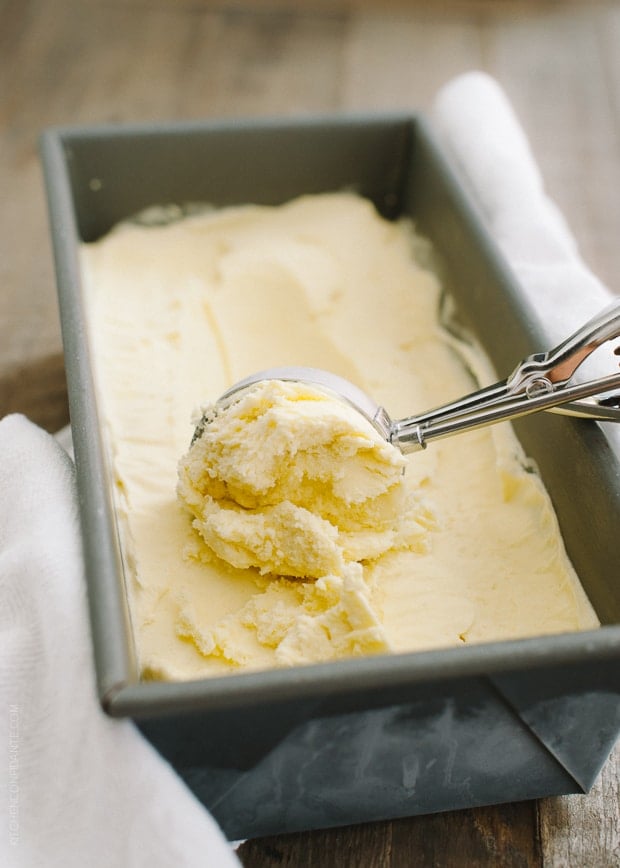 I was craving some mango ice cream but didn't want to bother with stirring a custard over the stove – sometimes you just want to fast forward to the good stuff! So I called in the coconut cream – it's like a built in custard, without the cream and eggs. With a whir of the blender, fresh mangoes and coconut cream became the base for my ice cream, and I was churning in no time. Each scoop was tangy and sweet, and oh so creamy. I'm sharing the recipe for Dairy Free Mango Coconut Ice Cream along with more Cool Summer Treats on SheKnow.com. I hope you check it out!
Disclosure: This post is part of a collaboration with SheKnows. Sponsored posts such as these help behind the scenes at Kitchen Confidante. Thank you so much for supporting brands that matter to me and making my blog a part of your day!
Find the recipe for Dairy Free Mango Coconut Ice Cream on SheKnows.com.