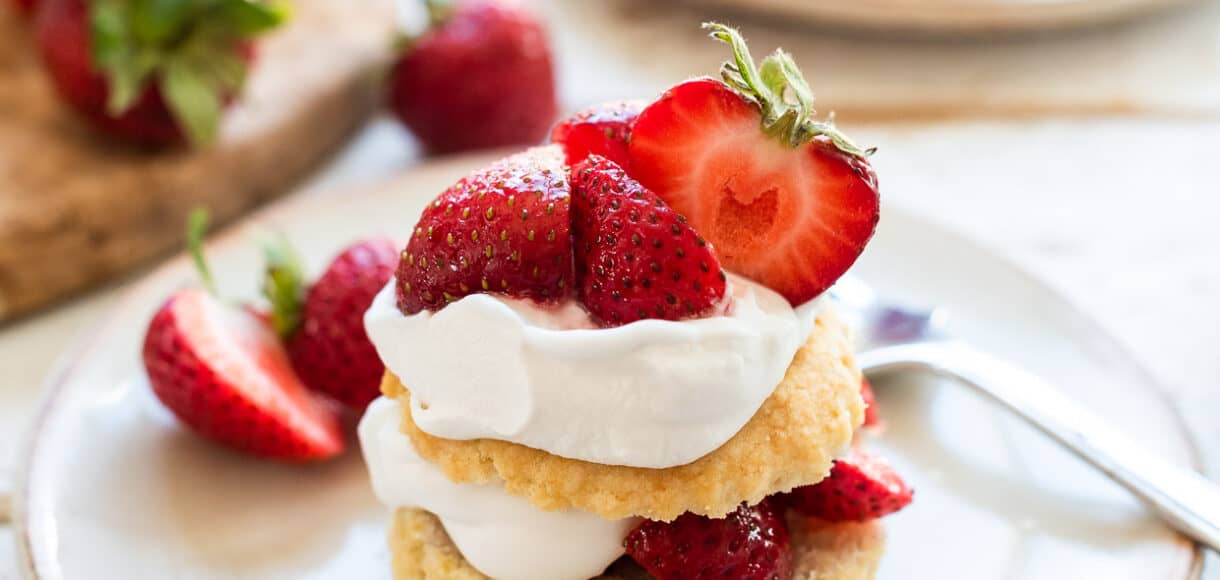 Strawberry Shortcake (Vegan)
Strawberry Shortcake (Vegan) is a classic with a non-dairy twist! Learn how to make strawberry shortcake vegan with a coconut whipped cream!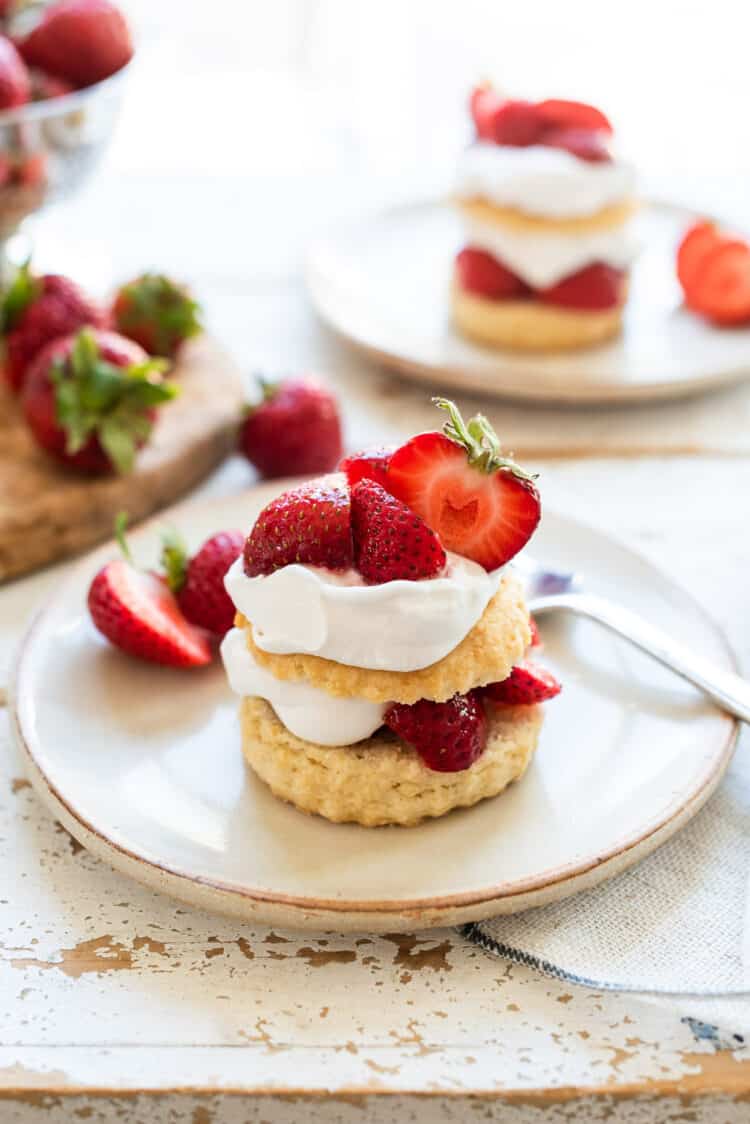 Strawberry Shortcake (Vegan)
Strawberry Shortcake (Vegan) is a classic with a non-dairy twist! Learn how to make strawberry shortcake vegan with a coconut whipped cream!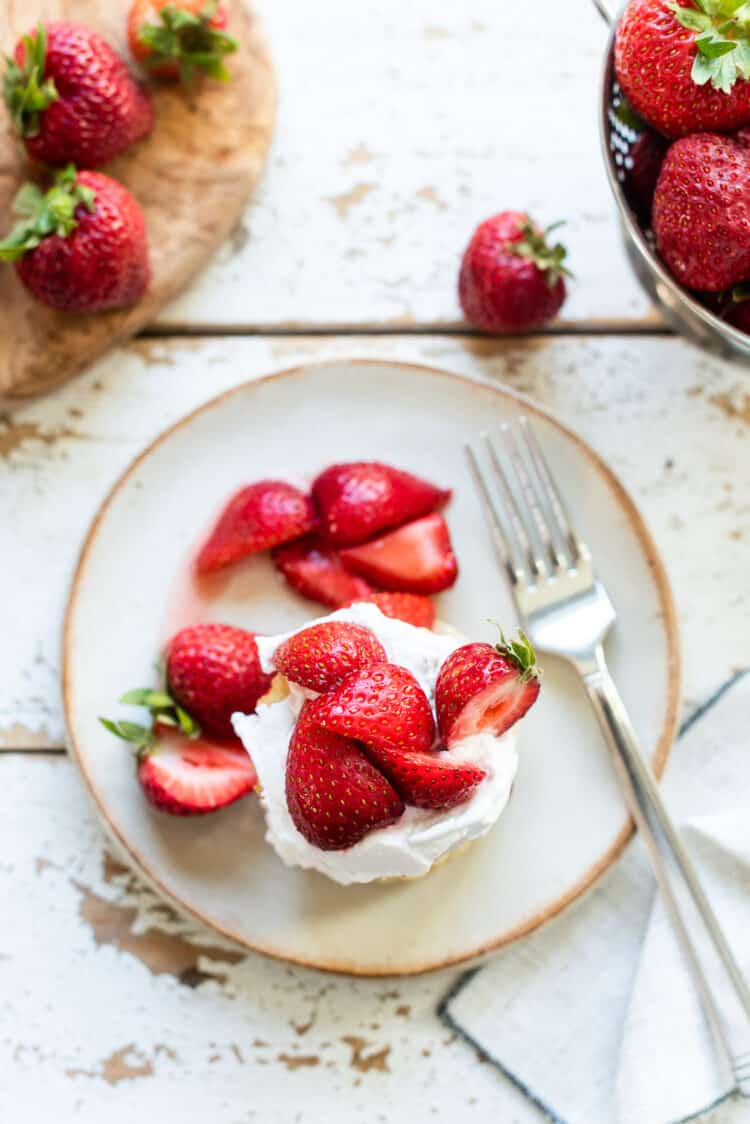 Growing up, the only kind of strawberry shortcake I ever had came in the form of a doll that fits in the palm of my hand, her hair supposedly smelling of berries. I remember sniffing her curls expectantly, only to be disappointed.
I never ate strawberry shortcake, but I knew strawberries, and I firmly decided that the doll had failed miserably in that department.
It wasn't until many years later did I finally get a taste of this classic dessert, and I have to admit, as I scrolled through my Instagram feed during the 4thof July holiday weekend, as iteration after iteration of shortcakes seemed to invade my phone screen, did I get the intense craving for one.
So I took matters into my own hands and made a vegan-friendly strawberry shortcake so that my husband could enjoy it, too.
HOW TO MAKE VEGAN STRAWBERRY SHORTCAKE
Making strawberry shortcake vegan-friendly really isn't a difficult task, I'll be honest. Because, what is a shortcake? At its core, it's simply a sweeter biscuit, and I've tackled many a biscuit in my time. To make it vegan, I turned to vegan butter, which when you think about it works to our advantage because it lends itself to a tender, flaky crumb.
Start by focusing on the star: the strawberries! A quick toss in some sugar and some time to sit is all it takes to make the delicious strawberry topping. This allows the sweet juices to emerge as the berries sit and macerate and takes no time at all.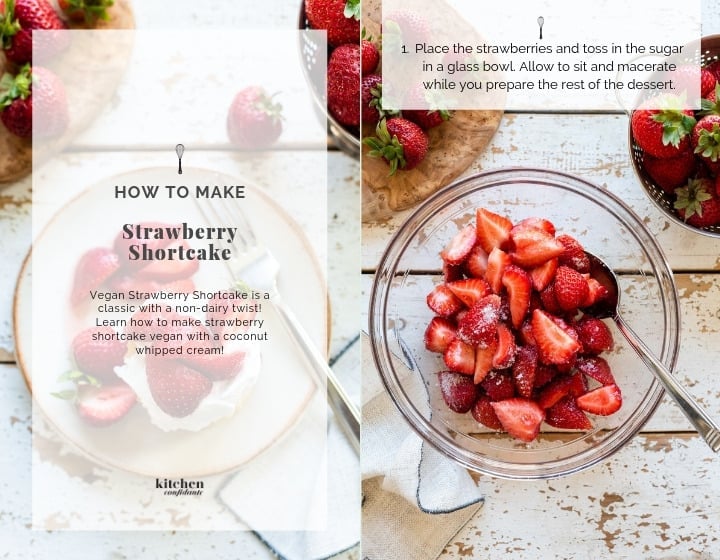 The easy shortcake dough can be done made by hand or in the food processor. First, whisk the dry ingredients together. Cut in the butter and stir the almond milk — this will result in a fairly sticky dough. A few quick stirs are all it takes, using a light hand is key here.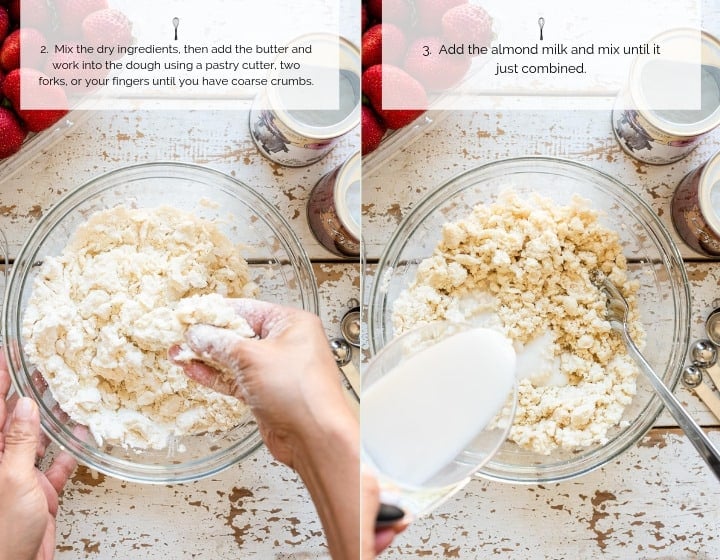 Cutting out the dough, a little time to chill, and a quick bake are all it takes to make the shortcake biscuit. You can even make the dough and form the biscuits in advance and keep it in the freezer, just like cookie dough.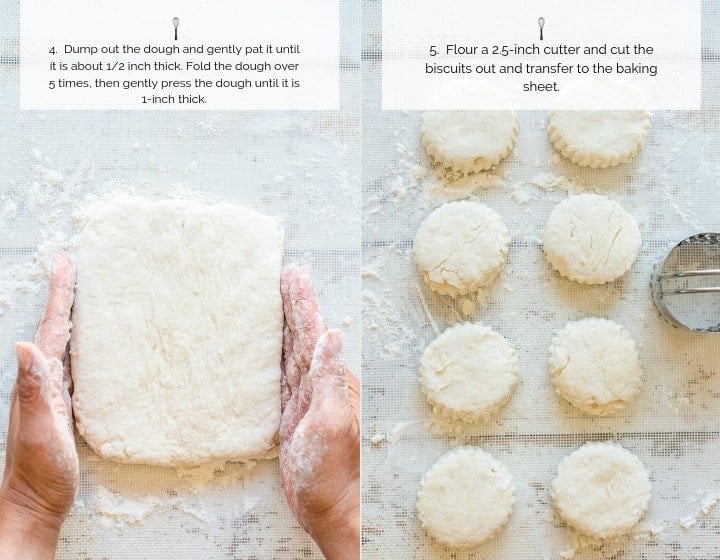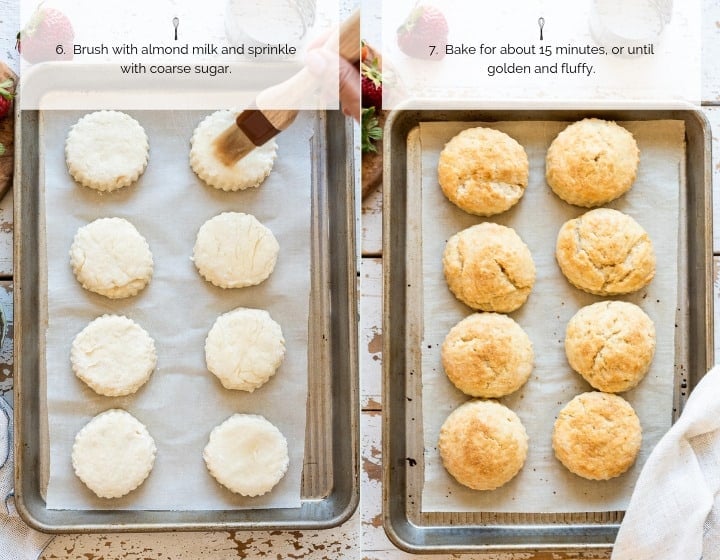 While the shortcakes bake, a little coconut cream whipped with some sugar almost magically turns into a coconut whip that is fluffy and subtly nuanced with coconut flavor that goes so well with strawberries.
Once the shortcakes pop out of the oven, you can split the cakes, and layer the berries and coconut whip to your heart's content.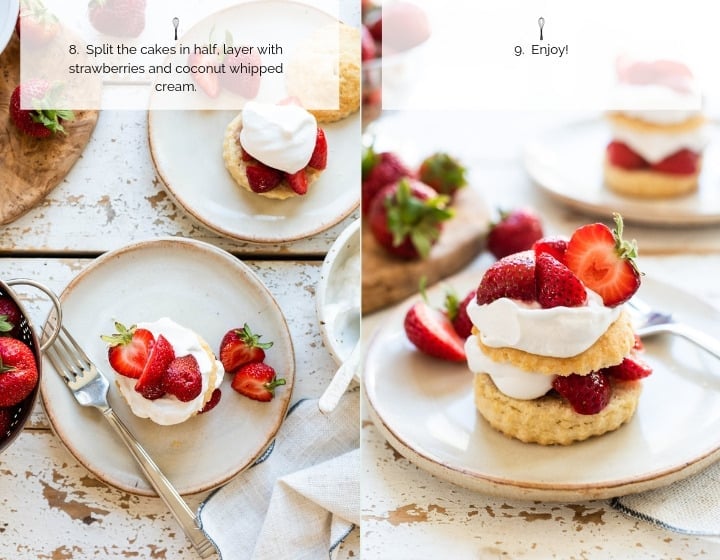 And this, my friend, I can guarantee smells as strawberry shortcake should.
MORE SUMMER VEGETARIAN RECIPES TO TRY
Grilled Vegetable Pizza
Lemon Curd
Blueberry Crisp Ice Cream
Strawberry Rhubarb Crisp (Vegan-Friendly)
Vegetarian Pasta Puttanesca
Fireworks Pasta Salad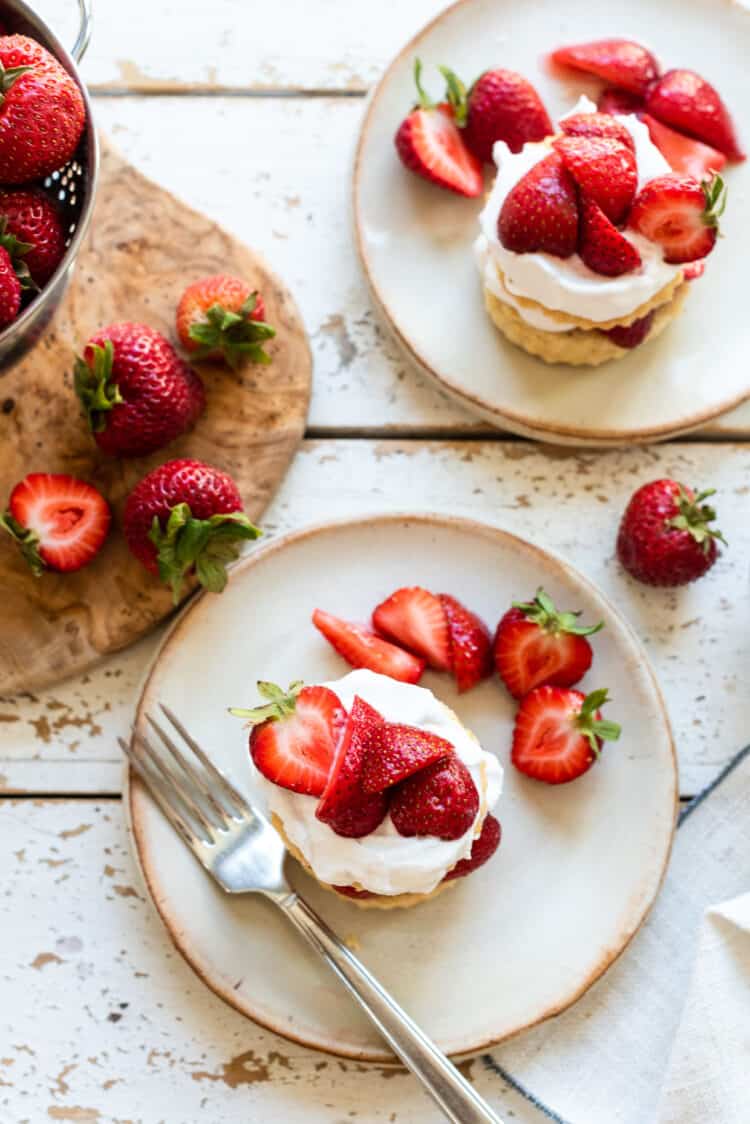 Strawberry Shortcake (Vegan)
Strawberry Shortcake (Vegan) is a classic with a non-dairy twist! Learn how to make strawberry shortcake vegan with a coconut whipped cream!
Ingredients
For the strawberries
2

cups

strawberries

(11 oz) hulled and quartered

3

tablespoons

granulated sugar
For the shortcakes
1

cup

all-purpose flour

1 1/2

teaspoons

baking powder

1

teaspoon

granulated sugar

1/2

teaspoon

kosher salt

1/8

teaspoon

baking soda

5

tablespoons

vegan butter

1/2

cup

plain, unsweetened almond milk

plus a little extra for brushing

2

tablespoons

turbinado or sanding sugar
For the coconut whipped cream
1

14 oz can

coconut cream or full-fat coconut milk

chilled in the refrigerator overnight

3

tablespoons

granulated sugar
Instructions
Macerate the berries
Place the strawberries and toss in the sugar in a glass bowl. Allow to sit and macerate while you prepare the rest of the dessert.
Make the shortcakes
Preheat the oven to 450°F. Line a baking sheet with parchment paper and set aside.

In a large bowl, mix together the flour, baking powder, sugar, salt, and baking soda until blended. Add the butter and work into the dough using a pastry cutter, two forks, or your fingers until you have coarse crumbs. Add the almond milk and mix until it just combined, making sure not to overwork the dough. The dough should be rather wet and sticky. This can also be done in a food processor.

On a floured working surface, dump out the dough and gently pat it until it is about 1/2 inch thick. Fold the dough over 5 times, then gently press the dough until it is 1 inch thick. There is no need to use a rolling pin, but try to make sure the dough is a uniform height.

Flour a 2.5-inch cutter and cut the cakes out and transfer to the baking sheet, placing them about 1/2 to 1 inch apart. Take any scraps of dough and gently form and cut the biscuits again.

Chill the shortcakes in the refrigerator for 15 minutes.

Brush the shortcakes with almond milk and sprinkle with coarse sugar.

Bake for about 15 minutes, or until golden and fluffy.
Make the coconut whipped cream
Chill coconut cream/milk in the refrigerator overnight. Chill the bowl and whisk beforehand in the freezer, if possible, for at least 30 minutes prior to making the whipped cream.

Place the coconut cream into a bowl of a stand mixer with the whisk attachment, reserving any liquid for later use.

Whisk at high speed until peaks begin to form. This will take a while -- if it looks as if your whipped cream is curdling continue to whisk, it will eventually smooth out. If the cream becomes too thick, you can add a touch of the reserved coconut water.

Gradually add the sugar and continue to beat until the coconut whipped cream is firm. Store in the refrigerator until ready to serve.
Make the strawberry shortcakes
Split the shortcakes in half crosswise. Place on a serving plate and layer with the strawberries and coconut whipped cream. Enjoy!
Notes
Can I make the strawberry shortcakes in advance?
Yes, each component of the strawberry shortcakes can be done in advance!
For the shortcakes: Make the dough and cut the biscuits. Place the cut biscuits in a freezer safe container on a sheet of parchment paper, until ready to bake. Then bake at 450° F for 15-20 minutes.
Leftover biscuits can be reheated in a 350° F oven for 10-15 minutes.
For the strawberries: Combine ingredients to macerate and store in glass bowl in the refrigerator until ready to use.
For the coconut whipped cream: The prepared coconut whipped cream can be stored in the refrigerator until ready to use.
What if I don't have a biscuit cutter?
Not to worry! You can form the shortcakes with a small glass, can, or anything to make rounds in your desired size. Also, you can cut squares of dough with a knife.
Can this be made non-vegan?
Of course! Simply use your favorite butter and milk (or buttermilk!), and serve with regular whipped cream.
Nutrition
Calories:
319
kcal
|
Carbohydrates:
49
g
|
Protein:
4
g
|
Fat:
12
g
|
Saturated Fat:
3
g
|
Sodium:
481
mg
|
Potassium:
295
mg
|
Fiber:
2
g
|
Sugar:
23
g
|
Vitamin A:
668
IU
|
Vitamin C:
42
mg
|
Calcium:
119
mg
|
Iron:
2
mg