Coffee Budino + Festive Finds with Nespresso and Sur La Table
I have a sneaky suspicion that you and I have two things in common. Want to know what I think they might be? Coffee, for one. A strong brew of rich, delicious coffee. Not that wimpy stuff that is the color of dirty water. Robust,…
Coffee Budino + Festive Finds with Nespresso and Sur La Table
I have a sneaky suspicion that you and I have two things in common. Want to know what I think they might be?
Coffee, for one. A strong brew of rich, delicious coffee. Not that wimpy stuff that is the color of dirty water. Robust, bold, and balanced — the kind you want to sip with a good friend.
And shopping. Am I right? I love shopping of all sorts (don't get me started on shoes), but my most favorite kind is housewares. Put me in the middle of tart pans and wooden spoons and my heart skips a beat in that kitchen geek sort of way.

So what happens when you get a chance to put two and two together? Ah, what you
have, my friend, is a blissful morning.
It's also called being part of Festive Finds with Nespresso and Sur La Table! Last week, I had a chance to take a much anticipated break from all my house move chaos and spend the morning with a good friend enjoying sips of Nespresso espresso and cappuccino while roaming my favorite Sur La Table at the Ferry Building in San Francisco. I was an absolute kid in a candy store!


My mission was to share festive finds for gift giving and entertaining this holiday season, and I have to tell you that this little shopping spree was just the jumpstart I needed to get in the holiday spirit. Not only did I find things that will be perfect for hostess gifts and good friends, but I also found items that will be just right for the entertaining I have planned in our new home. The timing couldn't be more perfect!


So, here are some of the festive finds that I'm sure you'll love: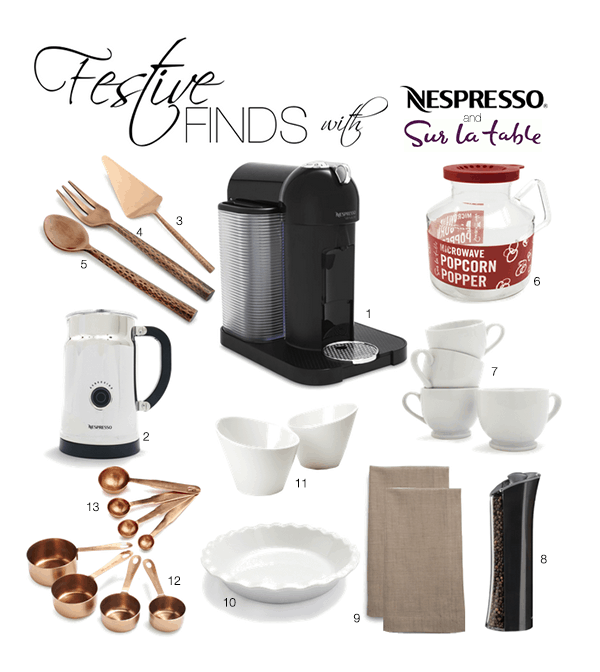 Nespresso VertuoLine
Nespresso Aeroccino Plus
Sur La Table Hammered Copper Cake Server
Sur La Table Hammered Copper Serving Fork
Sur La Table Hammered Copper Serving Spoon
Sur La Table Microwave Popcorn Popper and Popcorn Set
Blanc Footed Cappucino Cup
Graviti Plus Peppermill
Sur La Table Linen Napkins
Fluted Pie Plate
Slanted Appetizer Cups
Copper Measuring Spoons
Copper Measuring Cups


I have already wrapped up some of the presents (thank goodness for head starts!) and the Nespresso VertuoLine has become a welcome addition in my new kitchen. I just love that I can make both espresso AND a superb strong cup of coffee, in mere minutes.
Before I tell you what I made (other than coffee) with my new Nespresso VertuoLine, I must tell you about the flagship Nespresso Boutique here in San Francisco. It is a modern oasis and a perfect spot for relaxing after a morning of shopping! My friend and I stopped in after our little spree for a bite to eat, and yes, another cup of coffee! But what I love most about the boutique is the store below the cafe, where you can find all the Nespresso accessories to go with your maker, a recycling center, and a wall of every capsule imaginable, just waiting to be brewed, just the way you like it! It's such a fabulous concept!
The Flagship Nespresso Boutique in San Francisco has everything you need for a perfect cup of coffee! It is a bright and airy place to meet with friends, where you can grab a bite of lunch, or celebrate with something sweet and some bubbly! From coffee to champagne, they have you covered.
The lower level is where coffee lovers can bring the magic home. I was in awe of all the coffee capsules – in the time it takes you to stand in line for your favorite cup of joe, you can load up on all your favorite blends here.

So, now that I can indulge in a coffee or espresso any time I wish, what's left? Well, I had to make something even more indulging: Coffee Budino, which is fancy speak for pudding, but since we're dealing with an exceptional coffee, it deserves to be called a budino.
Don't be fooled! This decadent pudding is really simple to make. Imagine a cool and creamy cappuccino, with a touch of whipped cream and a sprinkling of cocoa powder. It would be a wonderful end to a dinner party, or if you ask me, a day of shopping with a friend.
Disclosure: This post was brought to you by Nespresso and Sur La Table and the #FestiveFinds Campaign. Sponsored posts such as these help behind the scenes at Kitchen Confidante. Thank you so much for making my blog a part of your day!
Imagine a cool and creamy cappuccino, with a touch of whipped cream and a sprinkling of cocoa powder. You'll love this rich and decadent dessert!
Print Recipe
Ingredients
1 1/4 cup half and half, divided
1/3 cup granulated sugar
1 teaspoon unsweetened cocoa powder
3 tablespoons cornstarch
1 1/3 cup strong coffee or espresso
whipped cream, for serving
Instructions
Pour 1 cup half and half, granulated sugar and cocoa powder into a small saucepan and heat over medium-low heat until it is scalded, stirring with a whisk until the sugar and cocoa powder is dis- solved.
Whisk the cornstarch into the remaining 1/4 cup of half and half until it is smooth. Pour into the hot half and half, along with the coffee/espresso. Bring to a boil, stirring peri- odically, then lower heat to a very low simmer, and let it thicken, stirring with a wooden spoon, for about 5 minutes.
When the pudding is thick, remove from the heat and pour into 4 individual serving bowls or ramekins. Cover each serving with plastic wrap directly on the pudding to prevent a skin from forming. Chill in the refrigerator for about 4 hours or until com- pletely chilled. Serve with a dollop of whipped cream.