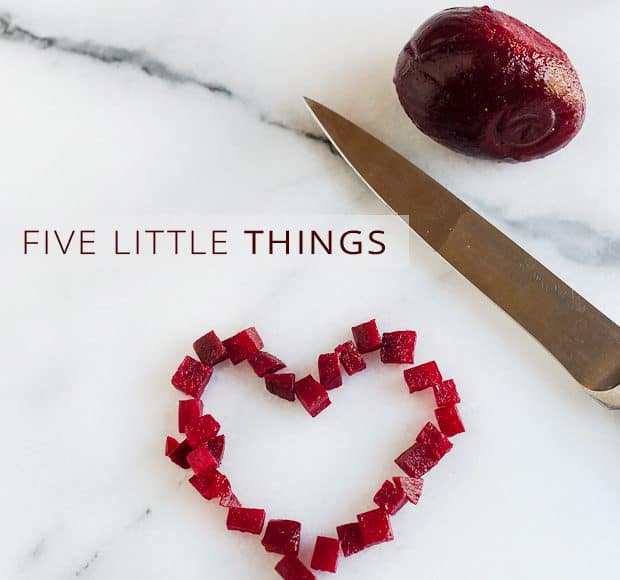 Five Little Things
I was mincing some roasted beets yesterday when I started to play with my food. The little ruby cubes took on the form of a heart, and I quickly snapped a picture and shared my Valentine's wishes for you all: May you find love in…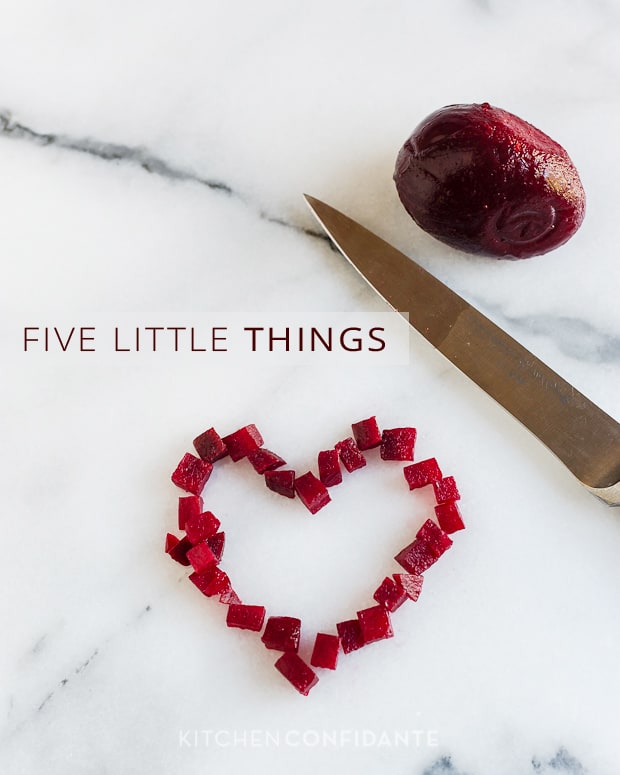 Five Little Things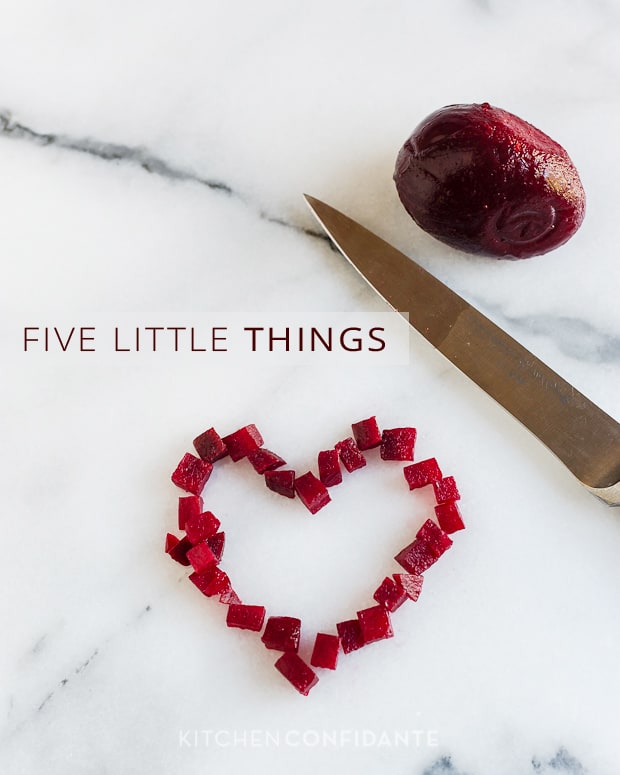 I was mincing some roasted beets yesterday when I started to play with my food. The little ruby cubes took on the form of a heart, and I quickly snapped a picture and shared my Valentine's wishes for you all: May you find love in all the little things, today and every day.
Hopefully you had a sweet and delicious day yesterday.
I thought I might heed my own words and celebrate five things I am loving this week. (I sniff a new series coming on…let me know if this is something you might enjoy.)
1. Beets
Love 'em. Can't get enough of 'em. I've been eating them every day, mostly in salads. I can't wait to try them in Laura's Lemon Rosemary Vegetable Stack with Lentils and Creamy Horseradish Vinaigrette, Marla's Rustic Roasted Beet & Sweet Potato Salad, and Debi's Baja Style Tofu Tacos with Beet & Carrot Slaw.
2. Channeling Oprah
It's been a while since I've done giveaways here, and I forgot how fun they can be. I love being the bearer of good news! It made me so happy to let Holly know that she won the Whole Foods Gift Certificate and Buddy that he won the Food & Wine Subscription sponsored by Top Chef. Congrats, you guys! This must be how Oprah feels…on a much, much, much smaller scale. Maybe one day, I can bellow, "You've won a NEW kitchen!" I wish.
3. ZipList
You may have noticed the nifty new button next to the "print" button on my recipes. I am excited to let you know that I have now partnered with the folks at ZipList. What's ZipList you ask? I will confess that I am rather new to this, but I am loving it. It basically means that if you see a recipe you like here (or on other yummy sites like Martha Stewart, Epicurious, or a list of delicious blogs), you can save the recipes in a recipe box and even generate a handy shopping list of ingredients to make marketing easier. I was actually at the seafood counter yesterday buying some crab, when a lady asked me what I was going to make with it. I handed her my own ZipList generated shopping list for my Thai-style Crab and Corn Chowder! You can also access your online recipe box or shopping list from Kitchen Confidante on the top right hand corner of the website in the main menu bar. I hope it makes your menu planning easier!
4. Tech Love
Speaking of making life easier…there are some apps I can't live without. Evernote keeps me sane and lets me jot down ideas, snap pics, and I can access it from all my various devices. SplashID, for all the million and one passwords for all the million and one websites we access. Dropbox keeps my cluttered life organized in a lofty cloud out there. Feedly makes sense of my RSS feeds, and makes it pretty, too. What apps do you love?
5. Relax
As we head into a three day weekend, I hope you find time for some rest and relaxation. But don't forget to relax each and every day. I loved this piece on relaxation that was published last week in the New York Times.