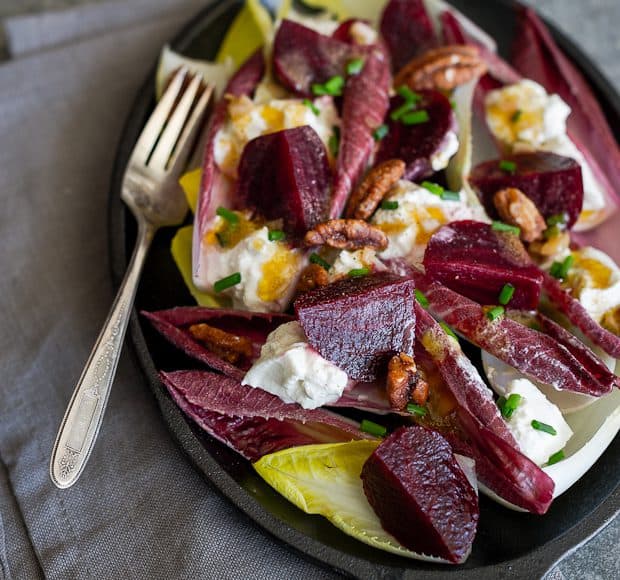 Beet & Burrata Endive Salad
"Mom, what do you call a snake that builds things?" "What?" "A boa constructor." Ba-dum-bum. Well, our little construction project is done. The family room no longer has temporary walls of draped plastic and the floors are free from tarp. There are new shutters on…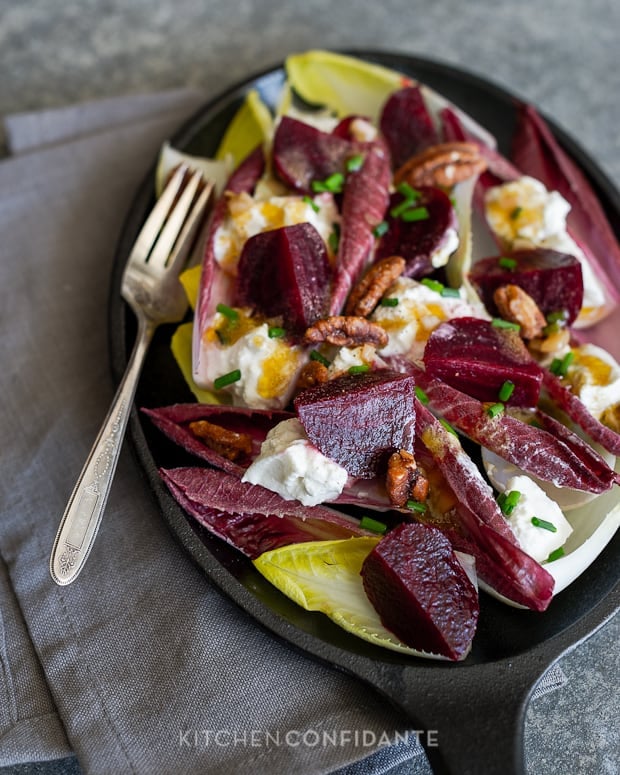 Beet & Burrata Endive Salad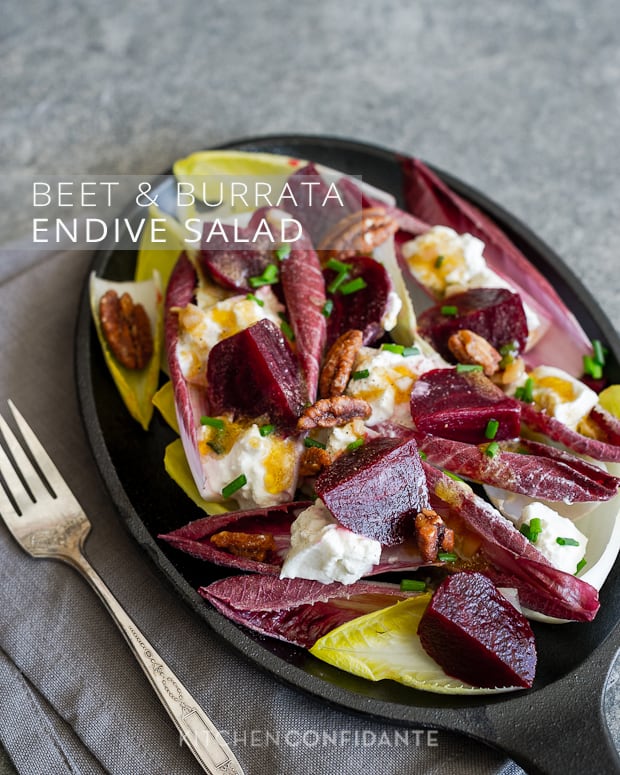 "Mom, what do you call a snake that builds things?"
"What?"
"A boa constructor."
Ba-dum-bum.
Well, our little construction project is done. The family room no longer has temporary walls of draped plastic and the floors are free from tarp. There are new shutters on the windows and a shiny flat screen on the wall. All of a sudden, TV is fun again. Just in time for some rainy nights ahead.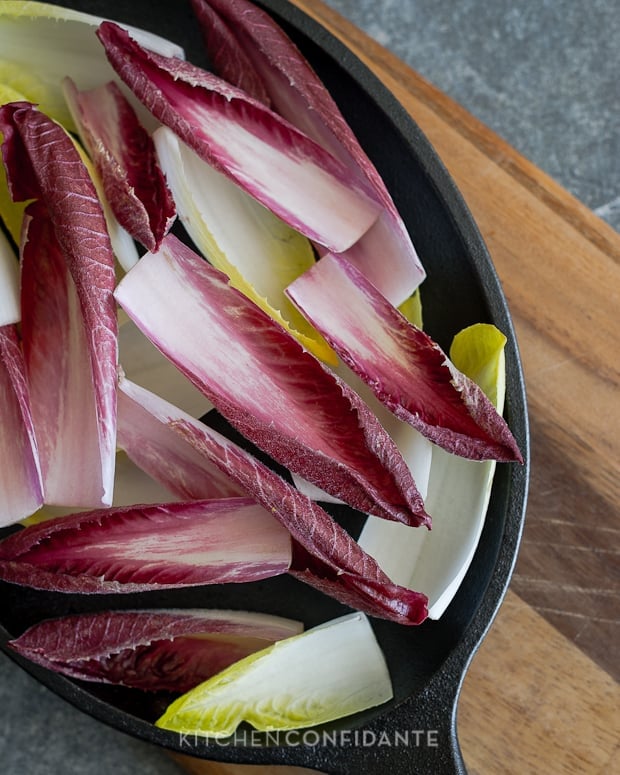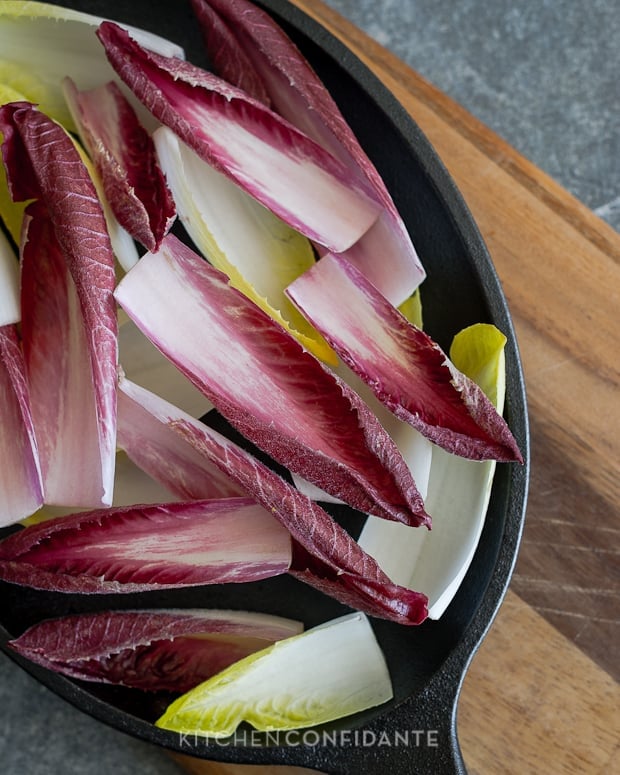 On the last day of the renovation, I found myself tip toeing around the shutter installer. I hated to be in the way, but I needed to be in the kitchen. It was lunchtime, and I was hungry. As I walked into the kitchen, my eye caught a glimpse of the digital picture frame that sits on our counter — a shot of a winter wonderland flashed across the screen, followed by another of our family, all bundled up and cozy in a sled pulled by dogs.
Our dog sled ride in Tahoe reminded me of the last episode of Top Chef, where the chef'testants were delivered by helicopter to the dog sled ride that brought them to their Quickfire Challenge: to cook for the sledders training for the Iditerod. The chefs were required to cook with only the supplies on hand at the camp, which were outfitted with only burners and no electrical equipment.
Content and/or other value provided by our partner, Bravo.
With this in mind, I wanted to challenge myself to make a lunch using the few ingredients I had on hand (I was in serious need of food shopping, and the refrigerator was ridiculously bare), and without burners at all (since I didn't want to get in the way of the work being done in the kitchen). I did have some beautiful endive in the refrigerator, and given my current obsession with beets, a salad seemed like a good idea. A glossy mound of fresh burrata would bring it all together.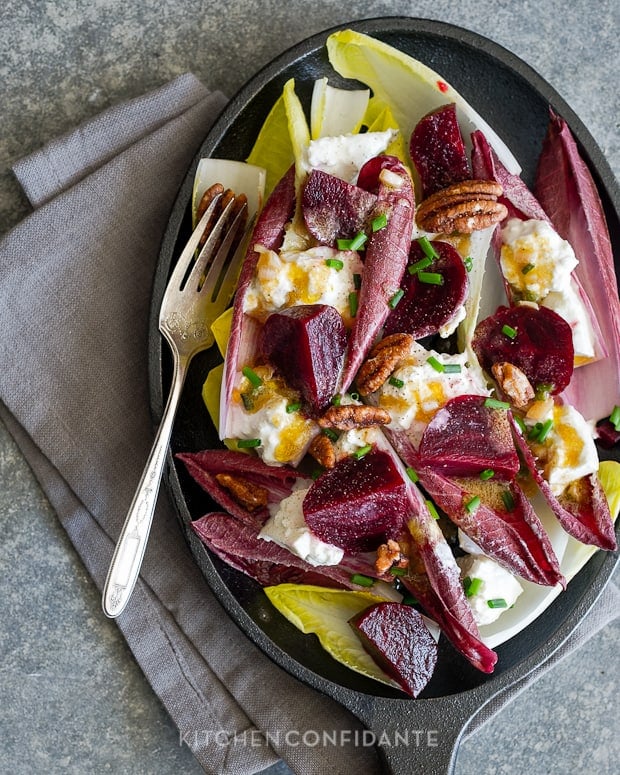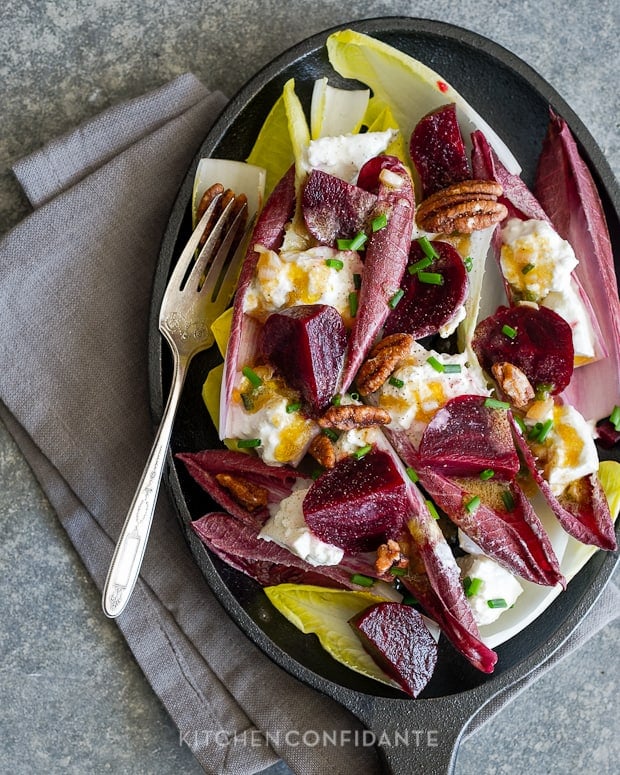 As I assembled the Beet & Burrata Endive Salad, I began to chat with the shutter installer. He had noticed that I was up to something in the kitchen (so much for not getting the way!), and it turned out, he loved to cook himself. Hailing from a family of avid cooks and one professional chef, I had so much fun learning about how he learned his way around the kitchen and the dishes he loved to cook.
It was yet another example of how food unifies us all.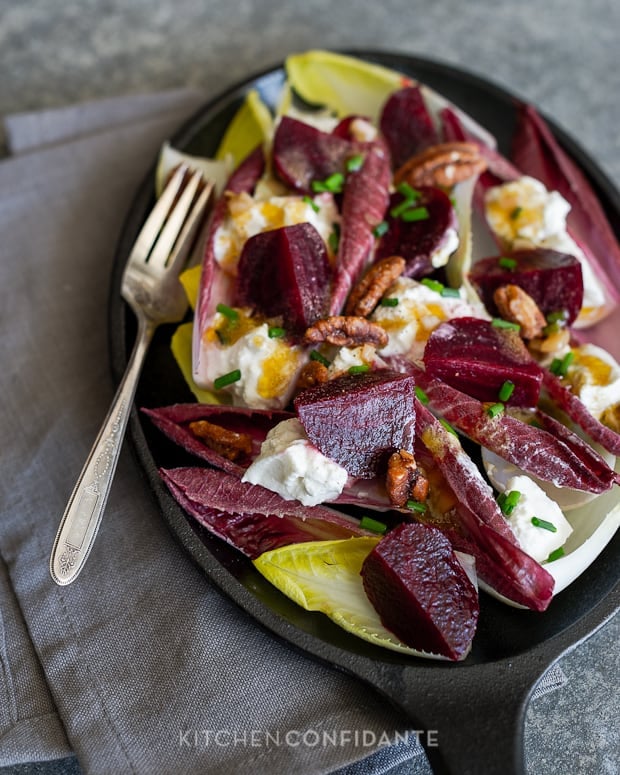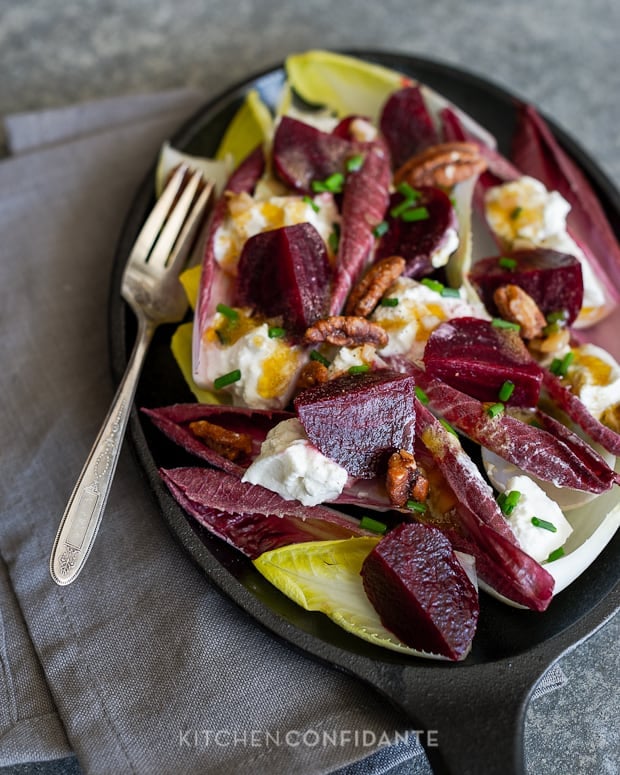 As for this salad, well, this is just the kind of food I like to eat when I'm dining solo. When I am cooking just for myself, all I need is this to be happy. Roasted beets, creamy burrata, and fresh greens — each bite is rustic and satisfying. It may not be quite right for an Iditerod team, but it's just right for me.
Disclosure: This was a sponsored post from Bravo's Top Chef. Video content and/or other value provided by our partner, Bravo. Sponsored posts such as these help support the work behind the scenes on Kitchen Confidante.
The endive used in this salad was received from California Endive Farms. I was not compensated by California Endive to use the produce; I am sharing it because I enjoy endive.
As always, all opinions are my own.
Beet & Burrata Endive Salad
The tender leaves and unique flavor of endive goes so well with roasted beets and creamy burrata. I love how this salad is elegant and rustic all at once.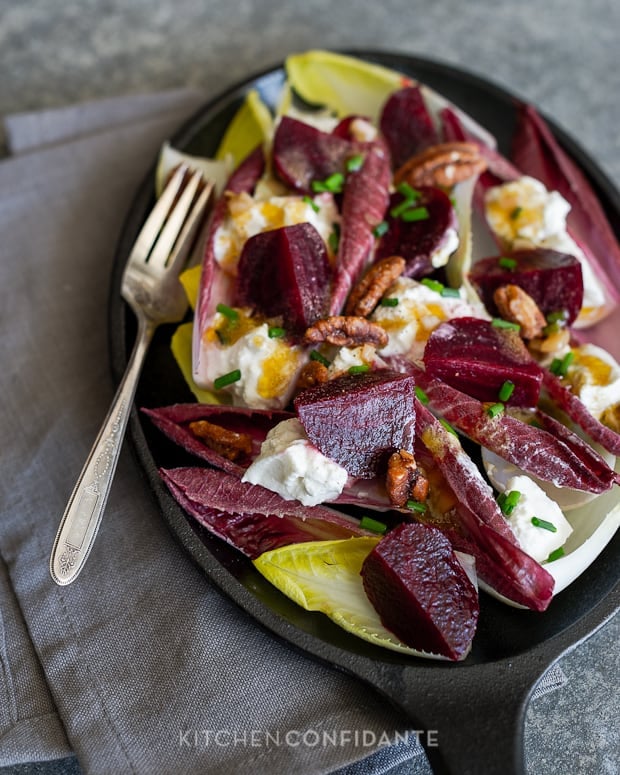 Print Recipe
Ingredients
For the dressing:
2 tablespoons sherry vinegar
1 teaspoon Dijon mustard
1 shallot, finely diced
1 garlic clove, minced
3-4 tablespoons extra virgin olive oil
kosher salt
freshly ground black pepper
For the salad:
4 endives, leaves separated
4 roasted beets, peeled and quartered
1 burrata
1/4 cup candied pecans
2 tablespoons finely chopped chives
Instructions
Make the dressing by whisking together the Sherry vinegar, Dijon mustard, shallot, garlic, olive oil, salt and pepper in a small bowl. Adjust seasoning to taste. This can be done in advance.
Trim the endive leaves and scatter on a platter. Arrange the beets on top of the endive. Break apart the burrata and drop in mounds over the vegetables. Whisk the dressing and drizzle by the spoonful on top, using as little or as much as you desire. Top with pecans and chives and serve.