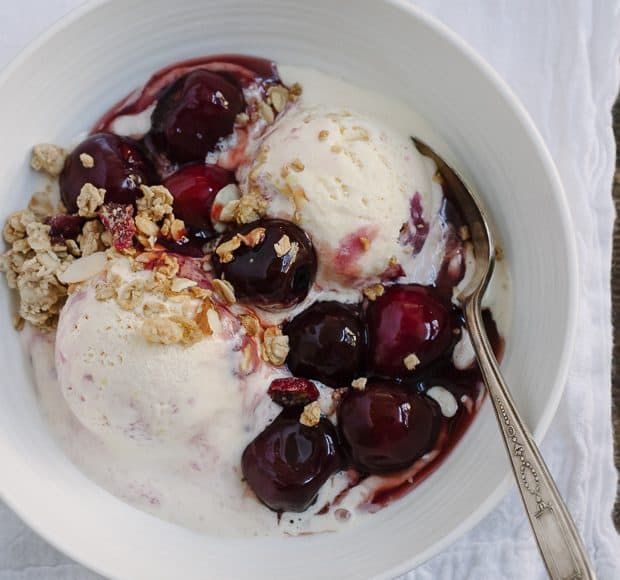 Fresh Cherry Wine Sauce with Ice Cream
I thought I was done for the day. I certainly felt like I was done for the week. And it was only Monday. After several days of nonstop cooking, the kitchen sink was piled high, the counters were a battlefield, and the tables full of…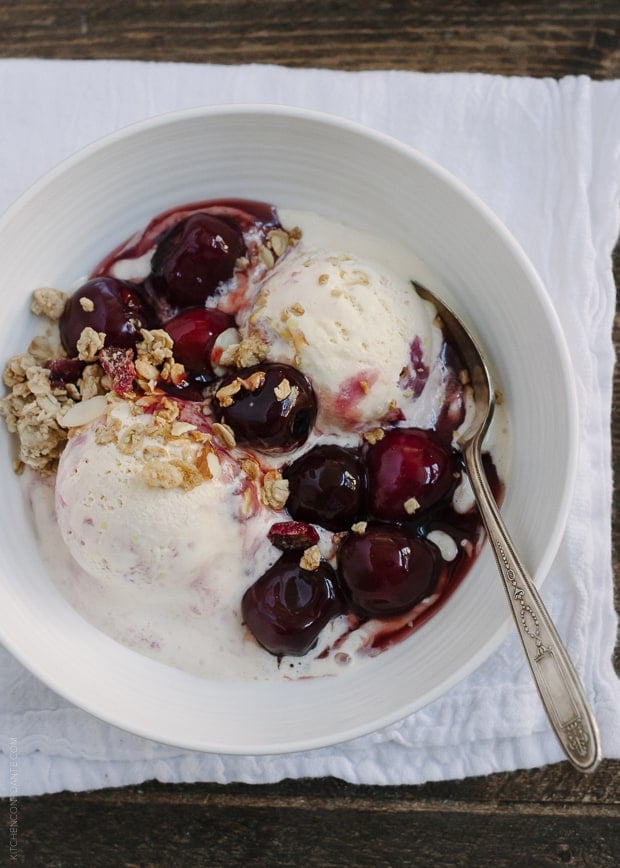 Fresh Cherry Wine Sauce with Ice Cream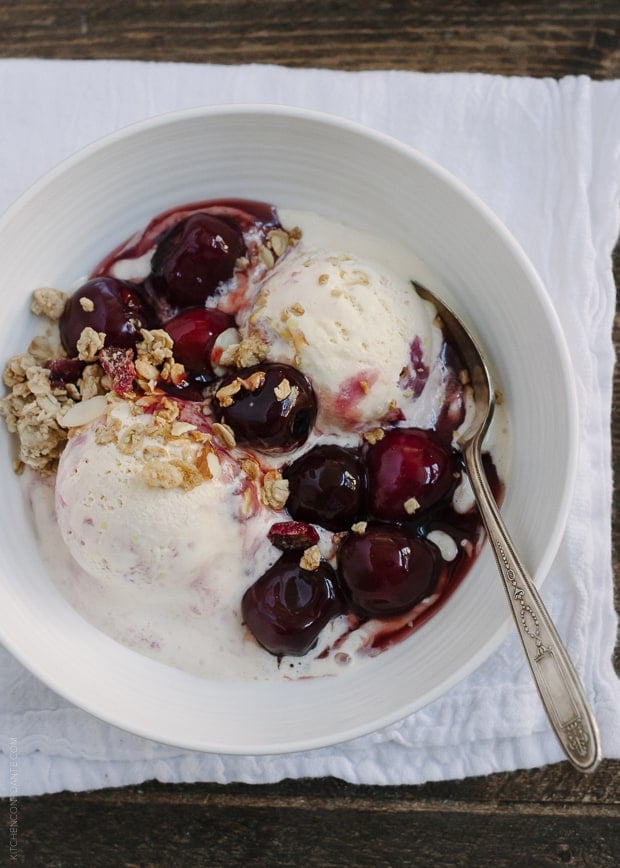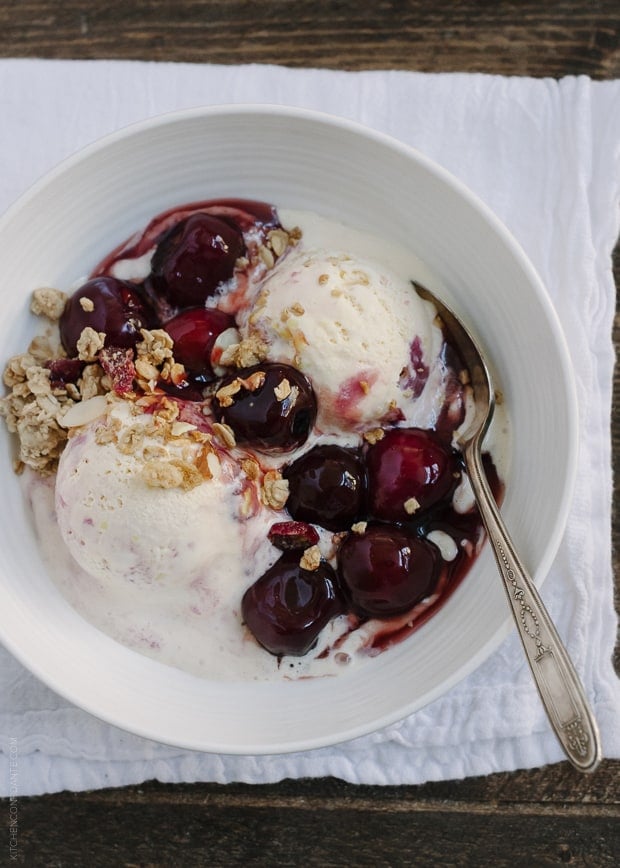 I thought I was done for the day. I certainly felt like I was done for the week. And it was only Monday.
After several days of nonstop cooking, the kitchen sink was piled high, the counters were a battlefield, and the tables full of plates and cutting boards, and bowls of fruit. The dishwasher was struggling to keep up. But I had to dirty just one more dish. Okay, maybe just a couple more. I had one more thing to do.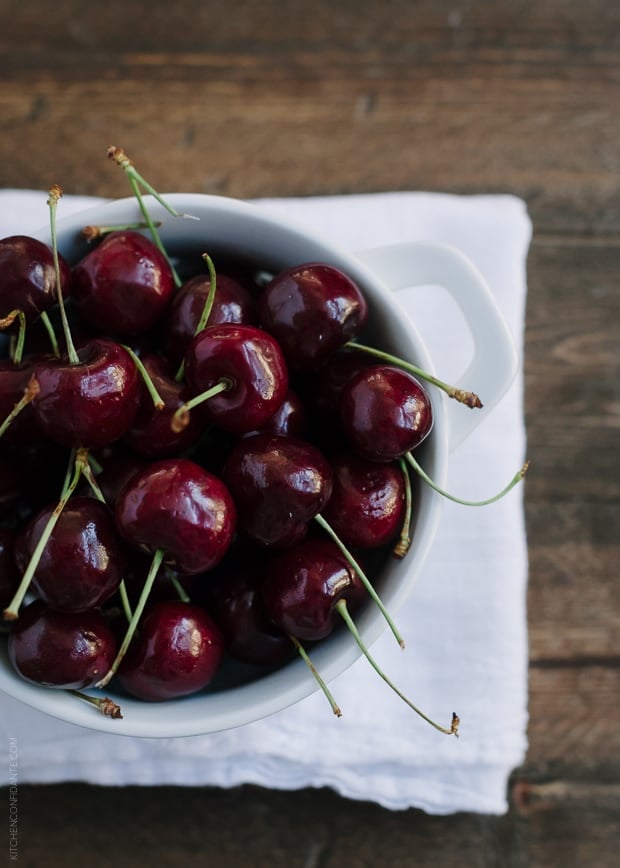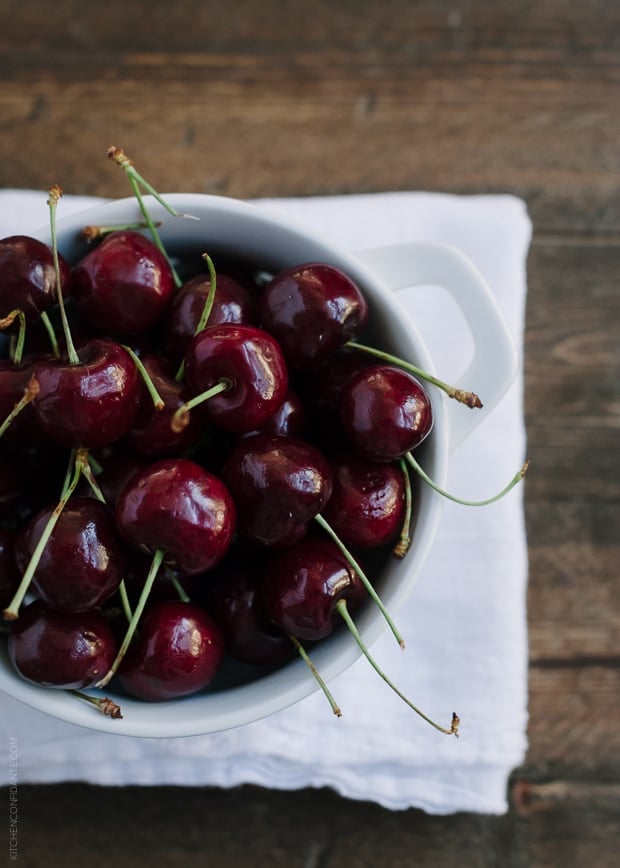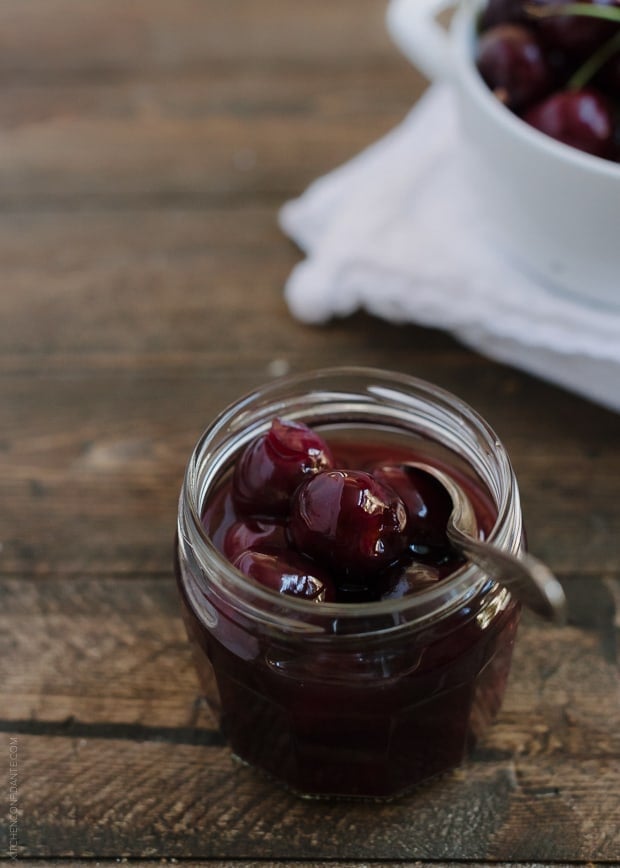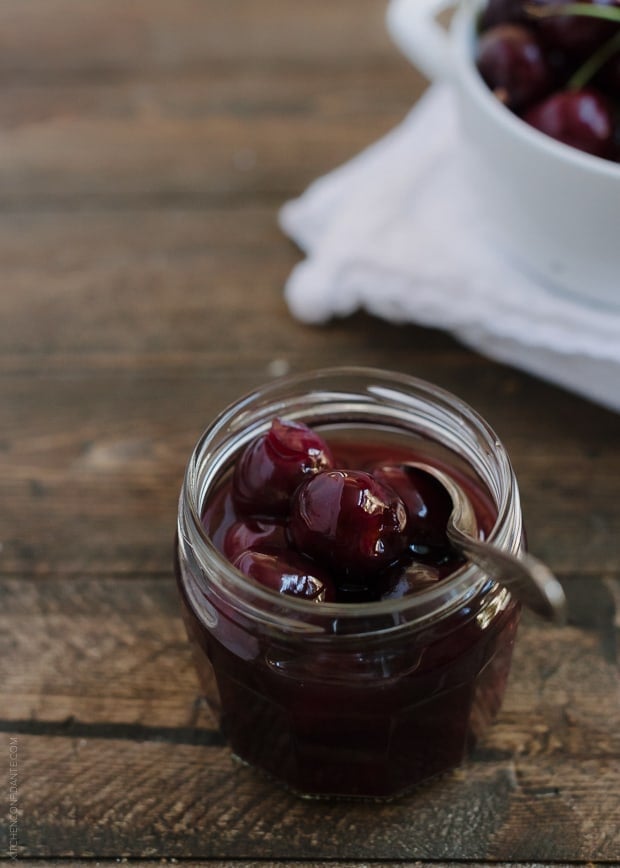 The cherries were calling to me. They're leaving soon, you see, and I somehow feel like we haven't spent enough time together this summer.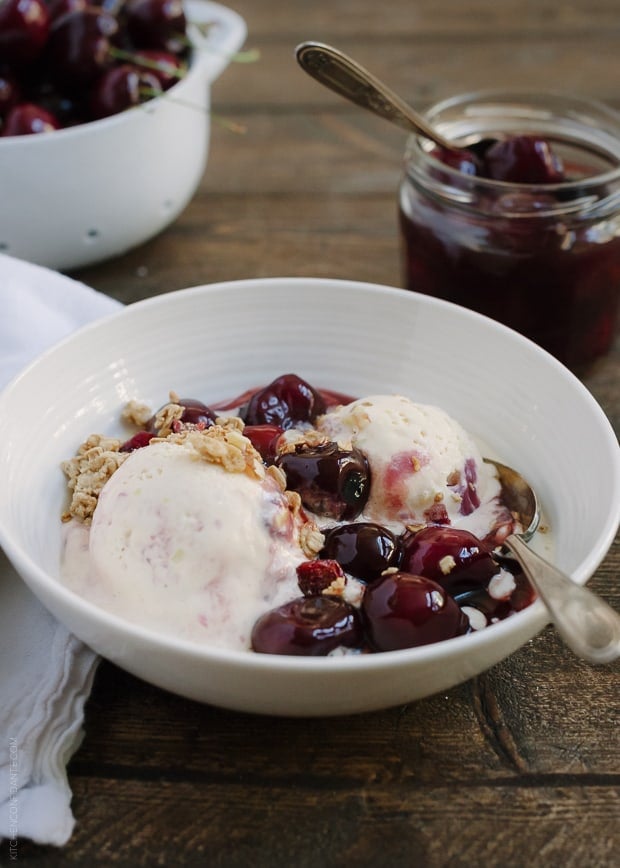 A little bit of wine, and a splash of balsamic – it didn't take much to coax a seriously amazing Fresh Cherry Wine Sauce to drizzle over my bowl of ice cream. Warm and dark, deep in flavor, each spoonful gave me pause. I sat down. I indulged in each bite. I sighed. It was the best 10 minutes of my day.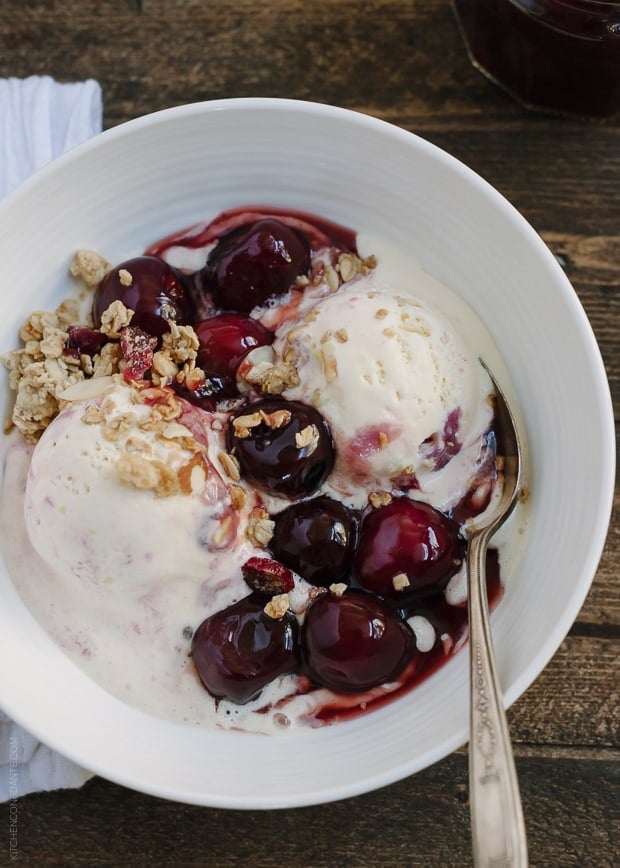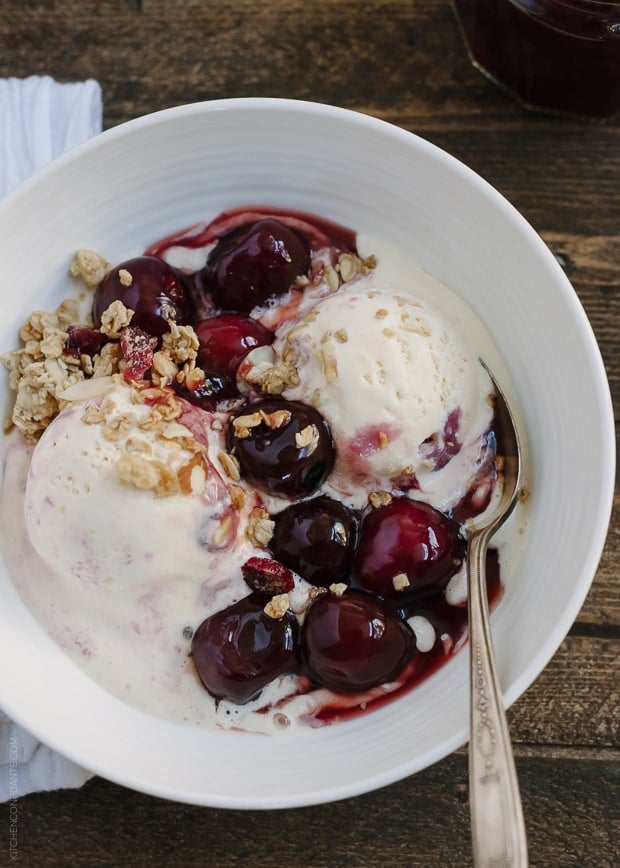 Eat Seasonal
Join my friends and I who embrace eating seasonally! The bounty of August is here! Find #eatseasonal inspiration, by visiting:
Peach Lavender Crisp by Climbing Grier Mountain
Summer Vegetable Tostadas by Mountain Mama Cooks
Plum Olive Oil Cake by Molly Yeh
Kale Salad with Berries by Cafe Johnsonia
Tomato Nasturtium Salad with Dates and Pistachios by Simple Bites
Simple Roasted Tomato Sauce by Foodie Crush
Watermelon Mojitos by Vintage Mixer
Fresh Peaches and Cream Pie by Lauren's Latest
Check out the August produce guide on The Vintage Mixer.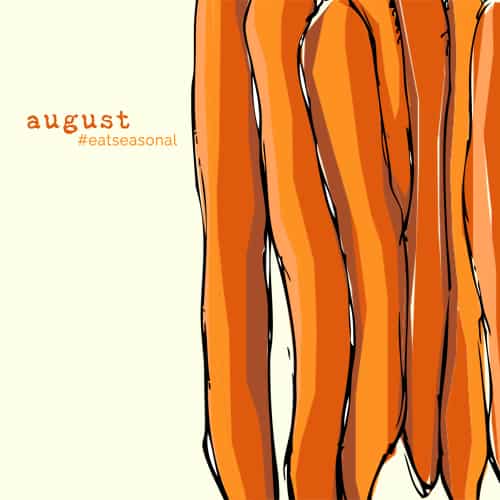 Fresh Cherry Wine Sauce with Ice Cream
Still warm from the stove, this sauce is amazing drizzled over a bowl of creamy ice cream. But it's capable of much more, however. Try it on yogurt, on pancakes, on french toast, perhaps even some pound cake!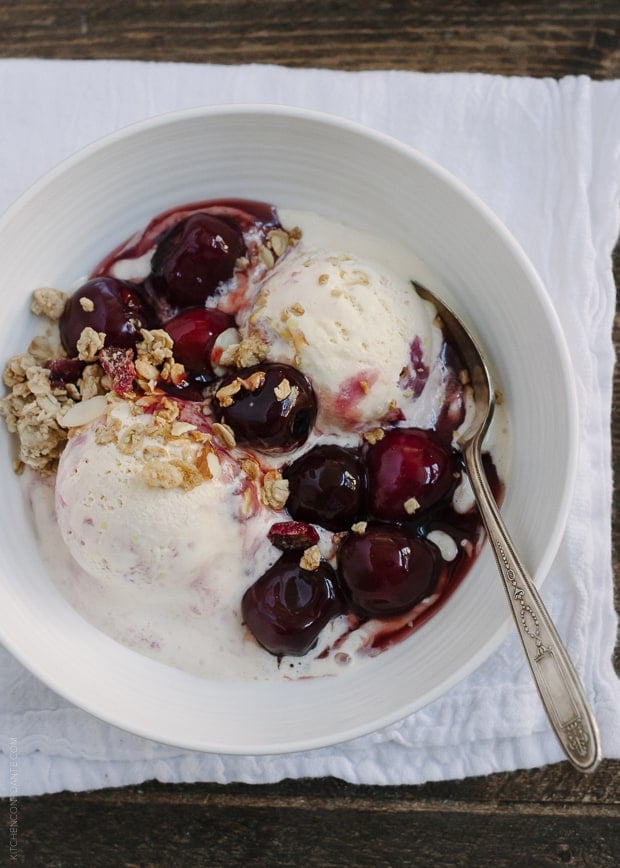 Print Recipe
Ingredients
1/3 cup red wine
1/4 cup lemonade
1 tablespoon balsamic vinegar
1/4 cup brown sugar
]1 tablespoon cornstarch
2 cups fresh cherries, pitted
1/8 teaspoon vanilla
Instructions
In a small sauce pan, whisk together the wine, lemonade, balsamic vinegar, sugar and cornstarch. Bring to a boil, then let it simmer while whisking. Drop in the cherries, and let it cook for about 2-3 minutes, or until the sauce begins to thicken. Stir in the vanilla and remove from heat. Let it cool slightly. The sauce can be used immediately, or stored in a glass container in the refrigerator for later.