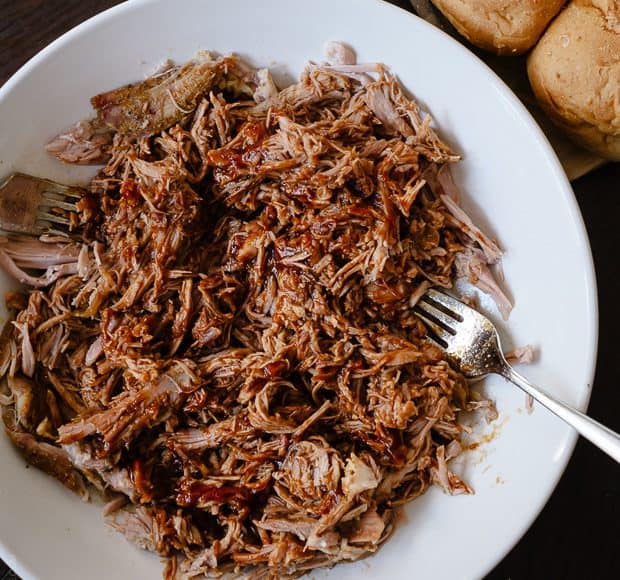 Slow Cooker Pulled Pork
Set it and forget it with this easy Slow Cooker Pulled Pork recipe. Enjoy the meat in tacos, burritos, sliders, breakfast casseroles… the possibilities are endless.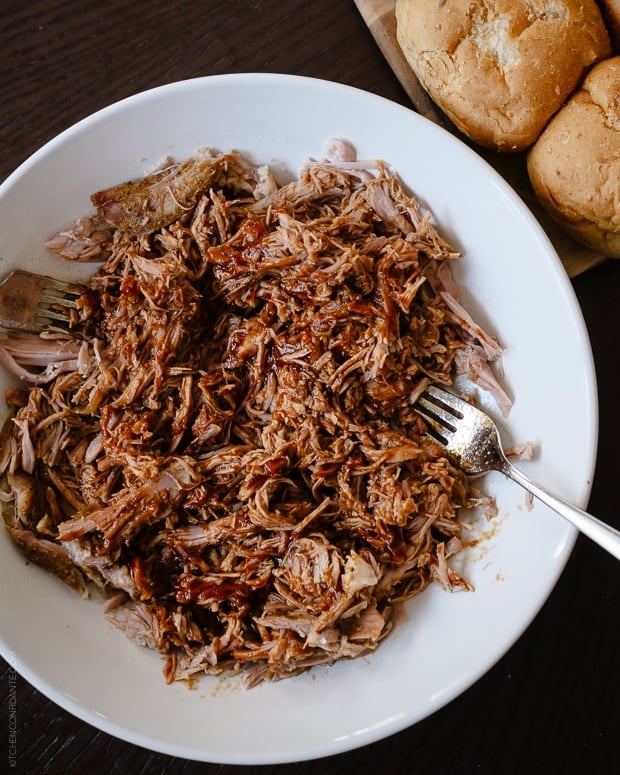 Slow Cooker Pulled Pork
Slow Cooker Pulled Pork is an easy recipe that utilizes the magic of the slow cooker. Use this shredded pork for sandwiches, tacos, burritos, breakfast casseroles, and more!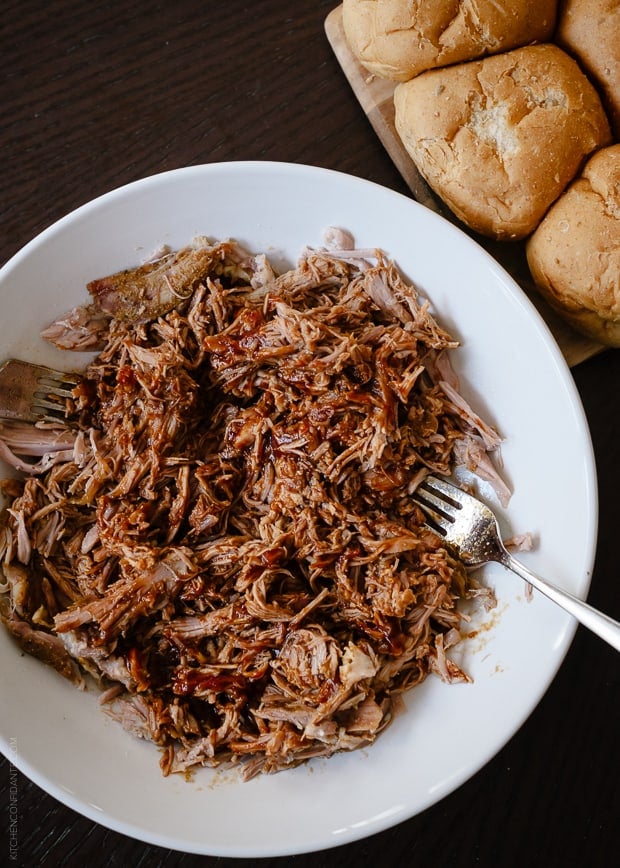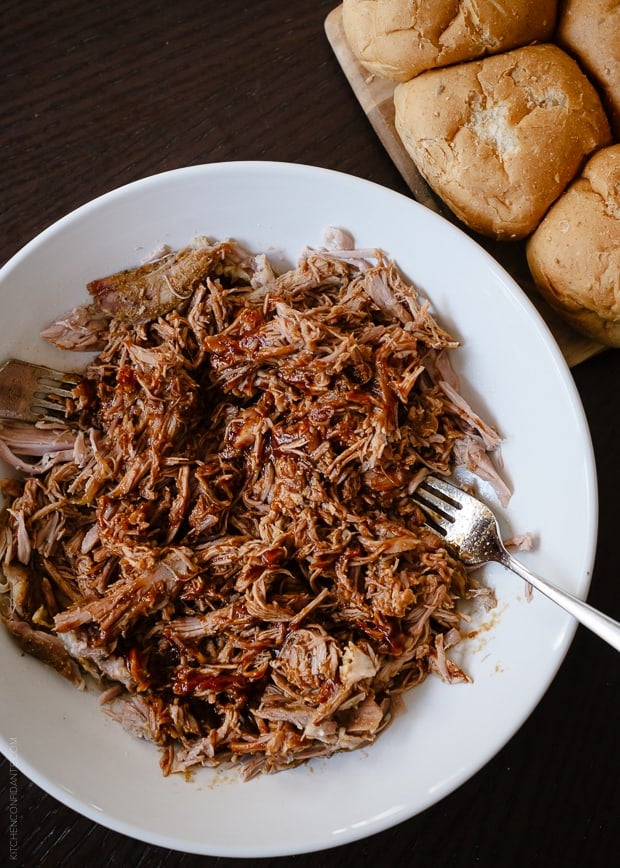 Note: This post first appeared on August 10, 2014, as part of the Simple Sundays series.
Tale as Old as Time…
She fell in love, head over heels…with two brothers.
They met on our vacation in Hawaii. Their names?
Loco & Moco. Two potbelly pigs living the good life at our resort in Maui couldn't have better names.
Loco Moco is delicious – remember when I had to make Short Ribs Loco Moco after one of our trips?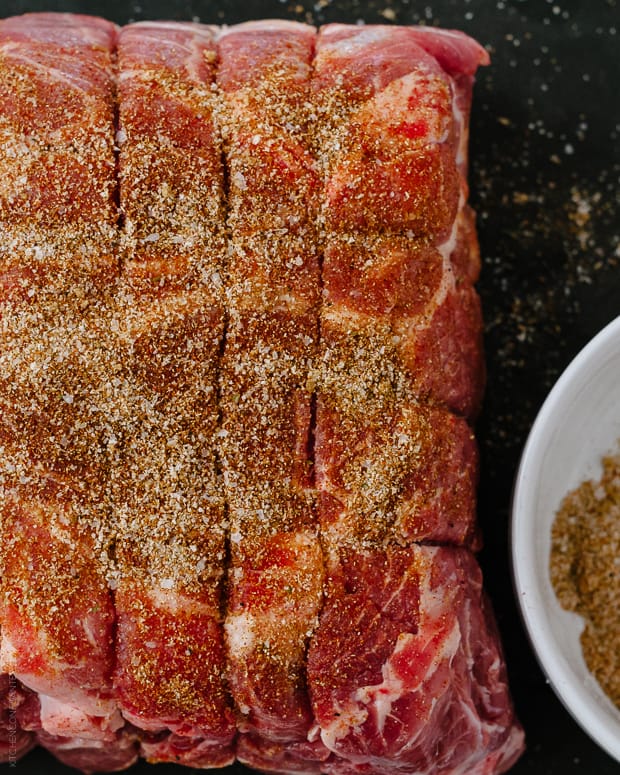 But yes, my daughter fell in love with these potbelly pigs, and I could see why. They were larger versions of Wilbur, our English bulldog who snorts and roots at his dinner much like a pig, his squashed-up tail wiggling when he feels like running.
Loco and Moco changed her, though. The resort's intent to teach the children about the significance of the domesticated pig to the Hawaiian culture, from its value as a food source to its company as a pet, made an impression on my daughter.
She decided she was no longer going to eat pork.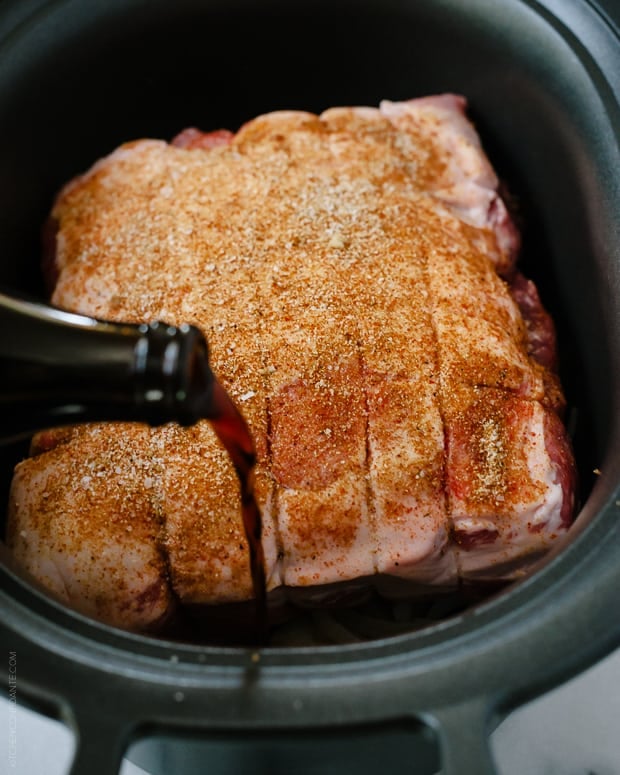 Slow Cooker Pulled Pork
I support her decision, and several weeks since our return, she has stayed true to herself. No bacon, no prosciutto, no sausage – none of it. All things I know she used to love. I admit that it has made meals more challenging for me, as we love pork and eat it so much! Respecting her wishes has meant extra cooking for me. It also meant some sadness that she wouldn't eat this Slow Cooker Pulled Pork.
There was a time when she loved pulled pork sandwiches, but she wouldn't budge. Not for Loco & Moco. Not for pigs everywhere.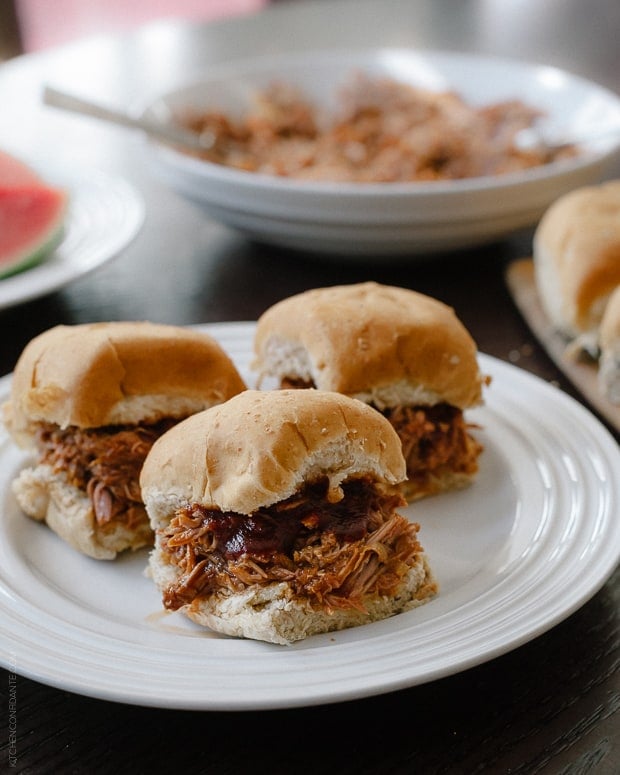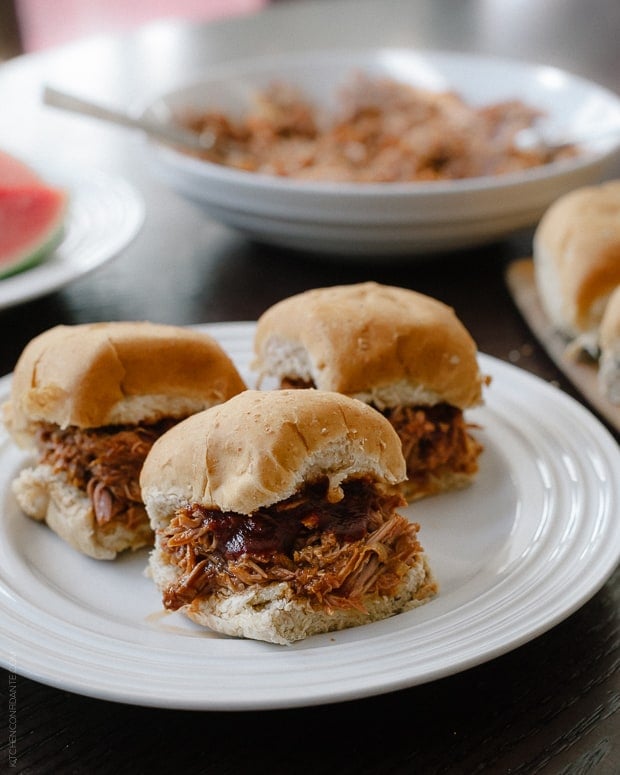 Ah well, perhaps one day she will change her mind. For now, the rest of us had extra helpings of this Slow Cooker Pulled Pork, and that's ok. It's amazing in pulled pork sandwiches slathered with barbecue sauce. It's also good with a helping of rice and beans. Or in a breakfast tortilla.
I can't give it up, that's for sure.
More Pork Recipes
Pancit Palabok (Filipino Rice Noodles with Pork and Shrimp Sauce)
Grilled Pork Skewers with Balsamic Marinade
Filipino Pork Adobo
Roast Pork Loin with Apple Chutney
Quinoa Stuffed Pork Tenderloin
Slow Cooker Pulled Pork with Stout
Set it and forget it. I love how the slow cooker works its magic with minimal effort! But what I love even more is how you can find endless ways to enjoy this Slow Cooker Pulled Pork. Put the meat in tacos, burritos, sliders, breakfast casseroles… the possibilities are endless.
Ingredients
2

medium yellow onions

thinly sliced

4

cloves

garlic

peeled and smashed

1

tablespoon

chili powder

1

tablespoon

kosher salt

1

teaspoon

cumin

1

teaspoon

coriander

1

teaspoon

brown sugar

6

lbs

pork shoulder/butt

(one pork shoulder)

12

oz

stout

such as Guinness

1

cup

orange juice

1

cup

chicken stock

barbecue sauce for serving

if you wish

kosher salt and freshly ground black pepper
Instructions
Place the onions and garlic in the bottom of a slow cooker insert.

In a small bowl, combine the chili powder, salt, cumin, coriander, and brown sugar. Rub the pork shoulder with the spice rub on all sides.

Place the seasoned pork shoulder with the fat side up on the bed of onions in the slow cooker. Pour in the stout, orange juice and chicken stock.

Cover and set the slow cooker for 6 hours on high or 10 hours on low, or until the pork is fork tender and coming apart. If possible, rotate the pork shoulder once during cooking (this helps, but is not necessary).

Once cooked, carefully transfer the pork to a cutting board. Shred the pork using two forks, and discard any fat.

If you wish to serve with barbecue sauce, stir it in at this time. If you are planning on using the pulled pork for a different recipe, season to taste with salt and pepper, and place in a bowl.

Strain the liquid remaining in the slow cooker and use a bit of this liquid to keep the pulled pork moist.
Nutrition
Calories:
366
kcal
|
Carbohydrates:
10
g
|
Protein:
42
g
|
Fat:
15
g
|
Saturated Fat:
5
g
|
Cholesterol:
140
mg
|
Sodium:
1091
mg
|
Potassium:
873
mg
|
Fiber:
1
g
|
Sugar:
5
g
|
Vitamin A:
376
IU
|
Vitamin C:
20
mg
|
Calcium:
49
mg
|
Iron:
3
mg