Gorgonzola Tart with Cranberry Orange Ginger Chutney & Candied Pecans
By now, the combination of marbled blue cheese with cranberries and pecans is nearly cliché. But it's a flavor profile I never tire of, and one that is not in risk of going out of fashion, at least not any time soon. (I hope.) The…
Gorgonzola Tart with Cranberry Orange Ginger Chutney & Candied Pecans
By now, the combination of marbled blue cheese with cranberries and pecans is nearly cliché. But it's a flavor profile I never tire of, and one that is not in risk of going out of fashion, at least not any time soon. (I hope.) The first time I tasted this trio of savory goodness, I had just moved to California and was working in a sleepy town outside of San Francisco, in Marin. My office was located in one of those small industrial parks that you can find in suburbia, you know, the ones that are vilified in movies like the cult favorite Office Space.
It just goes to show you: you never know where you might find good food.
Down the street from my office was a little deli. Nothing fancy. They had good sandwiches (where I had my first taste of Dutch Crunch bread – a quintessential Bay Area phenomenon) and superb salads. The greens were always fresh, so fresh you might find a twig in it. And their signature salad was studded with the creamiest blue cheese, walnuts, and a balsamic dressing that was to die for. We all wanted the recipe, but it was a guarded family secret; however, you could buy it by the jug. I'm not sure if they still serve that salad, but I fell in love with those musky-salty-sweet-and-nutty greens.
I wanted to channel this salad into a savory tart. So I set to work by blind baking some tart shells.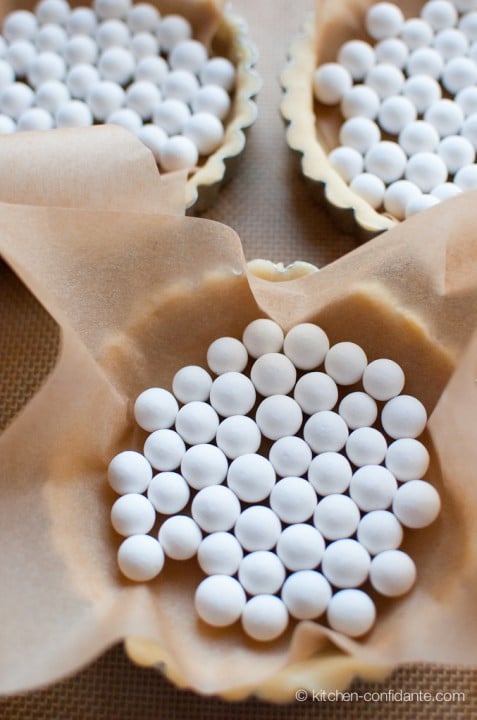 And whipping up a fragrant Gorgonzola-Crème Fraîche-Cranberry filling.
I topped it off with a brilliant Cranberry Orange Ginger Chutney that was a dinner party favor from Lisa at Authentic Suburban Gourmet. My friend Lisa is on her way to becoming a canning/jamming queen, and her chutney was the perfect blend of sweet and spicy, just right for balancing the bite of the Gorgonzola.
Finally, for some crunch, I crowned the tarts with candied pecans.
And then I inhaled a tart. In one sitting.
I am not ashamed. But I did hurry to package a tart to deliver to a good friend of mine who is also a blue cheese, cranberry and pecan junkie. I was happy to enable her lip-smacking addiction.
Special thanks to Lisa (Authentic Suburban Gourmet) for her amazing chutney and to Monika for her help in developing this recipe!
Gallery
…click on images…
[framed_box width="630″ bgColor="bfc3bc" textColor="#332D32″ rounded="true"]
Gorgonzola Tart with Cranberry Orange Ginger Chutney & Candied Pecans
Makes 4 small tarts. You will need tart pans 4″ in diameter.
1 disk Pâte Sucrée (recipe below)
1 cup best quality Gorgonzola cheese, crumbled
1/2 cup Crème Fraîche (add more if necessary to achieve creamy consistency)
1/2 cup dried cranberries
Cranberry Orange Ginger Chutney (or your favorite jam/chutney)
Candied Pecans
For the tart shells:
Preheat your oven to 375°F.
Divide your disk of Pâte Sucrée into four disks. Roll out to about 1/8 inch thickness and press into the tart pans. With the excess draping over the sides, roll a rolling pin over the tart pans to trim the excess dough. Set the tart pans in the refrigerator for at least 30 minutes or until ready to bake.
When ready to blind bake the tart shells, use a fork to press several dots in the dough. Place ceramic pie weights or dried beans over parchment paper in the shells and bake on a baking sheet for 15-20 minutes or until golden brown. Remove from oven and let the tart shells cool completely on a wire rack.
For the Filling:
Use a hand blender or a whisk (with a lot of arm power) to thoroughly incorporate the Gorgonzola cheese and Crème Fraîche until you achieve a creamy texture. Mix in the dried cranberries.
To assemble:
Fill each tart shell with the Gorgonzola mixture, using a small spatula to smooth evenly. Place about 2 teaspoons of Cranberry Orange Ginger Chutney in the center. Top with candied pecans.
Enjoy with a light salad, or all by itself!
Pâte Sucrée
From The Martha Stewart Living Cookbook, Oxmoor House, 2000. It can also be found here.
Makes 2 medium disks.
2 1/2 cups all-purpose flour
1 pinch of salt
3 tablespoons sugar
1 cup (2 sticks) cold unsalted butter, cut into small pieces
2 large egg yolks, lightly beaten
1/4 cup ice water
Please refer to recipe instructions to make the Pâte Sucrée. Divide the dough into two parts, place 1 ball on plastic wrap, flatten into a disk. Divide the other half into four equal pieces, wrap each ball in plastic wrap and flatten into a disk. Store in the refrigerator for at least 1 hour before using, or overnight until ready to use. The dough can also be frozen.
[/framed_box]