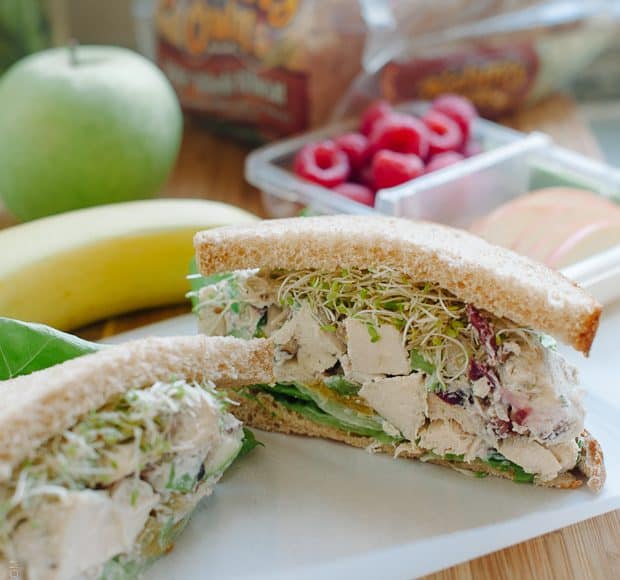 Green Apple Chicken Salad – Mayo Free
This Green Apple Chicken Salad is not only Mayo Free and healthier than the chicken salad you grew up on, it's also so easy to make, the kids can do it! If you've got little ones in the house, I'm willing to bet that you…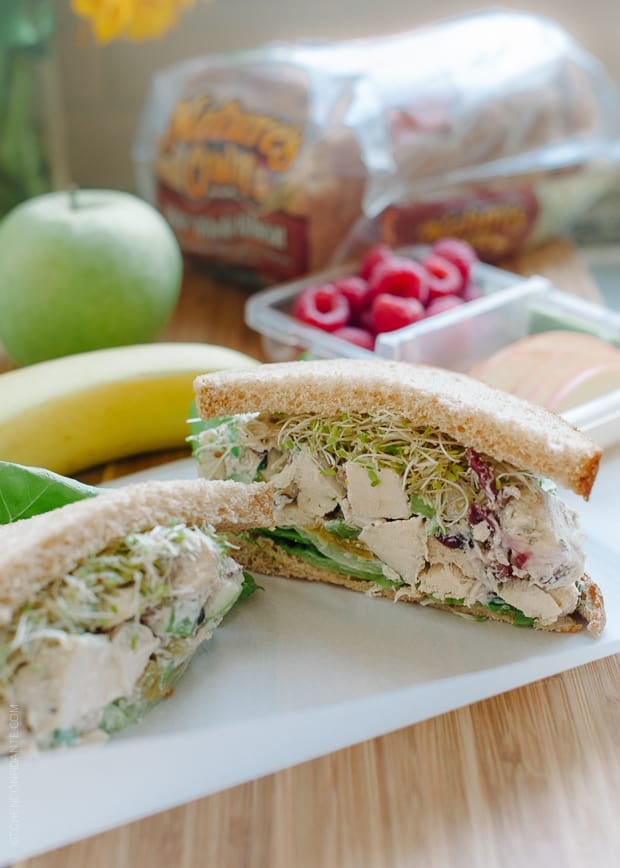 Green Apple Chicken Salad – Mayo Free
This Green Apple Chicken Salad is not only Mayo Free and healthier than the chicken salad you grew up on, it's also so easy to make, the kids can do it!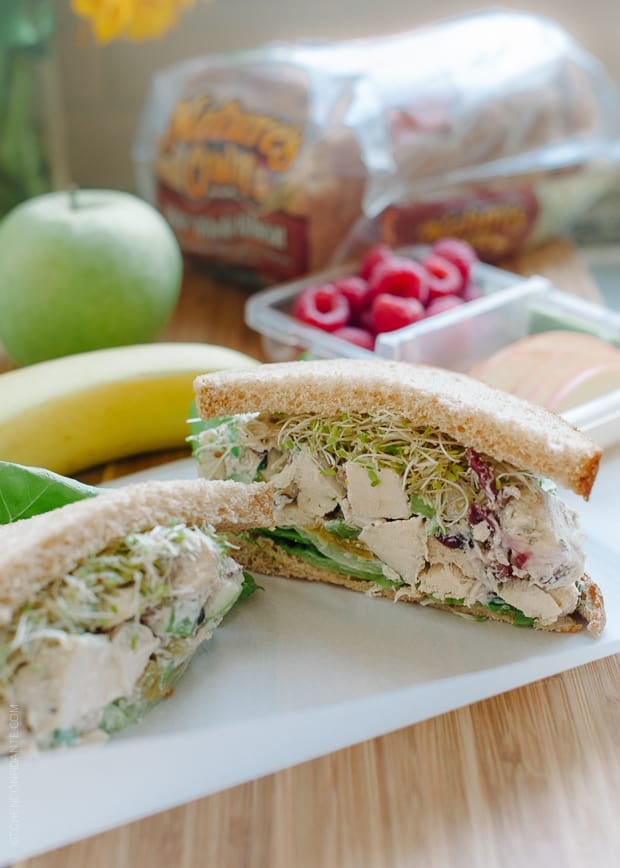 If you've got little ones in the house, I'm willing to bet that you are well familiar with the witching hour. I learned it firsthand when my daughter was just a few weeks old, and my husband and I were still getting the hang of how our new little person – and the schedule she was clearly developing – made its way into transforming our days (and nights). Back then, the witching hour was that time just after dinner, and before bedtime (which, looking back, is a little laughable – what bedtime?). She was marginally colicky, and when 7pm rolled around, I braced myself. We held on for dear life.
The thing is, you never outgrow the witching hour. It just changes. Actually, I'm guessing that if your family is like mine, the witching hour is longer now. It's more like the witching afternoon – that blur of time between after school and bedtime, when homework must be done, dinner put on the table, showers taken and bedtime rituals performed. Everything seems to somehow happen at that time, and, yes, you do kind of have to just brace yourself and power through.
Now that the kids are older, though, I try (emphasis on the word try) to get them to help out as much as possible. Packing school lunches is a very good place to start, now that school is back in session.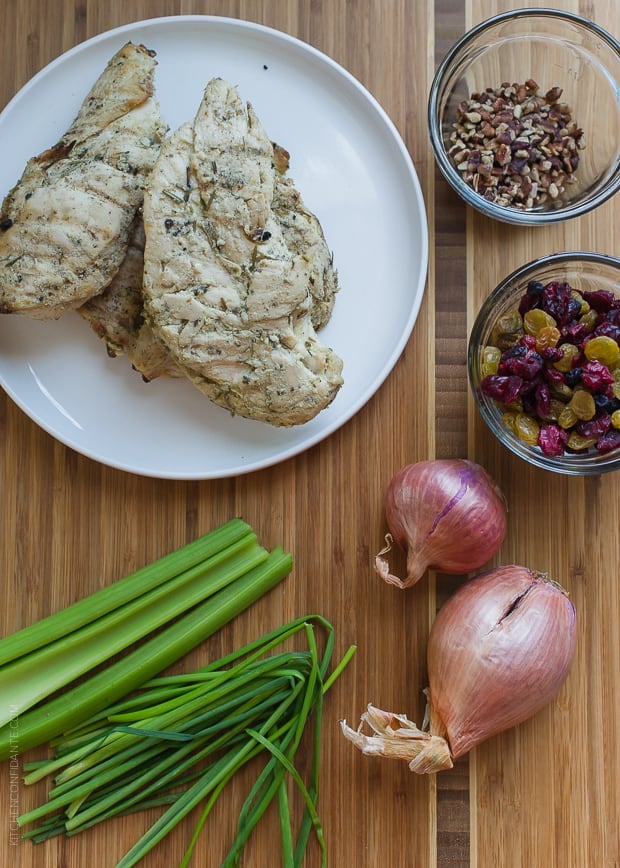 Having leftover grilled or roasted chicken in the fridge practically begs to be transformed into chicken salad. And having a daughter who is now old enough to work on her knife skills is the perfect time to bond in the kitchen. During a recent witching hour/afternoon, we spent it in the kitchen, chopping up crisp green apples, stalks of celery, and grilled chicken. I thought of my mom, who used to love putting apple in her chicken salad, leaving me with a leaning towards loving sweet and crunch in my sandwiches. Together with some cranberries, golden raisins and bits of pecan, this chicken salad has all the texture I love.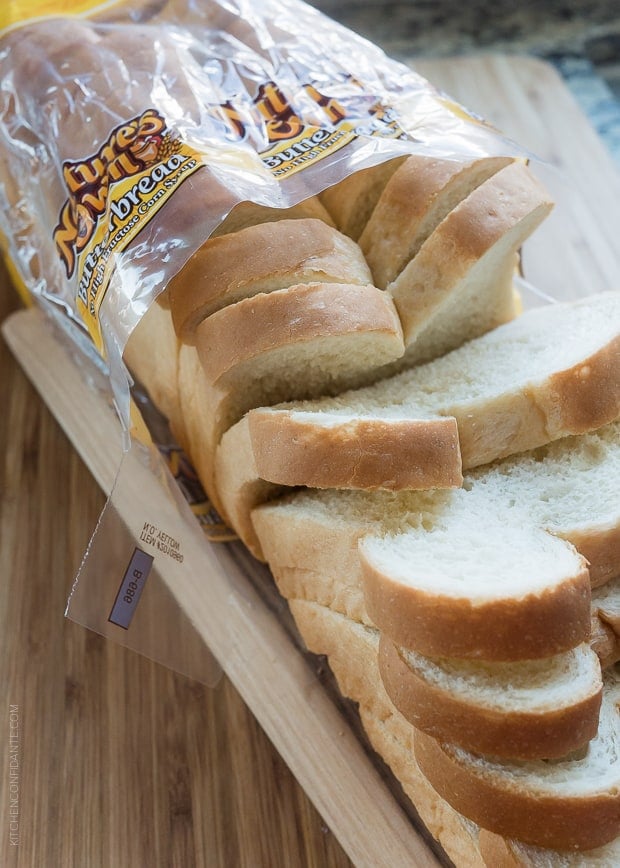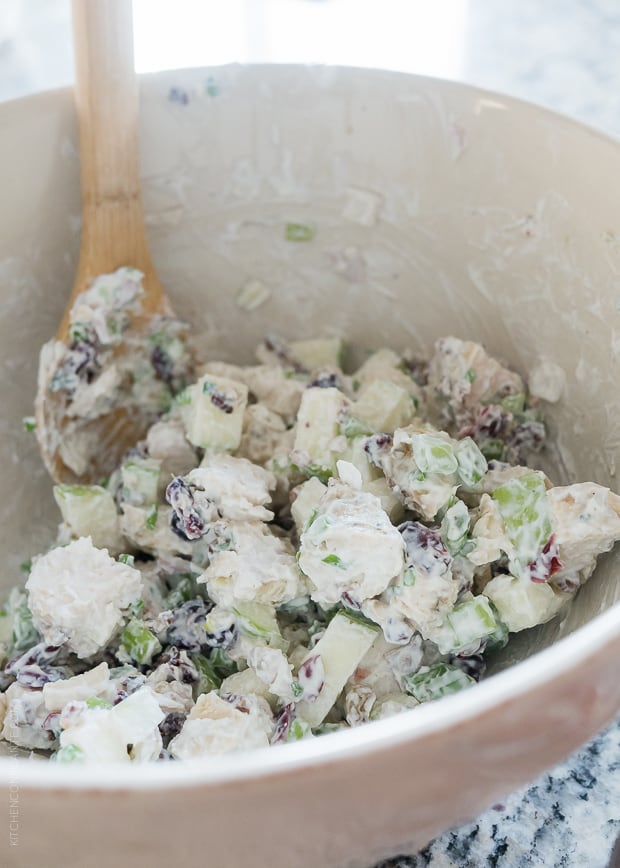 The wonderful thing about this chicken salad is that it's mayo free. Greek yogurt with a light squeeze of lime juice is a delicious substitute, I promise you won't miss the mayonnaise (or the fat).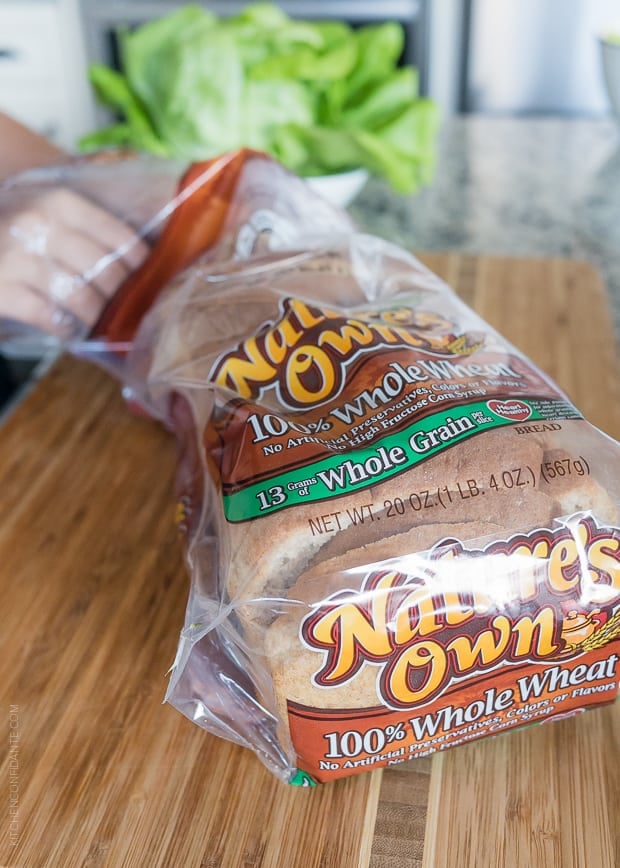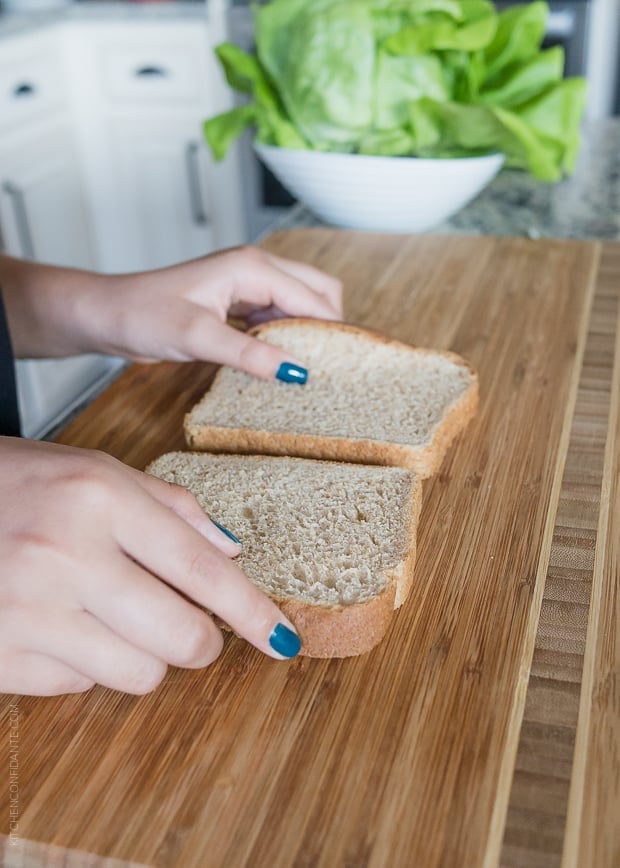 The only thing left is to decide on the bread. I personally love 100% whole wheat, my daughter is partial to Honey Wheat, and my son favors Butterbread. I was pleased to partner with Nature's Own – with all three of these flavors, even the pickiest of my kids was happy. Since Nature's Own has no artificial preservatives, colors, or flavors, and no fructose corn syrup, I am happy to send them off to school with these wholesome sandwiches. And with some extra hands in the kitchen, making lunches was a much happier experience for me.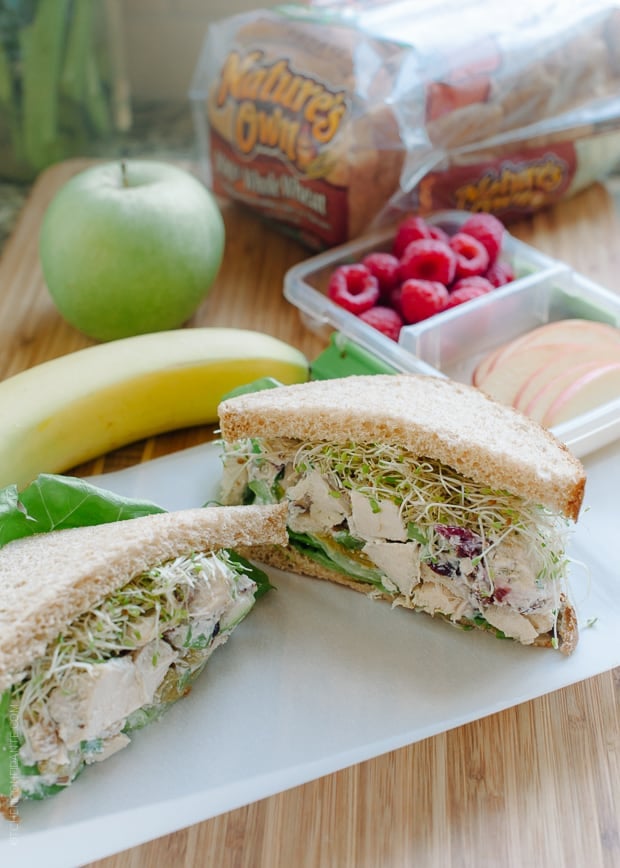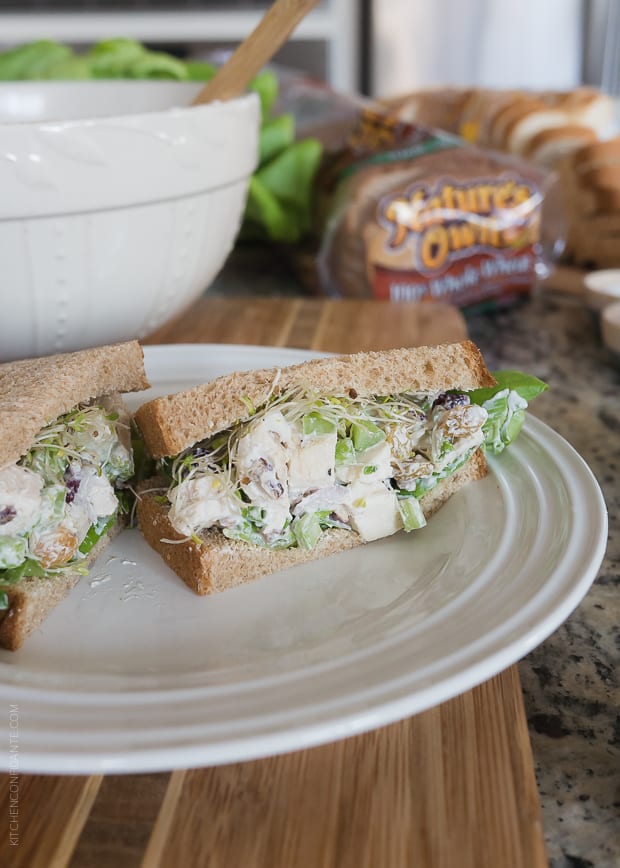 To kick off Back To School, join my daughter and I in our kitchen as we make and share this Green Apple Chicken Salad sandwich in this video I created using Nature's Own for the Back to School Video Contest!
Here's how YOU can enter the Back to School Video Contest where four (4) winners will be drawn to win a $250 Grocery Store Gift Card:
Visit http://lunchboxcreationssweeps.com and submit a photo or video of your favorite sandwich creation using Nature's Own bread, and submit the entry, as directed, between 12:00 AM ET on 8/17/15 and 11:59 PM ET on 09/15/15.
Any entries submitted after September 15th, at 11:59 PM ET will be ineligible.
Entrants can either submit a link of their video or photo from Vine, Instagram, or YouTube, or can upload their own photo as directed on the sweepstakes form.
A photo submission counts as one (1) entry.
A video submission counts as five (5) entries.
Only one submission per person per sweepstakes.
What is your favorite way to make lunches fun and creative? I'd love to see your photo or video featuring your lunchbox creations on the #LunchBoxCreation website.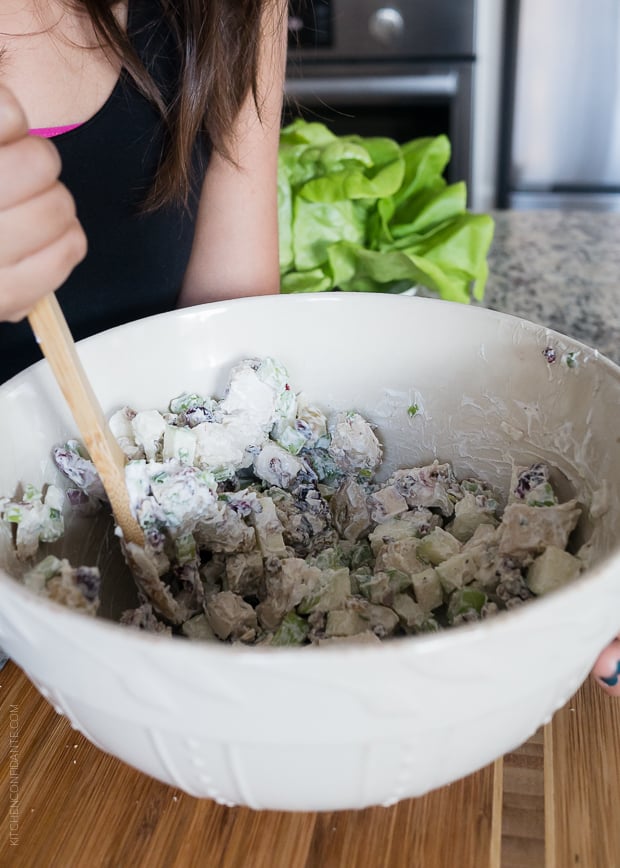 Be sure to check out Nature's Own for more lunch box inspiration on the Nature's Own Website, as well as Facebook, Twitter, Pinterest and Instagram.
Disclosure: This is a sponsored conversation written by me on behalf of Nature's Own. The opinions and text are all mine.
Green Apple Chicken Salad - Mayo Free
This Green Apple Chicken Salad is not only Mayo Free and healthier than the chicken salad you grew up on, it's also so easy to make. Loaded with lots of crunch, it's tasty and perfect for packed lunches.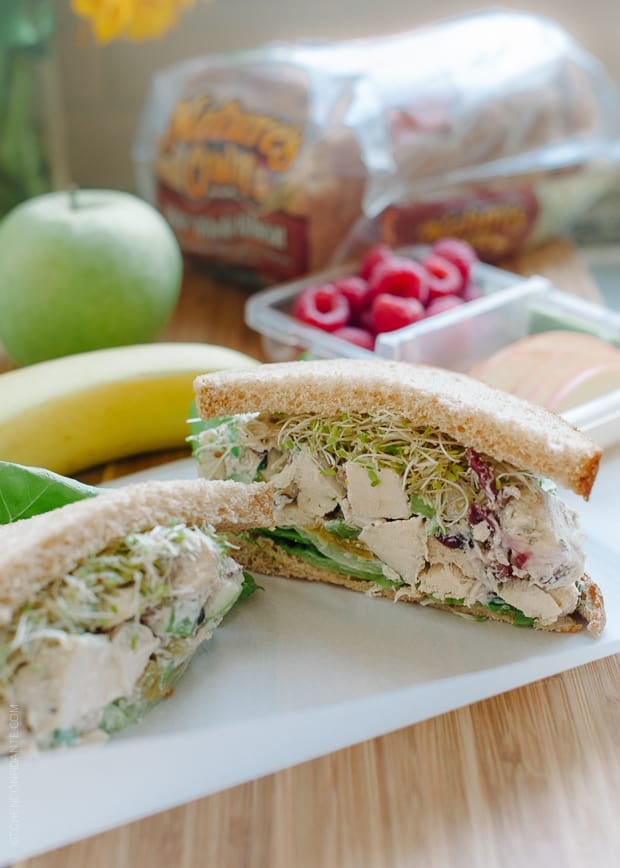 Print Recipe
Ingredients
2 grilled or roasted skinless chicken breasts, chopped (leftovers are perfect in this)
1 green apple, cored and diced
1 small shallot, peeled and finely chopped
1/2 cup diced celery
1/4 cup chopped chives
1/4 cup golden raisins and/or dried cranberries
1/4 cup chopped pecans
1/3 cup plain Greek yogurt
juice of 1/2 a lime
kosher salt
freshly ground black pepper
Instructions
In a large bowl, combine the chicken, apple, shallot, celery, chives, raisins/cranberries, pecans, yogurt and lime juice. Stir until combined. Season to taste with salt and pepper.