How to Boil…Lobster
Don't be intimidated! Follow these tips for how to buy, boil and crack lobster perfectly every time! Don't stare at those sweet little beady eyes too long. You just might get attached. The whole point of today's post is not how to make friends with…
How to Boil…Lobster
Don't be intimidated! Follow these tips for how to buy, boil and crack lobster perfectly every time!
Don't stare at those sweet little beady eyes too long. You just might get attached.
The whole point of today's post is not how to make friends with the lively lobster that you have brought home. I'm here to help you indulge in morsels of sweet and perfectly prepared lobster meat. I don't mean that callously. Really, I don't. I know there are many people out there who cringe over the idea of cooking these hard shelled crustaceans – some call it murder. Actually, in the Northern Italian town of Reggio Emilia, it is actually considered illegal to boil lobster, yielding a €495 fine for offenders. Know that I am sensitive to the debate. But I will not lie, I adore lobster, especially when prepared right.
I can't be there to hold your hand in the kitchen and provide therapy as you prepare your lobster dinner, however I can give you some tips to make it as painless as possible…for both you and your spiny friend.
Over the years, we have cooked lobster in so many different ways. There are many methods (steaming, boiling, grilling, etc.) and of course, even more applications, be it salad, soup, lasagna, and even macaroni and cheese. Today I'm going to focus on one of the simplest: boiling. There are no knives or decapitation involved, and it is one of the quickest methods for cooking, as well.
Let's get started!
Lobster Tips
Buy fresh. I know, that should be a given, but that can be a challenge when most of our country's lobster supply comes from Maine. I have tried mail order and that has worked well for us, but I still prefer being able to select my lobster from a trusted fish monger who has them swimming (I hope happily) in a tank.
Bigger isn't better. I've learned this the hard way. For me, the optimal lobster weighs 1.5 lbs, no bigger than 2 lbs maximum. I have found that the larger (older) behemoths yield gnarly meat. Stay on the smaller to average size for tender lobsters.
Cook as soon as possible. If you can, pick them up from your fish monger moments before cooking. Let the lobsters hang out in the kitchen sink as you get your water to a boil. Do not submerge them in fresh water.
If the lobster's feelings are truly a concern, some say placing the lobsters in the freezer before cooking makes them sleepy and perhaps numbs the pain. But really, the dip in the boiling water will make the process fast. I wouldn't worry.
How to Boil Lobster
Bring a large stock pot (or if you have one, a lobster pot) of water to a rolling boil.
Carefully drop your lobsters head first in the boiling water. Use your tongs to submerge them if needed. Within seconds, the deed will be done. You can wipe your brow now.
Prepare an ice bath in a large bowl.
When the water returns to a boil, begin your timer. Boil the lobsters for approximately 8-10 minutes, or until the lobster is a fiery shade of orange-red. Do not over boil, as this will give you rubbery lobster.
Using tongs, retrieve the cooked lobsters and submerge then in the ice bath to stop the cooking process. Let them rest on a platter.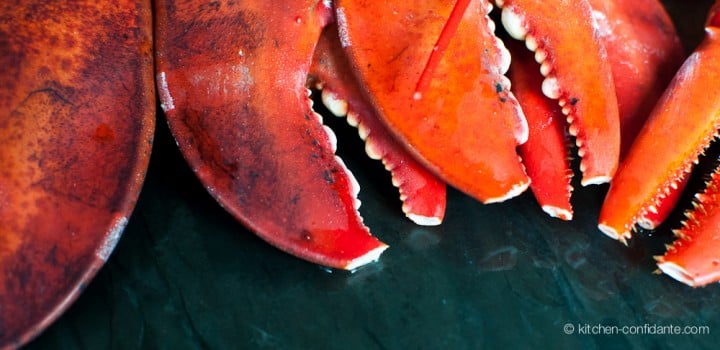 How to Crack Lobster
Manicure time! Before you serve them, it helps to give those claws a little trim. With strong kitchen shears, snip off the tips of the lobster claws as you hold the lobster claws down. Excess liquid will drain, and do give the lobster a good shake or two to get as much out as possible. This will help make the lobster feast less messy for your guests. No one likes a puddle on their plate.
Remove each claw by bending and twisting it off the body. Crack the claw and knuckle and remove the meat.
Separate the tail from the body by grabbing hold of the body and snapping it backwards to remove.
Snap off the tail flipper by cracking it upwards.
Working from tail to head, use your thumb to push the meat out of the cavity.
For the rest of the body, separate the part with the flippers from the shell. Split lengthwise to reveal the meat.
Enjoy!