Invisible
When I was a little girl, I thought cauliflower was simply broccoli without the color. In some ways, I was not too far off. The two are, after all, related and in the cruciferous family. But as far as texture and flavor is concerned, they are quite…
Invisible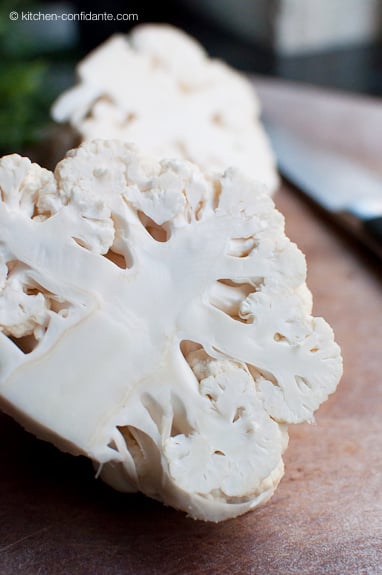 When I was a little girl, I thought cauliflower was simply broccoli without the color. In some ways, I was not too far off. The two are, after all, related and in the cruciferous family. But as far as texture and flavor is concerned, they are quite different. Growing up, I always preferred the mild subtleties of this ghostly vegetable.
This may seem odd, but I feel badly for the white cauliflower whenever I see it in the market. Next to the broccoli, and particularly alongside its more flamboyant sibling, the purple cauliflower, the white variety seems to get lost…nearly invisible.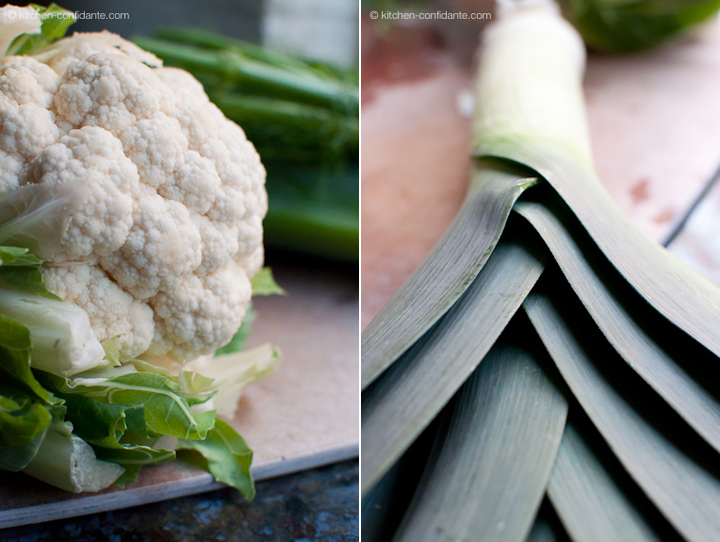 It is easy to overlook this humble vegetable, but cauliflower is an amazing source of vitamin C, as well as numerous nutrients. And it is currently in season! From December to March, cauliflower is at its peak, so now is a wonderful time to incorporate it into your menus.
For those who may not enjoy cauliflower, or perhaps have never tried it, sometimes it helps to call in the heavy cream patrol. Anyone suspicious of cauliflower will be transformed when they taste spoonfuls of cauliflower that have been touched by a creamy sauce of Gruyere and Parmegiano-Reggiano.
Cauliflower Fennel and Leek Gratin is not exactly a dish that highlights the health benefits of this lovely vegetable, but at this time of year, it is comforting and rich, and would surely grace your holiday table.
Cauliflower Fennel and Leek Gratin
Recipe adapted from:
Cauliflower Gratin with Roasted Chestnuts and Parmesan Cream, Martha Stewart
Cauliflower Gratin, by Ina Garten
and
Potato Fennel Gratin, by Ina Garten
Serves 4-6.
2 tablespoons olive oil
1 cup fennel, shaved
½ cup leeks, washed & thinly sliced
1 small head of cauliflower, stems removed, divide into florets
2 ½ cups heavy cream
kosher salt
freshly ground black pepper
1 cup Parmesan cheese (Parmigiano-Reggiano)
½ cup Gruyere cheese
1 sprig thyme
1 cup Panko breadcrumbs
additional Parmesan cheese, about ¼ cup
Preheat oven to 400 degrees F. Butter a baking dish and set aside.
In a saute pan, heat olive oil over medium-low heat. Saute fennel and leeks until tender, about 5 minutes. Add cauliflower and heavy cream. Season with salt and pepper and allow to simmer about 10 minutes, until the cauliflower is tender.
With a slotted spoon, remove cauliflower, fennel, and leeks and set aside. Add Parmesan and Gruyere cheeses to the cream, along with thyme. Season with salt and pepper to taste. Allow cream to simmer for about 10 minutes, until it has reduced to a thick, creamy consistency. Remove thyme and dispose.
Return cauliflower to pan, stir to coat. Pour into a baking dish and top with panko breadcrumbs. Top with a little more Parmesan cheese.
Bake for about 20 minutes, or until golden brown.