Baby, It's Wet Outside
I really can't stay – Baby it's cold outside… When we moved to California, I realized I had to change the lyrics to suit our new winter weather. Blizzards were replaced by heavy rains, sometimes for days on end. Call me naïve, but I used…
Baby, It's Wet Outside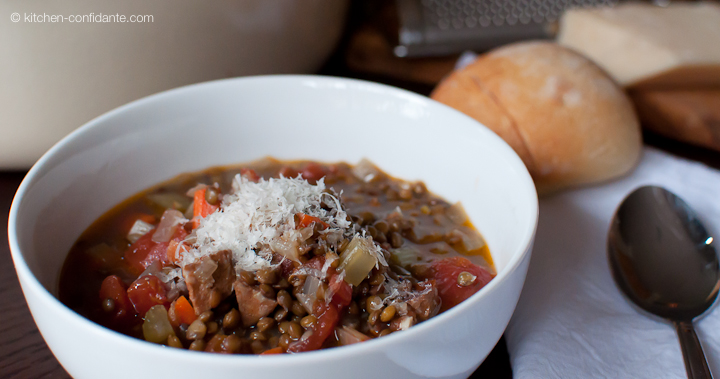 I really can't stay – Baby it's cold outside…
When we moved to California, I realized I had to change the lyrics to suit our new winter weather. Blizzards were replaced by heavy rains, sometimes for days on end. Call me naïve, but I used to think that wet winters were reserved for places like Seattle and Portland.
Instead of snowboots, I wear my rainboots all winter, and we've certainly gotten our fair share of rainy stretches already. The sun cleared yesterday, but I know it's temporary. Tomorrow will be the start of a long weekend of rain, rain, and more rain. Sometimes I feel like Noah, snug in this house with the kids and our furry family – we have sets of cats, hamsters, and one dog. We will emerge in the spring (thankfully, spring arrives early here).
These wet and cold days call for soup, and I can't seem to get enough. One of my favorites for this time of year is Ina Garten's Lentil Sausage Soup from her Barefoot in Paris cookbook.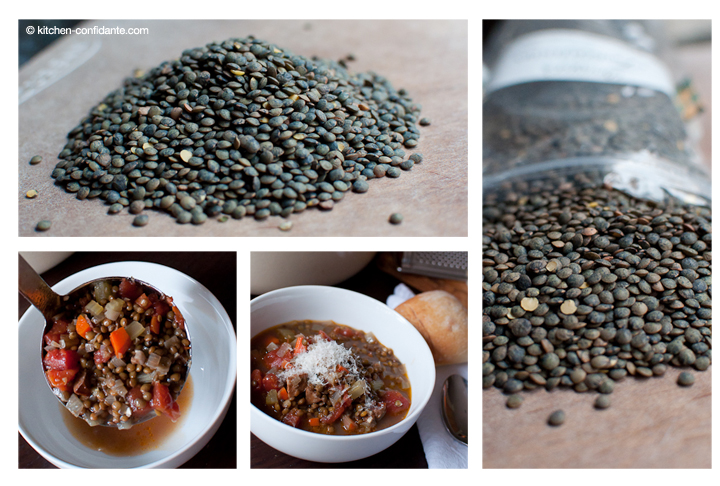 Given that lentils have been enjoyed since biblical times, I like to imagine that Noah and his ark's passengers must have relied on them to carry them through the flood. I'm sure they would love Ina's soup. The French Lentils du Puy are a dainty variety, with a beautiful, speckled mossy green seed coat. Highly nutritious and hearty, this Lentil Sausage Soup is exceedingly soothing, perfect to eat when the wind is howling and the rain (or snow) is pouring. Be it Noah in his ark, Ina in her fabulous French apartment, or you and I in our cozy kitchens, this is just right for getting through any storm.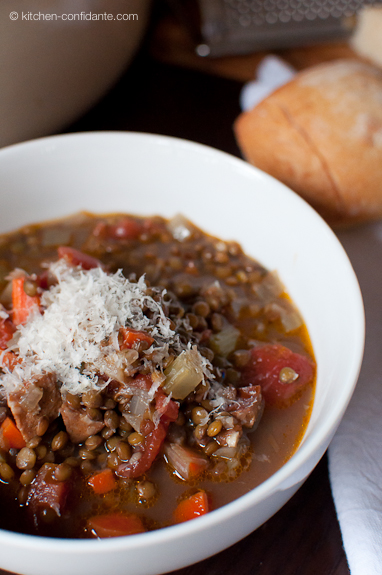 Lentil Sausage Soup
Slightly adapted from Barefoot in Paris: Easy French Food You Can Make at Home, by Ina Garten. The original recipe can be found on Barefoot Contessa and Food Network. Ina Garten's recipe calls for red wine or red wine vinegar* however, several years ago, I encountered a version somewhere that used balsamic vinegar. I wish I had noted at the time the source of this adaptation so that I may cite it. In any case, I love the depth of flavor the balsamic vinegar adds to the dish.
Serves 6-8.
1 cup French lentils (du Puy)
1/8 cup olive oil
1 large onion, diced
1 leek, rinsed, quartered and sliced
3 cloves garlic, minced
1 teaspoon Kosher salt
1 teaspoon black pepper
1/4 teaspoon dried thyme or 1 teaspoon fresh
3 stalks celery, diced
2 carrots, diced
7 cups chicken stock
1 15oz can of diced tomatoes
8 oz kielbasa, cut in thirds lengthwise, then into 1/2 inch cubes
1 tablespoon balsamic vinegar*
Parmesan cheese, freshly grated
In a bowl, soak lentils in boiling water for 15 minutes. Drain and rinse, set aside.
In a stockpot or Dutch oven, heat olive oil over medium heat. Sauté onions, leeks, garlic, salt, pepper and thyme until the onions are translucent, about 10-15 minutes. Add celery and carrots and saute about 10 minutes more. Add chicken stock, tomatoes (and can juices) and lentils. Cover pot and bring to a boil, then lower heat and allow to simmer partially uncovered until lentils are tender (between 1/2 hour to an hour). Season as desired with salt and pepper. Add kielbasa and balsamic vinegar and simmer for an additional 5 minutes. Serve with freshly grated Parmesan cheese.