Mixed Berry Dutch Baby Pancake
Use your favorite fresh mixed berries in this Mixed Berry Dutch Baby Pancake. Serve slices hot and topped with a shower of powdered sugar.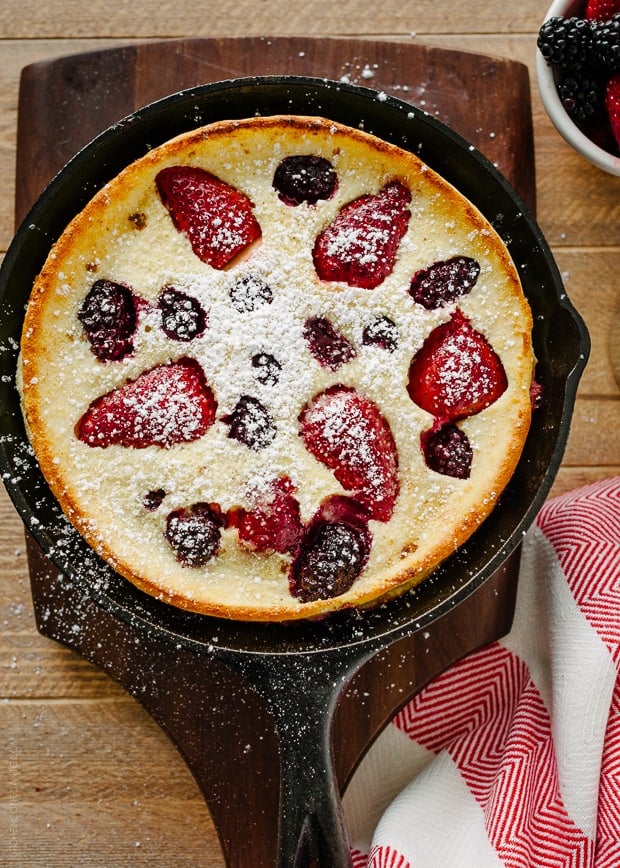 Mixed Berry Dutch Baby Pancake
A Dutch Baby Pancake is cooked in a cast iron skillet (skip flipping multiple batches of pancakes!) and makes a great dish for breakfast or brunch. This Mixed Berry Dutch Baby Pancake uses fresh mixed berries for a twist on the original.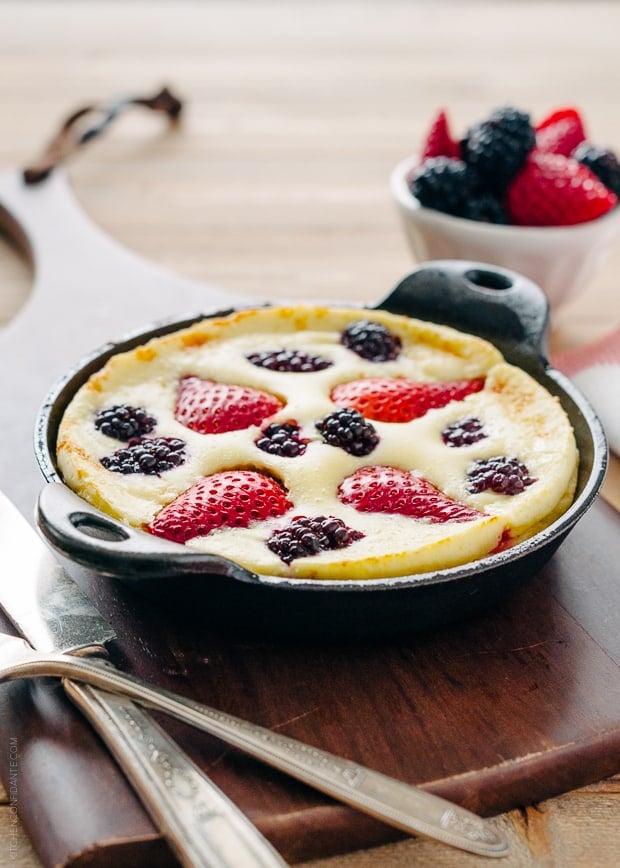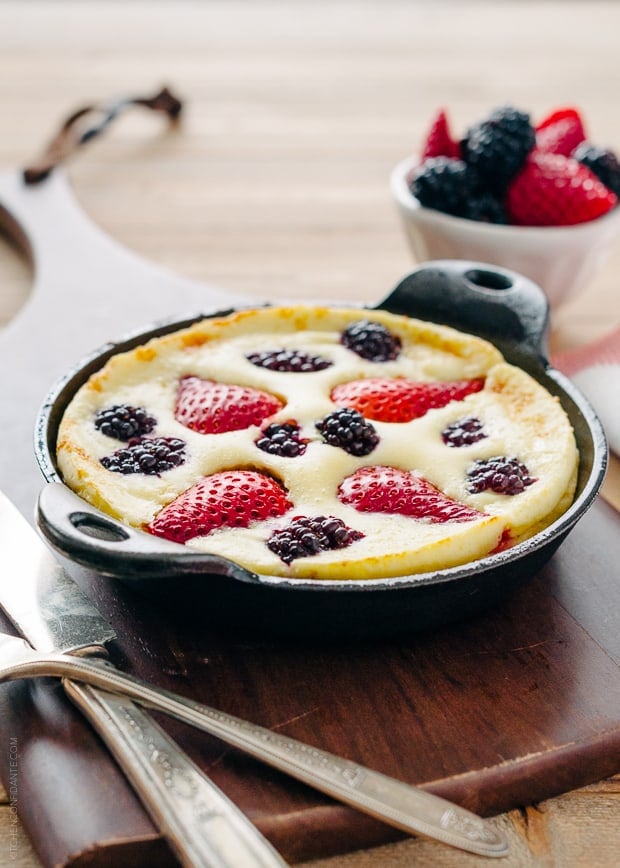 This post first appeared on April 2, 2014 and featured on Wayfair.com. I hope you enjoy this favorite from my kitchen!
Oh Wednesday. You're such a hard day of the week! I wake up yearning for the weekend, when alarms don't exist, and I can rise at my leisure. When mornings aren't rushed, and coffee can be sipped and savored, rather than scalding my remaining taste buds. When there's more time for breakfast. And pancakes.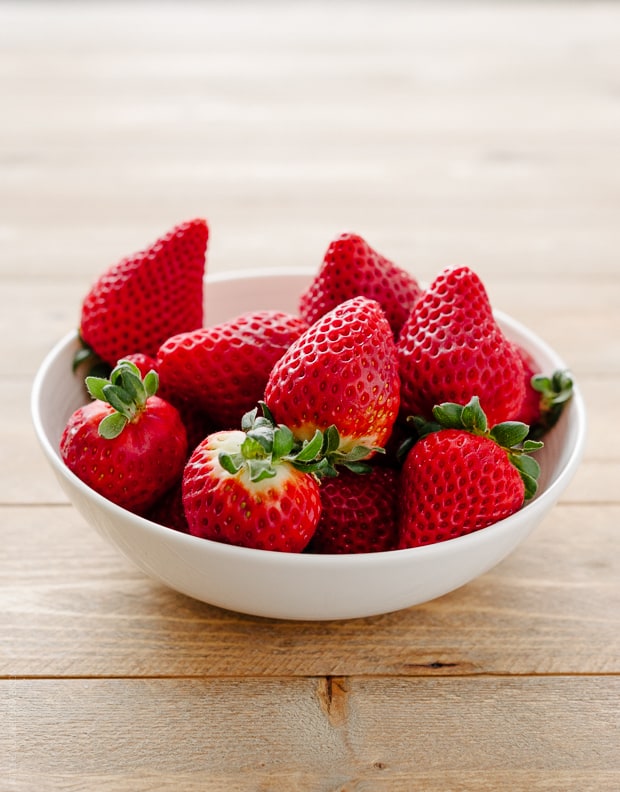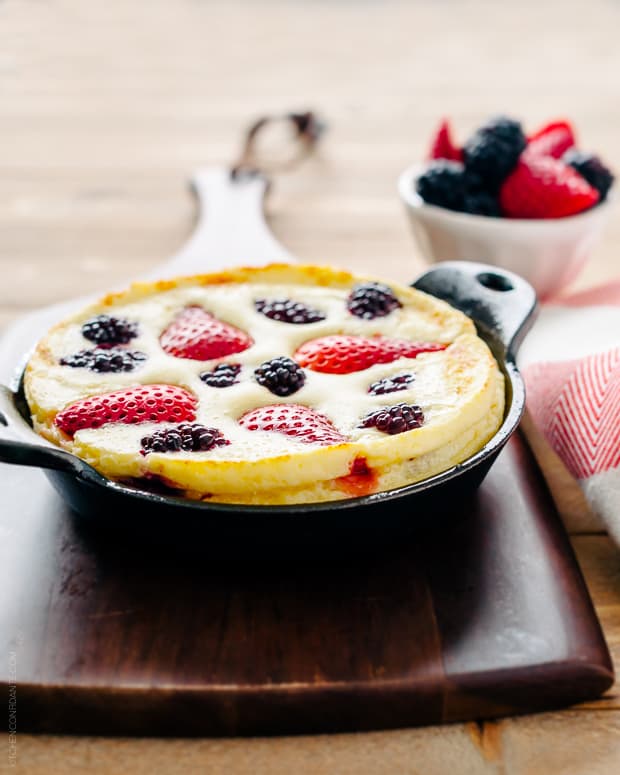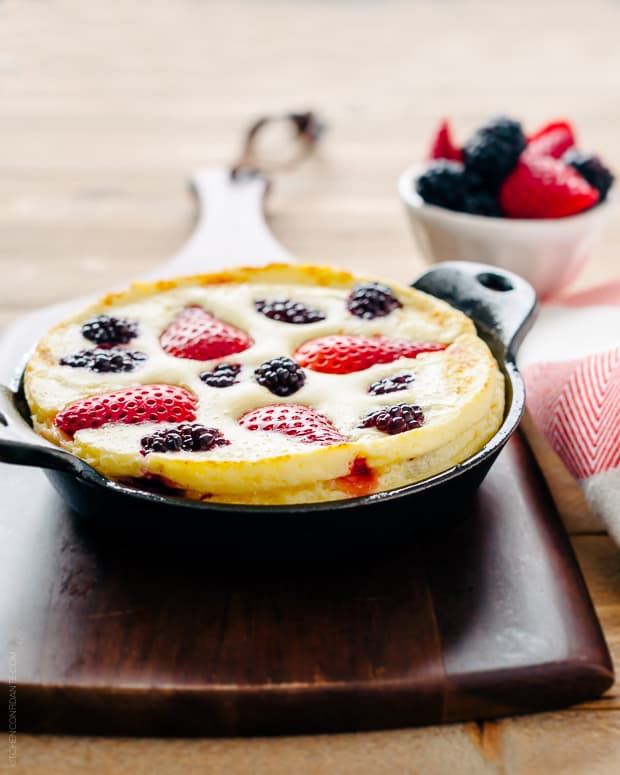 I hope you are well, my friends. I've been away, you may have noticed. The last week and a half have been filled with getting ready for and traveling back to New York to see my family and celebrate my brother's wedding. I allowed myself some time to recharge and to be fully present for them, to wander the rainy streets of New York, to introduce my children to the city of my childhood.
If you follow me on Instagram, you saw a glimpse of it all. And since I've returned, I have been back to work so quickly, I haven't even had a chance to download my pictures! Perhaps this weekend I'll get to them, as I slice into some fluffy pancakes.
Fresh pancakes are reserved for weekends at my house, and while there's nothing like flipping a tall stack, I've also been loving this Mixed Berry Dutch Baby Pancake. It leaves the flipping to the oven, leaving me more time to relax with my cup of coffee. It rises to lofty heights as it bakes, and part of the fun is racing it to the table before it slowly deflates as you sprinkle the powdered sugar on top. I hope you are hanging in there this Wednesday, because this Dutch baby is worth looking forward to…Saturday is nearly here.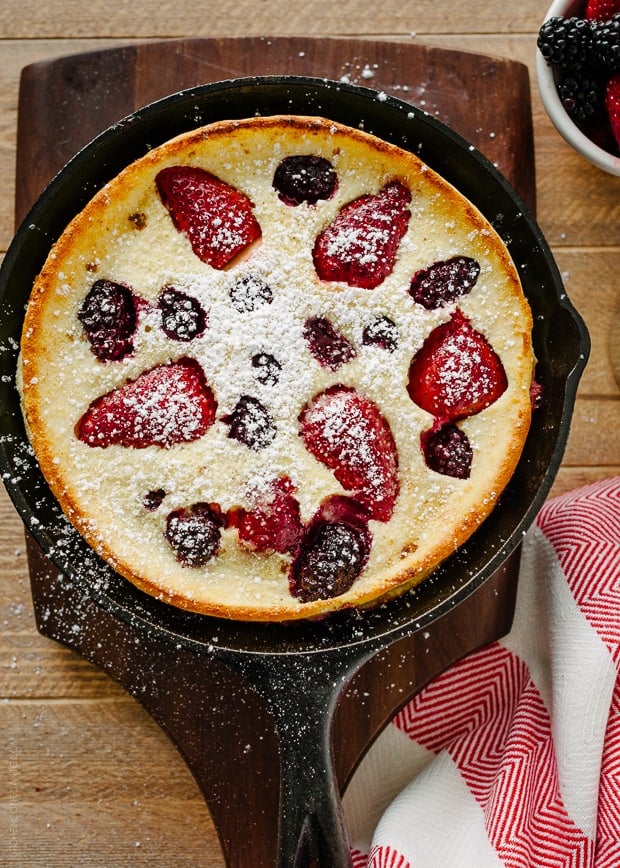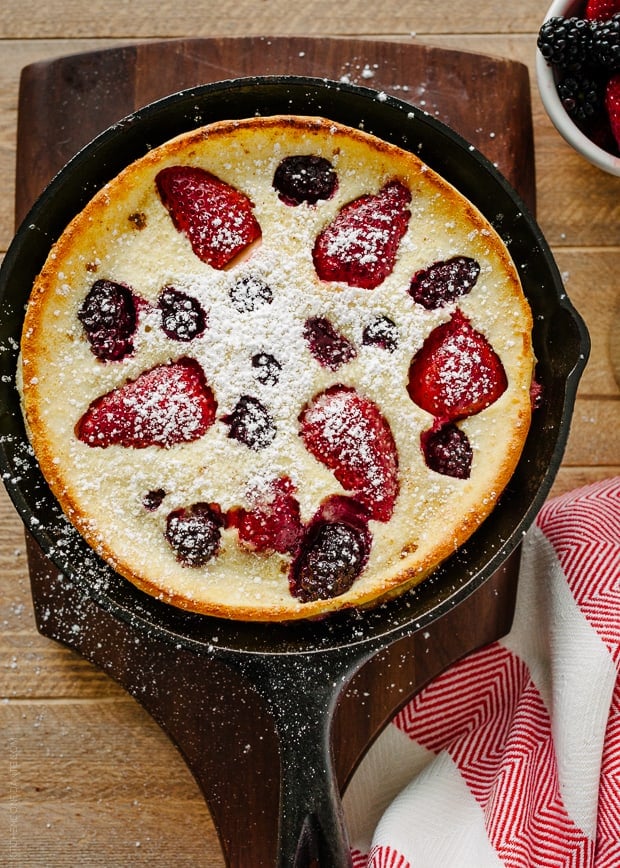 More Easy Breakfast Recipes
Sheet Pan Banana Pancakes
Oatmeal Pancakes
Apple Oatmeal Blender Waffles
20 Simple Smoothie Recipes
Eggs in a Nest
Mixed Berry Dutch Baby Pancake
Use your favorite fresh mixed berries in this easy Mixed Berry Dutch Baby Pancake. Make a giant 12" pancake in a cast iron skillet or divide up the batter to make smaller individual sized pancakes.
Ingredients
4

tablespoons

unsalted butter

3

large eggs

3/4

cup

buttermilk

3/4

cup

flour

1/3

cup

granulated sugar

1/4

teaspoon

salt

1/4

teaspoon

vanilla

2

cups

mixed berries

(strawberries sliced)

powdered sugar
Instructions
Preheat the oven to 425°F. Slice the butter into cubes and place in a large cast iron skillet or Dutch oven (no lid). Place the skillet in the oven and let the butter melt.

Meanwhile, in the bowl of a blender or food processor, blend the eggs until foamy. Add the buttermilk, flour, sugar, salt, and vanilla and blend until combined.

When the butter is fully melted, swirl it in the pan to evenly coat the surface. Be sure to use oven mitts as the handle(s) will be hot. Pour the batter in the skillet and scatter the berries. Return the skillet to the oven and bake for about 25 minutes or until the pancake has puffed and is golden brown.

Remove from the oven and cut into wedges. Sprinkle with powdered sugar and serve immediately.
Notes
The batter can also be portioned into smaller pancakes if you would like to divide into individual servings.
Nutrition
Calories:
1461
kcal
|
Carbohydrates:
186
g
|
Protein:
34
g
|
Fat:
67
g
|
Saturated Fat:
37
g
|
Polyunsaturated Fat:
6
g
|
Monounsaturated Fat:
18
g
|
Trans Fat:
2
g
|
Cholesterol:
631
mg
|
Sodium:
970
mg
|
Potassium:
709
mg
|
Fiber:
11
g
|
Sugar:
102
g
|
Vitamin A:
2552
IU
|
Vitamin C:
8
mg
|
Calcium:
334
mg
|
Iron:
7
mg