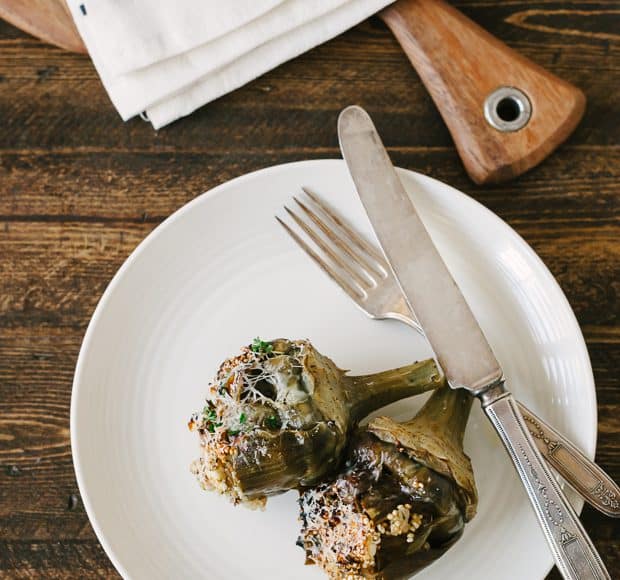 Simple Sundays | Toasted Quinoa Stuffed Artichokes
Raise your hand if you're intimidated by artichokes…or remember a time when you stayed away from them at the market because you weren't sure how to handle them. You too? Don't worry, you're not alone. For years I shied away from artichokes, despite how much…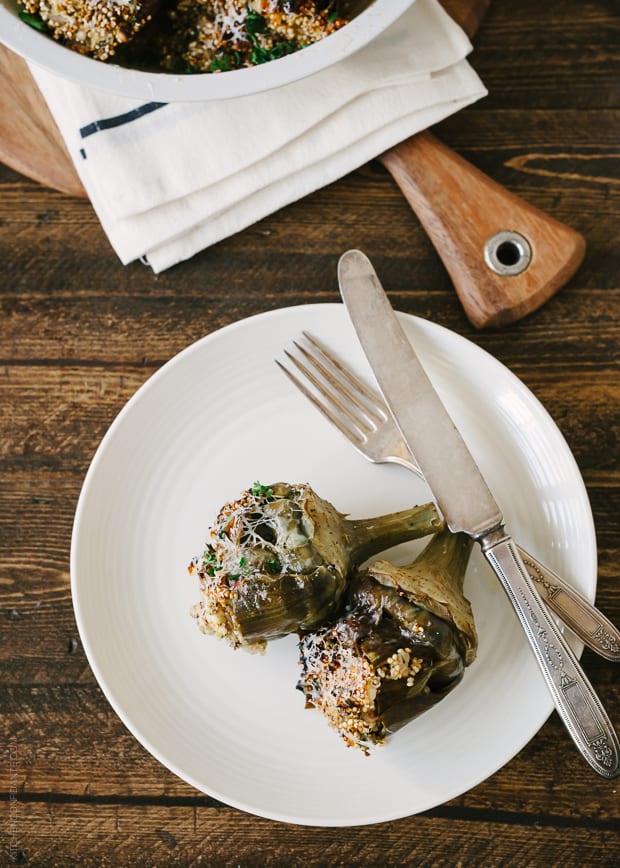 Simple Sundays | Toasted Quinoa Stuffed Artichokes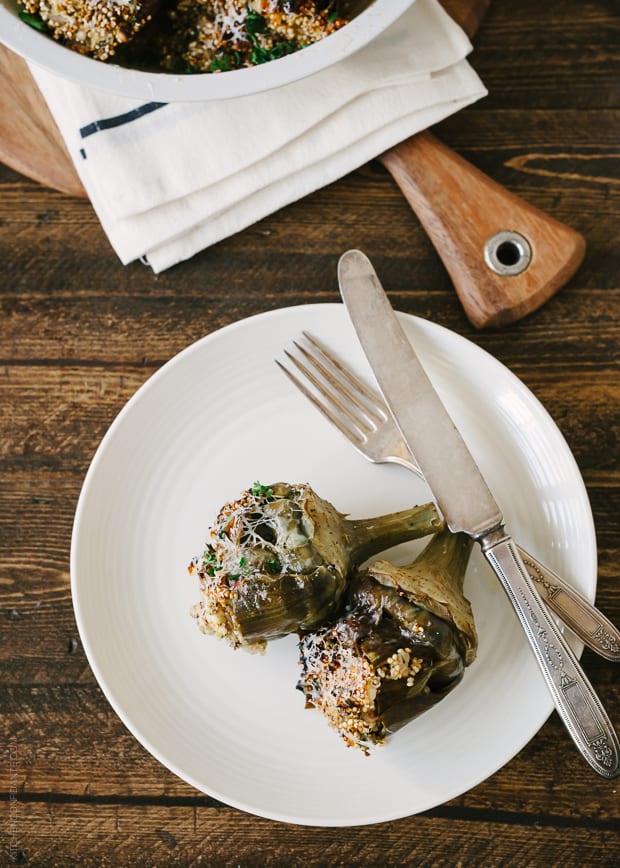 Raise your hand if you're intimidated by artichokes…or remember a time when you stayed away from them at the market because you weren't sure how to handle them.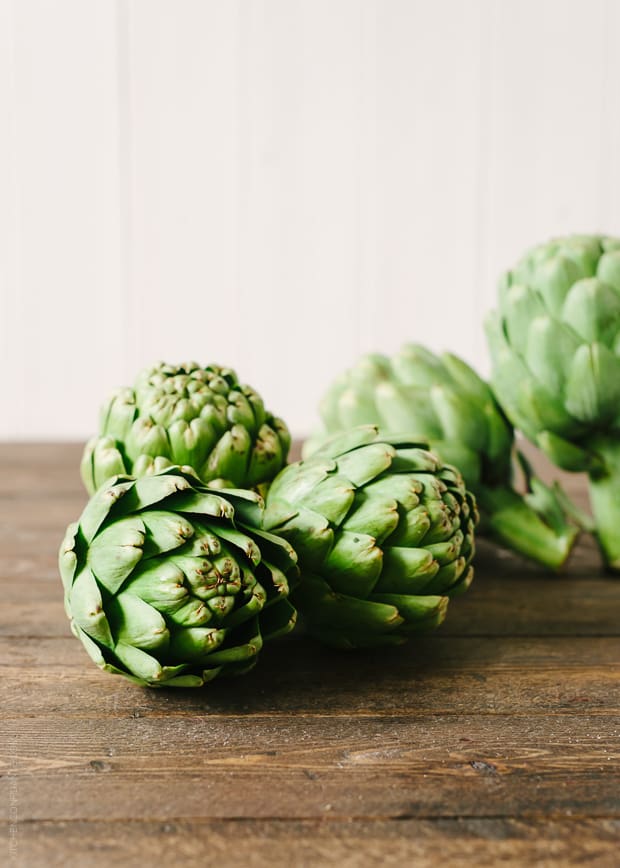 You too?
Don't worry, you're not alone. For years I shied away from artichokes, despite how much I loved to eat them. I admit it. After all, it's not as intuitive as, let's say, asparagus.
I'll never forget the first time I had the courage to buy these beauties. I was living in Santa Monica at the time, and was roaming the weekly farmer's market. I was drawn to the stand piled high with enormous, globe artichokes, the most beautiful specimens I had ever seen. I just had to have them, even if I hadn't a clue how to break one down.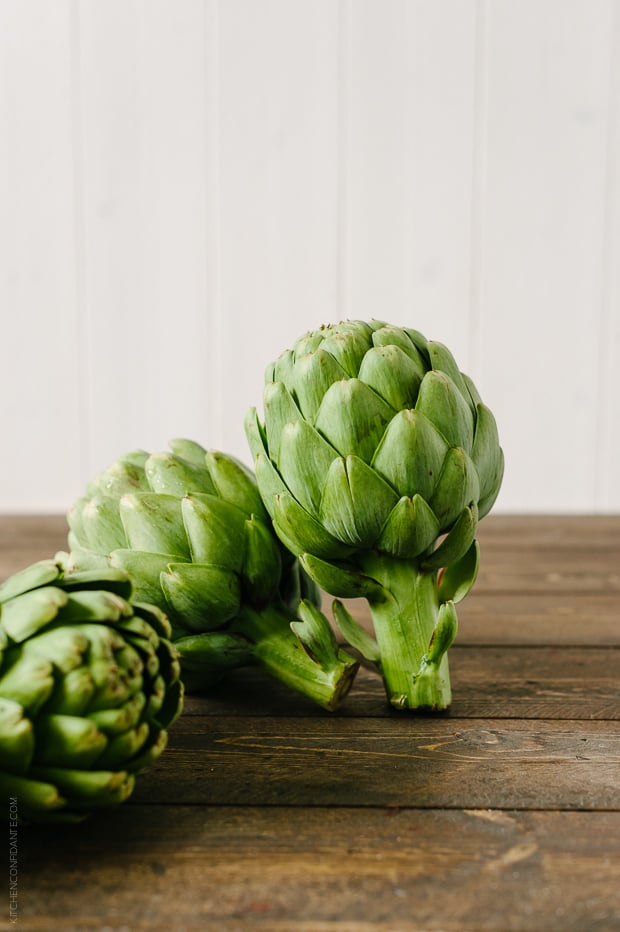 It took some reading and some patience. Half my kitchen equipment was in various stages of unpacking, but several hours later, I was victorious. Artichokes were no longer a mystery. I had trimmed them, battled the chokes, and had stuffed them fairly successfully. I conquered the artichoke.
But between you and me, I still have a special place in my heart for canned artichoke hearts.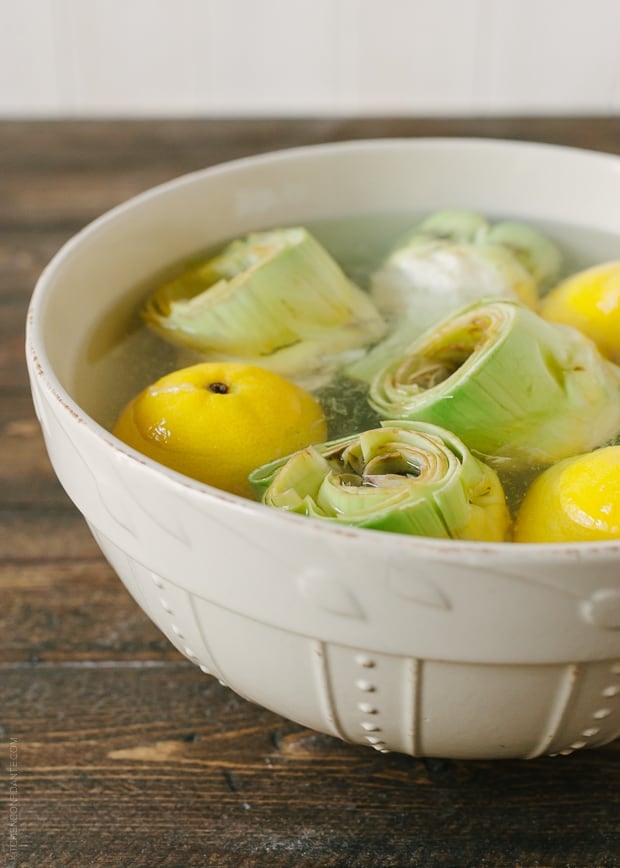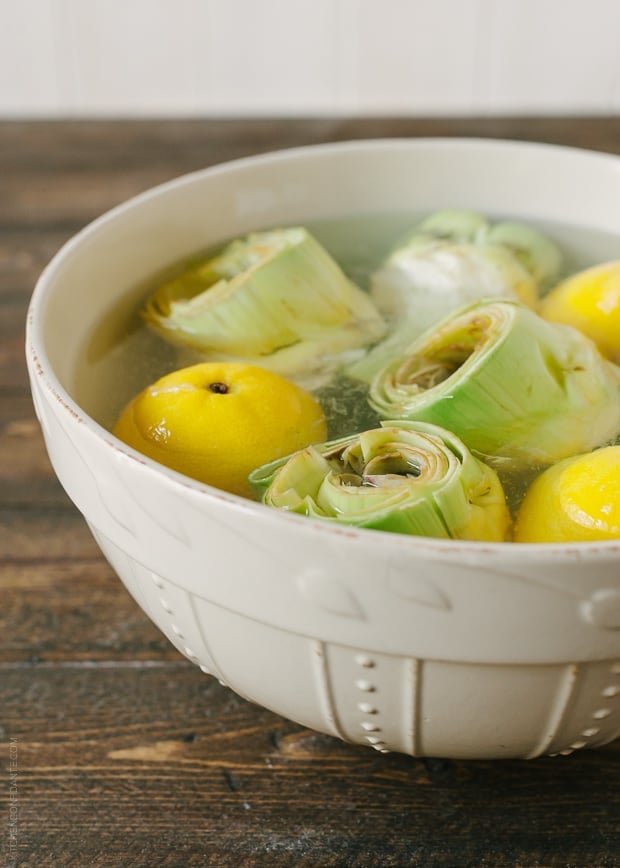 Now that artichokes are popping up in the markets, I'm like a moth to a flame, and I can't resist. Each time it gets easier and easier, and I can almost laugh at the me in the old Santa Monica apartment, fussing over artichoke leaves. Almost.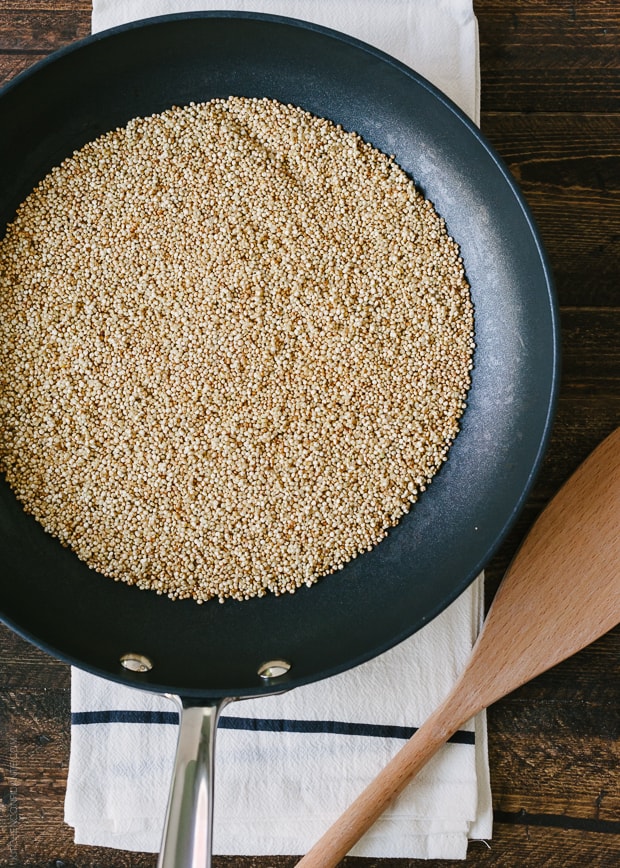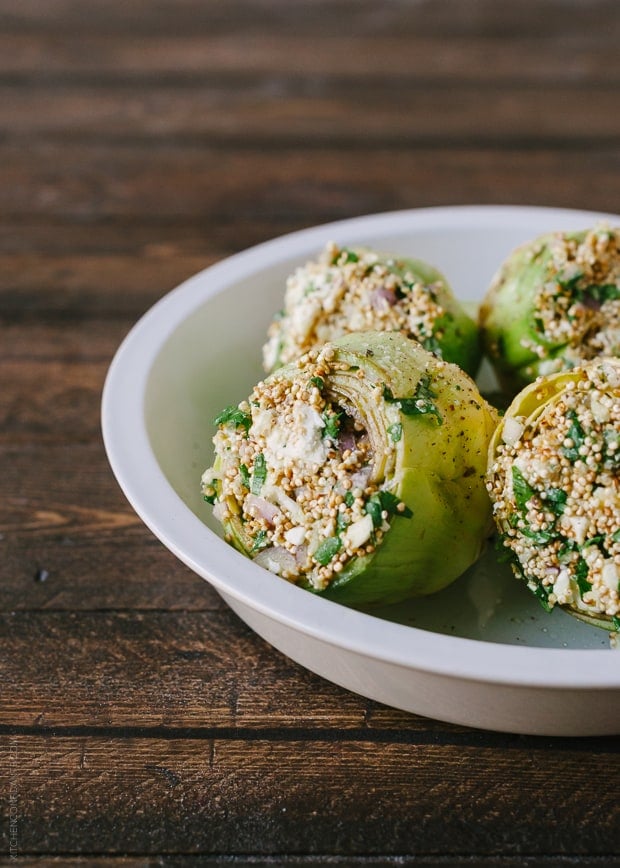 These Toasted Quinoa Stuffed Artichokes are stuffed with a filling so good, I daresay I'll be using it to stuff all kinds of other vegetables. Quinoa, toasted to let its nutty qualities shine through, is cooked and tossed with briny feta and parmesan cheese, along with vibrant parsley, cilantro, garlic and shallot. A dollop or two of olive oil to bind it, and into the oven it goes, topped with a little extra crunchy toasted quinoa. As the artichokes bake, the hearts become tender, and the filling within begins to ooze with cheesy goodness.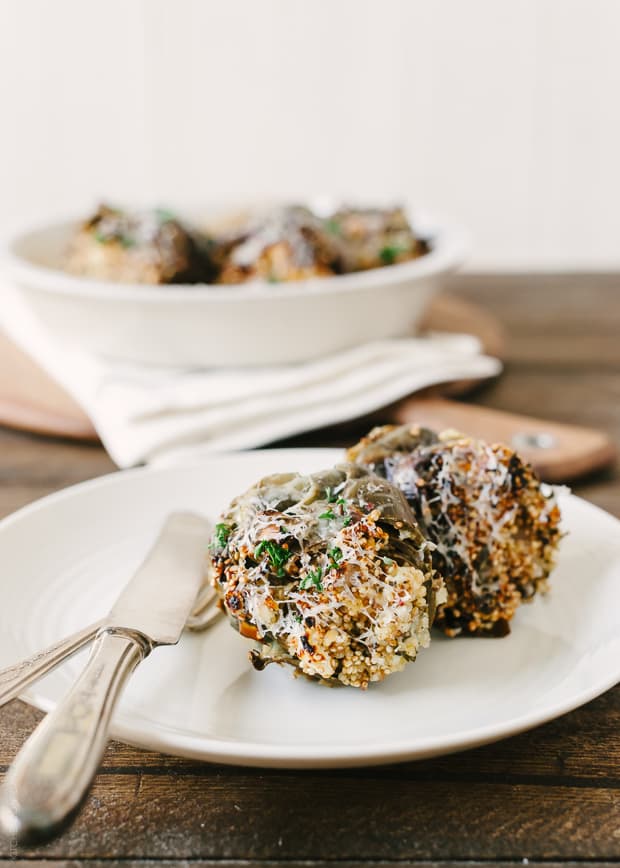 It's worth the little bit of effort. It's worth conquering.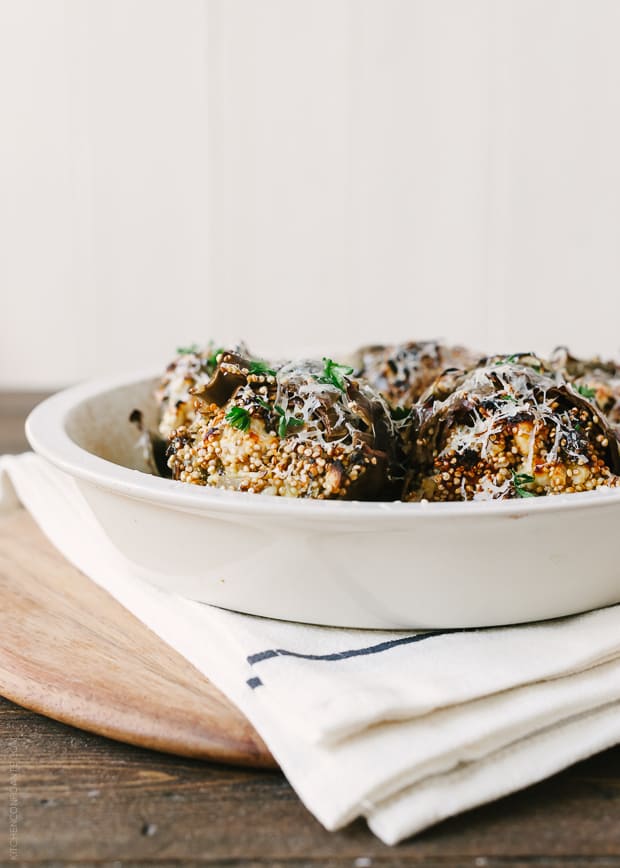 Disclosure: The kitchen products listed above were received from Williams Sonoma. I was not compensated by Williams Sonoma for this post; however, I truly did love testing these products in developing this recipe. As always, all opinions are my own.
Toasted Quinoa Stuffed Artichokes
Toasting quinoa releases a lovely nutty flavor that makes for a wonderful filling instead of the usual breadcrumbs. Also topping the artichokes with toasted quinoa adds a little crunch that I love.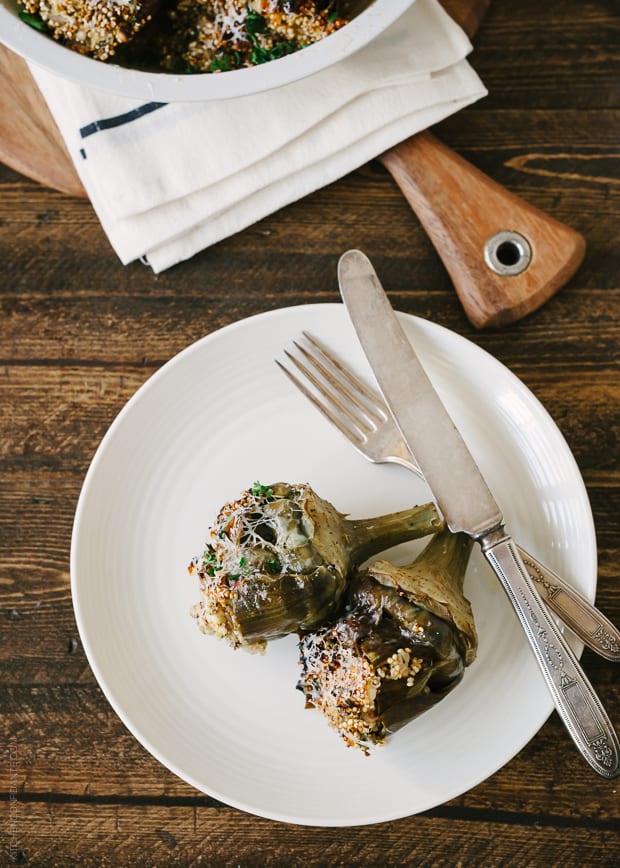 Print Recipe
Ingredients
1 cup quinoa
2 lemons
6 artichokes
1 cup diced feta cheese
1/2 cup grated parmesan cheese
2 cloves garlic, minced
1 shallot, minced
1/2 cup cilantro, chopped
1/2 cup parsley, chopped
1/4 cup olive oil, plus more for drizzling
kosher salt
freshly ground black pepper
Instructions
Preheat the oven to 350 degrees F.
Rinse the quinoa in a fine sieve, then drain excess water. Place the drained quinoa in a frying pan over medium heat. It will take the water a few minute to evaporate, then as the quinoa dries, it will begin to toast. Stir periodically until the quinoa is evenly browned and gives off a lovely nutty aroma. Set aside 1/4 cup of the toasted quinoa.
Place the remaining 3/4 cup quinoa and 1 cup water in a saucepan and bring to a boil over medium heat. Lower the heat to a simmer, and cook for about 10 minutes. Cover and let the quinoa sit for 5 minutes more. The water should be fully absorbed. Drain any excess water if necessary.
While the quinoa cooks and cools, prepare the artichokes. Fill a large bowl with cool water, then squeeze the juice of two lemons into the water, and drop the lemons into water, as well. Remove the outer leaves of the artichoke by snapping them off, until you are left with the tender leaves within. Cut about 1 1/2 inches off the tops of the artichoke, then remove the purple choke inside by scooping it out with a spoon. Trim the stems of the artichoke, then peel the tough outer layer of the stem. Place the artichokes in the lemon water bath. Repeat with remaining artichokes.
In a medium bowl, combine the cooked quinoa, feta, parmesan, garlic, shallot, cilantro and parsley. Stir in the olive oil and toss to evenly coat the stuffing. Stuff the artichokes well with the stuffing, topping it with some of the reserved toasted quinoa, and place in a baking dish. Drizzle with a little olive oil and season with salt and pepper. Add a little water to the baking dish, cover with aluminum foil and bake the artichoke for about 45 minutes, or until a knife inserted into the artichoke heart shows that it is tender and fully cooked. Remove the foil and continue baking for 5 minutes more.
Serve immediately.