Never Trifle With Chocolate
Never trifle with chocolate. It's a powerful substance. One drop, one chip, one shaving, one spoonful…one taste…and you are changed. Moods are lifted, taste buds are pleased. At least that's the case with me. On second thought, maybe chocolate should be trifled with. In a…
Never Trifle With Chocolate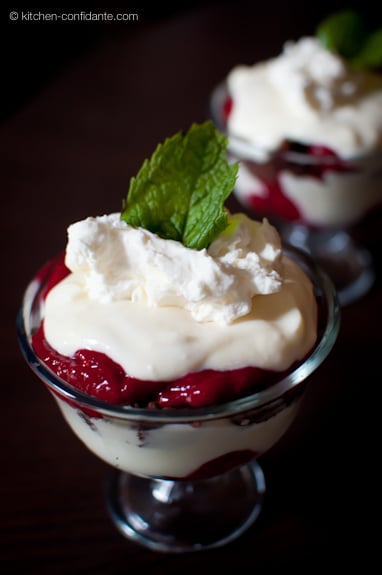 Never trifle with chocolate. It's a powerful substance. One drop, one chip, one shaving, one spoonful…one taste…and you are changed. Moods are lifted, taste buds are pleased. At least that's the case with me.
On second thought, maybe chocolate should be trifled with. In a trifle.
When I made my Chocolate Raspberry Brownies last weekend for my Project Food Blog Road Trip entry, I realized I couldn't just leave it at that. The brownies were almost begging for more. They seemed to be telling me that they wanted to be dunked in a creamy vanilla custard and a luscious raspberry sauce laced with raspberry liqueur. Who am I to deny the brownies their secret wish?
I conjured up my inner Nigella Lawson and immersed the chunks of brownie into their bath of custard, raspberry and cream. As I was doing so, I found myself getting rather irritated. Why do the British call this nearly sinful dessert a trifle? There is nothing trifle about it, if anything it is the polar opposite. What may seem simple and unpretentious to some is actually quite decadent and indulgent, and certainly deserves a more distinguished name than "trifle."
Or could it be their way of disguising this decidedly British dessert to keep it all to themselves? Ah, it's a trifle, just nothing, really. Nothing to see here. Move along now.
I'm on to you.
Chocolate Raspberry Brownie Trifle
For the Brownies

:
¾ cup all-purpose flour
1 cup sugar
1 teaspoon baking powder
¾ teaspoon salt
⅓ cup raspberry jam
⅓ cup water
1 stick (1/2 cup) butter
4 oz of unsweetened dark chocolate, such as Scharffen Berger 99% Cacao Unsweetened Dark Chocolate
1 large egg, lightly beaten
1 large egg white
Preheat oven to 350°. Line a 9-inch square baking pan with parchment paper; coat with cooking spray.
Combine flour, sugar, baking powder, and salt in a large bowl; stir with a whisk. In the bowl of a double boiler, combine raspberry jam, ⅓ cup water, and butter until melted. Add chocolate to jam mixture, stir until the chocolate is melted. Add chocolate-jam mixture to flour mixture; stir well. Add egg and egg white; stir until smooth. Scrape batter into prepared pan. Bake at 350° for 25 minutes or until a wooden pick inserted in center comes out with a few moist crumbs. Cool in pan on wire rack.
For the Custard
Adapted from Joy of Cooking, by Irma S. Rombauer & Marion Rombauer Becker
1/3 cup sugar
1 tablespoon cornstarch
pinch of salt
1/2 cup heavy cream
1/2 cup milk (skim is fine)
2 egg yolks, beaten
1 tablespoon butter
3/4 teaspoon vanilla
1/2 cup whipped cream (recipe below)
In the bowl of a double boiler, mix sugar, cornstarch and salt. Combine heavy cream and milk and gradually whisk it into the sugar. Cover and cook over the boiling water for 8 minutes without stirring. Uncover and allow to cook for an additional 10 minutes.
Add egg yolks, butter, and vanilla, stirring occasionally for about two minutes.
Strain custard into a bowl set over an ice bath and allow to cool. Fold in whipped cream.
Cover tightly and chill until ready for use.
For the Raspberry Sauce
16-oz frozen raspberries, defrosted
1/3 cup sugar (to taste)
splash of good quality raspberry liqueur
Combine ingredients in a blender. Blend until smooth. Cover tightly and chill until ready for use.
For the Whipped Cream
1 cup heavy cream
¼ cup sugar
Splash of vanilla
In a cold mixer bowl (I like to put my mixer bowl and whisk in the freezer beforehand), whisk ingredients until soft peaks form. Cover tightly and chill until ready for use.
To assemble:
In a trifle bowl (one medium or in individual servings), layer slices of brownie on the bottom. Spread a layer of raspberry sauce, followed by a layer of custard. Repeat. Cover tightly with plastic wrap and chill until ready to serve or overnight. Garnish with whipped cream before serving.