San Francisco Treats
There was a time when those outside of California quickly associated San Francisco with a particular "San Francisco Treat" of television commercial fame. These days, you can still find tourists hanging on to cable cars, hair blowing in the wind, singing the old advertising jingle…
San Francisco Treats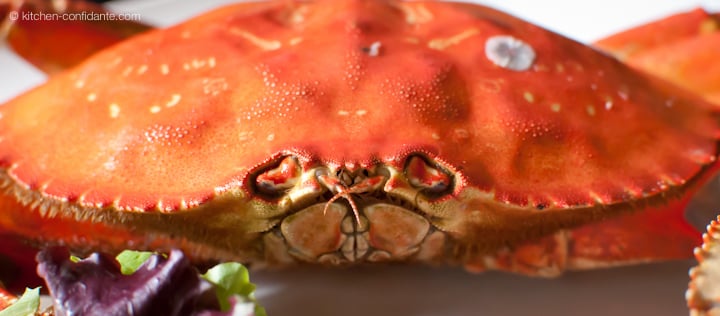 There was a time when those outside of California quickly associated San Francisco with a particular "San Francisco Treat" of television commercial fame. These days, you can still find tourists hanging on to cable cars, hair blowing in the wind, singing the old advertising jingle (sometimes aloud).
San Francisco has since become known for its other delectable foods. Instead of pre-packaged convenience, it is now known for a vibrant cuisine that embraces freshness and an artisanal approach. Visitors are now eager to savor San Francisco's seafood, sourdough, chocolates, and wine, to name a few.
So for Challenge 6 of Project Food Blog, I thought it only fitting to use some of San Francisco's truest treats. The 60 remaining contestants were tasked with creating a delicious meal that will travel well and still taste and look great. Living in this area has made me realize that San Francisco could very well be the road trip capital of the world. Within 3 hours or so, you can easily find yourself in the ski resorts of Lake Tahoe, the rugged majesty of Yosemite, the wineries of Sonoma and Napa, the beautiful Monterey Bay, or the gorgeous coastline in West Marin.
This road trip meal is one that can be made, from scratch, at home, or from ingredients conveniently purchased at establishments throughout San Francisco.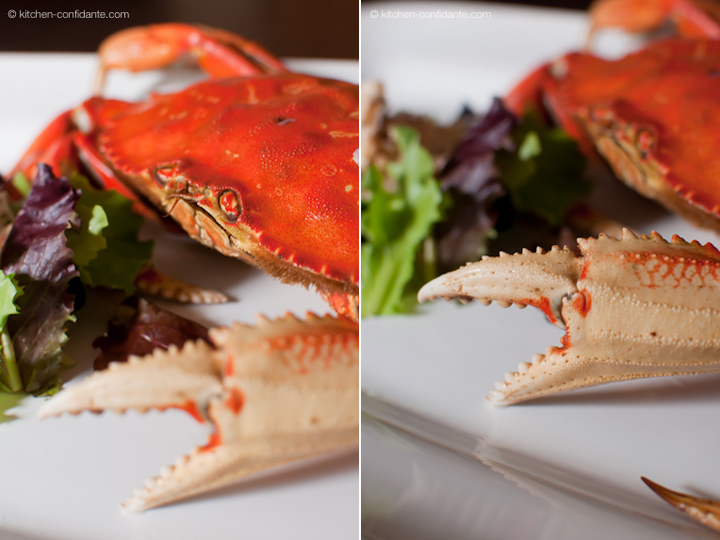 When it comes to seafood, residents of the Bay Area eagerly await Dungeness crab season, which runs from November to about January. This large crab yields a mildly sweet meat, and when the crabbing season reaches its peak, I love to enjoy it simply: steamed.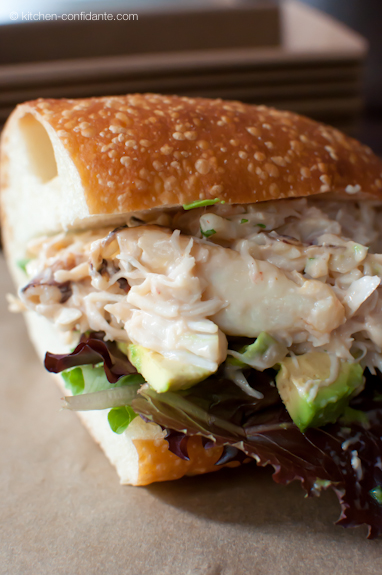 One of my first tastes of Dungeness Crab was in a Crab Louie Salad, a true San Francisco classic. The salad features Dungeness crab with a Thousand Island dressing, served atop a bed of lettuce, with hard boiled eggs. The dish became wildly popular in the early part of the 1900's, and was even featured in a 1910 cookbook by Victor Hertzler, the head chef of the St. Francis Hotel. Though Crab Louie is generally viewed as passé these days, you can still find it at restaurants such as Tadich Grill and Sam's Grill. I happen to think it works really well in a sandwich with fresh sourdough bread. This Crab Louie Roll will travel perfectly.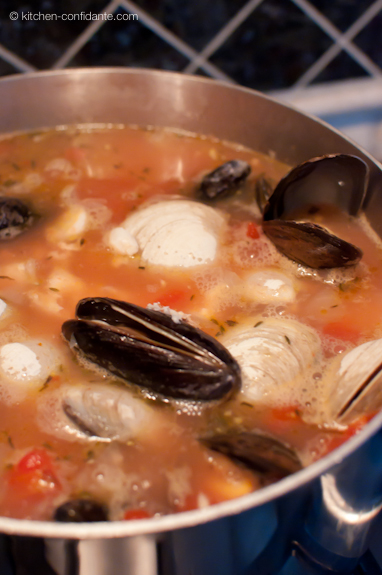 We had our first taste of the typical San Francisco wintery rain this weekend. So, something warm was in order: a steamy bowl of Cioppino. This seafood soup has its origins from the Italian fishermen who settled in San Francisco's North Beach, and its tomato-based broth is extremely comforting on a cold day. This version features Ling Cod, another West Coast native, along with clams and mussels.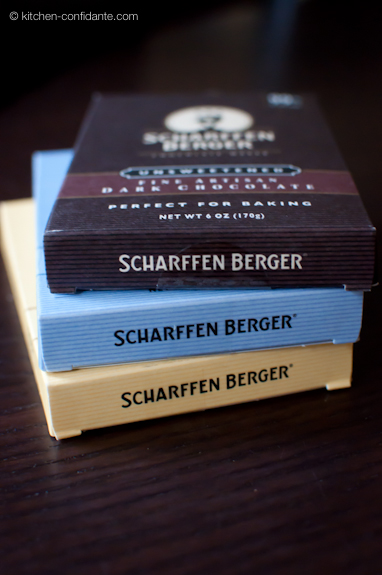 Chocolates and San Francisco have a sweet history as well, with the likes of Ghirardelli and Scharffen Berger, as well as the growing number of artisanal chocolate makers. For dessert, I made Chocolate Raspberry Brownies, extremely portable and fudgy-licious.
My San Francisco treats fit perfectly in the Project Food Blog cooler!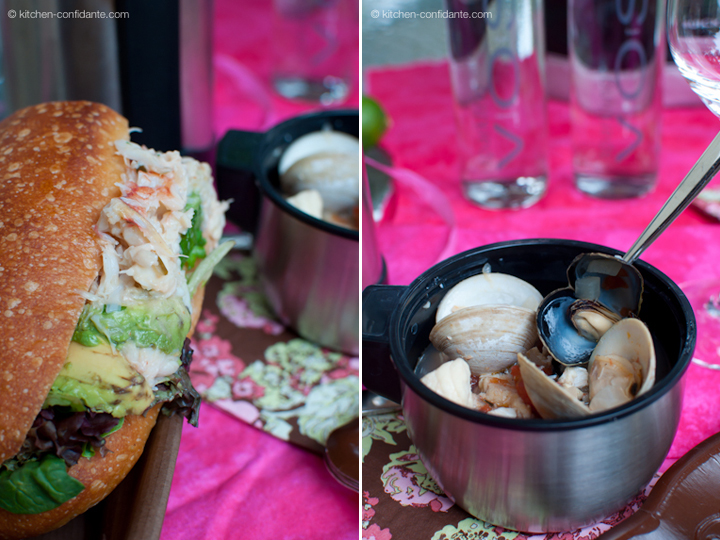 The Crab Louie Rolls traveled well wrapped in paper loaf pans, which doubled as plates, and the thermos of Cioppino guaranteed piping hot soup to ward off the rainy chill.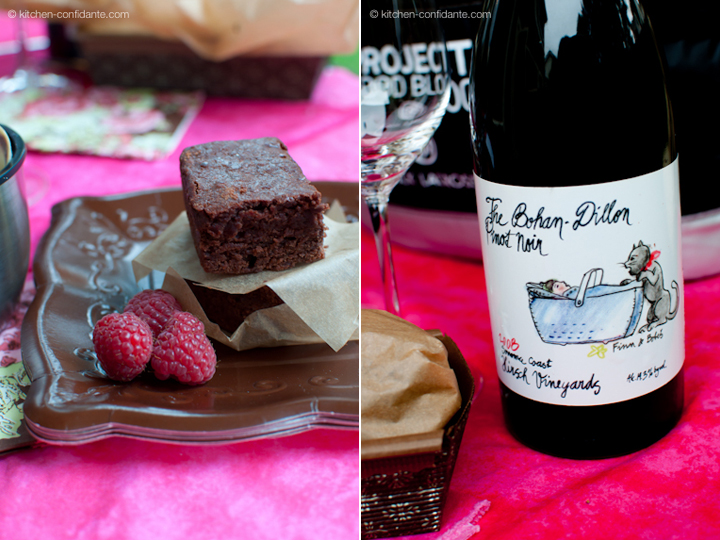 A bottle of wine and Voss sparkling water rounded out the meal. If you're headed to a winery that has a picnic area, this is a lovely lunch to take while you enjoy a bottle of wine from winery. If you're headed somewhere else, be sure to bring one along. We brought a 2008 Bohan-Dillon Pinot Noir from Hirsch Vineyards, a winery located along the Sonoma Coast. A sip of this smokey plum wine along with the luscious Chocolate Raspberry Brownie will be the perfect sweet ending for any road trip.
My sincerest thanks to everyone for helping me advance to the next challenge in Project Food Blog. Your comments, tweets, and votes mean so much! This post is my submission for Challenge 6: Road Trip! Contestants were asked to create a meal to go — one that carries well on the road, and still tastes and looks great. Voting for this challenge takes place from 6AM Pacific Time (9 AM Eastern) Monday, October 25th through 6PM Pacific Time (9 PM Eastern) Thursday, October 28st. Please consider voting by clicking here (and clicking the heart). Thank you so much!
Recipes
Crab Louie Roll
16 oz fresh Dungeness Crab meat*
1/2 cup mayonnaise
1/4 cup ketchup
1/4 cup relish
salt and pepper to taste
1 avocado, sliced
salad greens
fresh sourdough rolls
* While it's always fun to steam and crack your own Dungeness crabs, crab meat can often be purchased by the pound for your convenience.
Check Dungeness crab meat for any remaining shells.
Combine mayonnaise, ketchup, relish, salt and pepper in a small bowl to make the dressing. Add Dungeness crab and stir.
Build sandwich on fresh sourdough rolls, salad greens and sliced avocado.
Cioppino
Recipe from Martha Stewart can be found here. It is simple, quick, and delicious.
Chocolate Raspberry Brownies
Recipe Coming Soon