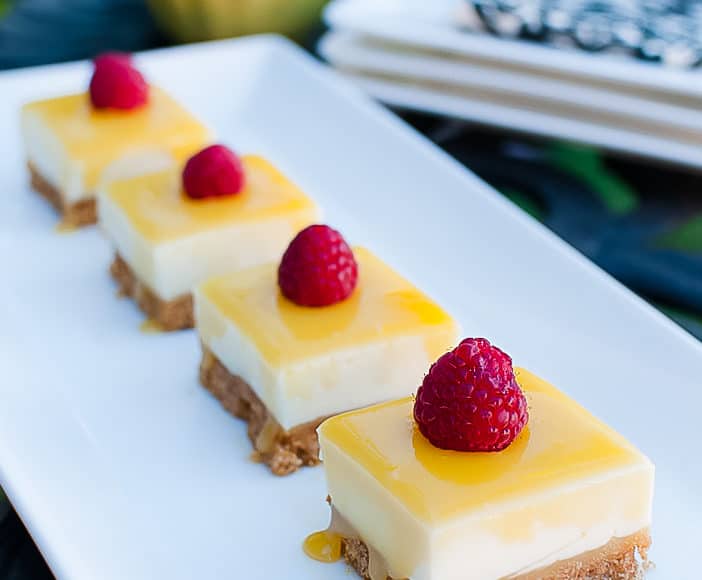 No-Bake Lemon Curd Cheesecake Bars
No-Bake Lemon Curd Cheesecake Bars are cool and creamy bites of lemon loveliness. My oven died. It's gone. Two days ago, I tried to turn it on and found myself devastated – to lose my oven was like losing my arm! I hovered over it,…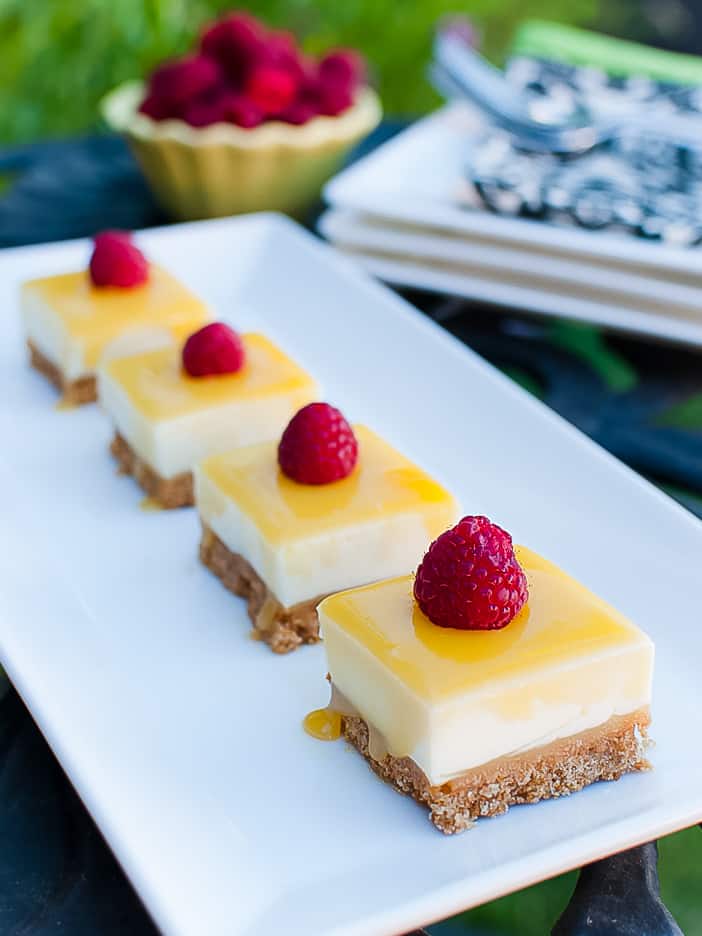 No-Bake Lemon Curd Cheesecake Bars
No-Bake Lemon Curd Cheesecake Bars are cool and creamy bites of lemon loveliness.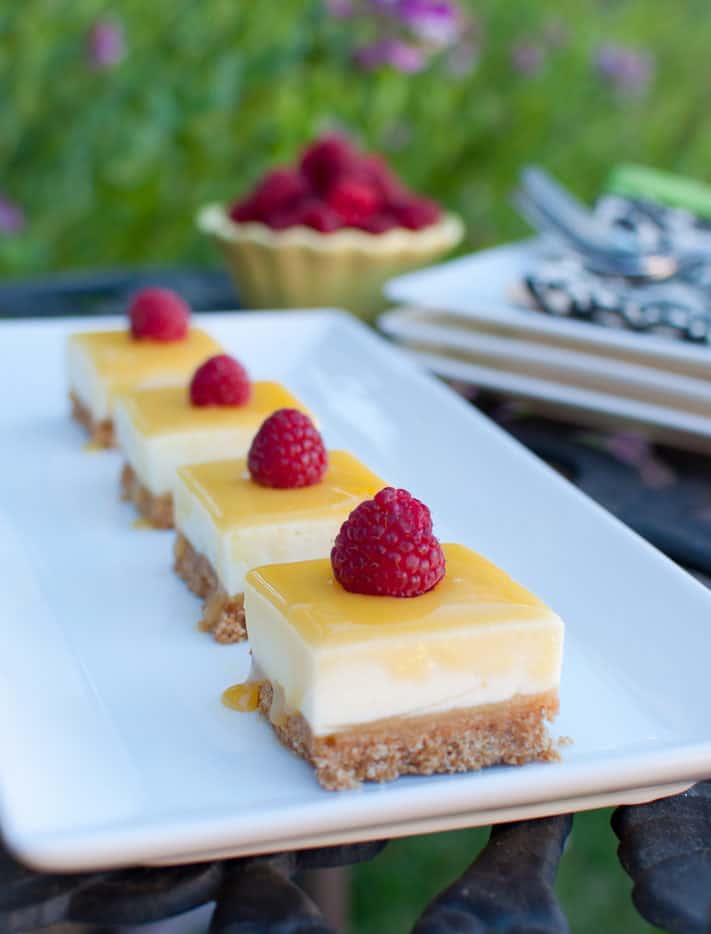 My oven died. It's gone. Two days ago, I tried to turn it on and found myself devastated – to lose my oven was like losing my arm! I hovered over it, pressing its buttons over and over again, hoping that it was just a fluke, that it would fire up once again.
Melodrama aside, I realize that this could be a blessing in disguise. Not having an oven for the moment mandates a break from home-baked goods, which may not be such a bad thing, at least for a short while. It could mean finding a newer, better oven. And it means rediscovering all kinds of no-bake desserts.
Ironically, or perhaps in a case of foreshadowing, just before my oven's death, I made these No Bake Lemon Curd Cheesecake Bars. I made them when we were suffering a particularly hot spell and had no desire to heat the kitchen unnecessarily. Every bit, from the graham cracker crust to the layers of lemony creaminess, is oven-free.  Perfect for sweltering summer days.
The silver lining in all this is I don't have to wait for a new oven to  make these again.
No-Bake Lemon Curd Cheesecake Bars
These cool and creamy bars are bites of lemon loveliness. If you are pressed for time, you may omit the lemon curd layer between the crust and the cheesecake-like filling. However, if not, do add the layer for that extra punch of lemon flavor.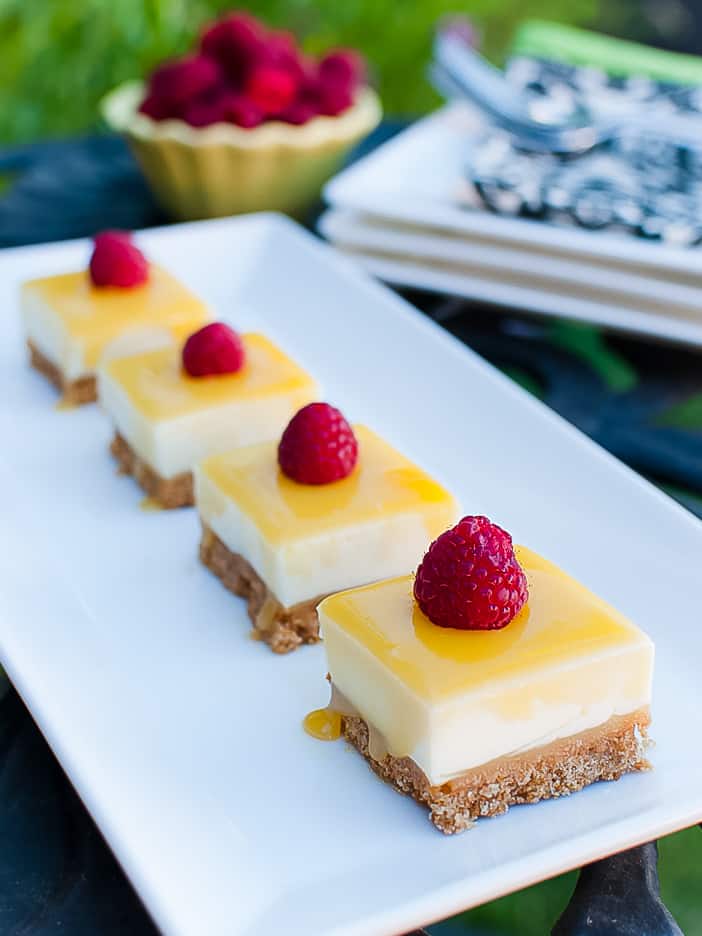 Print Recipe
Ingredients
1 1/2 cups graham crackers (about 10 sheets)
6 tablespoons butter, melted and cooled
1/2 cup sugar
8 ounces mascarpone cheese or cream cheese (low fat works, too)
1 14-ounce can fat free sweetened condensed milk
1 package unflavored gelatin
3/4 cup boiling water
2 cups lemon curd
fresh raspberries for garnish
Instructions
Line an 8×8 square pan with overlapping layers of parchment paper. Prepare graham cracker crust by using a food processor or blender to process graham crackers till fine. Add butter and sugar, and pulse. Pour into pan, pressing down with fingers or measuring cup, creating one even layer. Chill in the refrigerator.
Stir in gelatin into boiling water until dissolved. Let it cool a few minutes.
Combine 1/2 cup lemon curd with 2 tablespoons gelatin mixture, whisk until smooth. Spread on the chilled crust. Return to refrigerator.
In a clean food processor bowl, or using an electric mixer, process the mascarpone or cream cheese until smooth. With the processor running, pour in the condensed milk, followed by 1/2 cup of lemon curd, and the remaining gelatin mixture. Pour cream cheese mixture into crust over the lemon curd layer.
Chill in the refrigerator until set, at least 4 hours or overnight.
When the cheesecake layer is cool, stir the remaining 1 cup of lemon curd until it is smooth and pourable. Spread over the cheesecake layer and return to refrigerator to chill again, at least 3 hours.
Cut into squares and serve with fresh raspberries.