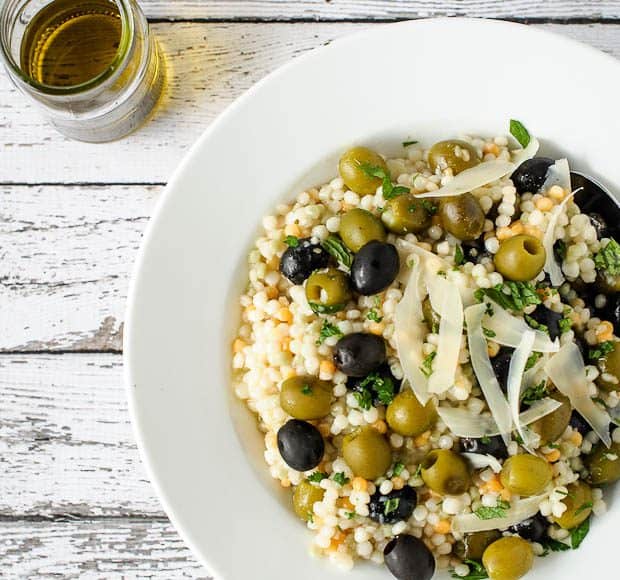 Olive Couscous Salad
When we moved to our current house six years ago, the landscaping required a huge overhaul, and I had romantic notions of filling the backyard with olive trees, their gnarly trunks and branches growing into a graceful bramble shading our yard. I had visions of…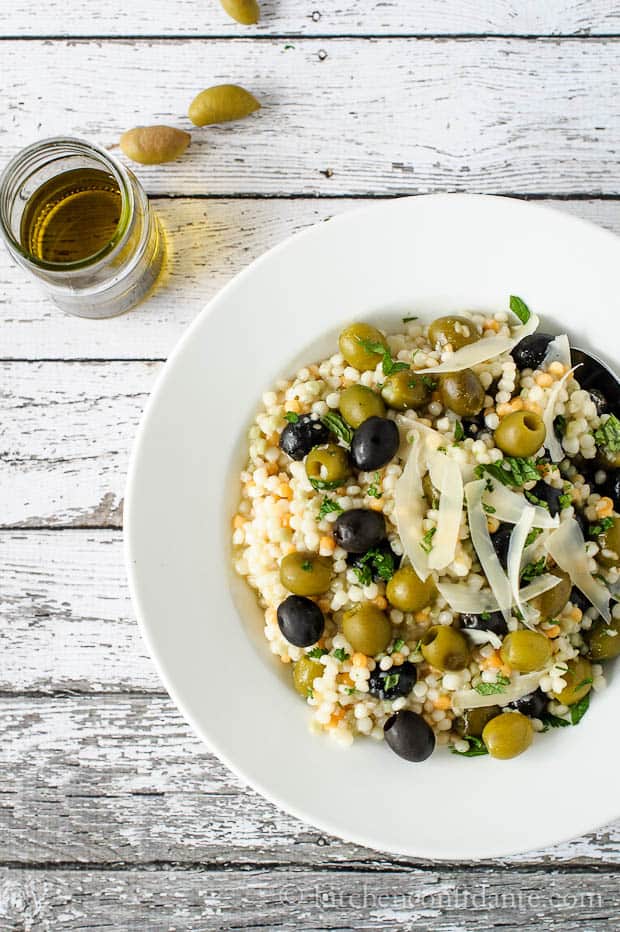 Olive Couscous Salad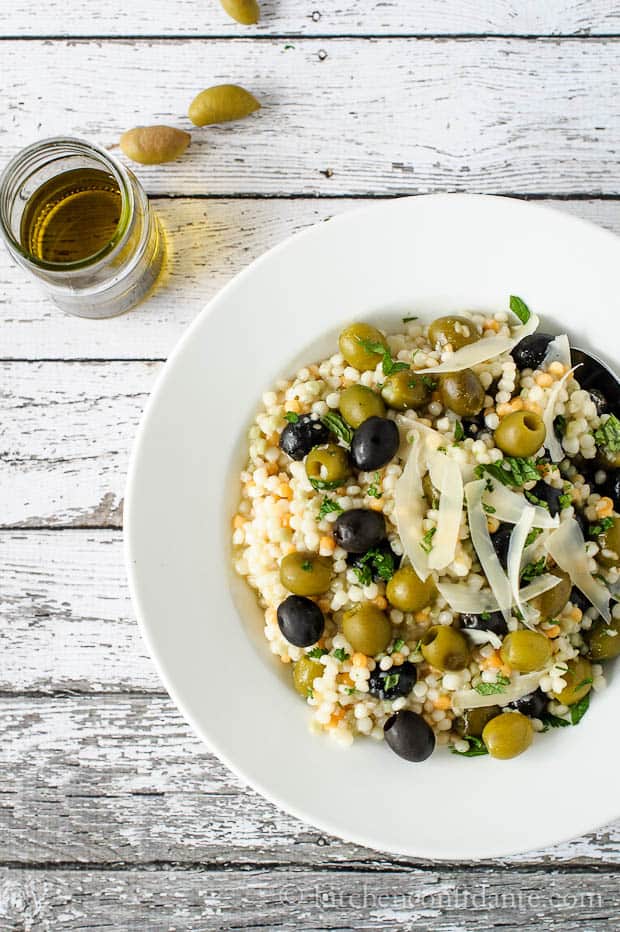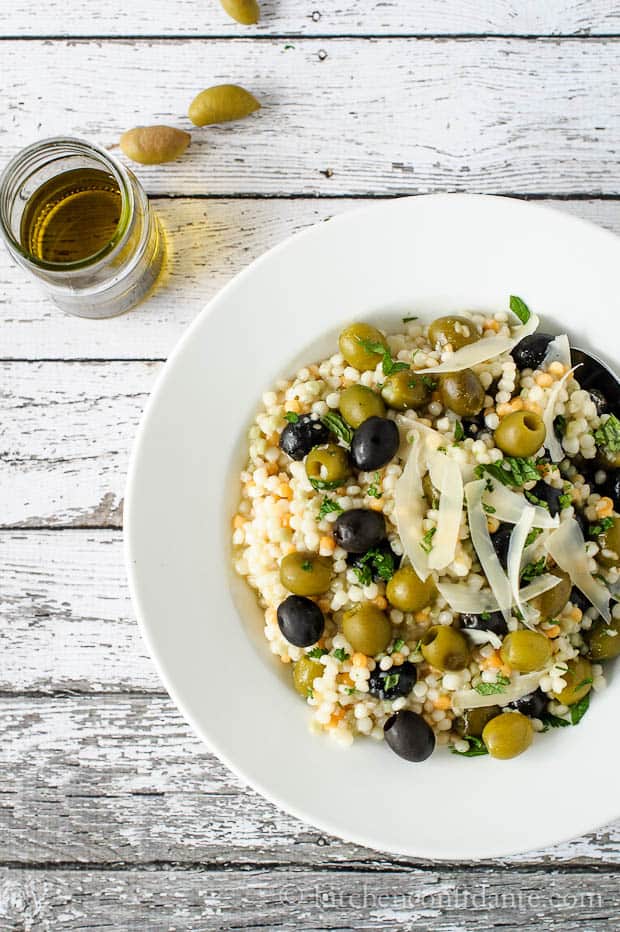 When we moved to our current house six years ago, the landscaping required a huge overhaul, and I had romantic notions of filling the backyard with olive trees, their gnarly trunks and branches growing into a graceful bramble shading our yard. I had visions of walking underneath them, basket tucked in the crook of my arm, my free hand harvesting fresh olives. There would be juicy olives and freshly pressed olive oil.
The landscape architect took note, then quickly informed me: Olive trees are too messy.
I sighed. My vision was quickly replaced with something more practical, and requiring less maintenance. I love my back yard, but I would still love to put in some olive trees one day.
As a family, we go through more olives than I ever anticipated. The children love black olives – open up a jar, and they rush to it like candy. We eat olives in salads, appetizers, marinated, plain, pitted or not – and of course, I use the oil in cooking all the time. So when I was invited to participate in this month's Kitchen PLAY event sponsored by the International Olive Council, I was happy to say yes.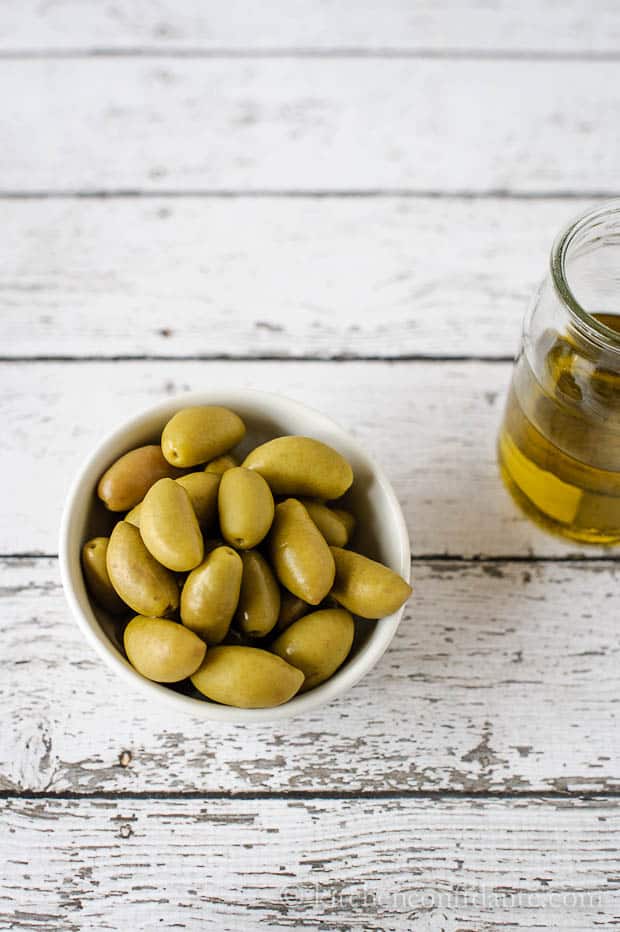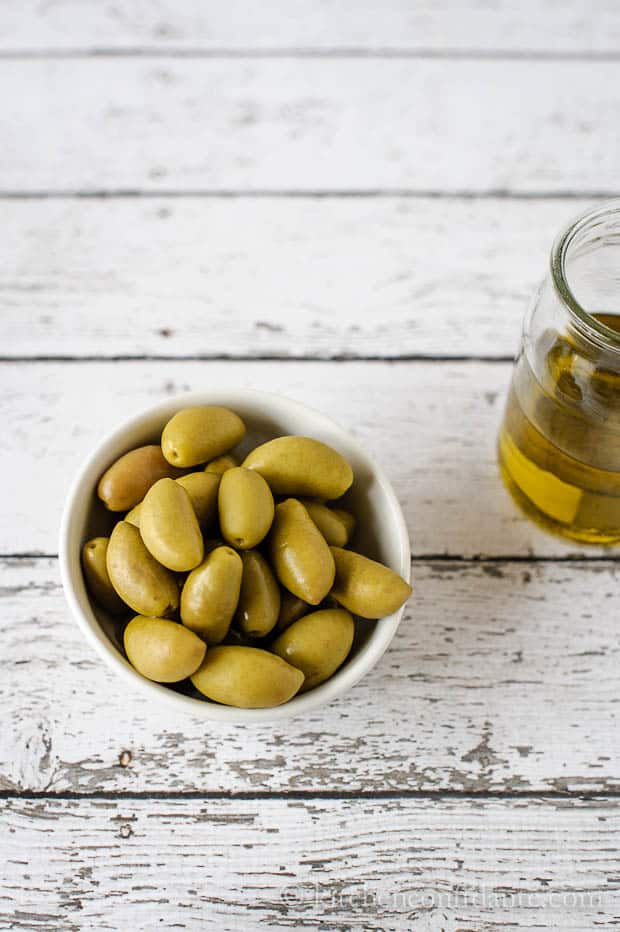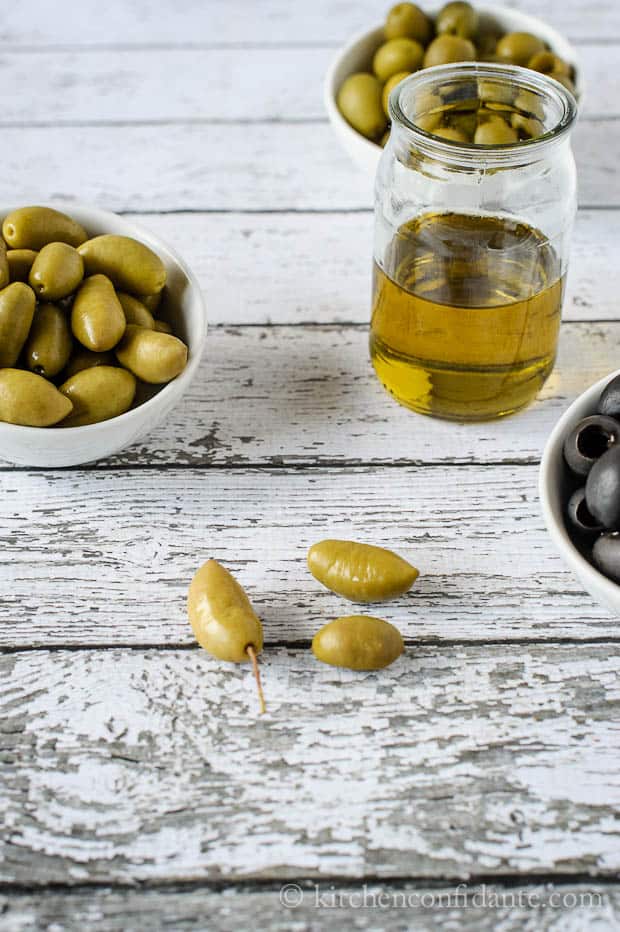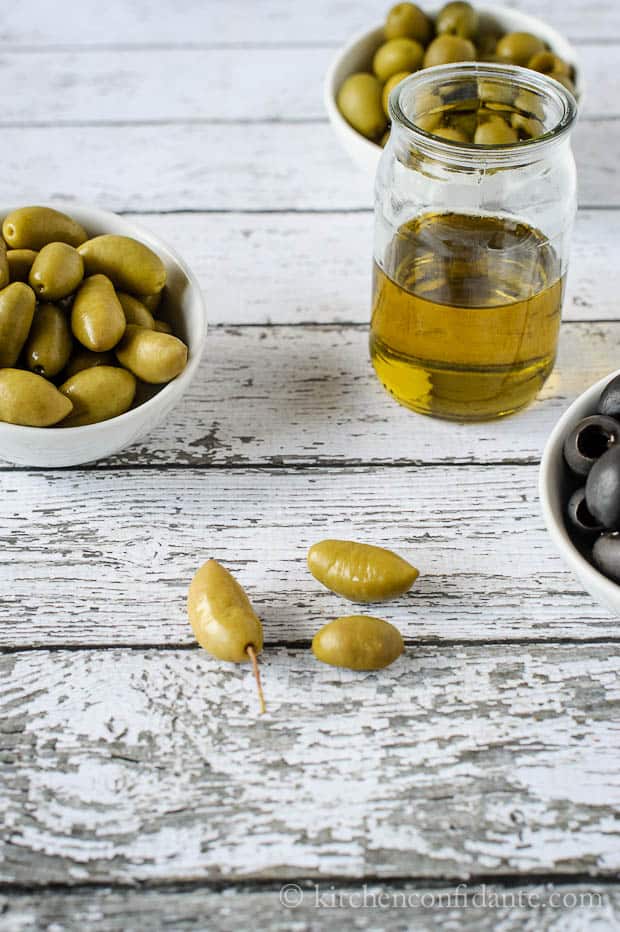 According to new health research published by the International Olive Council, the oleic acid in olive oil has been found to be particularly effective against breast, colon and prostate cancer. The study asserts that eating a Mediterranean Diet could prevent up to 25 percent of colon; 15 percent of breast; and 10 percent of prostate, pancreas and endometrial cancers. With a personal family history of breast and colon cancers, you can imagine how encouraging this statistic is to our family.
I decided to create an Olive Couscous Salad inspired by the Mediterranean flavors I have grown to love. Toss the olives with a gorgeous tricolor couscous in a dressing of lemon and garlic, and you will find yourself with a lovely side dish that perfectly complements a roast chicken or grilled fish. I know this salad will make it to our table a lot this summer as we bring our meals outdoors. I may not be able to dine in a grove of olive trees, but I can surely enjoy them on my plate all year long.

FTC: I have written this post and shared this recipe as part of my participation in the "Add Some Life" campaign in partnership with Kitchen PLAY and Add Some Life by the International Olive Council. I have been compensated for my time and cooking expenses but as always, my opinions are genuinely my own.
Follow Add Some Life on Twitter and Facebook for more inspiration on ways to build a better salad with olives and olive oil.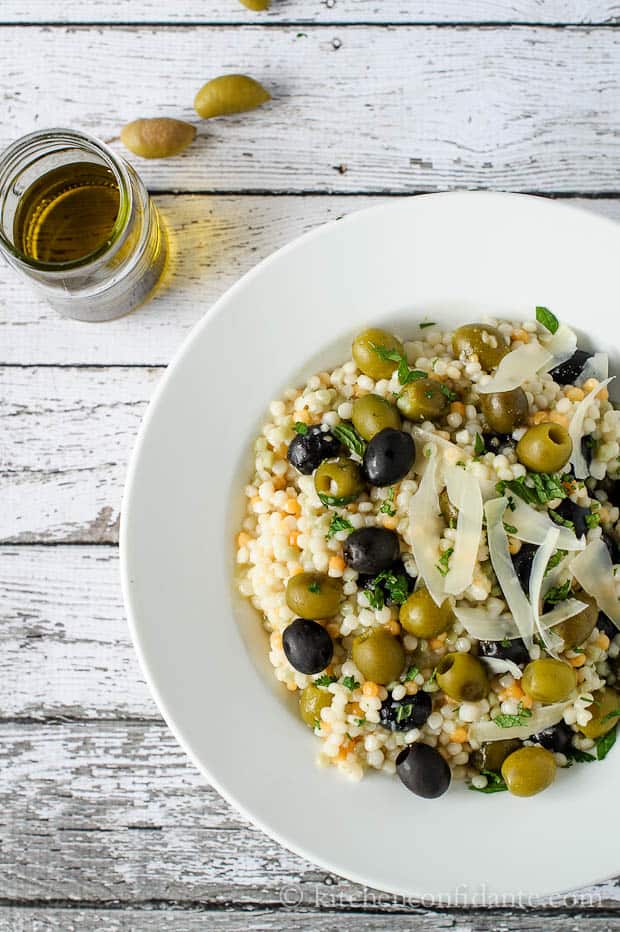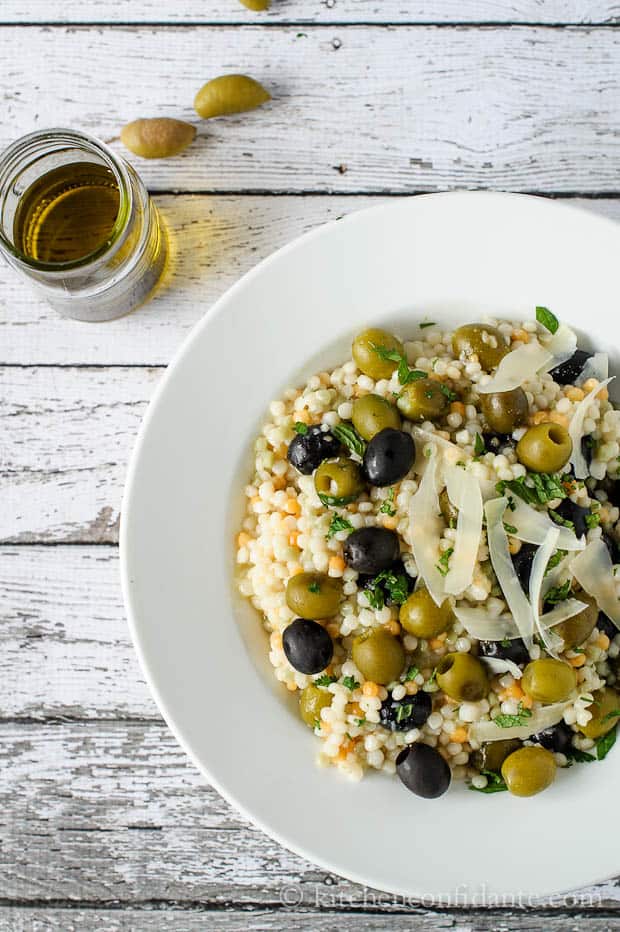 Wonderfully versatile, this salad works best if given time to soak in the flavors of the dressing. Make it the night before, and by the following day, it will be perfectly chilled and flavorful, and ready to pair with your favorite dishes.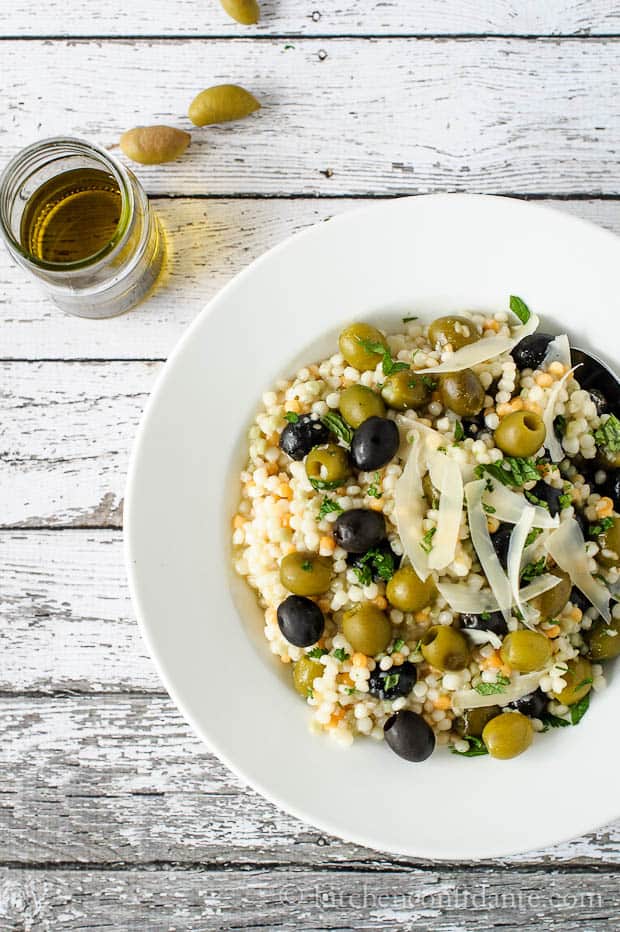 Print Recipe
Ingredients
1 cup tri color couscous
2 garlic cloves, mashed
1 teaspoon salt
2 tablespoons freshly squeezed lemon juice
1 teaspoon Dijon mustard
2 teaspoons white balsamic vinegar
3 tablespoons extra virgin olive oil
freshly ground black pepper
1 1/3 cups black olives
1 1/3 cups green olives
1/4 cup finely diced red onion
1/2 cup cilantro or flat leaf parsley, minced
2-3 tablespoons minced mint
1/4 cup shaved Parmesan cheese
Instructions
Bring 2 ½ cups of water to a boil in a medium saucepan. Salt the water and add couscous. Cover the saucepan and reduce the heat to low. Simmer for five minutes. Remove the pan from the heat, and allow the couscous to sit, still covered, for another 5-10 minutes. Drain any excess liquid and chill until ready to make the salad.
Make the dressing - mash together the garlic and salt. Stir in the lemon juice, mustard, vinegar, olive oil and pepper. Toss the dressing, along with the olives, red onion, cilantro and mint into the couscous. Refrigerate until ready to serve. The salad can be made a day in advance.
Before serving, shave the Parmesan cheese over the salad.