Papa's Chicken | Honey Spice Marinade
In a couple of weeks, our house will be full of visitors. The grandparents will be be making the rounds, first my husband's parents, followed very shortly thereafter by my dad. It seems that their visits always happen in May, and come to think of…
Papa's Chicken | Honey Spice Marinade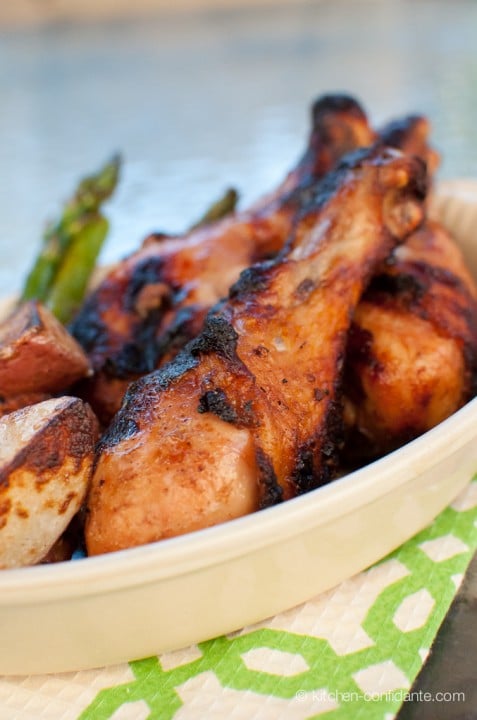 In a couple of weeks, our house will be full of visitors. The grandparents will be be making the rounds, first my husband's parents, followed very shortly thereafter by my dad. It seems that their visits always happen in May, and come to think of it, May is wonderful time to visit the Bay Area. Truthfully, there is never really a bad time to visit this part of the country, but May is especially lovely. The rain is gone till next season (it always seems hard for visitors to understand that truly, once rainy season ends, we will not see a single drop until next autumn), and the hills are a vibrant green. The temperatures are crisp in the morning but just perfect by afternoon, and the spring produce really starts to ramp up at the local markets. That means we take our meals outdoors.
You know by now that we love to grill. I think my husband inherited the grilling gene from his dad, though it seems that most men like to handle this type of cooking. It must have something to do with open flames. When we tell the children that we are grilling for dinner, the first question they will ask is: are we having Papa's chicken?
Papa's Chicken. That is what it has come to be known in our house – a Honey Spice Marinade that was passed on to us by my father-in-law is my children's favorite. It's zesty and sweet, tangy and garlick-y – move over Colonel Sanders, this chicken is finger lickin' good.
[framed_box width="625″ bgColor="#bfc3bc" textColor="#332D32″ rounded="true"]
Honey Spice Marinade
Wonderful with chicken, this marinade also works with pork. For best results, marinate overnight.
Makes 1½ cups.
2 teaspoons ground ginger
2 teaspoons dry mustard
2 teaspoons salt
¼ teaspoon ground pepper
2 tablespoons soy sauce
¼ cup honey
½ cup olive oil
½ cup lemon juice
3 cloves garlic, crushed
Combine ingredients and whisk well. Marinate chicken or pork in a zip lock bag, glass dish, or non-reactive bowl for at least 6 hours, ideally overnight. Rotate halfway through marinating.
[/framed_box]