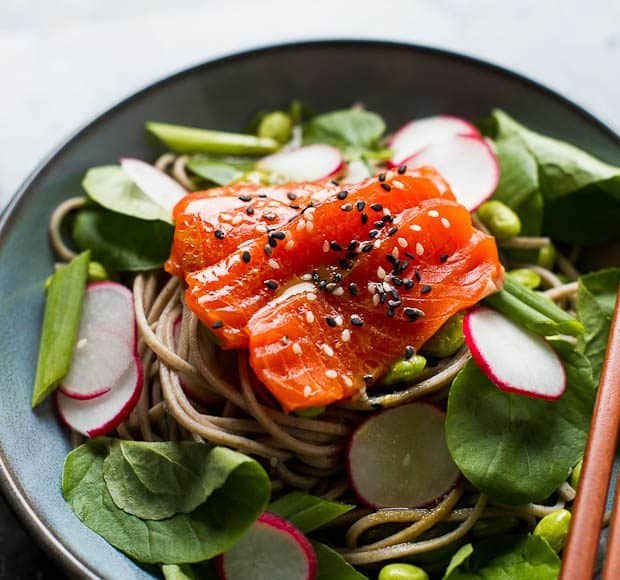 Salmon and Soba Noodle Salad + Behind the Scenes: Whole Foods Market & Pezzolo Seafood
The waters surrounding the bridge were still cloaked in darkness when I drove across the bay. The city streets were empty, with just early morning commuters zipping into their office buildings, skirting the dreaded traffic. I drove past the Ferry Building and into Fisherman's Wharf,…
Salmon and Soba Noodle Salad + Behind the Scenes: Whole Foods Market & Pezzolo Seafood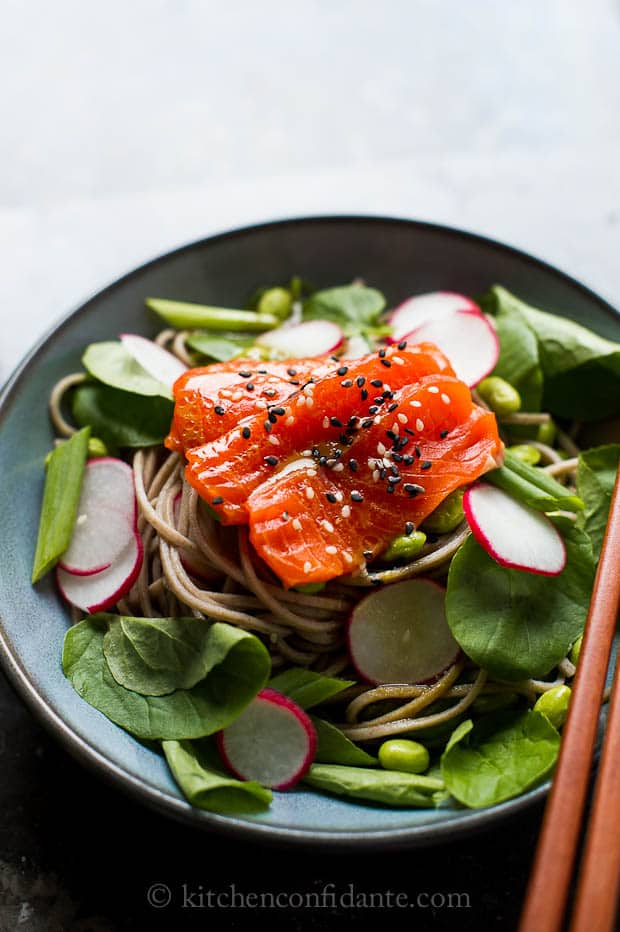 The waters surrounding the bridge were still cloaked in darkness when I drove across the bay. The city streets were empty, with just early morning commuters zipping into their office buildings, skirting the dreaded traffic. I drove past the Ferry Building and into Fisherman's Wharf, and as I peered at the neon signs above the oddly empty sidewalks, I realized that I had not been in that part of San Francisco in probably ten years.
Why would you? My group agreed. Fisherman's Wharf is for tourists. Those signs for crab and sourdough bread bowls were for them. But behind it? That is the true fisherman's wharf.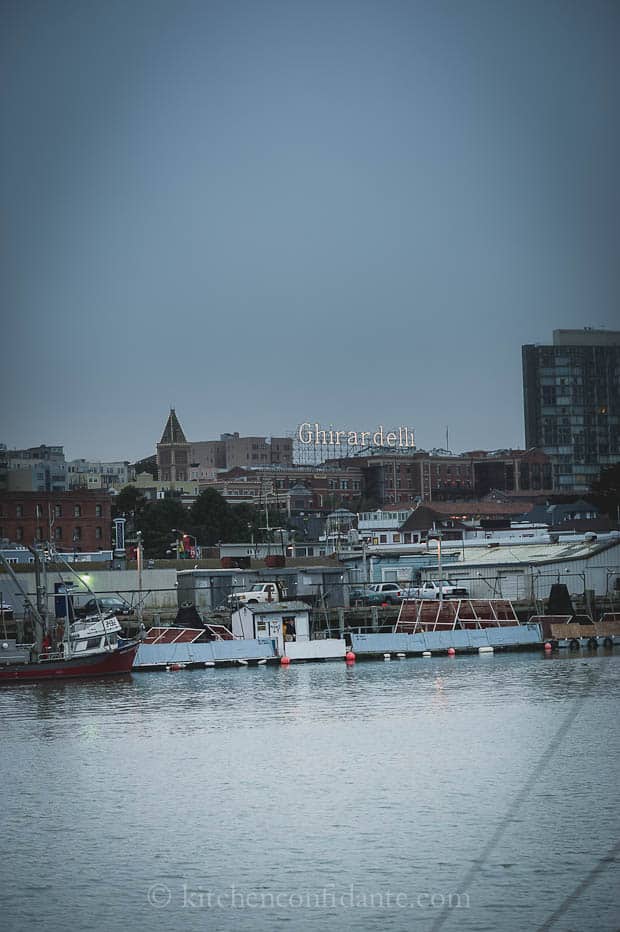 What was I doing before dawn in Fisherman's Wharf? I met a small group hosted by Whole Foods Market to get a behind the scenes look at one of their fine seafood purveyors. I have spoken before about how seriously Whole Foods sources their seafood, and of theIr rigorous standards. I was excited to get a close look at one of main suppliers of King Salmon.
Behind the kitchy and the tourist centric attractions of Pier 39, behind the neon and hooded sweatshirt stands and the restaurants, is the true heart and soul of the area, what I would consider the real fisherman's wharf that no one gets to see. As our car crawled along the dock of Pier 45, the neat turned into the gritty, and the reality of our seafood supply began to sink in.
From here, amid dungeness crab traps and seagulls loitering for breakfast, I could see the streets climbing into the fog and Ghirardelli's distant lights.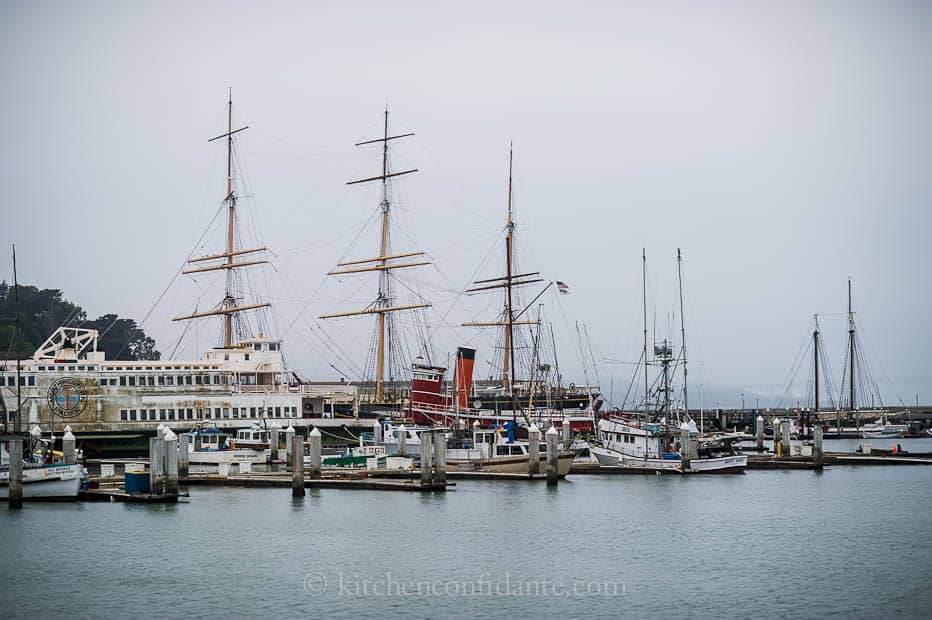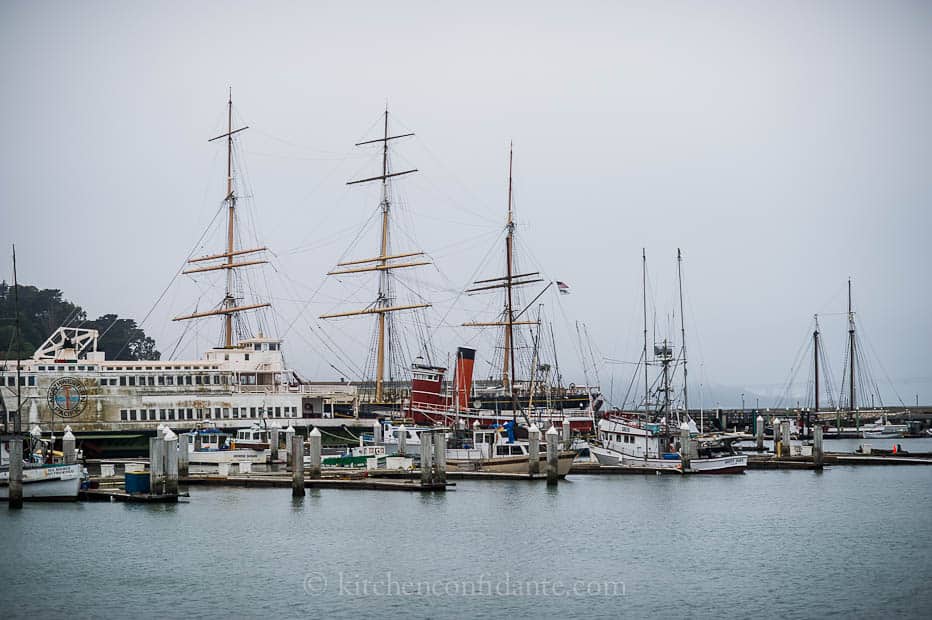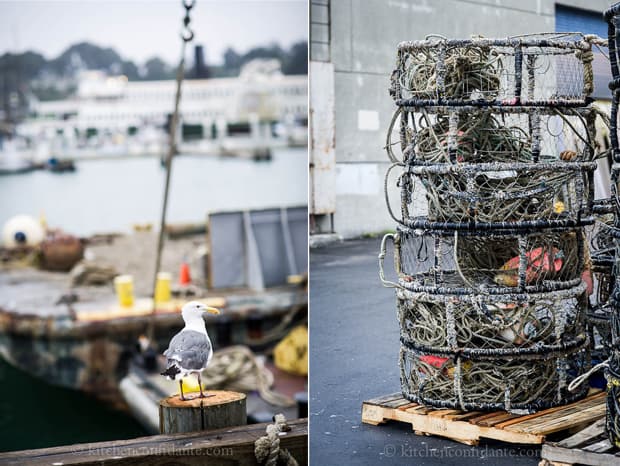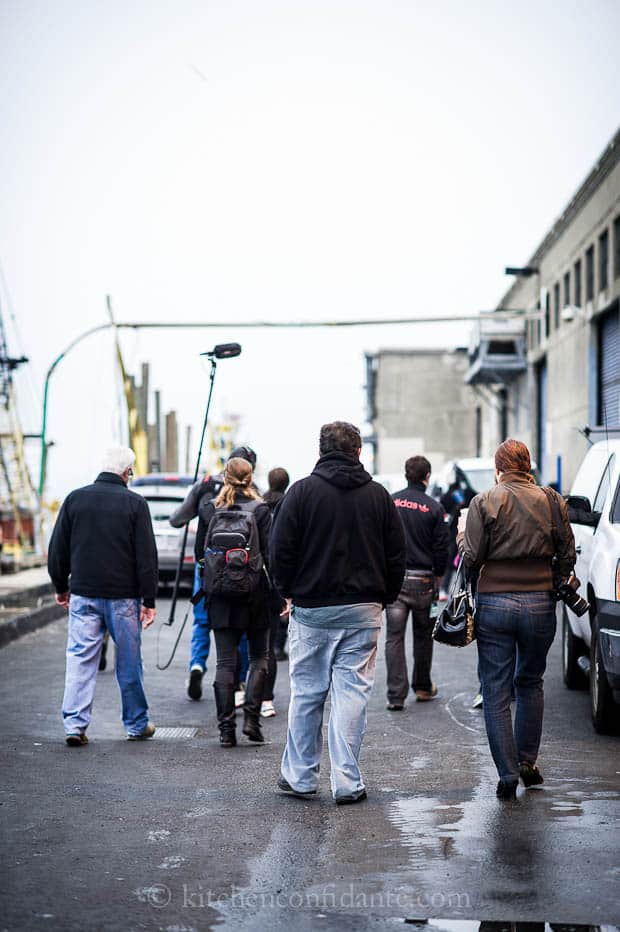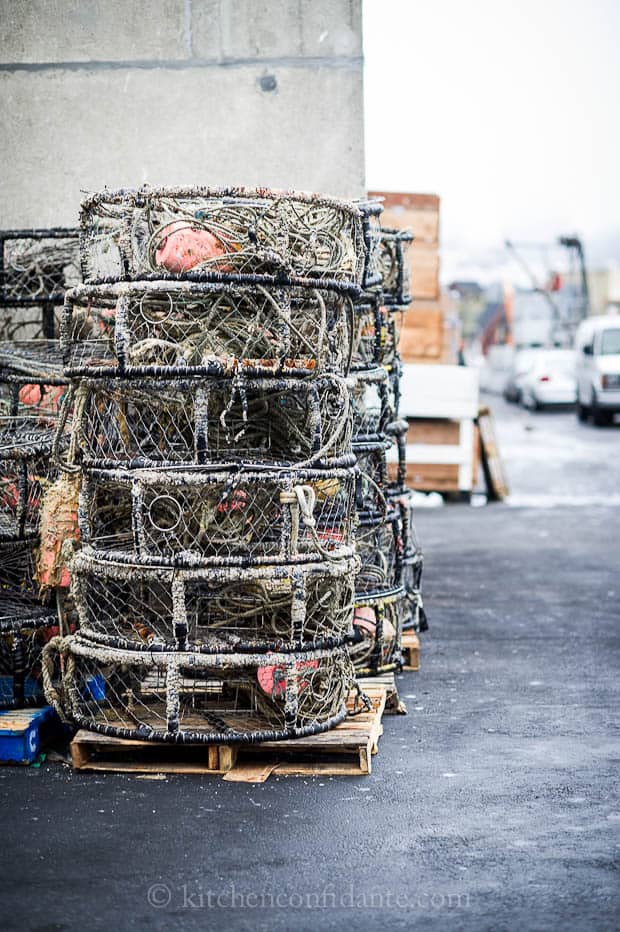 I followed our small group into the offices of Pezzolo Seafood, a family-owned company with deep ties to San Francisco. We were greeted by Rich Fitzpatrick and Ron Pezzolo of Pezzolo Seafood and Whole Foods Market Seafood Coordinator Mark Hernandez.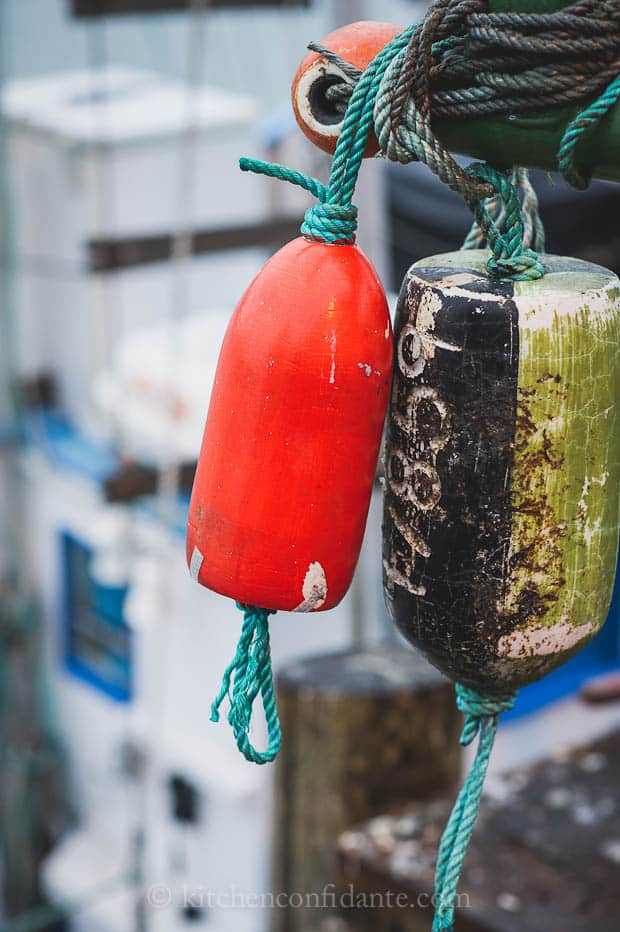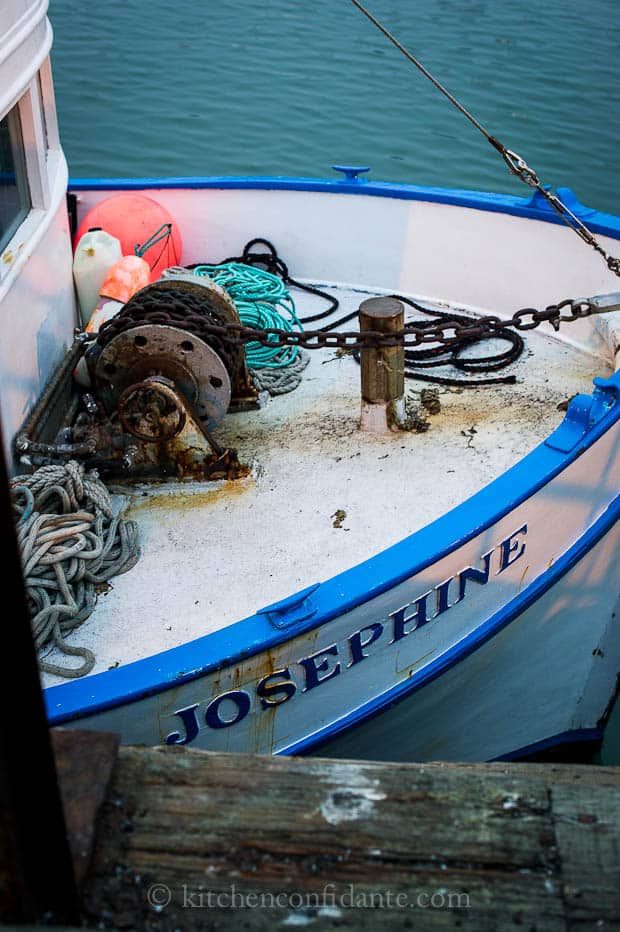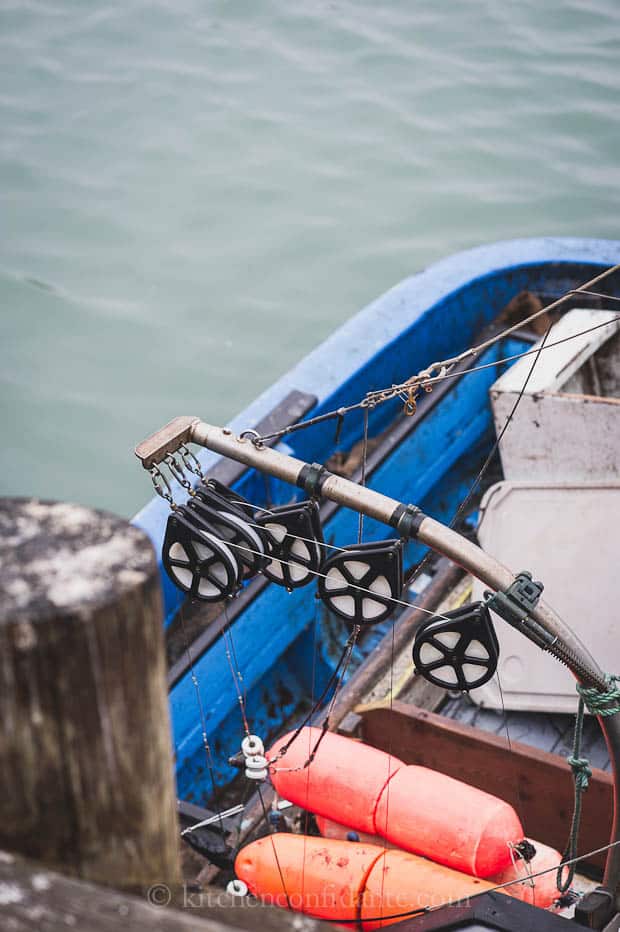 The chill of the bay made me chuckle.  I remembered the first time I visited Fisherman's Wharf in August, when I moved here over a decade ago. I wore short summer shorts and a tank top, and joined the tourists in shivering over a cup of hot cocoa inside Ghirardelli's. This time I was more appropriately dressed in jeans, boots and raincoat.
We walked to chat with the fishermen and to meet Josephine. Josephine was not as large as I expected, even for a boat. It was bobbing in the dock and I was amazed at how this tiny boat was able to perform an arduous job. I imagined it in frigid choppy  waters, the lines dropped to find the King Salmon. 
The salmon from Pezzolo's is carefully caught, each one individually pulled from the sea with hook and line. Partly for quality, and partly for ecology, this painstaking process is done with care, and results in fish that are not bruised from the crush of a net and other heavy fish. We were able to see the difference first hand, noting the pristine skin and flesh of the line-caught fish versus the more bruised salmon that had been netted and trucked in from northern waters.
Perhaps more important, however, is how hook and line fishing prevents other fish from being caught. It is critical from an ecological perspective, and the fishermen spoke of how the waters now are so much more abundant than they were just a few years before. It was heartening to hear how the damage we as humans have incurred to sea life is finally taking a turn for the better. This year he saw more blue whale than he has ever seen before.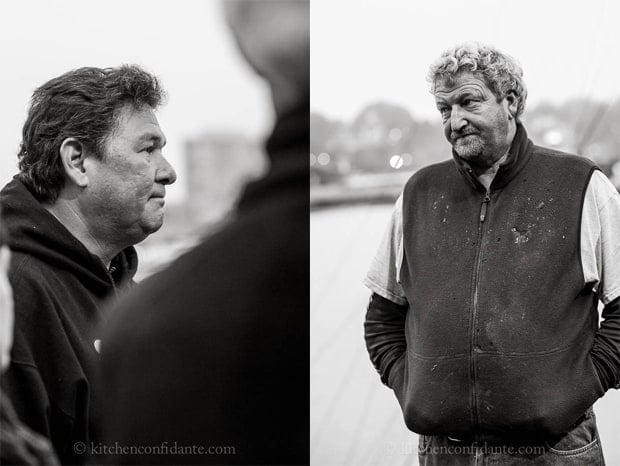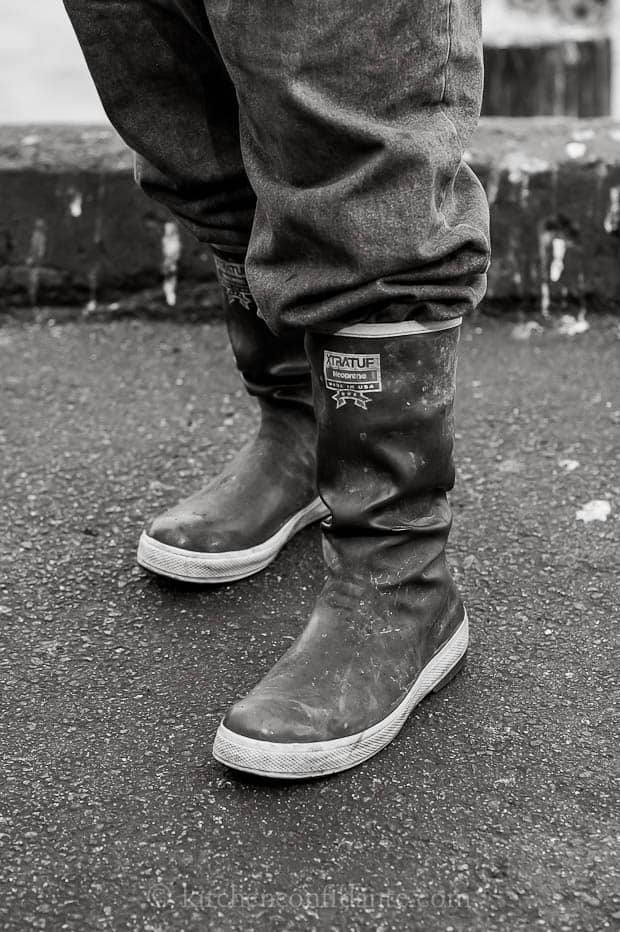 The cold days spent at sea, battling the elements and nature, hoping for a catch, the dim reality of the incredible amount of effort behind each fish pulled from the ocean — the weight of it gave me a deeper appreciation for the beautiful fish we see abundantly displayed at our local markets. Hearing them speak of the challenges, and seeing first hand how they strive to balance a culture of thoughtful fishing with making a living — it really made me understand the cost involved from the other side of the counter.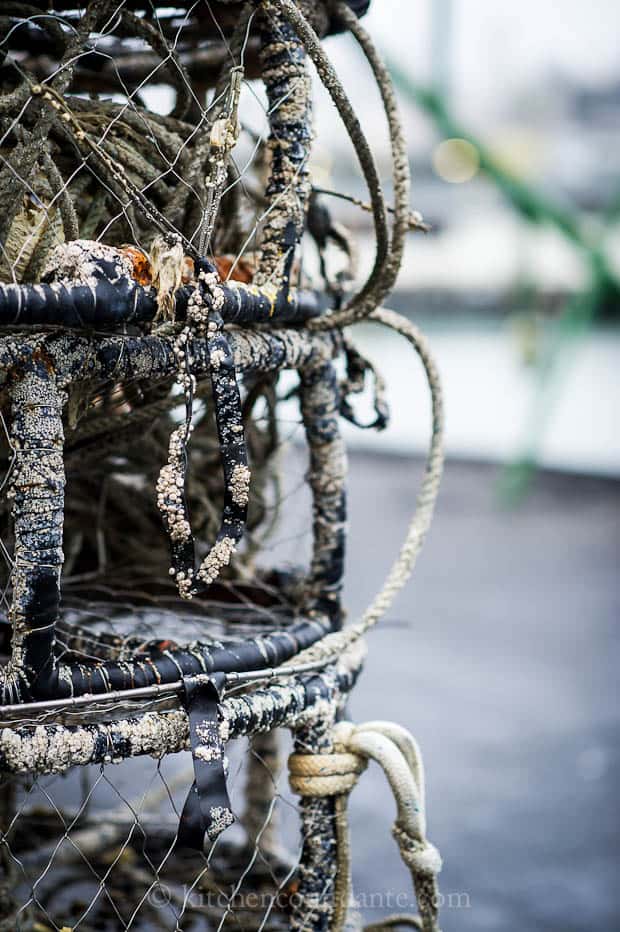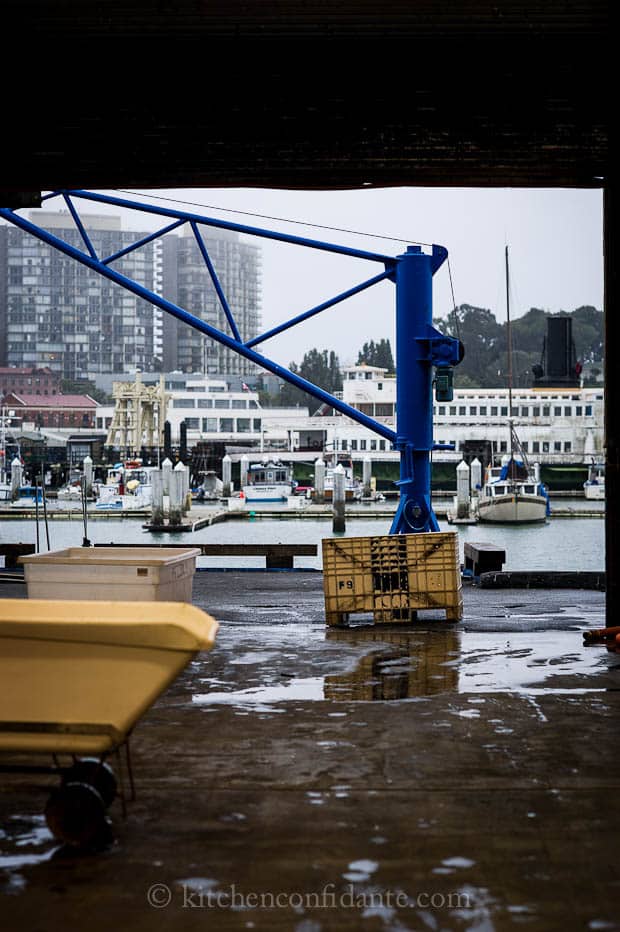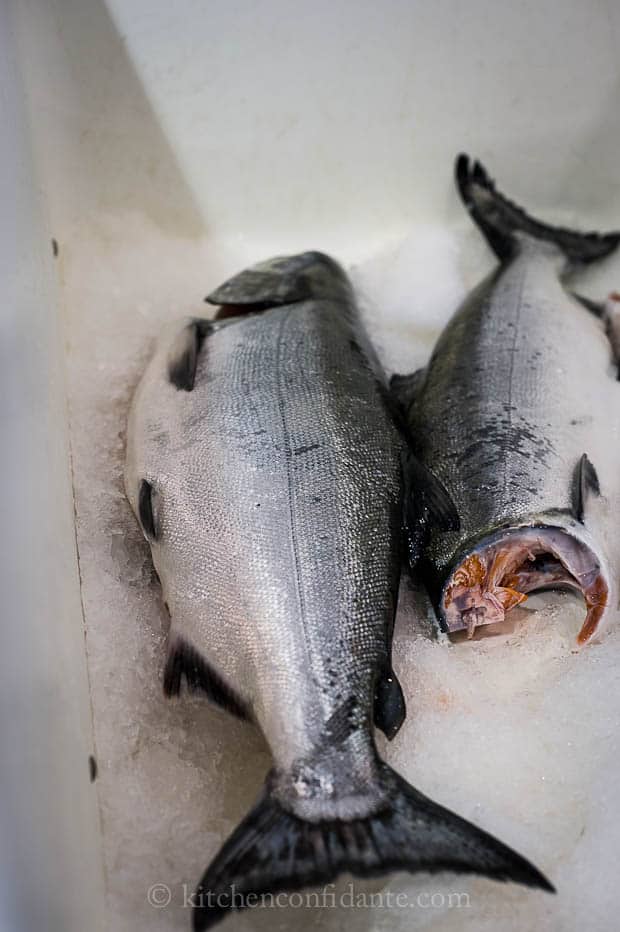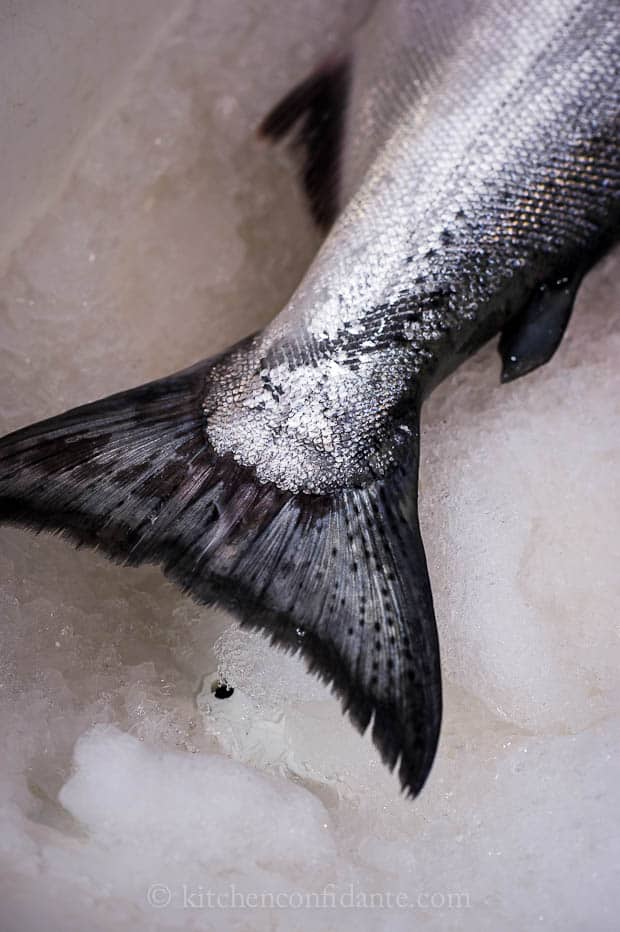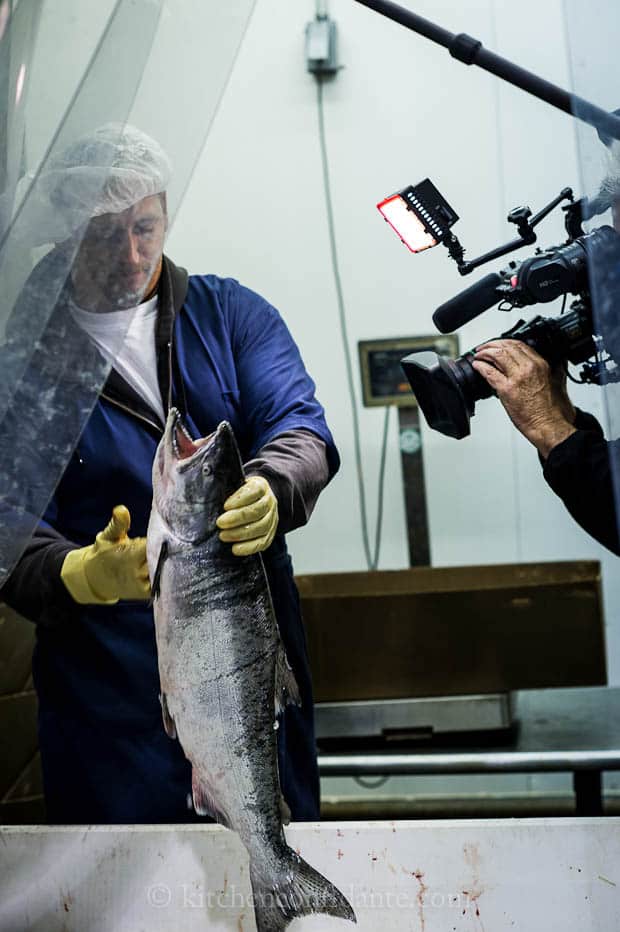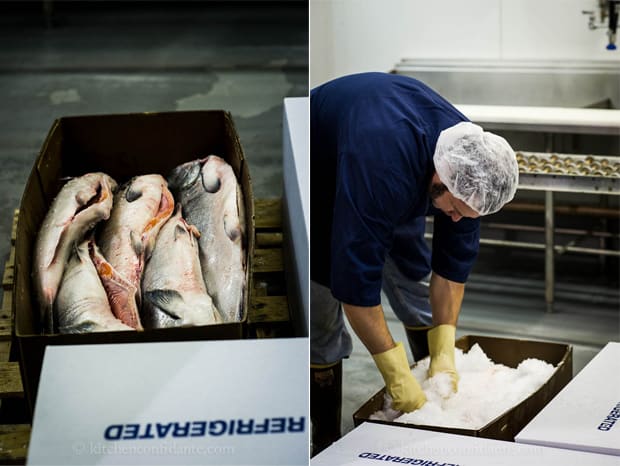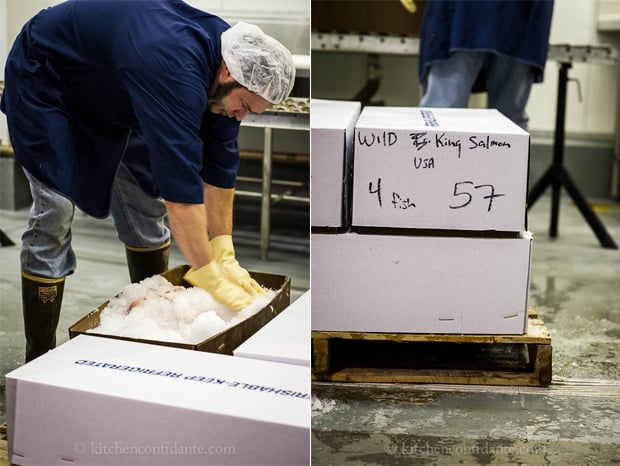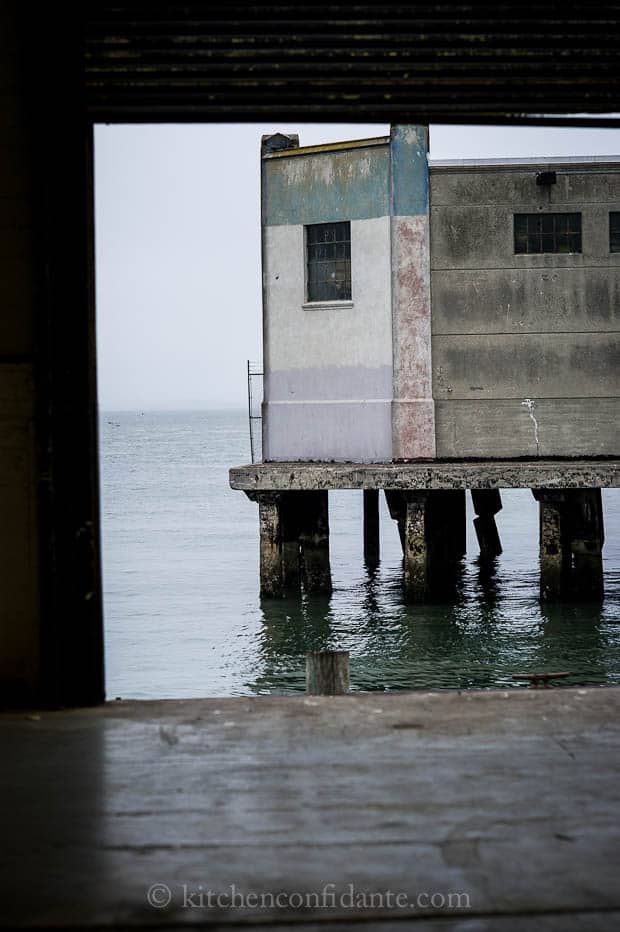 Back home in my kitchen, as my knife cut through the glossy flesh of beautiful salmon, I thought of the Josephine and her captain. I thought of the solitary days, the stormy seas, and wondered if the skies were blue in Bodega Bay when he headed back to fish that morning.  I thought of him pulling up the day's catch and hoped it was fruitful. I pictured him carefully preparing the fish, rinsing the blood thoroughly, setting it in a bed of ice to keep fresh for us. And I appreciated each bite, each chew of that salmon, tasting it through the wasabi dressing and the swirl of soba. The thought of any waste upset me, but there was no problem of that. It tasted too good.
Sincere thanks to Whole Foods Market and Pezzolo Seafood for a wonderful behind the scenes look at fishing for King Salmon. If you happen to be in San Francisco, check out their newest and most innovative store, on Ocean Avenue. Here you can, of course, create your own sea to table experience, and experience good eats of all kinds.
Whole Foods Market, Ocean Ave
1150 Ocean Ave
San Francisco, CA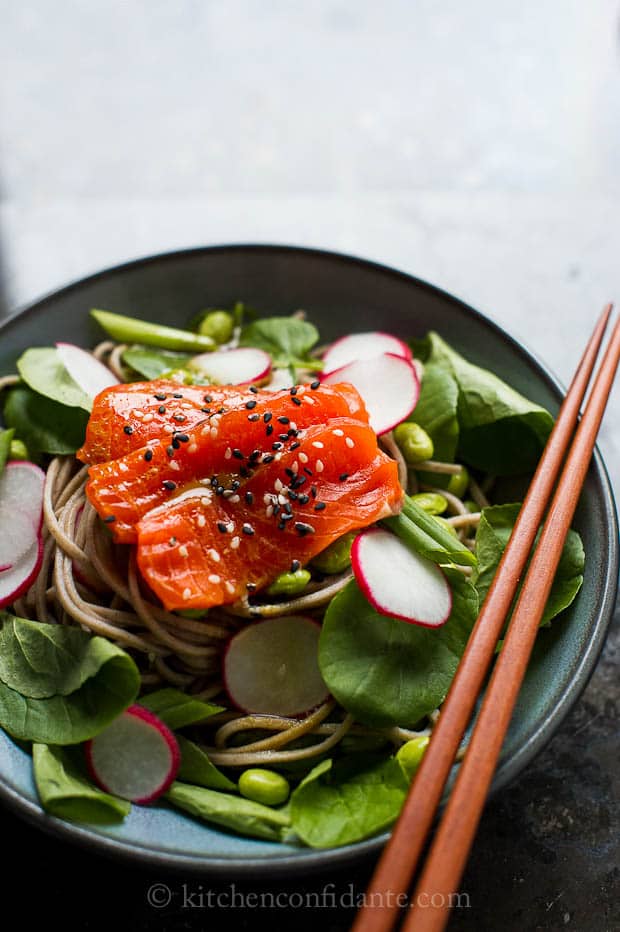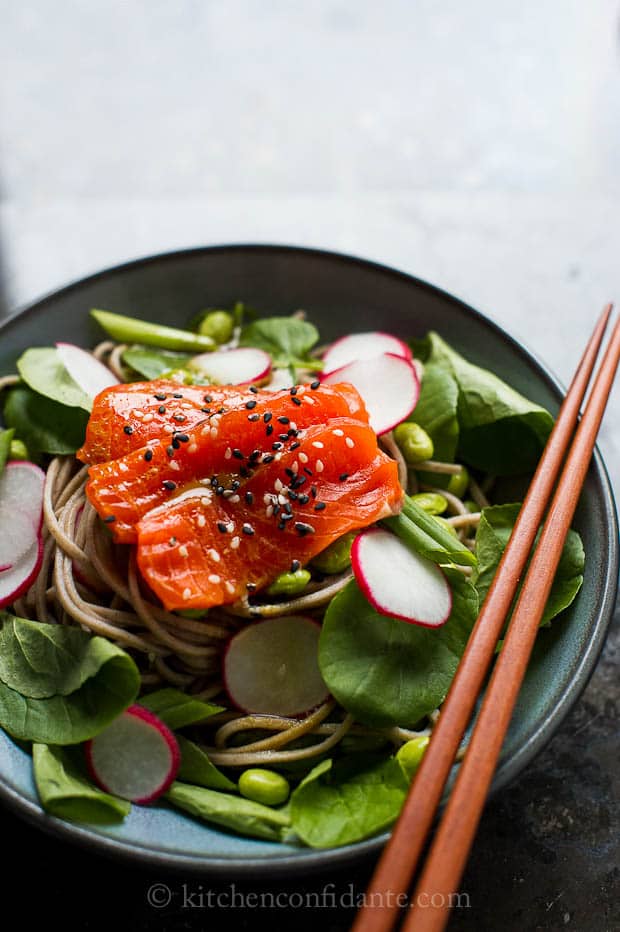 Salmon and Soba Noodle Salad
Salmon is one of those fishes that I prefer raw to cooked. If given a choice, I would select a sashimi style preparation, which works to my advantage when I want a quick and nutritious lunch. This soba noodle salad is perfect for just that.
Print Recipe
Ingredients
6 oz soba noodles
2 cups edamame, shelled
1 cup watercress, leaves trimmed and washed
6 oz sashimi grade salmon, thinly sliced in 8-10 pieces
6 radishes, thinly sliced
3 scallions, sliced in 1 inch pieces
2 teaspoons wasabi paste
2 tablespoons peanut oil
1/8 teaspoon sesame oil
2 tablespoons low sodium soy sauce
1 tablespoon sesame seeds
Instructions
Bring a saucepan of water to a boil over high heat. Salt and cook the soba noodles for about 8 minutes. Remove noodles, rinse under cool water, and drain. In the same saucepan, drop the shelled edamame and cook for 1 to 2 minutes. Drain and set aside. Combine the noodles, edamame and watercress and divide into two bowls.
Top the noodles with salmon, radishes and scallions. Whisk together the wasabi paste, peanut oil, sesame oil and soy sauce, then drizzle over each serving. Garnish with sesame seeds and enjoy.
Lightly adapted from Salmon and Soy Bean Noodle Salad with Wasabi Dressing, Fast, Fresh, Simple, by Donna Hay (Hardie Grant Books, 2010).