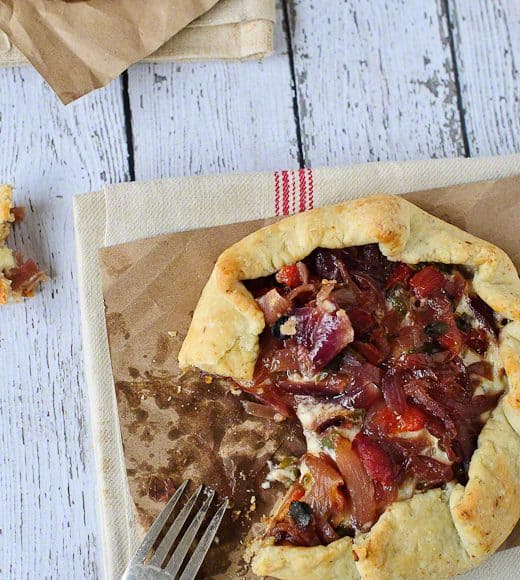 Savory Onion Galette
The birds that greet us in the morning have changed their tune. The chirps are cheerier, their early greetings brighter. I think they feel the change in the air as much as we do. They also see the green hills, the blue skies, and the…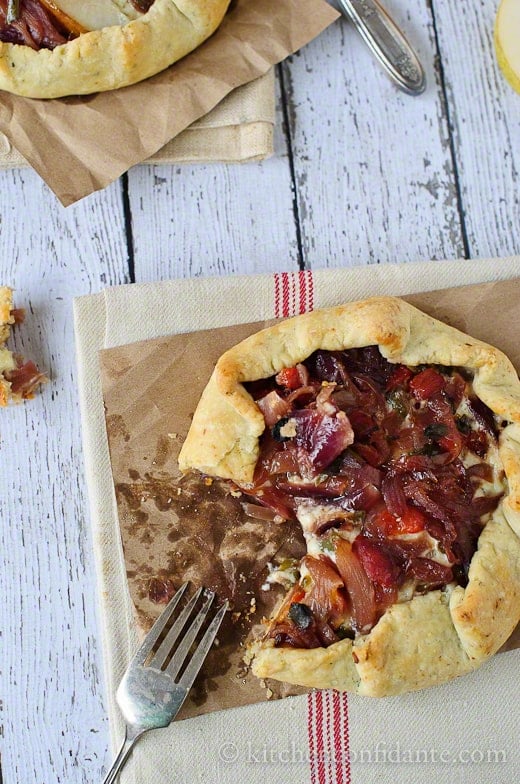 Savory Onion Galette
The birds that greet us in the morning have changed their tune. The chirps are cheerier, their early greetings brighter. I think they feel the change in the air as much as we do. They also see the green hills, the blue skies, and the blossoming trees. Spring is on its way.
With warmer temperatures, it feels like the whole neighborhood is awakening from their winter slumber. Each year, we joke that the neighbors hibernate. It almost feels like months go by and we do not see a soul. We open the garage door, zip out to the day's activities, then just as quickly, return to the cave to shut down the door and stay warm. But this weekend, the sun soaked the earth, and we found ourselves rediscovering our friends outdoors. Cars were washed, dogs were walked. We all caught up.
I love my neighbors. I feel very lucky to say that. I have lived in places where months passed before I met the people across the street. So to me, having a welcoming community is such a blessing. Knowing we can call on one another, rely on each other, share food — all those wonderful things — I do not take it for granted.
With the weather so lovely, and all the activity going on outside, I didn't want to stay shelled up in my kitchen all day. But the baking urge was calling. There were brown bananas that were begging to be mashed into buttermilk banana bread. And remember my red onion relish? I knew I wanted to do something more with it.
This Savory Onion Galette was on my mind from the moment I caramelized those onions. So I quickly formed a savory dough, with minced shallot and thyme. A quick chill, and then it was time to pile on the goodies.
By goodies, I mean that sweet-spicy-tangy onion relish. Globs of mascarpone and Gorgonzola cheese. And more onions.
I glanced up and spied some pears. So I made another one. Sweet pears with savory red onions sounded very good indeed.
Oh the aroma in my kitchen! I could smell the dough as it puffed into its flaky, buttery deliciousness. I could hardly stand to wait for it to cool down before I sliced into it. One bite and I was in bliss. Oh, if I could eat this every day, truly, I would be just fine.
I know, I know, I'm a messy eater. I almost didn't share that with you, but, we're amongst friends, are we not? I promise I'm usually a neater eater. But with this galette, I couldn't be bothered with daintiness.
Before I inhaled the rest, I sliced half of each galette, wrapped them up, and ran across the street, the heat of the galettes warming my hands. I had a neighbor to share with.
Call this an appetizer, a lunch for two, or just a plain old snack, I could eat this galette any time of day. For me, the pears were lovely, but not a must. The onions and the savory crust are the real stars of the show. The components (relish and dough) can be made in advance, making assembly quicker.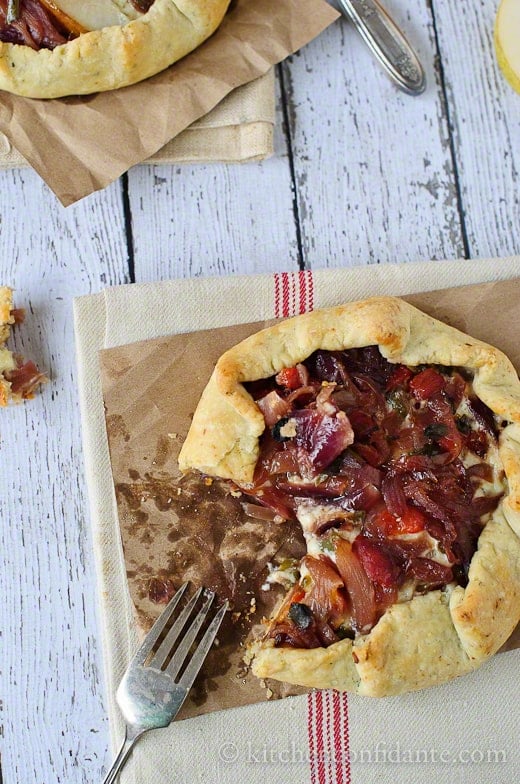 Print Recipe
Ingredients
For the Herbed Pastry*:
1 1/2 cups all-purpose flour
1/2 teaspoon salt
8 tablespoons (1 stick) unsalted butter, chilled and cut in small pieces
1 teaspoon dried thyme
1 shallot, minced
3 tablespoons ice water
For the Filling:
1 1/3 cups Rustic Red Onion Relish**
1/4 cup mascarpone cheese
1/2 cup Gorgonzola cheese, divided
(sliced pears optional)
1 tablespoon half and half
Instructions
Prepare the Herbed Pastry as instructed in original recipe. Divide into two disks and chill in the refrigerator for at least 1/2 an hour before rolling it out. This can be done the night before (or days, if you keep the dough in the freezer).
Preheat oven to 400°F.
Combine mascarpone cheese with 1/4 cup Gorgonzola cheese. Set aside.
On parchment paper lightly dusted with flour, roll out each disk to about 6 to 6 1/2 inch rounds. Spread 1/3 cup of red onion relish on each, leaving a 1 1/2 inch border around the edge. Using your fingers or two spoons, place morsels of the mascarpone-Gorgonzola cheese mixture. Sprinkle remaining Gorgonzola cheese on top. Cover with the remaining red onion relish (about 1/3 cup for each galette). Crimp the dough around the edges. Refrigerate for about 10 minutes before placing in oven.
Brush the dough with half and half. Bake for about 20-30 minutes, or until the crust is golden brown and the cheese is bubbling. Allow it to cool and for the cheese to settle before slicing, but do enjoy it while it is warm and gooey!