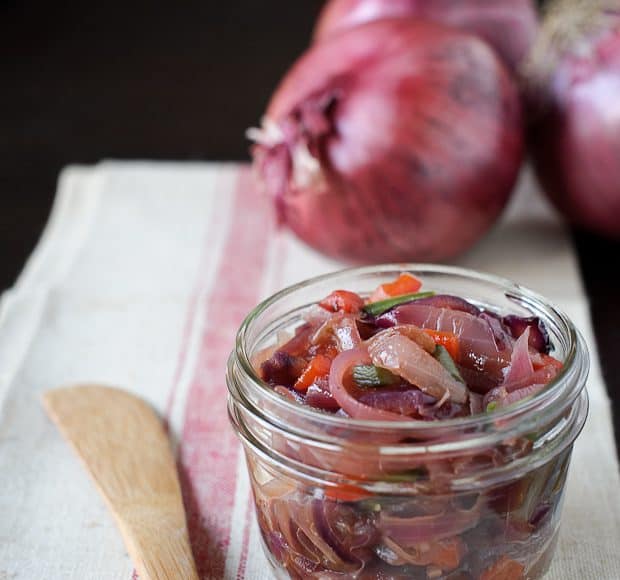 Simple Sundays | Rustic Red Onion Relish
I'm in fleece pants today. For the second day in a row. Lest you think I always dress like this, I'll have you know that I make a very conscious effort to look presentable every day. It may just be a trip to the grocery…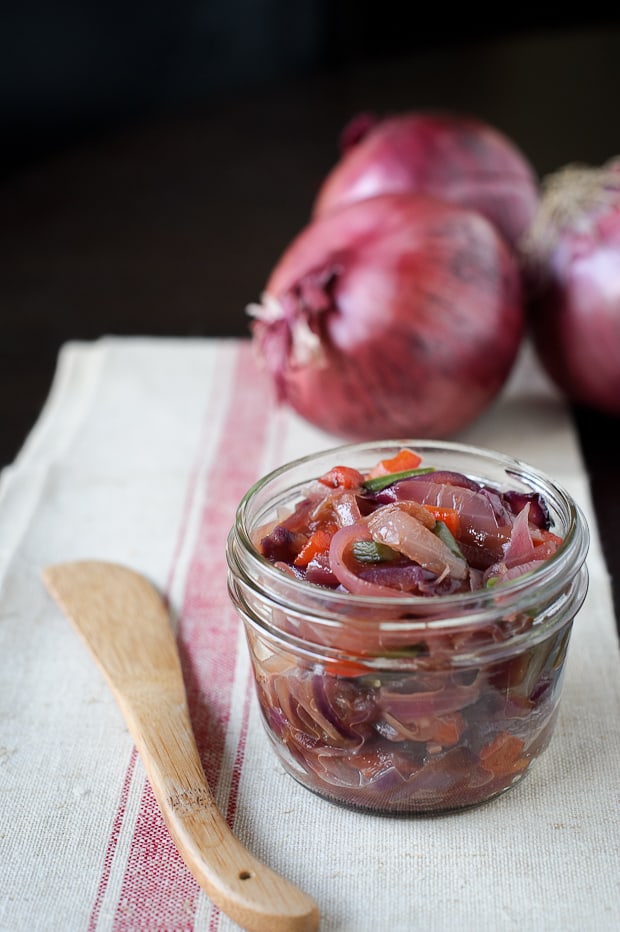 Simple Sundays | Rustic Red Onion Relish
I'm in fleece pants today. For the second day in a row.
Lest you think I always dress like this, I'll have you know that I make a very conscious effort to look presentable every day. It may just be a trip to the grocery store, but I like to at least wear well fitted jeans and a proper top. Sweats are for the gym. Actually, not even. I try to coordinate at the gym, too.
But sometimes you need to just let go and allow yourself to relax. That's what long weekends are for – to wear comfy pants, with elastic waists. To cuddle with the ones you love. To take your time in the kitchen. And to eat simply.
Time has a way with onions, too. Freshly cut, and they're fierce with bite. But give them some time in a pan, and they sweeten. They soften up for you.
Same thing with red peppers. A little roast under the broiler, and they turn into a mellow putty in your hands.
Combine them together, and you have a vibrant Rustic Red Onion Relish. The sweetness of the onions and peppers are balanced by the heat of some jalapeno and the acid of sherry vinegar, leaving you with a very versatile condiment. Use them with some cheese smothered crostini. Or do as I have and use it as a topping for a grilled pork paillard. You'll be surprised at how many ways you can enjoy it! And when the start of the busy week returns, and you find yourself running about, busy and nicely dressed, it will be a welcome sight in the refrigerator to add some oomph to your weeknight suppers. Like the best accessories, it goes with almost everything.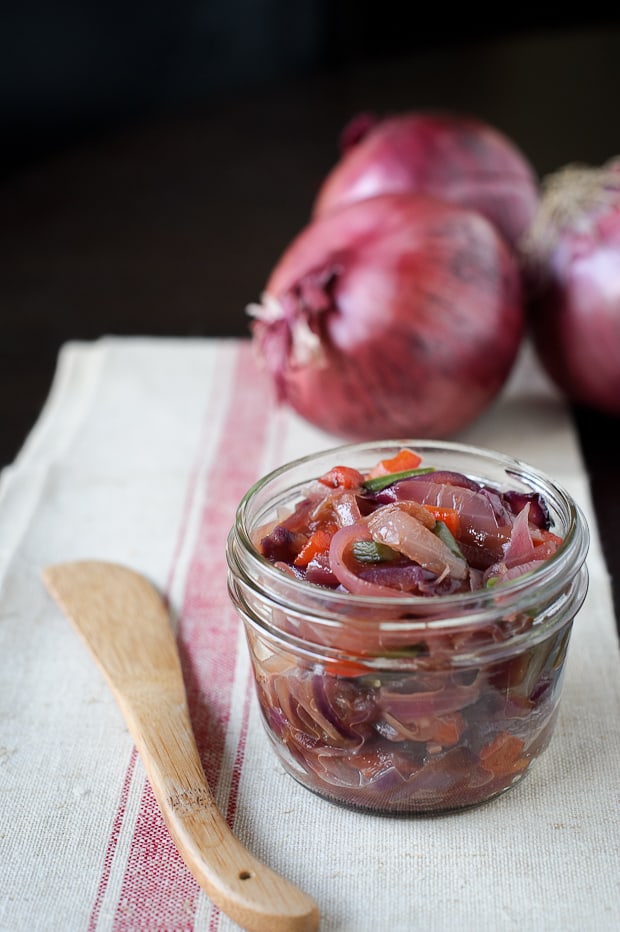 Print Recipe
Ingredients
1-2 medium red bell peppers
2 jalapeno peppers
2 tablespoons olive oil
2-3 large red onions, sliced (about 3 cups)
2 tablespoons sherry vinegar
1 teaspoon kosher salt
1/2 teaspoon freshly ground pepper
Instructions
Preheat the broiler.
Cut the red bell pepper(s) in half, place cut side down on a foil covered baking sheet along with the whole jalapeno peppers. Broil the peppers until the skins are blistered and brown/black. Remove from broiler and cinch up the foil in a pocket. Allow to cool. When the peppers are cool enough to handle, unwrap the foil and carefully peel the skins. Discard the seeds and pith as well. Cut into 1/4 in pieces.
Heat a deep sided saute pan over medium heat. Add olive oil and onions. Cook the onions until they are soft, about 20-30 minutes. If the bottom of the pan becomes too brown, add about a tablespoon of water and scrape up the brown bits. Add the sherry vinegar, roasted peppers, and season with salt and pepper. Enjoy immediately, or at room temperature.