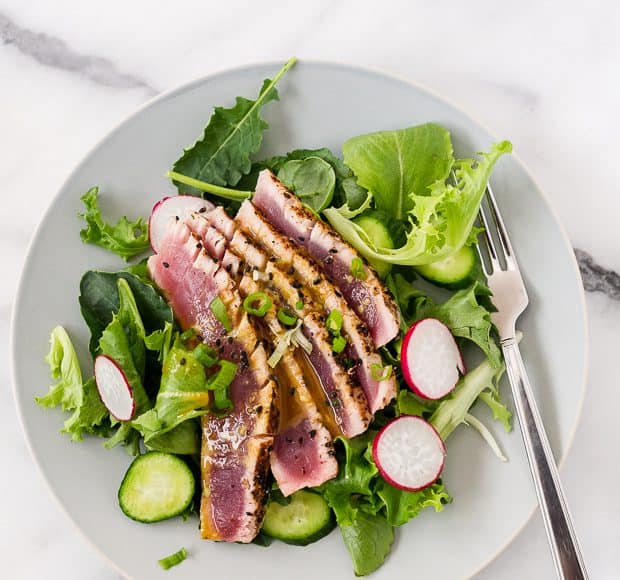 Seared Ahi Tuna Salad
Seared Ahi Tuna salad is a fresh and simple way to enjoy ahi tuna. Serve seared ahi tuna over mixed greens with a soy vinaigrette for an easy lunch or appetizer.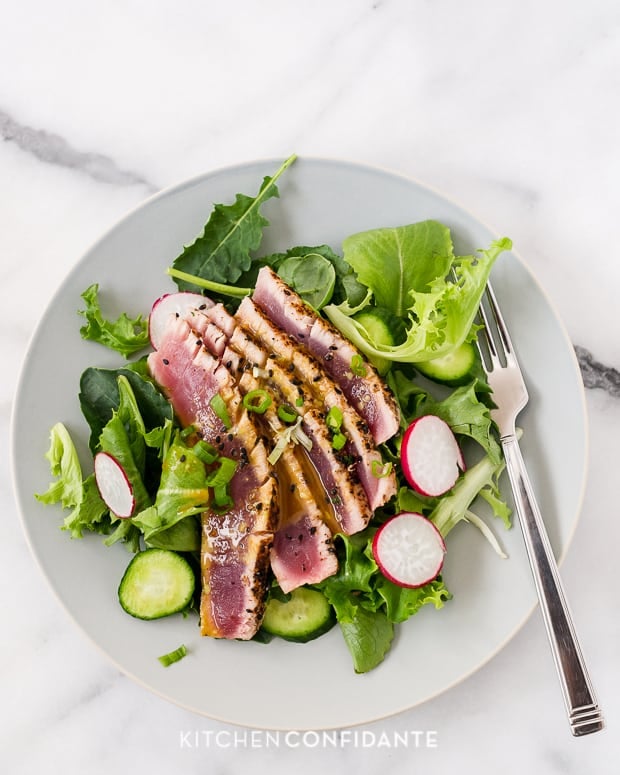 Seared Ahi Tuna Salad
Seared Ahi Tuna Salad (served over mixed greens with a soy vinaigrette) is easy and flavorful. The steak-like sear seals the deal! Serve it as an appetizer for four or a lunch for two.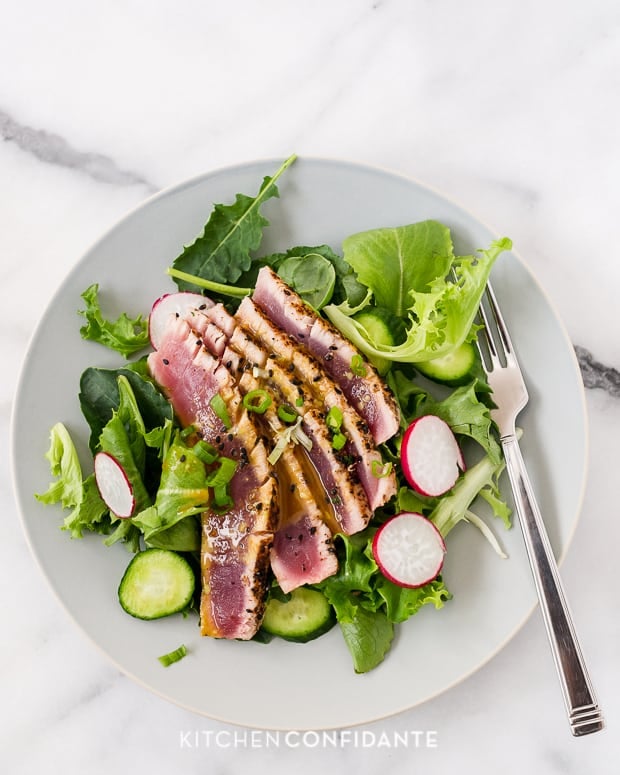 Our neighborhood was teeming with activity this morning, strange cars pouring through, people on foot strolling the sidewalks. Neighbors chatted from their driveways, a hodgepodge of bric a brac, furniture and household items displayed.
"Mom!" She ran around the house excitedly, her arms filled with a few books and toys. "I'm going to sell!"
It was the neighborhood garage sale, the day of the year I usually hide inside, baking.
My son followed suit. He found a basket from the playroom and filled it with stuffed animals, and I recognized one. "Don't you think Santa will mind that you're selling the elf that he left here to watch over you throughout the year?" Apparently not.
I realized at that moment that I am more sentimental than my children. And not suited for sales. My husband wins the parent of the day award for guiding them as they displayed their meager stock of toys, coaching them on how to politely greet and negotiate with their customers. I chimed in here and there, but when they left me in charge for a few minutes, I literally hid in the garage as prospective buyers came by to inspect the toys.
I was much more content to bring out platefuls of lunch and berry smoothies to my little salespeople. "Maybe I should set up a smoothie stand," I joked.
At the end of the morning, they made $24. A scooter was the big ticket, and some books and one toy were sold, too. But perhaps the biggest earning of all was the first hand lesson in the value of making a sale.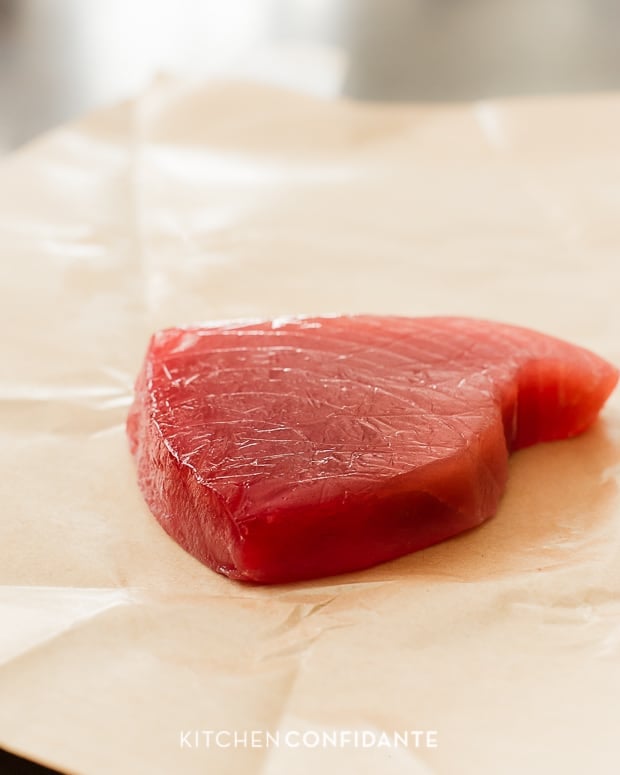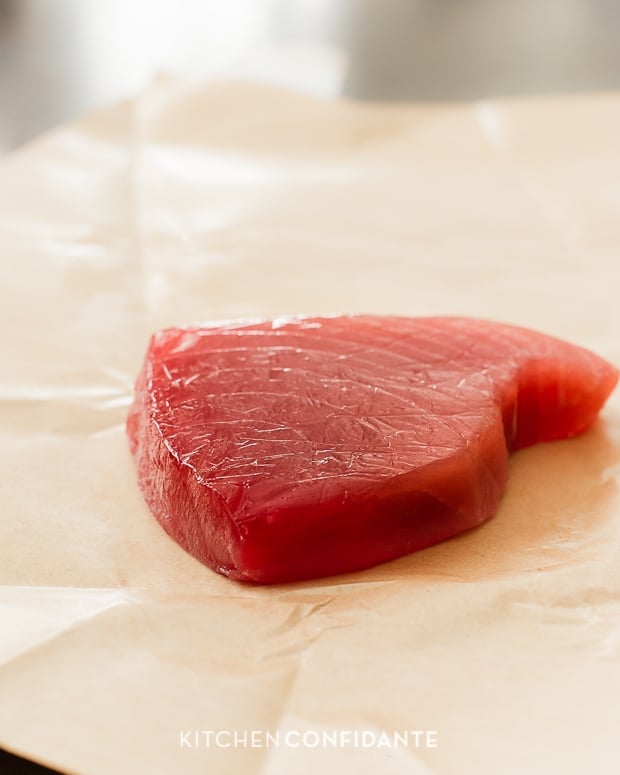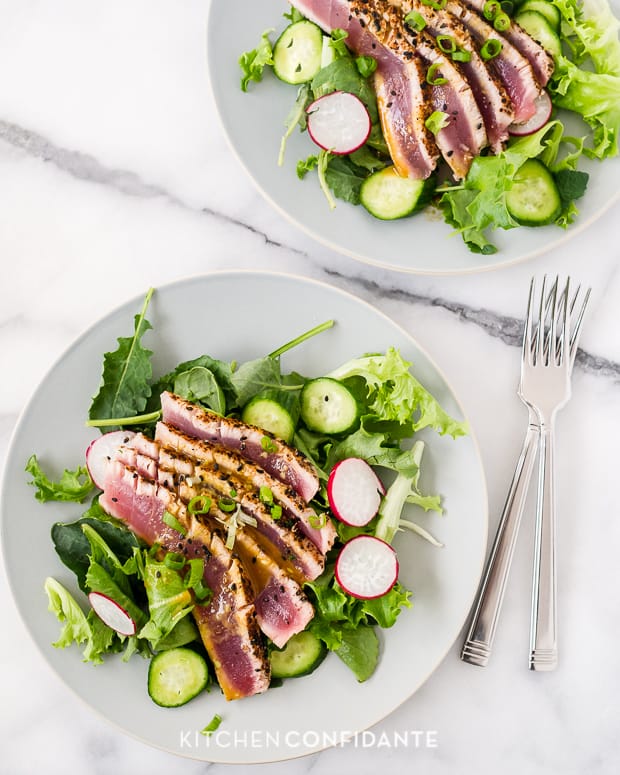 It's no surprise that I'm much happier in the kitchen than in negotiating a sale. Today, I wanted to share this Seared Ahi Tuna Salad that has quickly become a new favorite of ours. There's nothing simpler (or faster) than searing a slab of tuna, and dressing it in soy vinaigrette, spiked with wasabi. If you are at all timid when it comes to eating raw fish, I think this is something I can actually sell to you – it's easy, flavorful, and the steak-like sear seals the deal.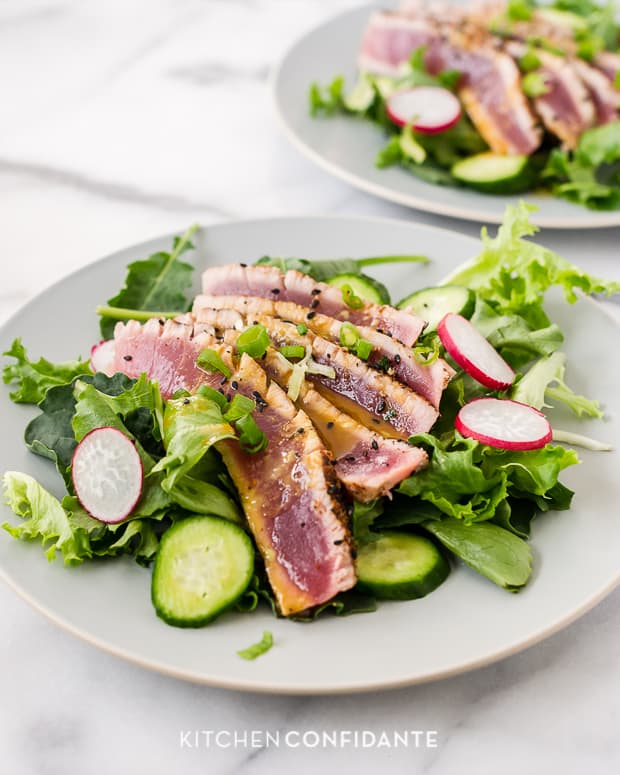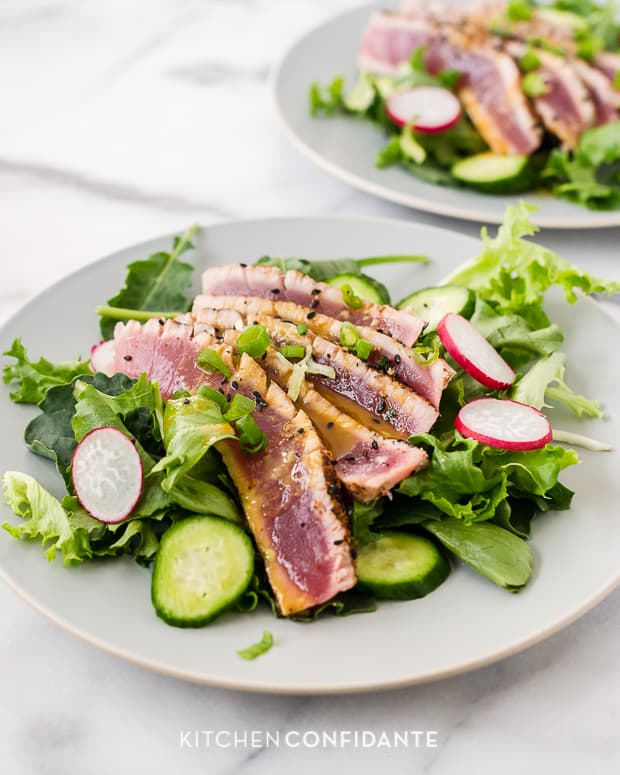 More Salads to Try
Artichoke Salad with Fried Mozzarella
Kale Persimmon Salad
Crispy Chicken Cobb Salad
Thai-Style Chicken Salad Rainbow Wraps
Pan Seared Scallops with Warm Asparagus, Kale and Tangerine Salad
Seared Ahi Tuna Salad
Seared Ahi Tuna salad is a fresh and simple way to enjoy ahi tuna. It makes a great starter for a party of 4, or a hearty lunch for two.
Ingredients
For the salad:
1

6-8 oz

sushi grade ahi tuna

1/2

tablespoon

olive oil

2

teaspoons

five-spice powder

1

teaspoon

chili powder

Freshly ground black pepper

Sesame seeds

Your favorite mixed greens

I love mixed baby kale greens

2

radishes

thinly sliced

1/3

English cucumber

thinly sliced

2

scallions

thinly sliced
For the dressing:
1/2

teaspoon

wasabi paste

1

tablespoon

rice vinegar

1

tablespoon

soy sauce

3

tablespoons

extra-virgin olive oil

Freshly ground black pepper
Instructions
Heat a cast-iron or non-stick skillet over high heat. Brush the tuna steak with olive oil on both sides. Season with five-spice and chili powders, salt, and pepper. Sprinkle with sesame seeds and press gently. When the skillet is ready, sear the tuna, about 1-2 minutes per side. Place on a cutting board and thinly slice the tuna at an angle.

Whisk together the wasabi paste, vinegar, soy sauce and olive oil. Season the dressing to taste with salt and pepper. Use some of the dressing to toss into the salad of mixed greens, radish and cucumber.

Place some salad greens on a plate. Top with the sliced tuna and drizzle with additional dressing. Sprinkle with scallions and serve immediately.
Nutrition
Calories:
254
kcal
|
Carbohydrates:
6
g
|
Protein:
3
g
|
Fat:
25
g
|
Saturated Fat:
3
g
|
Polyunsaturated Fat:
3
g
|
Monounsaturated Fat:
18
g
|
Cholesterol:
1
mg
|
Sodium:
525
mg
|
Potassium:
221
mg
|
Fiber:
2
g
|
Sugar:
1
g
|
Vitamin A:
493
IU
|
Vitamin C:
6
mg
|
Calcium:
51
mg
|
Iron:
2
mg