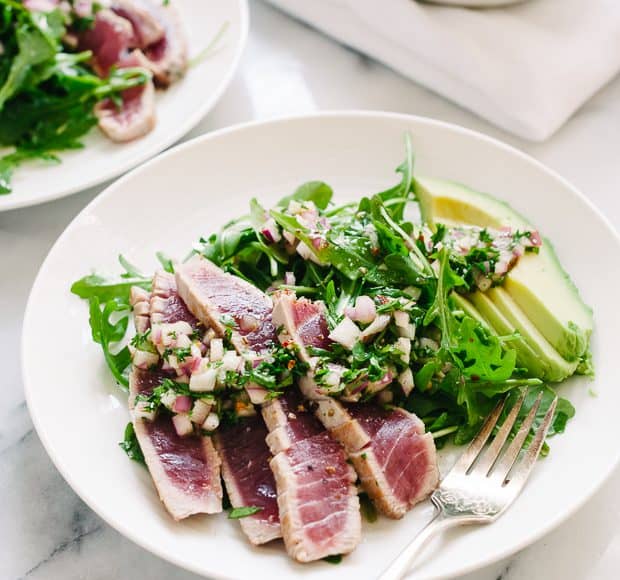 Seared Ahi Tuna with Chimichurri Sauce, Arugula and Avocado
We all indulge on weekends, am I right? I can't be the only one who finds herself flipping pancakes and making hearty, egg-laden brunches, with perhaps some baking thrown in for good measure? Oh, and don't forget the wine. It wouldn't be a good weekend…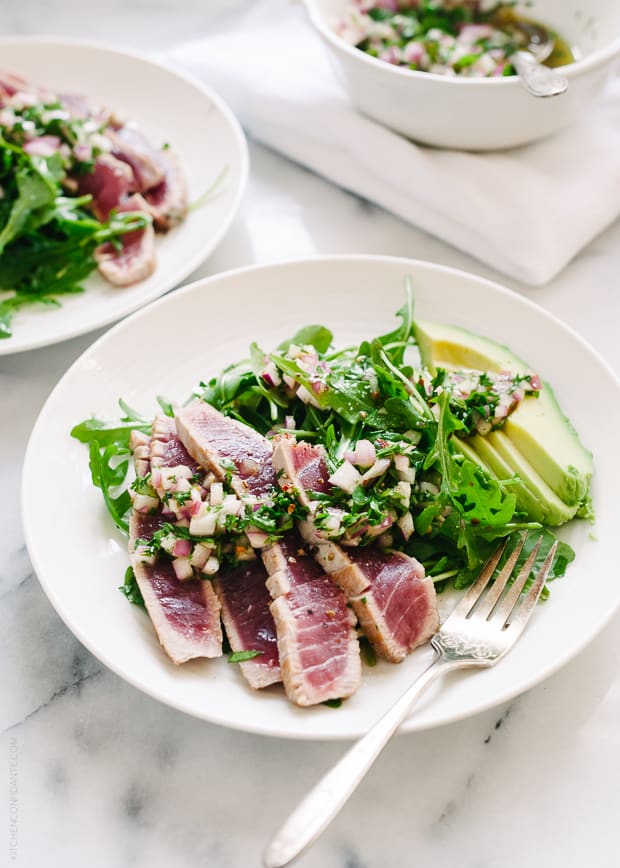 Seared Ahi Tuna with Chimichurri Sauce, Arugula and Avocado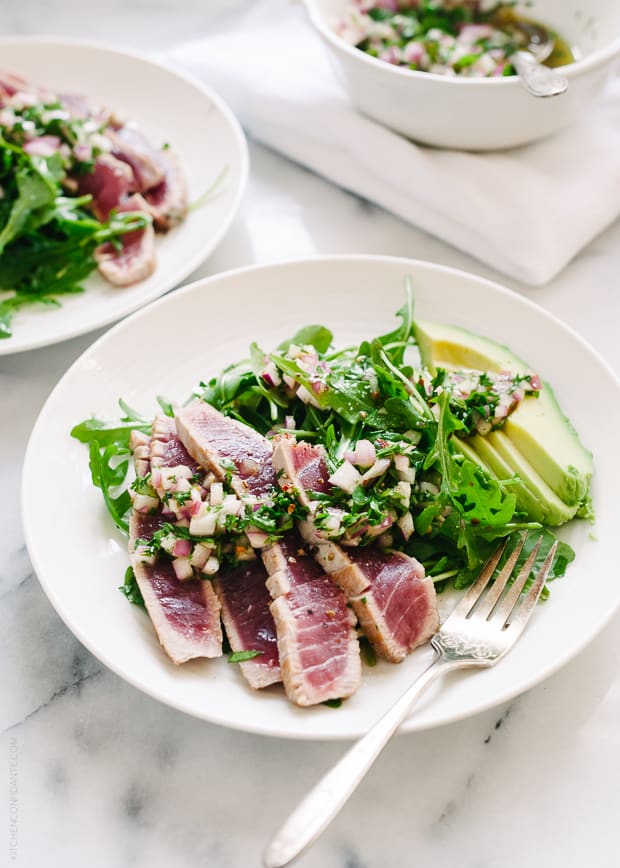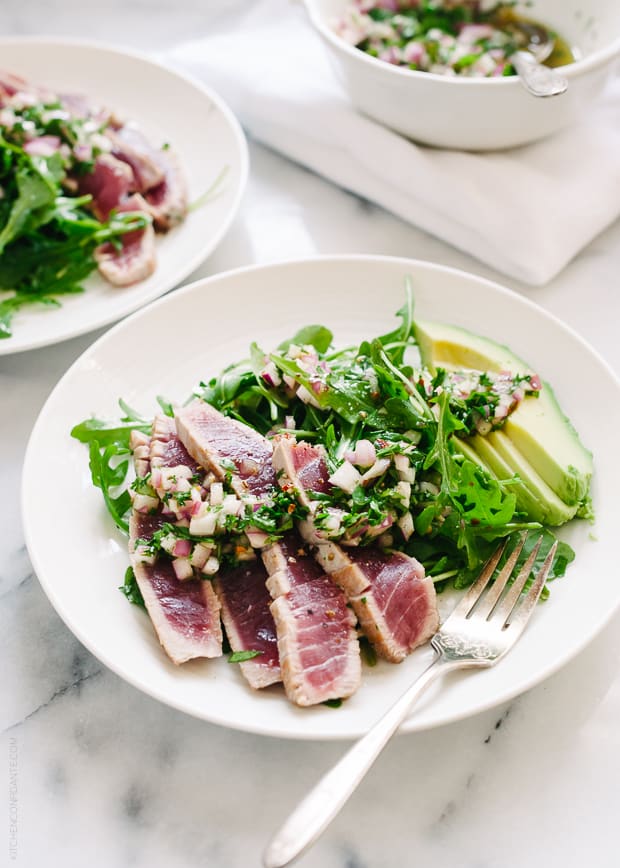 We all indulge on weekends, am I right? I can't be the only one who finds herself flipping pancakes and making hearty, egg-laden brunches, with perhaps some baking thrown in for good measure? Oh, and don't forget the wine. It wouldn't be a good weekend without a glass or two (or three, don't worry, I don't judge).
By Monday, I'm ready to get back on track, to detox, to return to normal. But this weekend, we had a head start.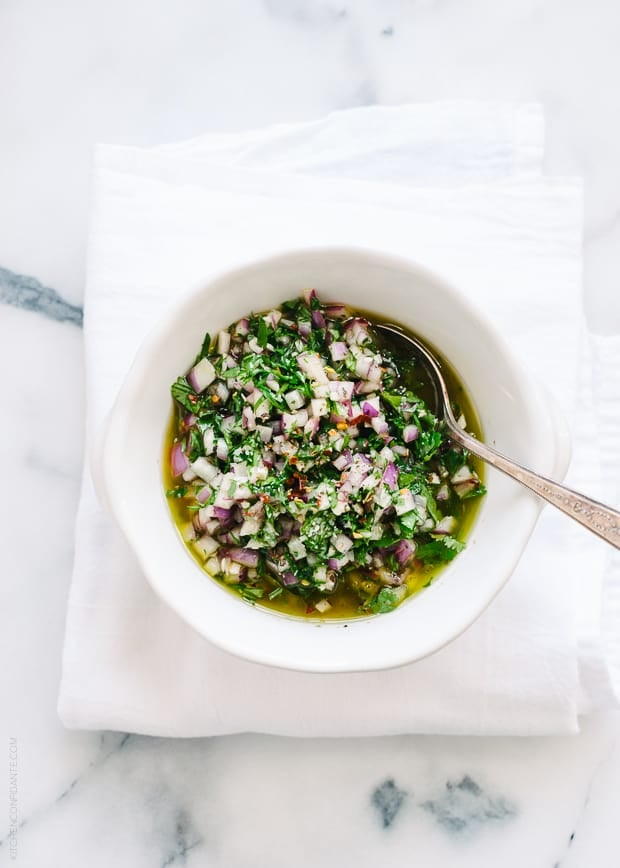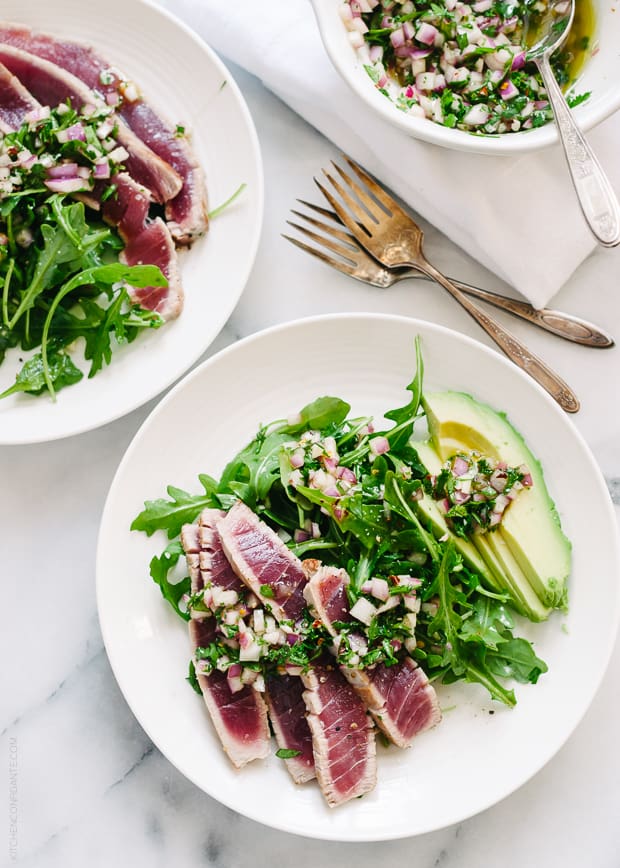 On Sunday, the topic of the evening's dinner was discussed. "Seared tuna," my husband requested; he was intent on a simple seared tuna, fresh and ruby colored. "Do you mind if I try something different with it?" I queried — we often fall back on one of our favorite preparations, and as delicious as it is, I wanted to pare down even more, as it tends to dirty up my stove with splatter and makes the house smell (albeit a delicious smell) for days. "What do you think of Seared Ahi Tuna with Chimichurri Sauce, Arugula and Avocado?" I asked. I figured the chimichurri with clinch the deal.
And it did.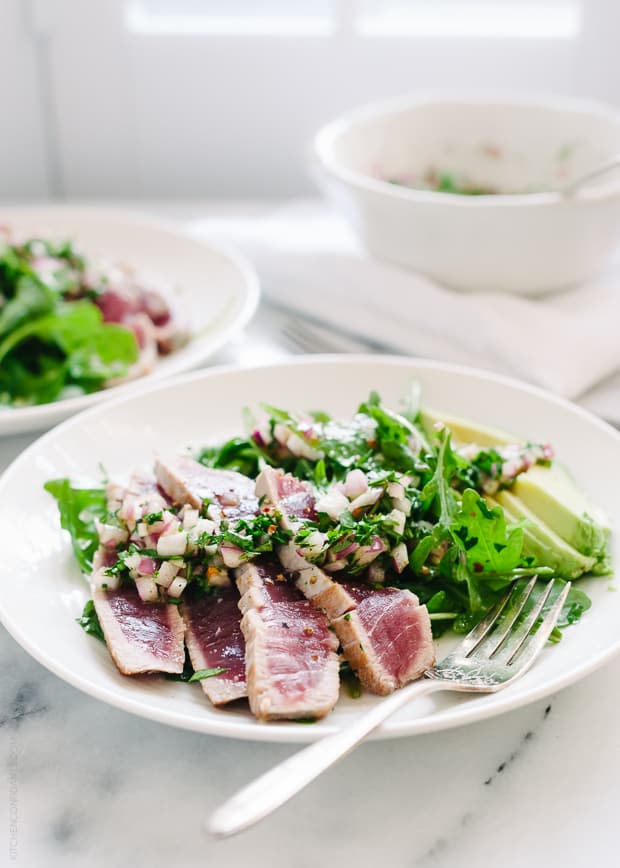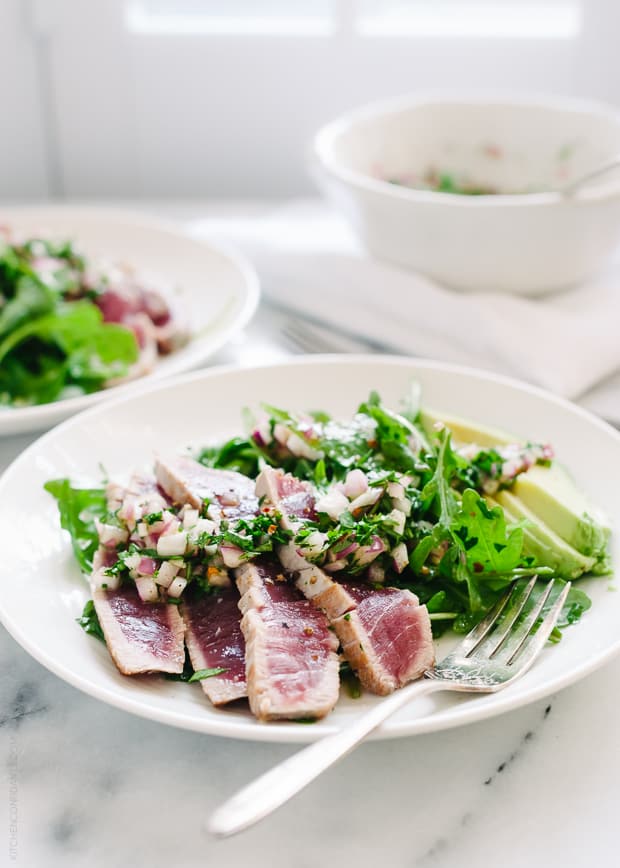 With a refrigerator full of gorgeous fresh herbs and tender baby arugula, I wanted to try Eric Ripert's version of a chimichurri – more salsa than sauce. Of course, I fussed with it a bit – I went heavier on the cilantro than the parsley, as I always prefer my chimichurri that way. And I thought it could use a little more heat, so a pinch of cayenne and a dose of crunchy jalapeño sounded like a good idea.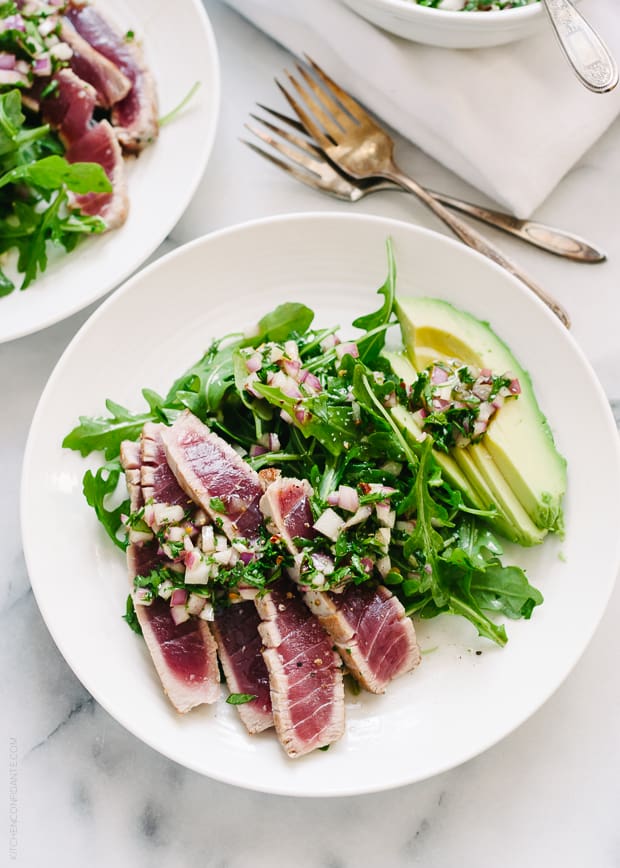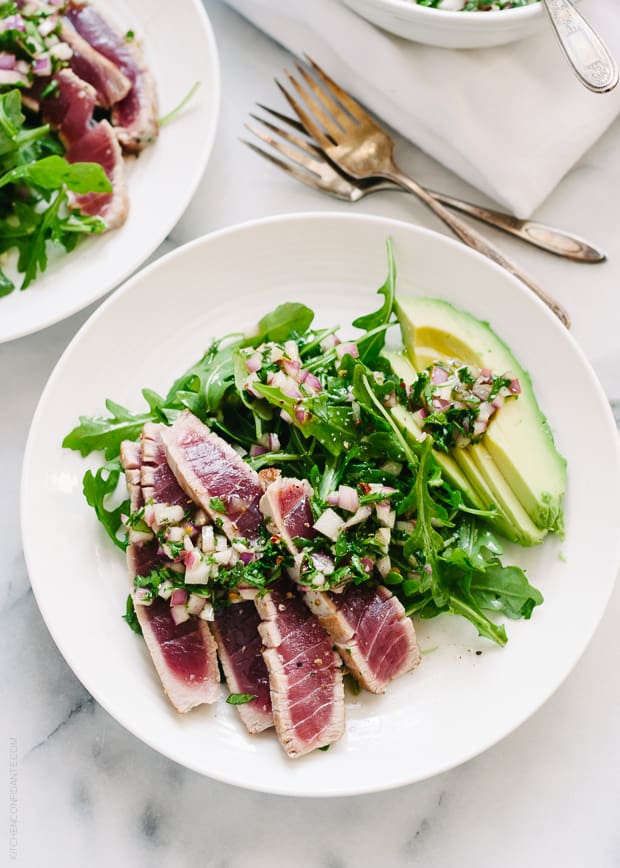 Sunday supper came about in mere minutes – and with a quick sear on both sides, I found myself plating the slivers of gorgeous tuna in minutes, resting it on a willing bed of baby arugula and perfectly ripe avocado. A generous drizzle of the vibrant chimichurri, and each bite was velvety, crunchy and bright – just as a spring Sunday dinner should be.
Seared Ahi Tuna with Chimichurri Sauce
One of the best things about a seared ahi tuna is that it cooks so quickly, dinner is never a long wait away. This is a hearty salad that pairs velvety smooth tuna with the vibrant flavors of a crunchy chimichurri, fresh peppery arugula and buttery avocado. In other words: I love it so.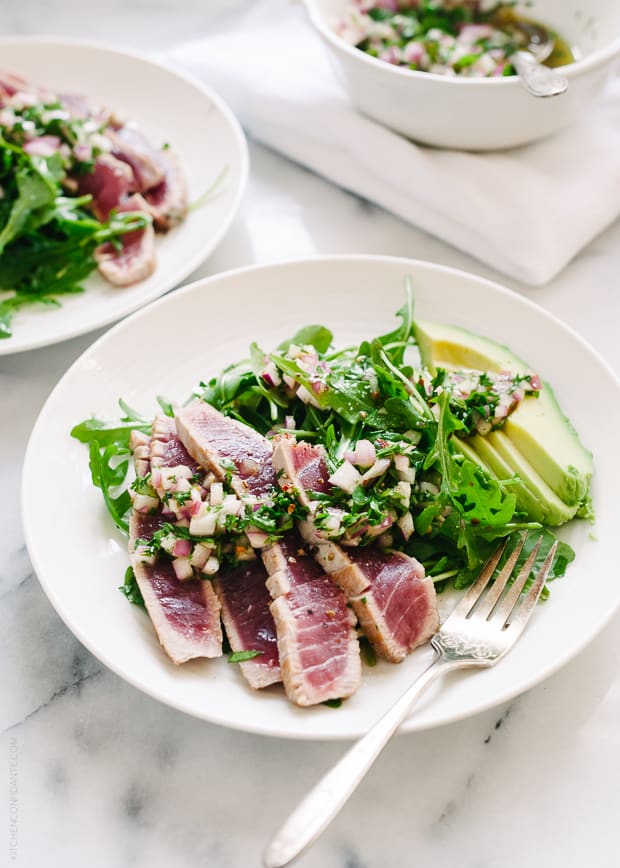 Print Recipe
Ingredients
1/3 cup plus 2 tablespoons extra-virgin olive oil
1/2 cup chopped cilantro
1/2 small red onion, minced
1 jalapeño, minced
3 tablespoons sherry vinegar
2 tablespoons chopped basil
2 tablespoons chopped parsley
3 garlic cloves, minced
1 teaspoon chopped thyme
1 teaspoon red pepper flakes
1/8 teaspoon cayenne pepper
kosher salt
freshly ground black pepper
1 1-lb sushi-grade tuna steak
6 oz baby arugula
2 avocados, pitted, peeled and sliced
Instructions
In a small bowl, stir 1/3 cup of olive oil with the cilantro, red onion, jalapeño, sherry vinegar, basil, parsley, garlic, thyme, red pepper flakes, and cayenne pepper. Season with salt and pepper, and set aside.
Season both sides of the tuna generously with salt and pepper. Heat the remaining 2 tablespoons of olive oil in a non stick pan over high heat. Sear the tuna, about 2 minutes per side. Transfer to a cutting board and cut into thin slices.
In a medium bowl, toss the baby arugula with about 1/2 of the chimichurri sauce. Place a handful of arugula on salad plates, and top with the the slices of tuna and avocado. Dress with more chimichurri sauce and serve with any remaining sauce on the side.