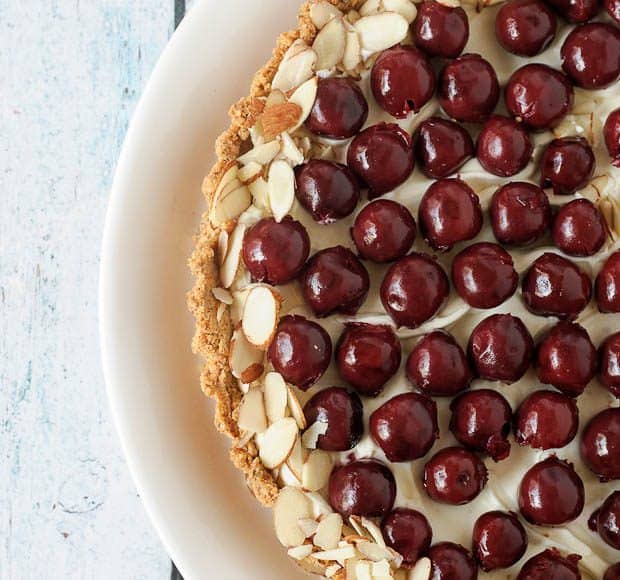 Simple Sundays | Morello Cherry Almond Tart
I tucked her into bed tonight and told her I was proud of her. As she nestled into her pillow surrounded by her stuffed animals, I had to give her another kiss and hug. We have been blessed. Our children have been healthy. There are…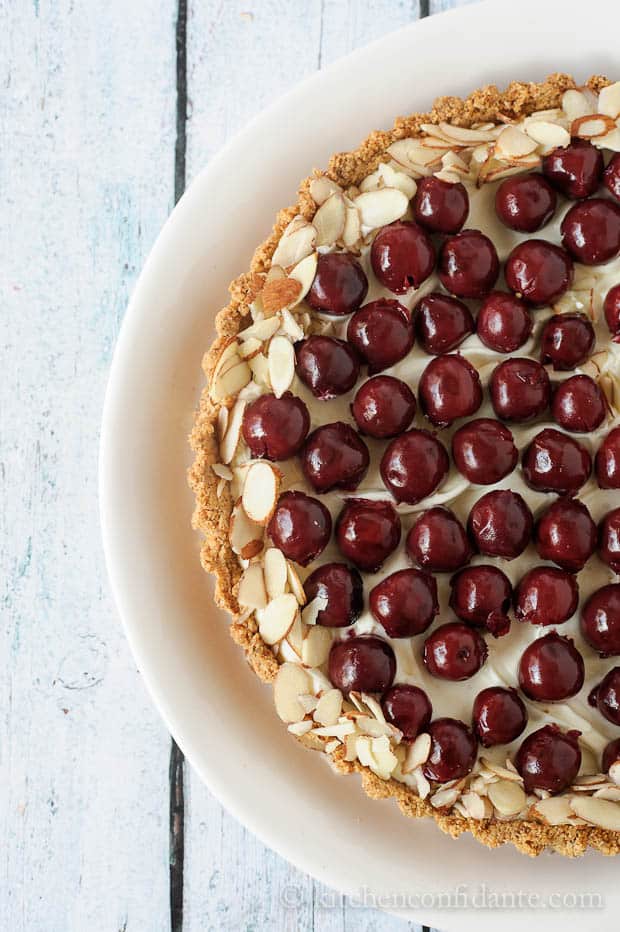 Simple Sundays | Morello Cherry Almond Tart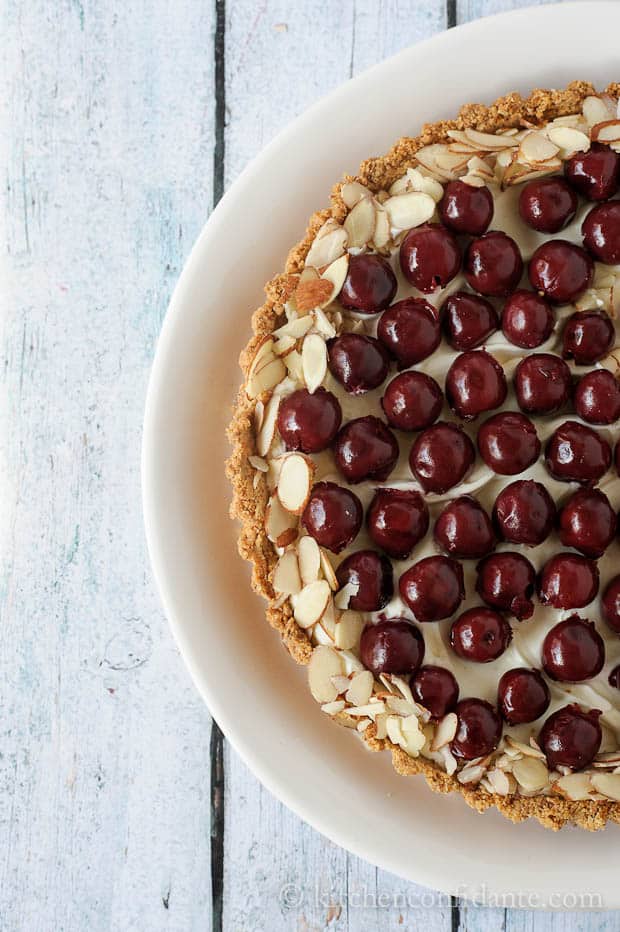 I tucked her into bed tonight and told her I was proud of her. As she nestled into her pillow surrounded by her stuffed animals, I had to give her another kiss and hug.
We have been blessed. Our children have been healthy. There are no late night trips to the doctor, allergy scares, or asthma attacks. We have been spared broken bones. So when the school nurse called me on Friday morning to let me know that my daughter got hurt in PE, it seemed like your average injury. Just your run of the mill whack on the head by an overzealous (but definitely brawny) classmate during a hockey game.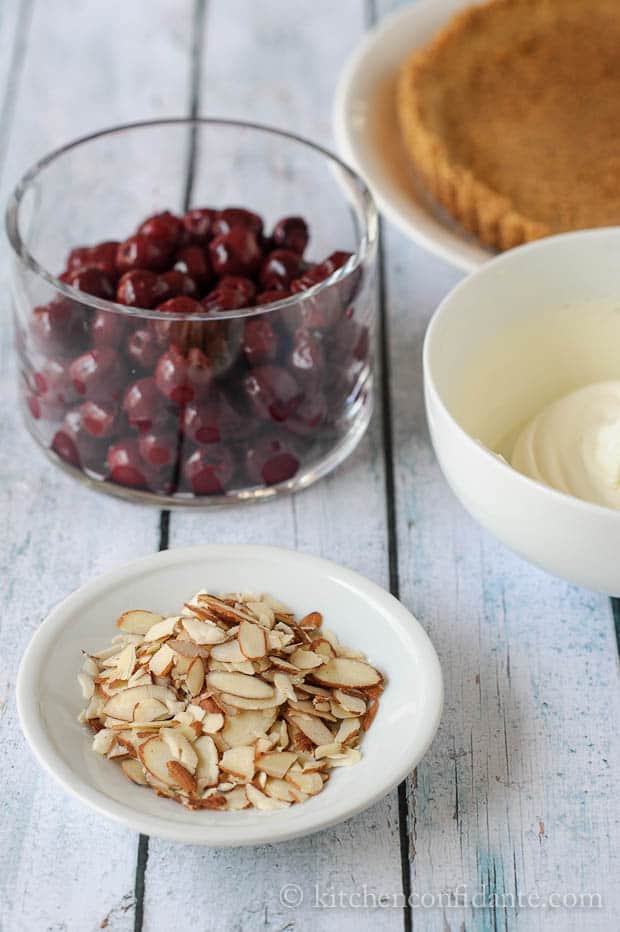 But it wasn't. For some ridiculous reason, the third graders, including my own, were not wearing helmets. And he whacked her. Hard. As I began the drive home, it quickly became apparent that she was not well and it became an awful two days in and out of the ER. My baby had a concussion and was miserable.
My daughter, who teeters into the world of tweenhood, singing to her iPod and fashioning her own clothes, quickly became my baby girl again. And my heart was in pain for her as she grew more uncomfortable. But I was so proud of her, she was a trooper and a strong patient.
It was another one of life's little reminders: be thankful. Be thankful for the important things. We were lucky. Just as quickly as the brain showed trauma, it began to heal. The CT scan came out normal. Relief washed over all of us.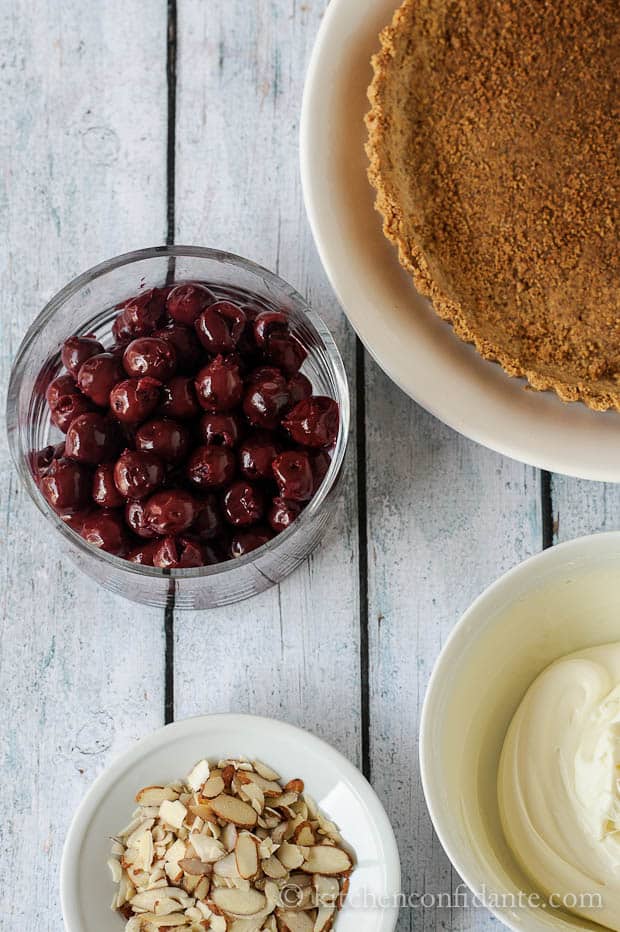 It's life's sour moments that remind us of the sweet ones. When we returned home, it was such a good feeling to see a smile on her face, to hear her ask for soup. I began to cook for her. And as she rested, I started a tart. Pressing the dough into the pan was cathartic, familiar. Later, she wanted to place the morello cherries on top of the creamy mascarpone filling. I let her. She sprinkled the slivers of almond. As we worked on the tart together, the stress of the last two days slowly melted away.
It's after bedtime. I peeked into her room and tiptoed in. Her favorite stuffed animal that spent the day with us at the hospital was newly washed and warm from the dryer. Baby Baa has been with us for 9 years – her fur is nubby, her nose a faded pink. As I tucked Baby Baa under her arm, I said another silent prayer of thanks. For both the sour and the sweet.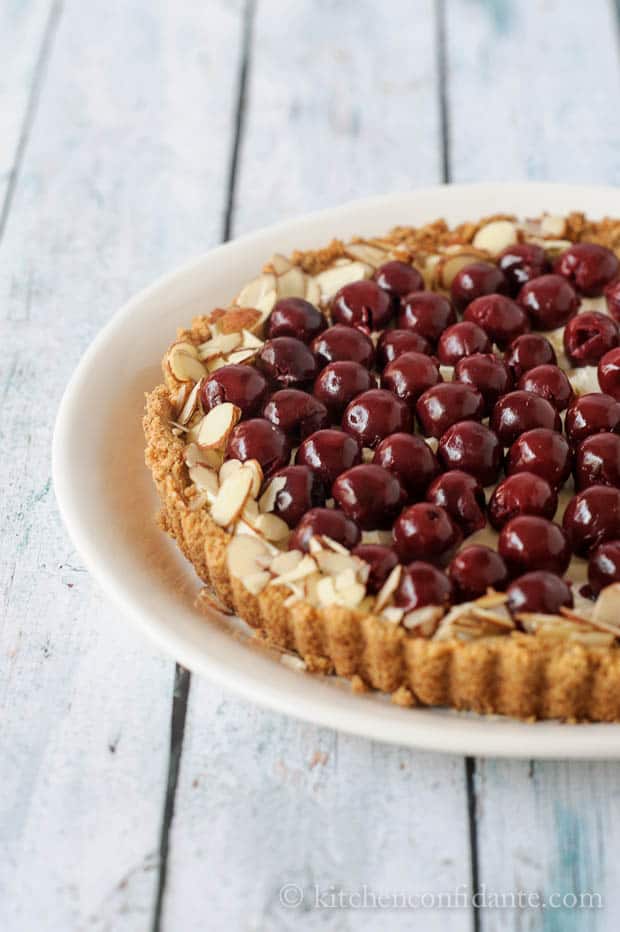 Morello Cherry Almond Tart
I'll never forget my first taste of sour cherry pie. My face twisted in surprise, and I was not quite sure whether I liked it. It's one of those things that you have to be in the mood for. But I do love a jar of Morello cherries - it is, to me, the ideal cherry for a pie or a tart - dark, rich in tart flavor without being overbearing, and, the best part, it is already pitted. On top of this sweet creamy mascarpone filling, it is a nice balance of sour and sweet.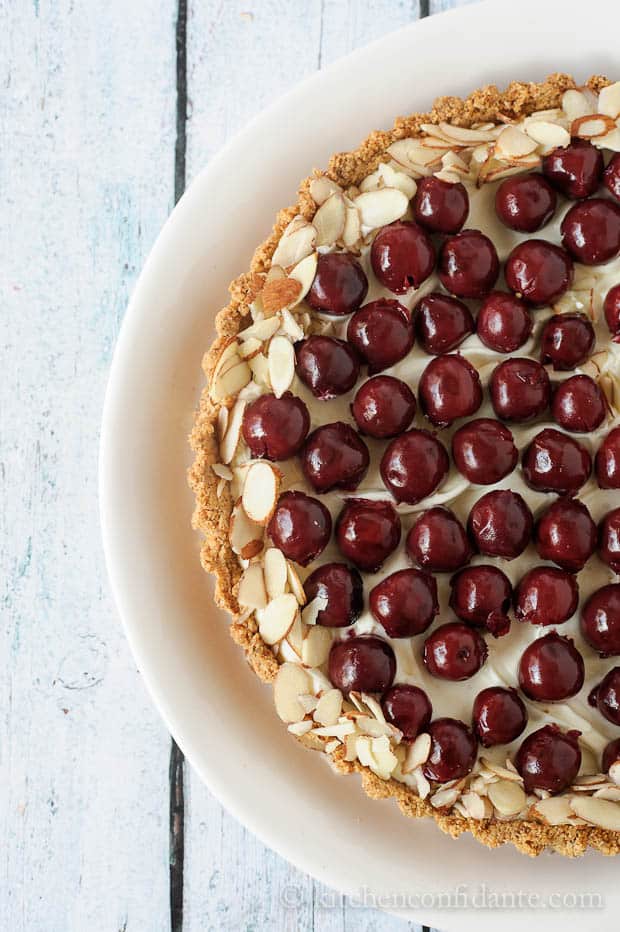 Print Recipe
Ingredients
Crust
7 tablespoons unsalted butter, room temperature, plus 1 tablespoon melted
1 cup sliced almonds
3 tablespoons sugar
1 cup all-purpose flour
1/4 teaspoon salt
1/4 teaspoon almond extract
Filling
8 oz mascarpone cheese
2 tablespoons confectioners sugar
1/2 cup heavy cream
1-2 cups Morello cherries, drained
1/4 cup slivered almonds
Instructions
Prepare the tart pan by brushing bottom and edges with melted butter. Set aside.
In the bowl of a food processor, pulse the sliced almonds with 1 tablespoon sugar until fine. Add the butter and pulse until it becomes a crumble. Add the flour, salt, remaining sugar and almond extract and pulse until it is combined and crumbly.
Press the dough into the tart pan using a dry measuring cup or your fingers and gently push up the sides of the tart pan. Chill in the refrigerator for about 30 minutes.
Preheat the oven to 350 degrees. Bake the chilled tart crust for about 20 minutes, or until just golden brown. Let it cool completely on a wire rack.
Meantime, make the filling. In a medium bowl, beat the mascarpone cheese with an electric mixer. Beat in the sugar and heavy cream. Let it chill in the refrigerator for about 20 minutes. Spread the chilled filling in the cool tart crust. Top with the cherries and sprinkle the almonds around the edge. Return to the refrigerator to chill until ready to serve.
Gently remove from the tart pan and slice to serve.
Tart crust adapted from Fresh Almond Apricot Tart, The Martha Stewart Living Cookcook, 2000.