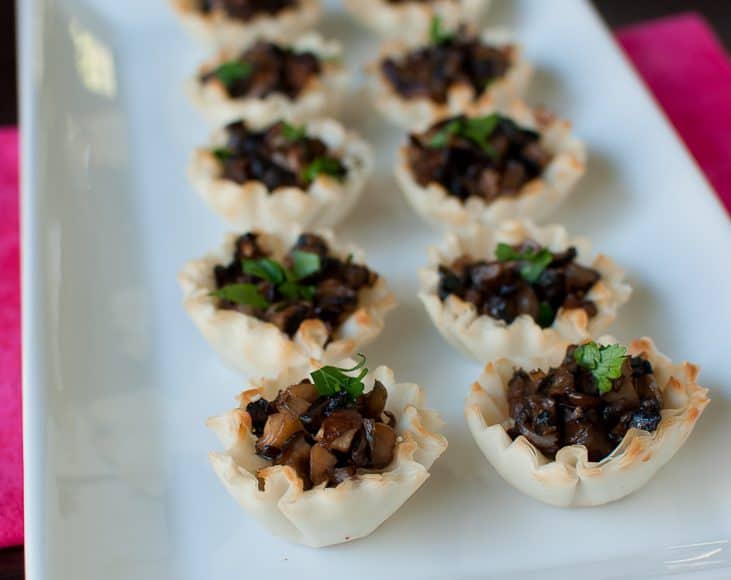 Simple Sundays | Mushroom Goat Cheese Phyllo Bites
Ah, a long weekend! What a difference one extra day can make. Wouldn't it be nice if every weekend was a three day weekend? There would be so much more time for relaxing, entertaining, and good eating! Do you have any plans to entertain this…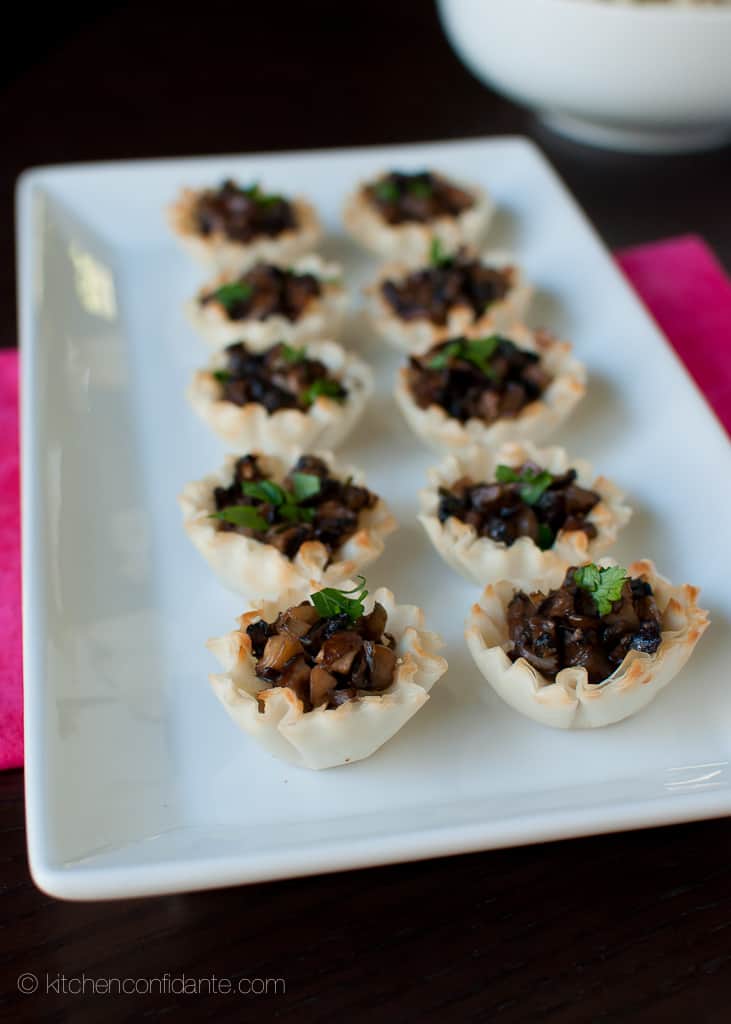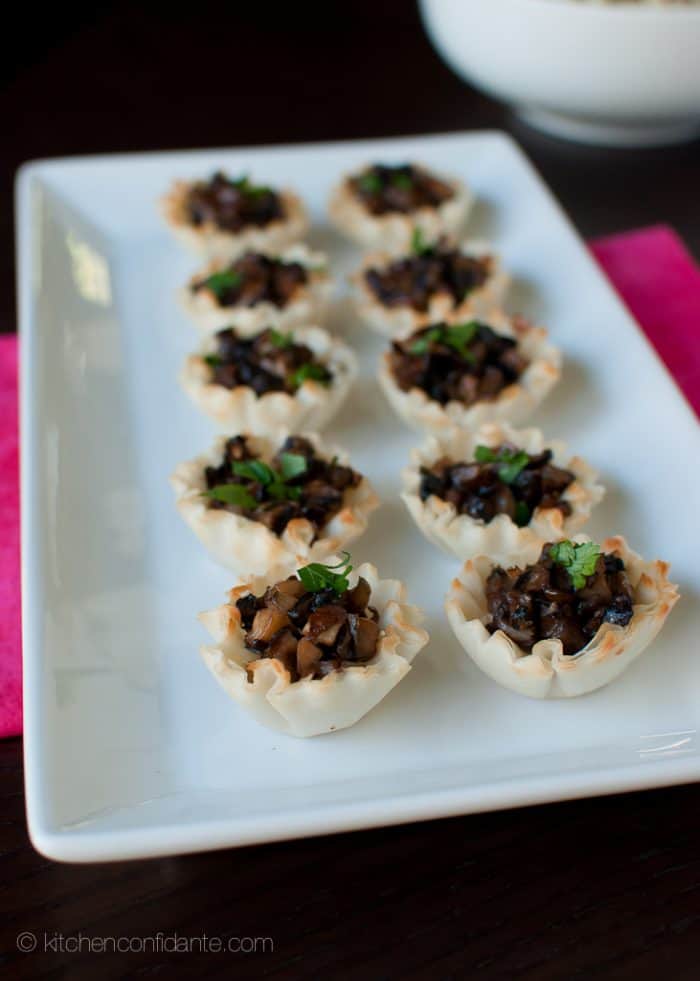 Simple Sundays | Mushroom Goat Cheese Phyllo Bites
Ah, a long weekend! What a difference one extra day can make. Wouldn't it be nice if every weekend was a three day weekend? There would be so much more time for relaxing, entertaining, and good eating!
Do you have any plans to entertain this Labor Day? If you do, I thought you might also like to know that September is National Mushroom Month. Yes indeedy, there is such a thing. So why not combine the two? These Mushroom Goat Cheese Phyllo Bites are absolutely perfect for entertaining.
A week ago, I actually catered my first little event. It was a great lesson in advance planning, menu building, and wine pairing, not to mention timing. While it was a lot of work, it was absolutely a lot of fun. One of the appetizers I made were these phyllo bites – the mushroom filling can be made and assembled in advance, and popped into the oven for just a few minutes before serving, leaving you time to enjoy what matters most: your friends.
Stay tuned this week – I have more mushroom fun planned – including a giveaway! Enjoy your Labor Day weekend!
Mushroom Goat Cheese Phyllo Bites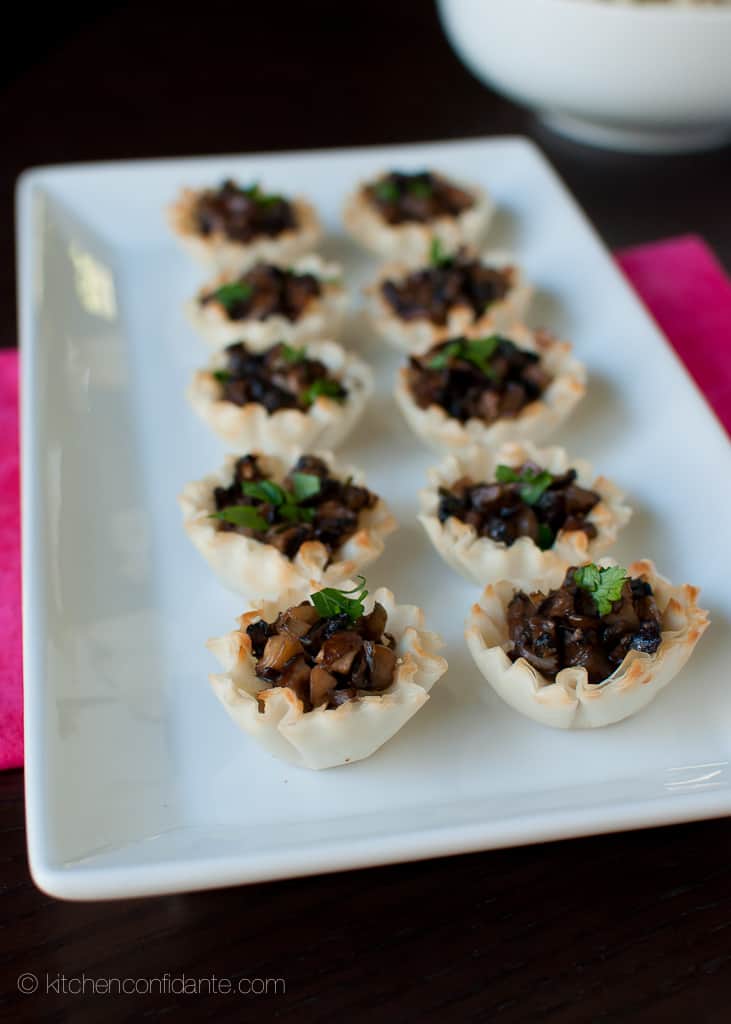 Print Recipe
Ingredients
2 tablespoons olive oil
3 tablespoons unsalted butter
3 cipollini onions (or substitute shallots), finely diced
10 oz your favorite mushrooms (an assortment of varieties lends different flavors), finely diced into 1/4 inch pieces
1 teaspoon kosher salt
freshly ground black pepper
6 oz creamy goat cheese
45 mini phyllo shells* (store bought is fine)
fresh flat leaf Italian parsley, minced, for garnish
Instructions
Preheat the oven to 350°F.
In a large sauté pan over medium heat, heat olive oil and butter. Once the butter is melted, add the cipollini onions, cooking until they are translucent and beginning to caramelize. Add the mushrooms, seasoning with salt and pepper. Stir and sauté until the mushrooms have cooked down and are wilted, about 7 minutes. The mushroom filling can be done earlier in the day to save time.
Assemble the bites: Place a morsel of goat cheese into each phyllo cup. Top with a heaping teaspoon of the mushroom filling. Place the phyllo cups on a baking dish and bake for about 3-4 minutes, until the mushroom filling is warm, the goat cheese gooey, and the phyllo dough crisp. Garnish with parsley and serve immediately.
Adapted from Sauteed Mushrooms in Phyllo Crisps, The Martha Stewart Living Cookbook, 2001.