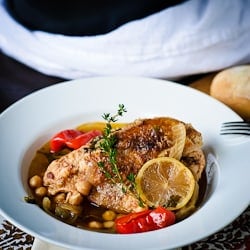 Slow Cooked | Braised Chicken with Chickpeas & Peppers
I hate when my husband gives me presents. I do. Why? Because he's so darned good at it, and I, frankly, just don't feel like I am. When it comes to selecting thoughtful gifts, he always seems to discover the perfect finds. Granted, I'm pretty…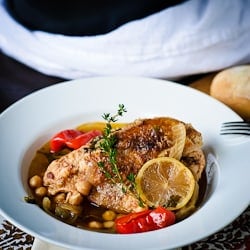 Slow Cooked | Braised Chicken with Chickpeas & Peppers
I hate when my husband gives me presents. I do. Why? Because he's so darned good at it, and I, frankly, just don't feel like I am. When it comes to selecting thoughtful gifts, he always seems to discover the perfect finds. Granted, I'm pretty easy to shop for; anything kitchen related works, and goodness knows there's always something new and nifty to try. But besides that, my husband loves to indulge, and that leaves me feeling both forever grateful and embarassed.
When it is my turn to find "the perfect gift" for my husband, I find it so challenging sometimes (the man is the type who simply gets something if he needs it), and I generally tend to lean toward experience presents. Long before the whole Groupon and LivingSocial rage, I have always tried to present my husband with memory making adventures – there was a hiking expedition in Yosemite one year, and a whirl around the Los Angeles Speedway another, for example.
The one thing I am good at? Keeping surprises.
My hubby, on the other hand, not so good at that little detail. Our typical Christmas goes like this: the days leading up to the 25th, my husband will find presents, even have them beautifully wrapped, then plop them on the kitchen table instead of placing it under the tree. He just can't wait! And this year was no different.
The doorbell rang, the man in brown brought a box, and my husband placed it on the kitchen table. Merry Christmas! he practically sang. Open it. I eyed him suspiciously, then started to open the box. Inside, wrapped within the signature Williams-Sonoma pineapple printed paper was the slow cooker I have been dreaming about.
I know, are you surprised that I don't own a slow cooker? Well, I do now, and I have been using it far more than I expected. With holiday gatherings and late homecomings from activities, it has been a godsend, I almost can't believe I have gotten along without one for this long. I've always loved braising foods in the wintertime, and this makes it so much easier for my busy schedule.
As you find yourself rushing about town, performing your last minute elf duties, wouldn't it be nice to know that you have Braised Chicken with Chickpeas and Peppers waiting for you at home? A warm meal that you can enjoy with the ones you love, without the stress of hearing I'm hungry. How much longer?
Being able to sit around the table for a comforting meal with the people who matter most – that is the best present of all. And you don't even need wrapping paper or a holiday to celebrate.
Braised Chicken with Chickpeas & Peppers
While a slow cooker makes life easier, it is certainly is not necessary for this dish. Just a week or so ago, and I would have prepared this in a Dutch oven set in a 275° oven to braise until tender (3-4 hours).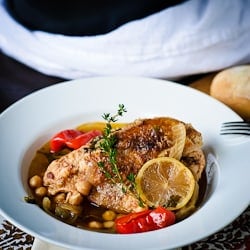 Print Recipe
Ingredients
3-4 chicken breasts, bone-in
kosher salt
freshly ground black pepper
1 tablespoon paprika
1/4 cup all purpose flour
2 tablespoons olive oil
6 cloves garlic, crushed
1 onion, sliced
2 slices of bacon, diced
2 stalks celery, diced
1 tablespoon tomato paste
1/4 teaspoon marjoram
1/2 teaspoon red chili flakes
48 oz chicken stock
2 lemon slices
1/2 cup sliced red peppers
4 sprigs thyme
1/4 cup parsley, rough chopped
1 16-oz can garbanzo beans (chickpeas)
crusty fresh bread for dipping
Instructions
Season the chicken breasts with salt, pepper and paprika, and lightly dredge in flour, shaking off excess flour. In a heavy bottomed pan or a cooktop safe insert, heat olive oil over medium-high heat. Brown the chicken breasts on both sides, about 3-4 minutes, working in batches if necessary. Remove the chicken from the pan/insert and set aside.
Lower the flame to medium-low, and add the garlic and onion, cooking until softened. Add the bacon and let it brown. Add the celery, tomato paste, marjoram, red chili flakes, and 1 cup of the chicken stock, and stir until the tomato paste is incorporated. Return the chicken to the insert, and add the remaining chicken stock. Top with lemon slices and nestle the sliced red peppers, thyme, parsley and chickpeas around the chicken.
Set to slow cook on low for 5 hours, or until the chicken is tender and falling off the bones. Serve hot with crusty warm bread - it tastes wonderful dipped into the broth.