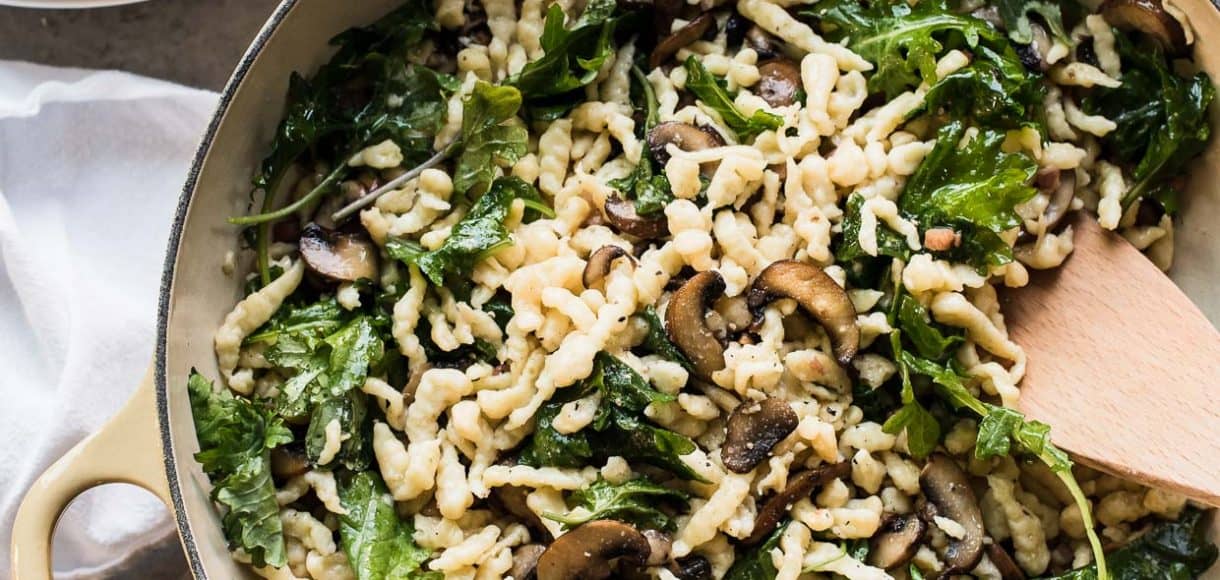 Spaetzle with Garlic Butter Mushrooms and Baby Kale | Simple Sundays
Spaetzle with Garlic Butter Mushrooms and Baby Kale is pure comfort! You'll want to make these easy homemade German egg dumplings/noodles every day! It was one of those weeks. The kind when the darkness of early morning revealed dark rain clouds that hovered low, with…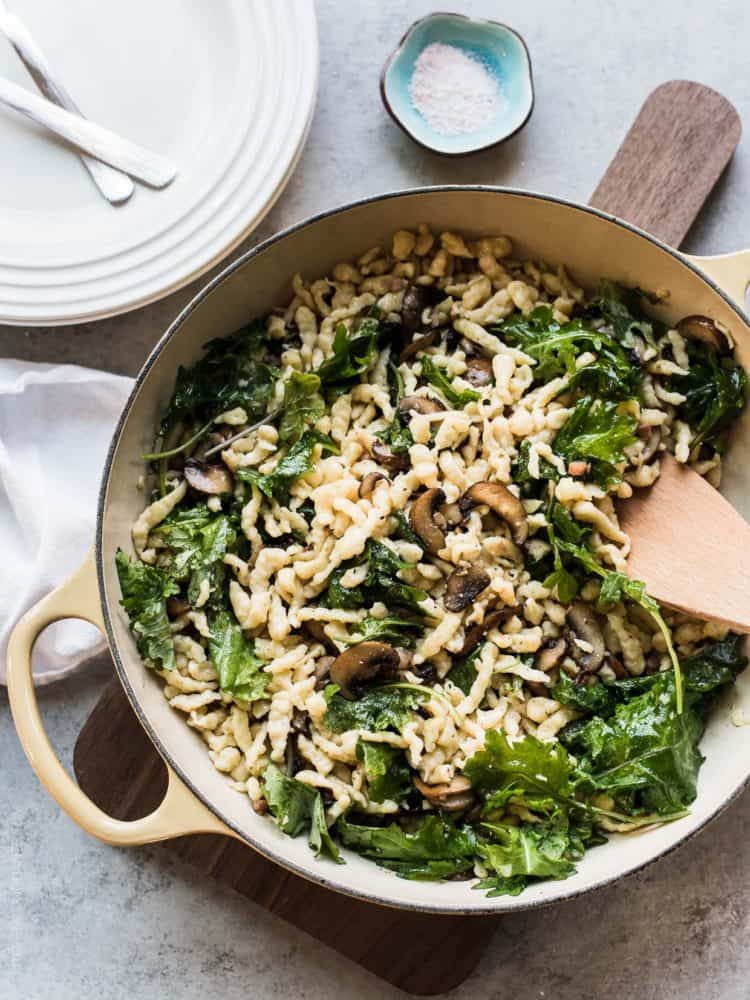 Spaetzle with Garlic Butter Mushrooms and Baby Kale | Simple Sundays
Spaetzle with Garlic Butter Mushrooms and Baby Kale is pure comfort! You'll want to make these easy homemade German egg dumplings/noodles every day!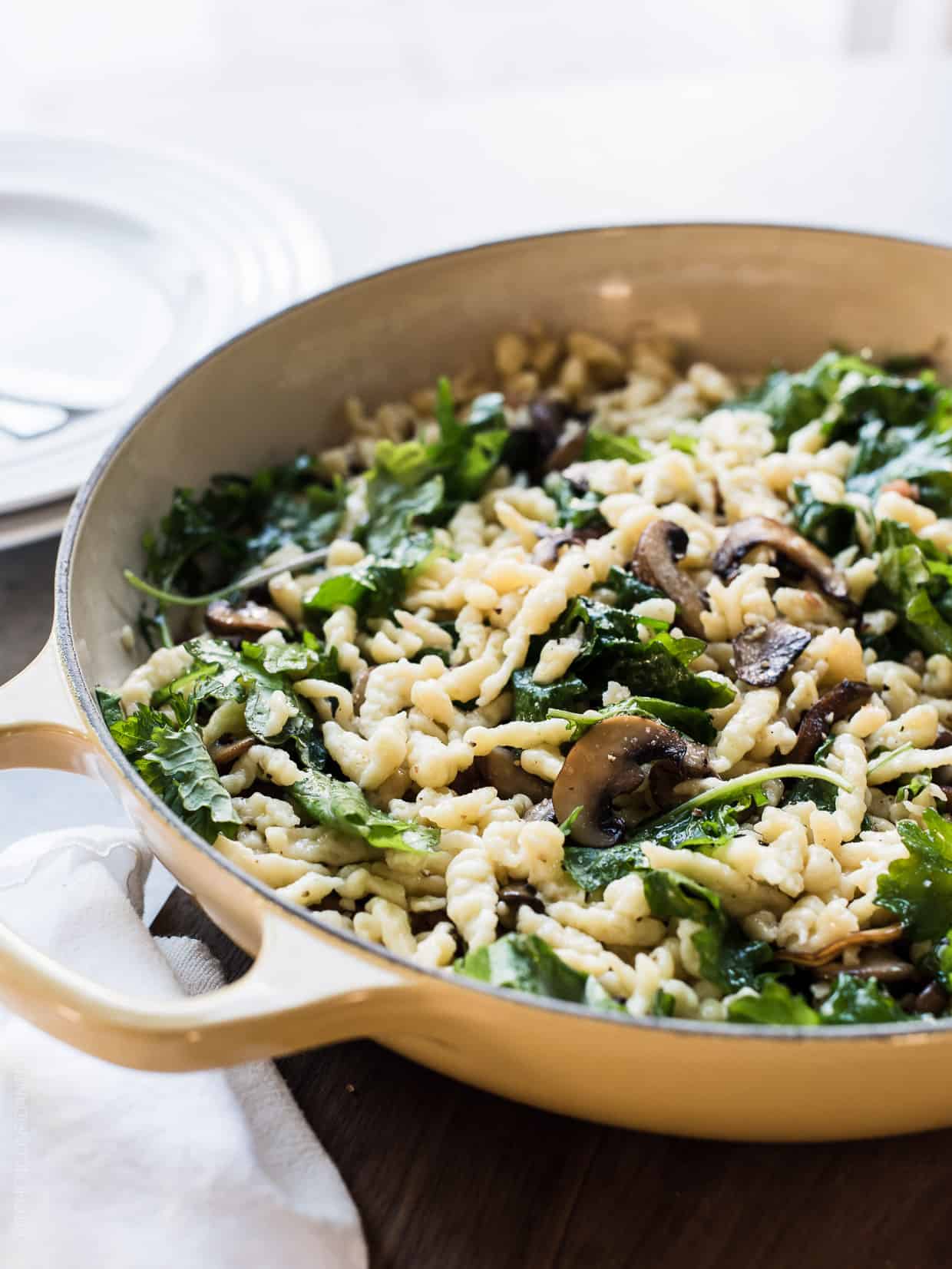 It was one of those weeks. The kind when the darkness of early morning revealed dark rain clouds that hovered low, with steady rain humming outside the window, cleansing the sidewalks. The kind when business travel meant FaceTime around meetings. The kind when the school office called to let you know your son got hurt in PE, and you scurried from doctor appointments to X-rays to theatre rehearsal pick up in the pouring rain. The kind when all you wanted to do was sit on the floor and cuddle with the new kitty of the house and feel her tiny purrs against your chest.
By the time the week came to an end, and the sun peeked behind the clouds, I realized that I had not cooked in a while. I mean, I did cook, but not the kind of cooking I enjoy. It was the here-you-go-this-counts-as-dinner kind of cooking, and not at all the same, except for the mess I always manage to create in the kitchen.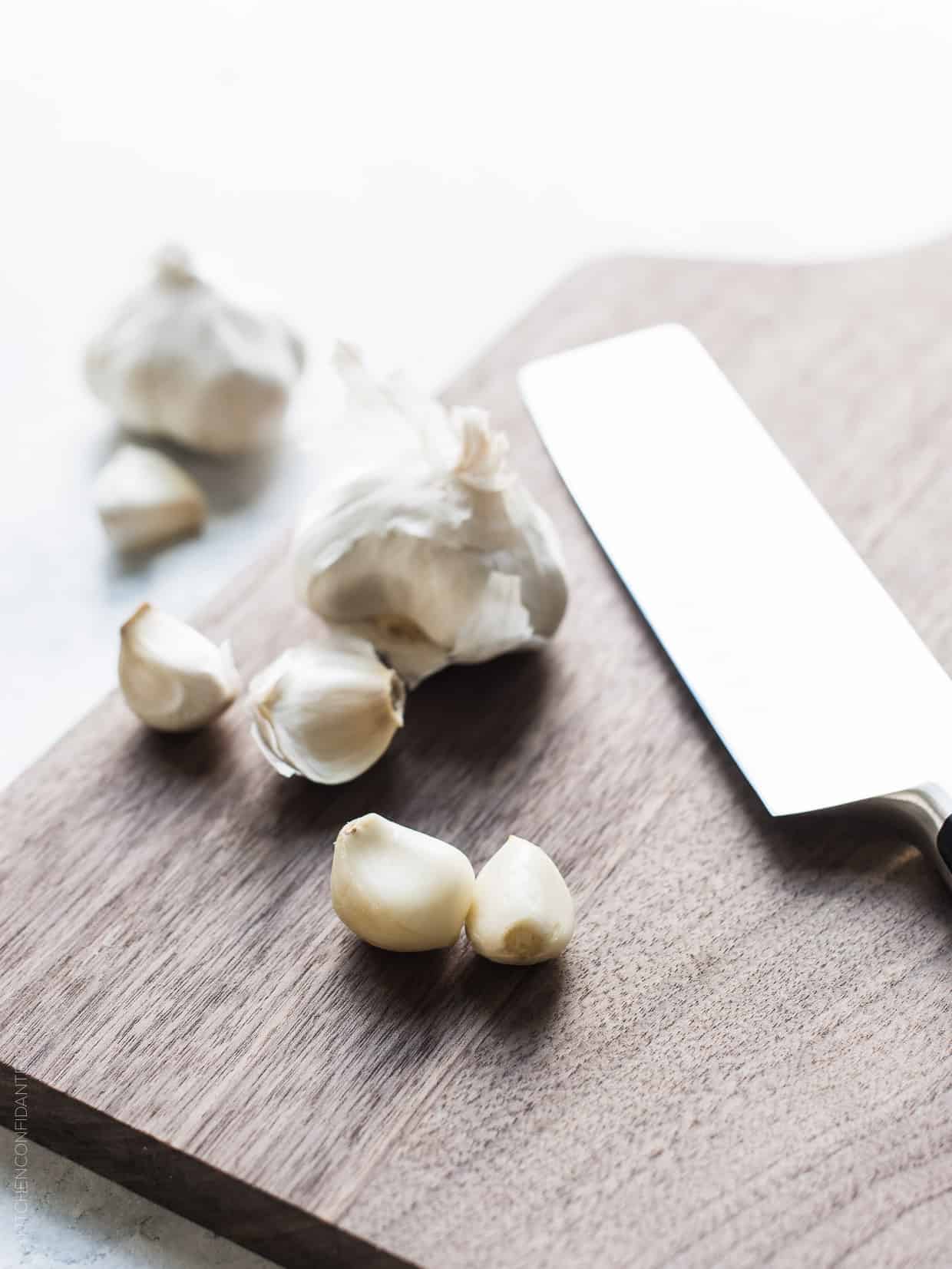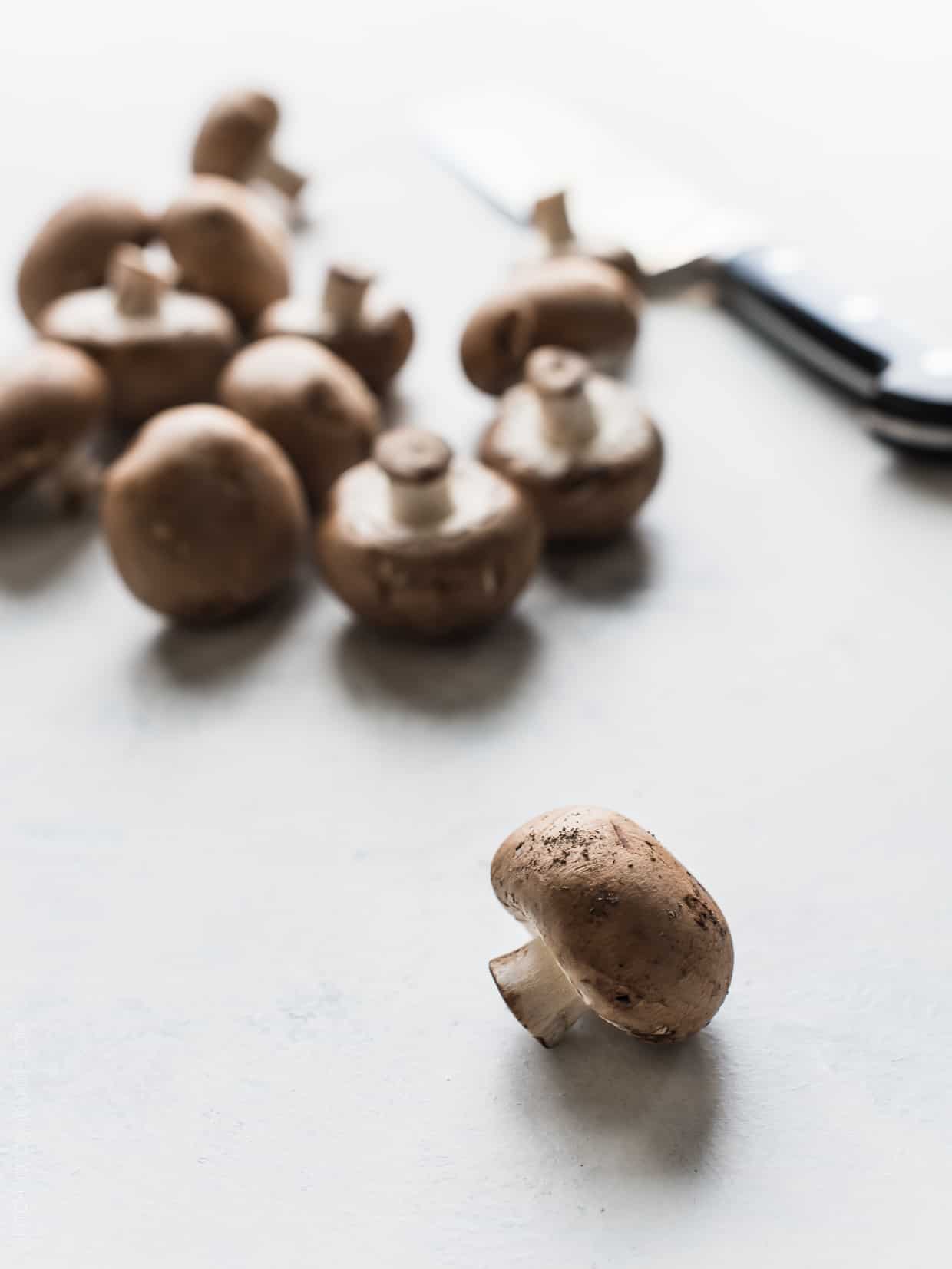 Once things calmed a bit, I had my chance. Spaetzle has been on my mind for weeks, and mushrooms, too — two of my daughter's absolute favorite things. The last time I shared spaetzle with you, it was around this time last year, fragrant with brown butter and pumpkin. This time, I knew I wanted to make another fall-perfect side dish, one to go with some of the chicken breast that was roasting in the oven.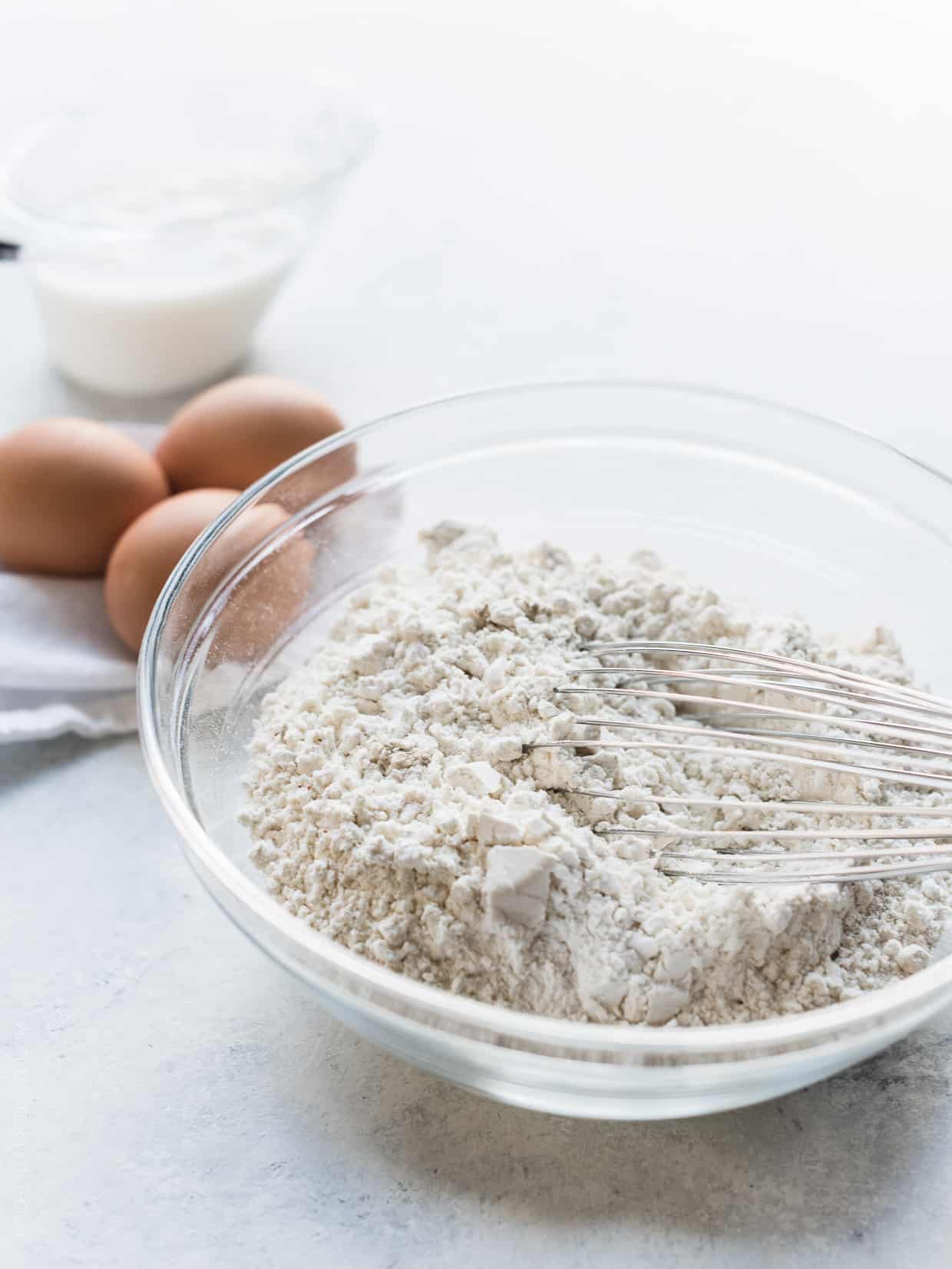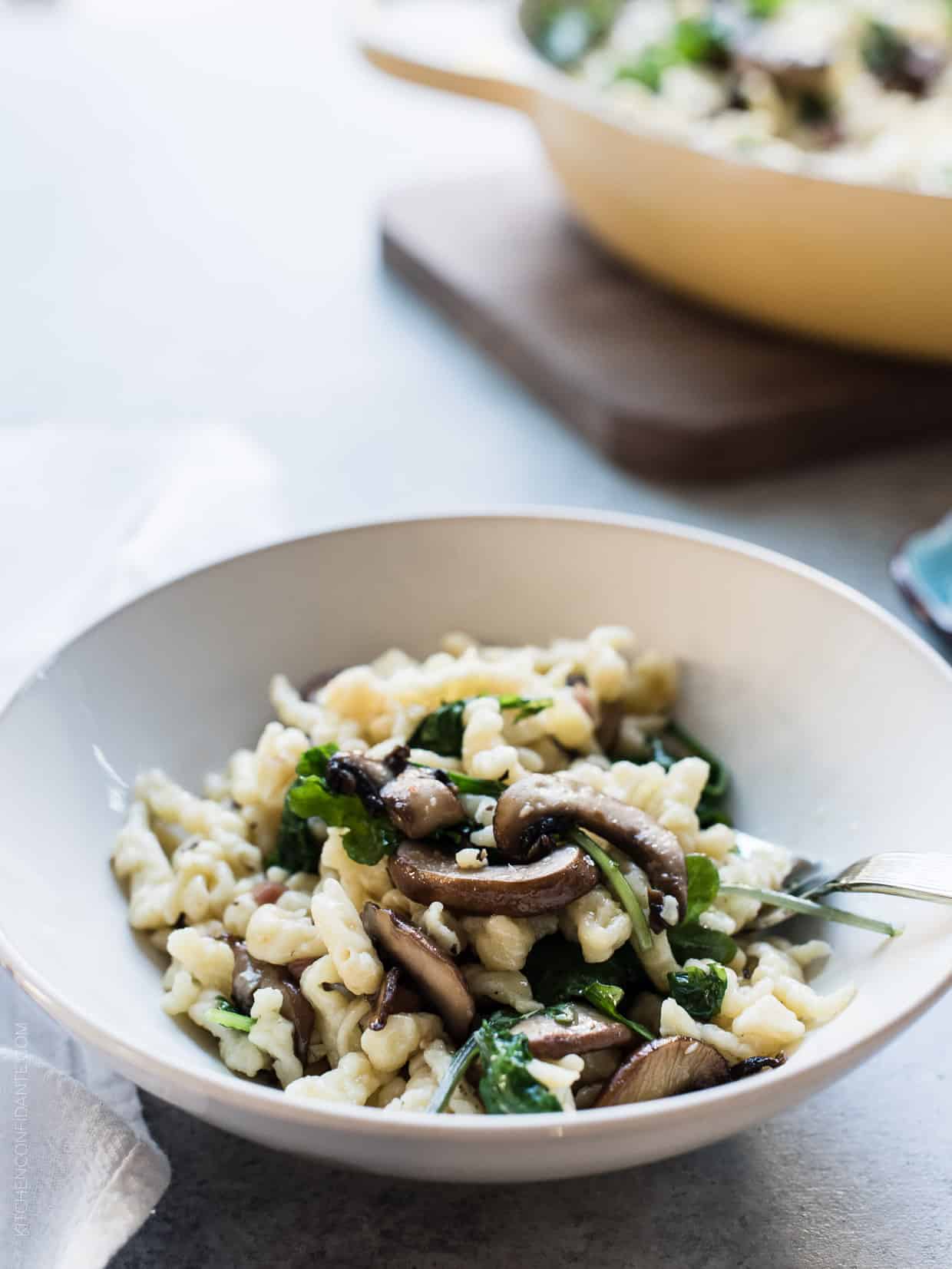 If you've never tackled homemade noodles, I am convinced that spaetzle should be your introduction. You can seriously whip up these tender dumplings in 10 minutes, and with just a few minutes more, toss them with some buttery garlic mushrooms, baby kale, and a touch of pancetta — to be honest, my family gobbled these Spaetzle with Garlic Butter Mushrooms and Baby Kale with such gusto that I probably could have skipped the roast chicken altogether.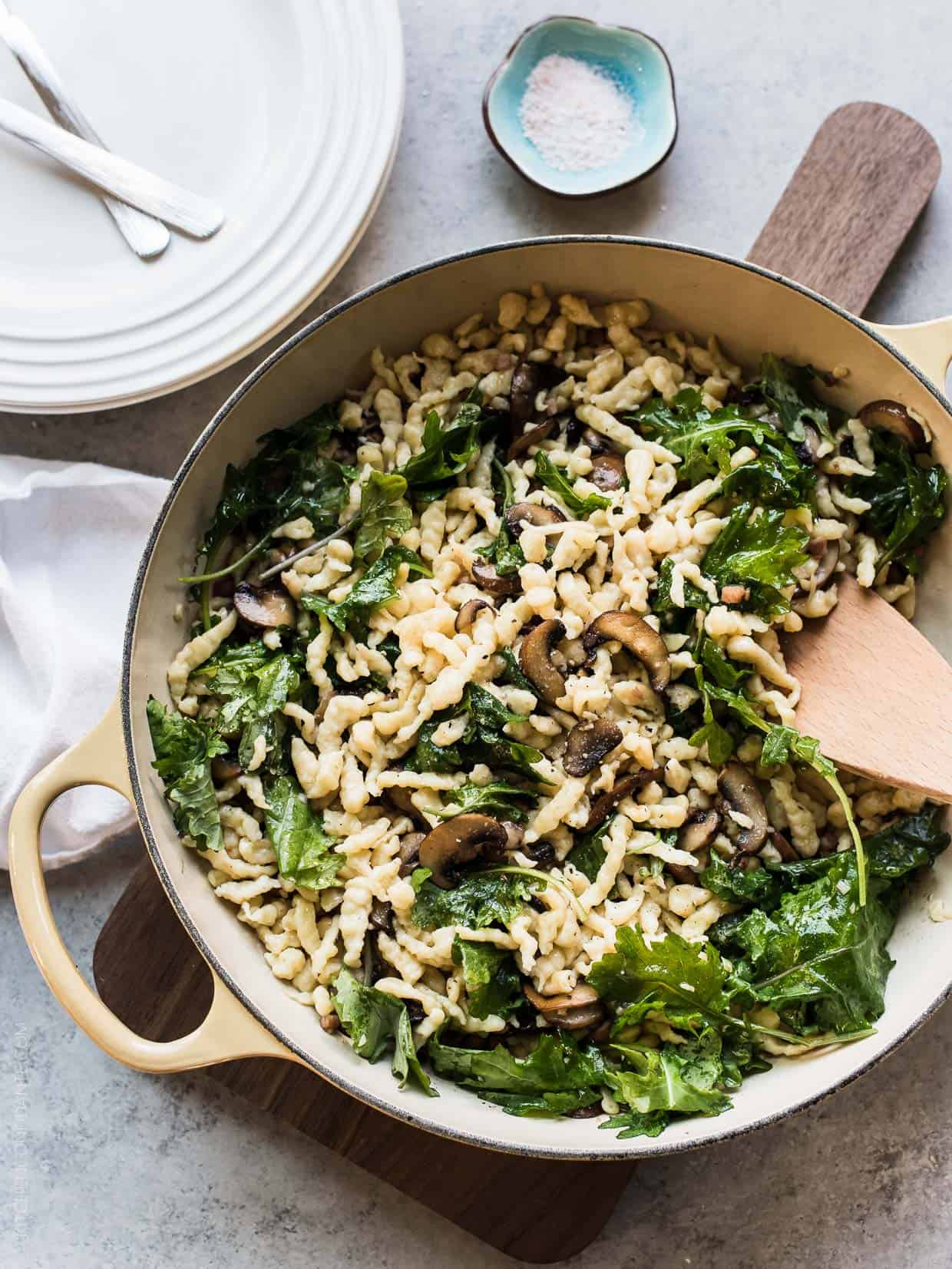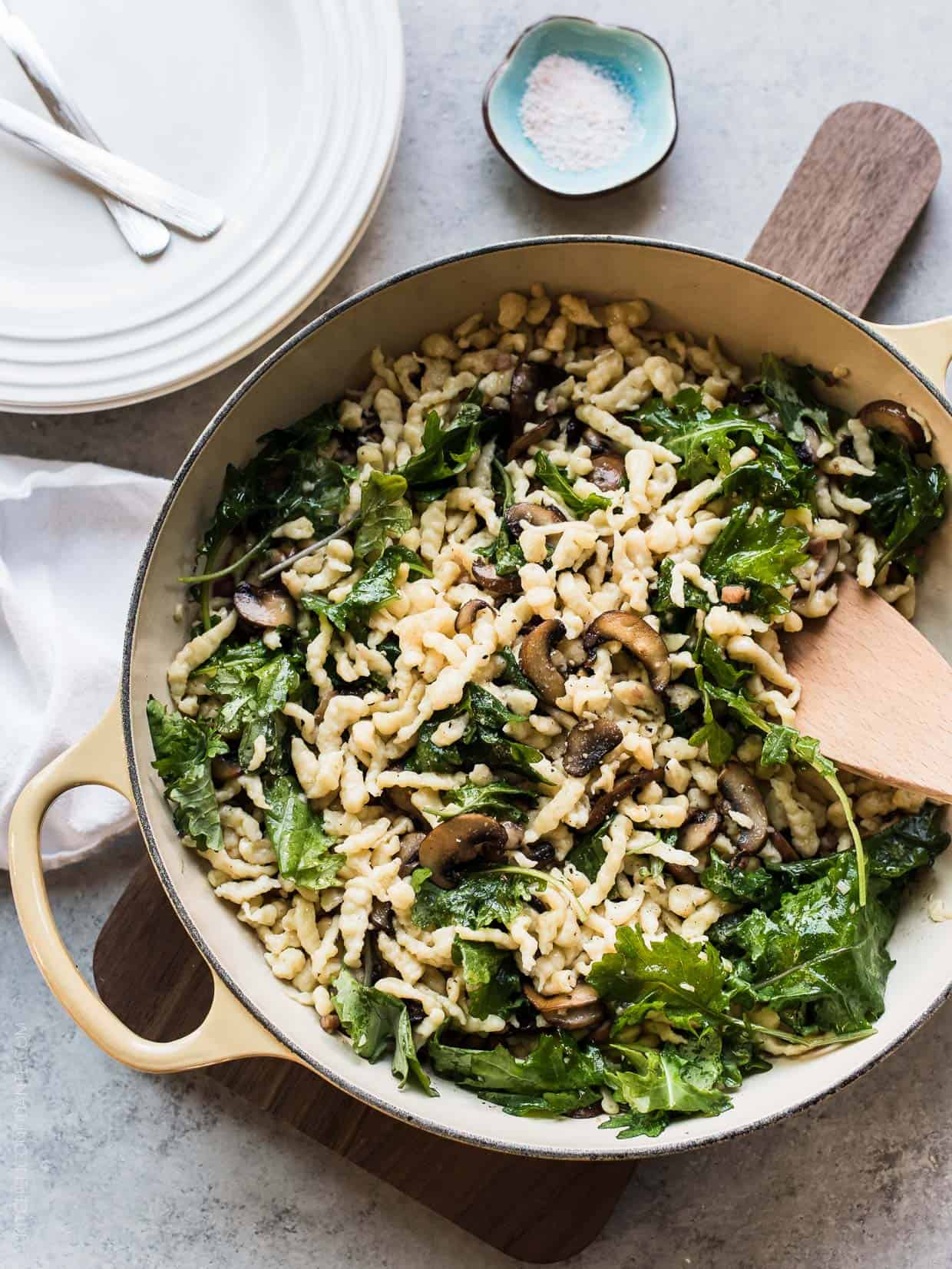 I guess we all needed a bit of comfort food after the long week.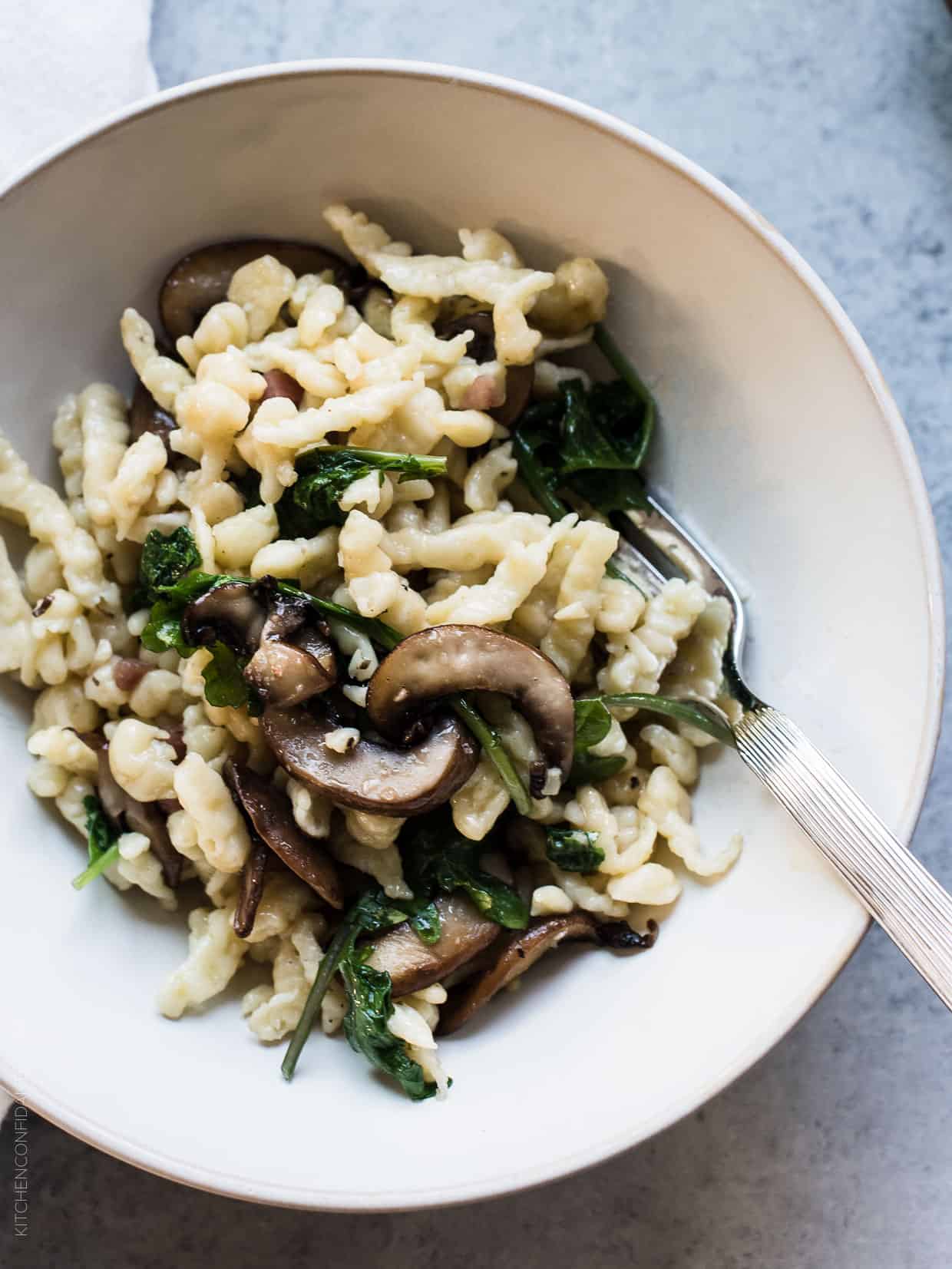 Note on spaetzle makers:
While you don't necessarily need a spaetzle maker to make spaetzle (a colander also works), it makes quick work of the process, and frankly, when it comes to making homemade noodles, I'll often reach for this before a pasta maker because it is so easy! I highly recommend getting a stainless steel spaetzle maker
— my first one had a plastic hopper that melted from the heat. An all stainless steel kind will hold up better.
Disclosure: There are affiliate links in this post.
Spaetzle with Garlic Butter Mushrooms and Baby Kale
Spaetzle with Garlic Butter Mushrooms and Baby Kale is pure comfort food, and a side dish that will go with just about everything. This German egg dumpling is so easy, you'll be tempted to make these homemade noodles every day!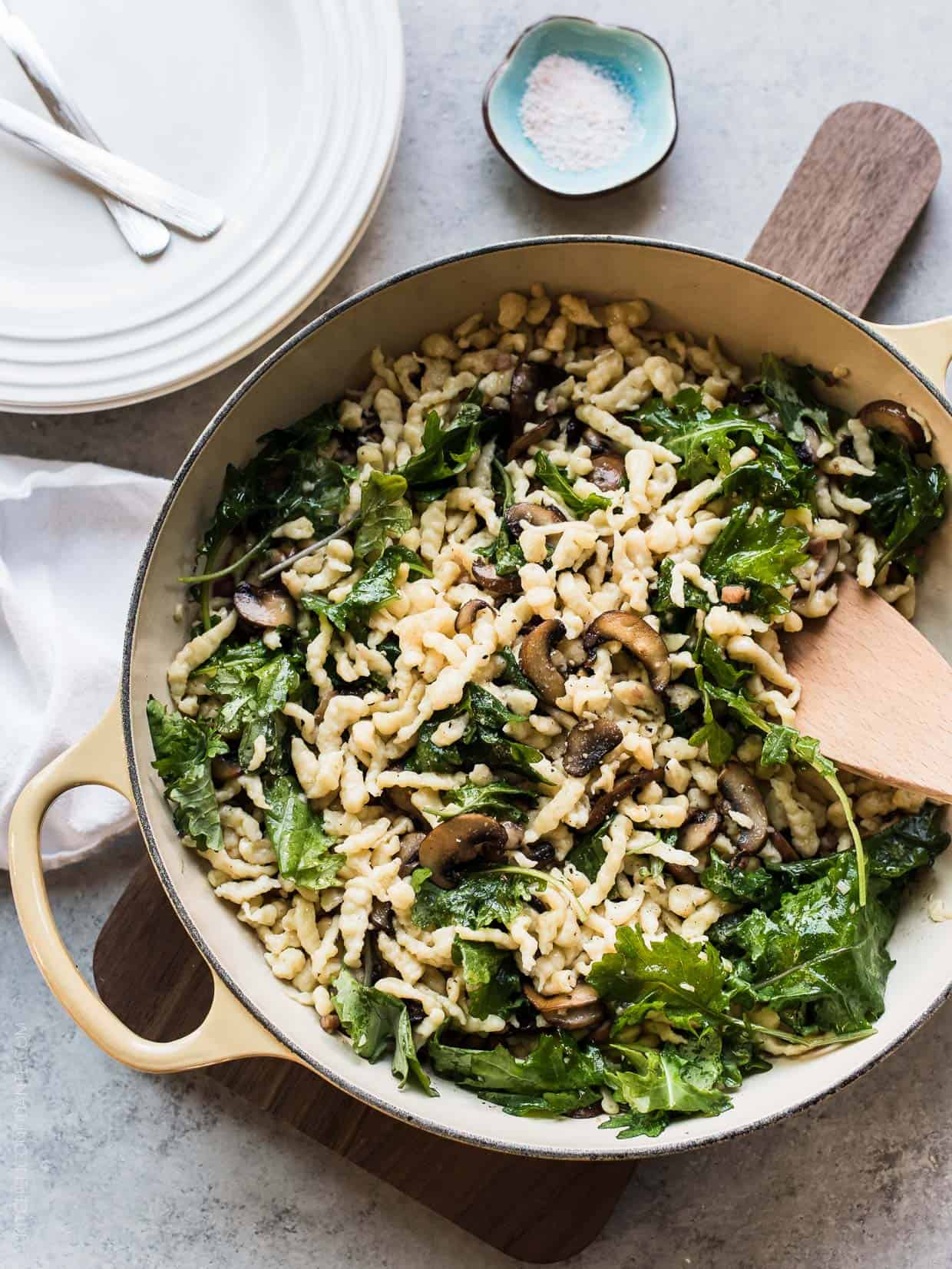 Print Recipe
Ingredients
2 1/4 cups all purpose flour
1 teaspoon kosher salt
1/4 teaspoon white pepper
pinch ground nutmeg
3 large eggs
3/4 cup buttermilk
3 tablespoons olive oil
8 oz crimini mushrooms, sliced
5 tablespoons unsalted butter, divided
2 oz diced pancetta
4 cloves garlic, minced
2 1/2 cups baby kale
kosher salt, to taste
freshly ground pepper, to taste
Instructions
Make the spaetzle dough by whisking together the flour, salt, pepper and nutmeg in a large bowl. In a separate small bowl, beat the eggs and buttermilk until well combined. Add the egg mixture to the flour, and using a wooden spoon or spatula, gently stir together until you have a sticky dough. Depending on your eggs and buttermilk, you may find that your dough is too thick. If that is the case, add a little more buttermilk, about a tablespoon at a time, until the sticky dough is the consistency of a thick pancake batter. Let the dough sit in the refrigerator while you bring some water to a boil. This can even be done the night before.
Bring a pot of salted water to a boil. Using a spaetzle maker
or colander, pass the dough through the holes and drop it into the water. The dumplings will cook quickly and float to the top. Use a slotted spoon to retrieve the spaetzle. Set aside in a colander or sieve to drain.
Melt 2 tablespoons of butter in the olive oil in a deep sided sauté pan over low heat. Add the mushrooms, seasoning lightly with salt. Cook until the mushrooms are tender. Add the pancetta, garlic and remaining butter, and cook until the pancetta is crispy and the garlic is fragrant. Stir in the spaetzle and baby kale, and season to taste with salt and pepper. Serve immediately.